Odyssey of the Mind World Finals'15
$950
of $7,500 goal
Raised by
14
people in 45 months
AZ Cre8tive Kids are going to Odyssey of the Mind 2015 World Finals !!!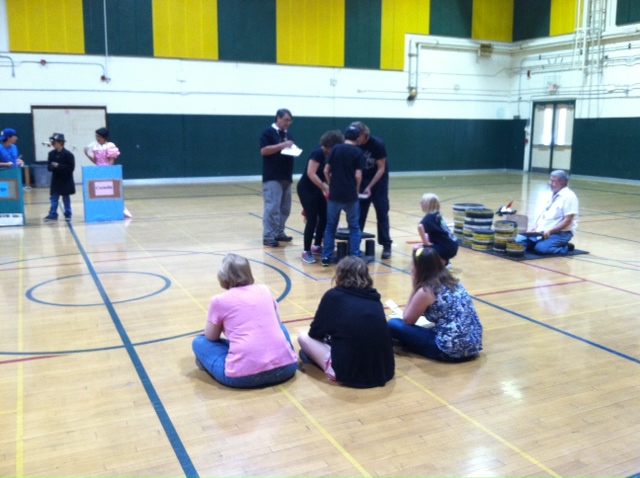 The team brainstorming and performing at State in April
Who are we?
We are East Valley 
Cre8tive Kids!
We are an Odyssey of the Mind State Champion Team! We placed 1st in the AZ Regional, and 2nd in the AZ State Stackable Structure competitions.
This is our 3rd year as an OotM team, and our 3rd year as AZ champions. We are a small team without the resources of a large school to subsidize our team's trip to Michigan for the most amazing experience ever. And yet, ours is the team to beat in Arizona.
What is OotM and what is World Finals about?
Over 800 teams from around the world will compete in the 36th Odyssey of the Mind World Finals. The competition emphasizes creativity and teamwork and has grown into the largest international creative problem-solving competition worldwide. 
Millions of kids have been working hard all year perfecting their solutions to OotM problems and competing within their regions and states.
Only a few will advance to World Finals — these teams represent the best of the best creative minds.
Do we want to raise our kids to be creative problem solvers? 
What do we need?
We need your help!
We are asking for your assistance so we may attend the 2015 World Finals tournament at Michigan State University in East Lansing, Michigan from May 20-23. We will present the solution that qualified us for World Finals!
Here is a breakdown of the costs for our 2015 championship team:
- Airfare to Detroit: approx $600 per person
- Room and board in MSU dorms: $550 per person
- Airport shuttle to East Lansing: $50 per person
Total: $1,200 X 6 (3 kids + 3 parents) = $7,200
The "Problem" and Performance:
Our Team chose
"The Stackable Structure"
problem, a technical problem which requires teams to design and build a light-weight balsa wood and glue structure where multiple modules are stacked more than eight inches high.
The structure is designed to be capable of holding a hundred plus pounds of weight when added to the top of it. The team's solution also involves an original play in which costumes, backdrops and props fold or unfold to change appearance as it builds drama as weight is added to the structure.
The team will also be judged on their "thinking outside of the box" ability when they creatively and effectively solve an unknown spontaneous challenge at the tournament. 
For more information about Odyssey and the "Problems": 

Click here
 or contact the Director, Brian Calaway at 602-488-0879
Our sincerest appreciation and gratitude, and hugs from the happy kids for every donation of any amount. Thank you!
+ Read More
Be the first to leave a comment on this campaign.