7
12
Backup SemanaNegra Ccs iniciatives
$165
of $3,500 goal
Raised by
5
people in 11 months
Greetings, I'm Nelly Requena, a Venezuelan-American citizen living in Florida since 2004.
I am raising funds to support the efforts of my brother-in-law the writer Marcos Tarre and my sister Yajaira Requena de Tarre (a socio cultural event organizer)  to hold the first gathering  of crime fiction writers in Caracas, called
Semana Negra Caraca
s, festival de novela y cine negro  2017, from October 23er to November 4th
I want to help them so they an 
put together Semana Negra Caracas 2017 @SemananegraCcs
, ( In Spanish "novela negra"of the french tradition "novel noir " refers to genres of  crime fiction, detective or police narrative and trillers)
About the event
SEMANA NEGRA DE CARACAS,from October 23 to November 4, 2017.
@SemanaNegraCcs
It's at the same time  an artistic event for the crime fiction venezuelan novelist, and  also, experts, analist and  journalists providing  workshops of real life cases .
Yajaira y Marcos haved created along  other writters a site of encounter of crime fiction writters called
La Orilla Negra Venezuela @OrillaNegraV

Semana Negra Caracas
is a trully unique literary encounter organized by authors (and the first of a kind in Venezuela)That has flourished thanks to the voluntary support of  writers, journalists, friends, and donated art spaces.

The Program Includes:
*
Books and literary novelties
, like "
Relatos de la OrillaNegra"(
Stories of the Black Shore)a book of stories from 17 Venezuelan writers around the world, who open a door of suspense, love, pain, blood, hate and humor to understand the dimension of violence  present, latent or imaginary .
*
La Iguana Negra pocket books edition t
o offer good stories to the readers at a very reasonable prices
  *
Get-together with  university students- 
a meeting  with literaure and journalism students  the  writters.
*
Encounter  with women writters
" Tacones que matan"to put in relevance  the excellent narrative written by women authors.
* T
he creation and donation of
crime/ police fiction books fund to  a community library
, in orden support  the reading of crime fiction  literature  in adition to the creation of a 
reading club,
*
Workshops  with expert
journalists and analists of real life cases, "
Ficcion de casos reales" y "
La Voz en el gatillo".
Literature and journalism go hand to hand
.

*
Gathering
between writters,  and  young theater actors dramatizing texts
" Lo negro en el Teatro".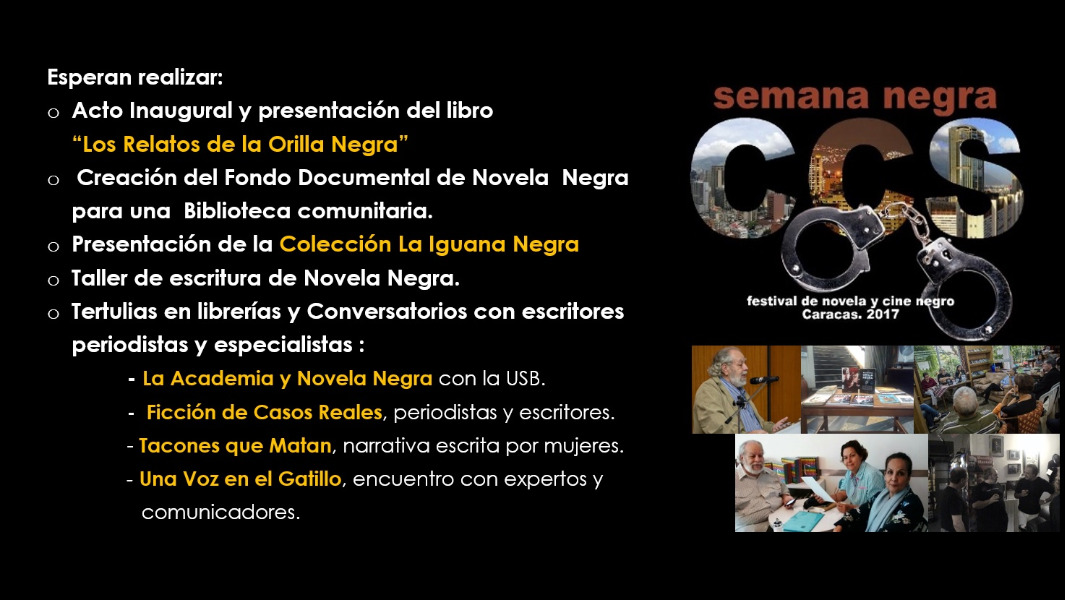 * Single edition of the Tabloid "Ink Shield"
, designed to mix the informational  content and  the literary formats of stories, poetry graphics etc.
*
Production  of a Book trailer,
to promote all the activities  in the networks   and social media.
* Crime fiction novel writing workshop (
length 2 weeks),

*Workshops to produce a detective story short-story books for 
children and teen in public schools anda local community Center
.
*An indie movie show 




The fund wiil be use for :

-To provide them with paper and ink for some of their publications in digital printer, short-story books, print the Tabloid as information board. and send it to Venezuela by currier-
-To buy and print Pop material such as t shirts for writers and voluntears, cartels, informative flyers etc.
-To provide them with paperbord, crayons, markers and pencils, etc, plastic art material, which are at inaccessible prices for children-
-To pay for the digital design of books, and novels, and tabloid
To  produced a books trailer and the video material in order to keep informed some of the collaborating writers living in different countries including USA.
- Finally, we aspire to bring Marcos –a truly talented writer– and  all that Venezuelan crime fiction literature to Miami for the
Miami Book Fair in November,
which would allow ,the extended Venezuelan community living in Florida to
gather and celebrate their cultural heritage through literature.
How soon you need the funds?
All the organization, volunteering and donation of texts and art spaces has worked out through determination and passion, but the costs of producing the material now threaten this wonderful and creative program.
They need our help right now! What the support will mean to me?
*By supporting this event, we're  promoting and fosting the Venezuelan literarture  cultural heritage,
* Alow us to fell  that we're making part of this  effort to preserve a very important part of the  Venezuelan identity.
*The tipe of crime fiction narrative written and created by Venezuelan will always show that submerged social reality that literature restore and preserve, as an historical documentary .
*By bringing a Marcos to the cultural and literary gathering with our fellow Venezuelan community  is as important as  necessary for the large community of countrimen that are  making a living and developing roots in Florida.
Please join me and let's be part of Semana Negra Ccs
Thank you very much for your kind support and may God bless you !
Nelly Requena  
+ Read More
Update 2
11 months ago
Share
Si siguen las contribuciones podremos disponer de muchos más ejemplares de los relatos de la Orilla NegraV, para la prensa y los autores en el exterior, y más tí tulos de la colección de la Iguana Negra; la versión digital de todas las publicaciones, material para la imprenta , para los talleres con niños y para que asistir a la Miamia Book Fair. Se puede colaborar con UN Dolar, ó Euro, lo que usted quiera o pueda!!!
Los venezolanos en nuetra tierra y los que están viviendo en otras tierras, estaremos felices de promove nuestra herencia cultural... Gracias !!!
+ Read More
Update 1
11 months ago
Share
Crime fiction novel writing workshop, length 2 weeks, ttutoring 20 hours of classes and participation of published authors
October:
Monday 23, Thursday 26, Monday30,Tuesday 31.
November: 02
Support the crime fiction novel writing workshop,
+ Read More
Read a Previous Update