Help Paralyzed Man Help Disabled
$95,790
of $500,000 goal
Raised by
104
people in 32 months
Note: Ed Kane died Sept. 5 but we are keeping his introduction for the time being:
My name is Ed Kane. About four years ago I was diagnosed with ALS. People with ALS typically live three to five years. I'm a quadriplegic and without my wheelchair I couldn't get around at all. I communicate with my cell phone, and voice recognition on my computer. Lately, I've had to breathe with the help of a CPAP machine. When this disease keeps me from breathing, I've decided not to be intubated. I don't want anything for myself. But while I have time, I really want to help other disabled people get the medical equipment they need.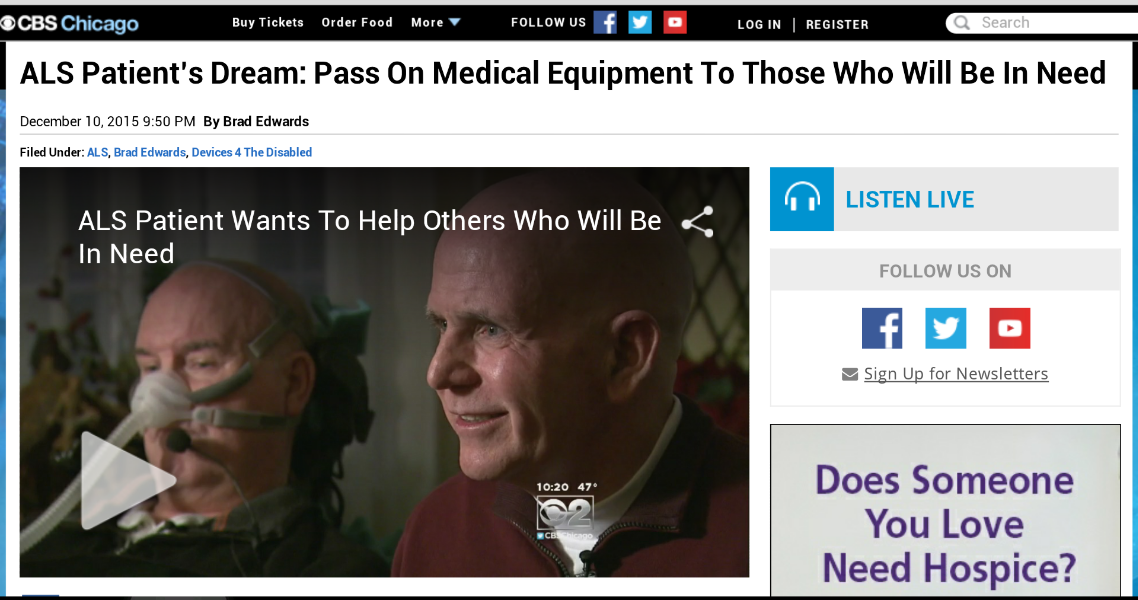 Watch the original story about D4D on CBS Chicago.
When I was diagnosed with ALS, I had a sudden need for a complex wheelchair--one that can move in many directions. It cost $30,000. But my health insurance had a cap of $2,500 for medical equipment. I had to take the money out of my 401(k) retirement fund to pay for it.
Not everyone who is disabled is lucky enough to have money for a wheelchair or other durable medical equipment--canes, walkers, beds, lifts, etc. They have to wait weeks or even months for Medicare or Medicaid to pay for it. I have a nephew who has muscular dystrophy and who had to wait eight months for his wheelchair.
I've founded a nonprofit called Devices 4 the Disabled (D4D, see supportd4d.org or
www.facebook.com/supportd4d
). Its mission is simple: collect durable medical equipment from those who no longer need it and distribute it to those who need it most.
I'm asking for the first year of funding because I won't be here in 2017 and I want to make sure this operation is funded. Then I can rest in peace. Any donation of any size is really appreciated. Donations are tax-deductible.
D4D is going to collect equipment from the families of former hospice patients, or from nursing homes and other institutions, as well as individuals. Our partner Pickens-Kane Moving & Storage is going to store and transport the equipment. We'll deliver in "as-is" condition to charitable organizations, churches, and other groups that can distribute to those in need. It's as simple as that.
Right now the most important thing in my life is to focus on what I can do, with the amount of time I have left. One of the things I can do is to do something to help other people. Families who have got equipment they don't use can help other people too. That's the most satisfying thing in the world. Thanks for your help. And thanks to my D4D colleague and friend Greg Holden for posting and managing this fundraiser.
+ Read More