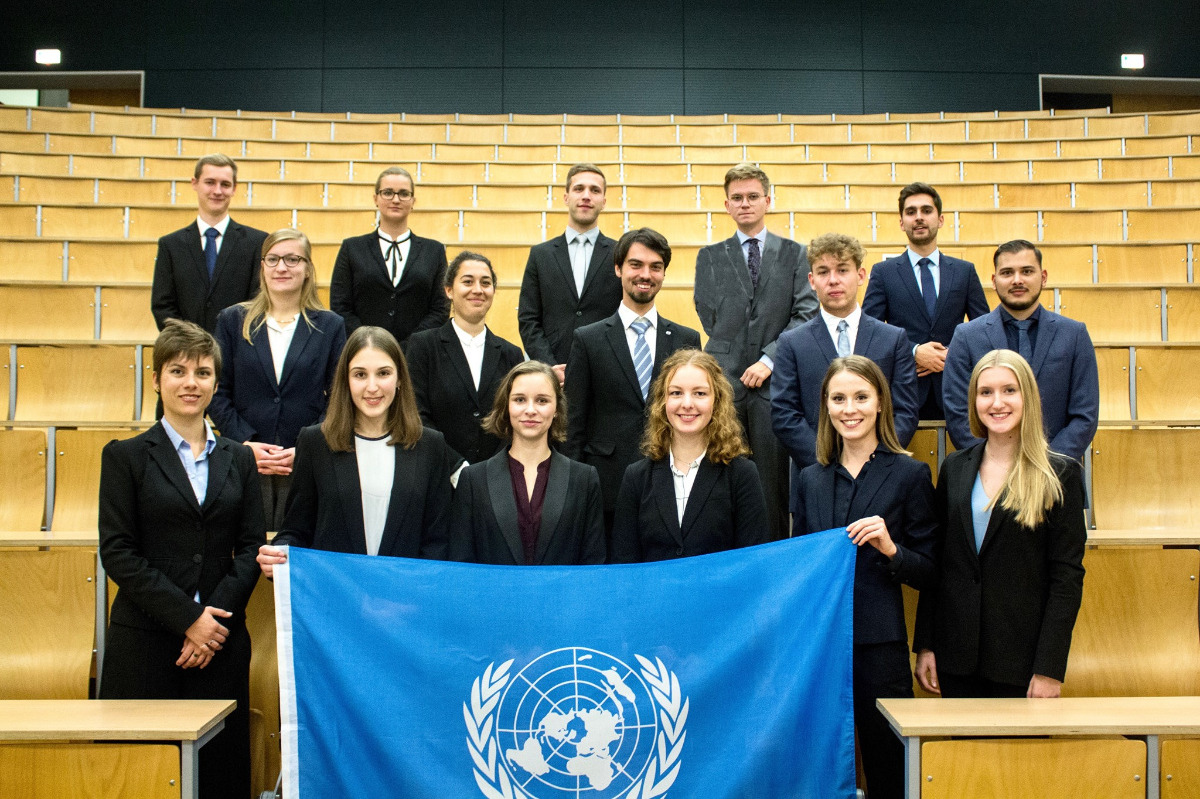 29
3
Support NMUN Student Project!
€1,275
of €5,000 goal
Raised by
30
people in 3 months
NMUN Project
National Model United Nations (NMUN) is the world's largest Simulation Conference of the United Nations (UN). Around 5,000 students from five continents attend the conference in New York City. The unique character of this intercultural project arises from universities sending delegations around the globe. Each delegation represents a member state of the UN and the interests of the country as diplomats in various committees.
Since 2003, the Otto-Friedrich-University of Bamberg has sent a delegation to New York City. The goal of the intensive preparation of NMUN Bamberg is to provide students with a profound understanding of diplomacy, international issues and the work of the United Nations.
Under the patronage of Professor Gehring, Chair of the Department of International Relations at the University of Bamberg, content on supranational organizations is taught in seminar-based courses.
The Bamberg Delegation 2018/19
Our delegation consists of 16 students from different faculties of the University of Bamberg, which creates a particularly interdisciplinary group dynamic. In 2019, we will have the great honor of representing the Dominican Republic within the United Nations.
Our delegation will be supported by former delegates. We set ourselves the goal of joining the series of past Bamberg delegations, which have made a name for themselves worldwide thanks to their outstanding performance.
The Bamberg NMUN project differs from comparable projects of other universities because it is organized purely by students and volunteers.
Our expenses
Our preparatory process consists of speech trainings, excursions to the Embassy of the Dominican Republic and other relevant institutions, as well as preparatory conferences with other universities. For this reason, we have expenses like transportation, accommodation or participation fees that we need to cover ourselves.
As our conference takes place in March 2019, we kindly ask you to contribute until the end of February.
Why we hope for your funding

NMUN trains the skills to expand the own perspective, to look beyond the borders of one's own country and thereby promotes the development of young, committed people to globally thinking world citizens. Through your support, you foster the advancement of future leaders.
Furthermore, as we are a voluntary, self-organized student project, our success depends largely on dedicated sponsors who are aware of their significant role in society.
We THANK each and every one of you who contributes! You make this project possible!
https://www.uni-bamberg.de/nmun/
https://www.facebook.com/nmunbamberg
@NMUN_BA
+ Read More