Summit Players Summer Shakespeare
$3,660
of $2,200 goal
Raised by
63
people in 55 months
THE PROJECT
As we said in the video, we are Summit Players! We're a group of college seniors, graduating with degrees in Theater Arts and this is our plan to put them to work: we're working on a stripped-down, six actor production of Shakespeare's A Midsummer Night's Dream to be performed for FREE in state parks around Wisconsin. We're also going to be holding a series of 45 minute workshops for kids, and fun adults, on Shakespearean text, general theatre practices, and how Shakespeare used nature in his plays.
COLLABORATION
We are working in conjunction with the Wisconsin State Parks system, putting on Friday-Sunday performances during the month of June and early July. This is the first project of its kind in our state, really working to create a positive overlap between the arts and outdoor recreation programs. Our goal is to add to arts awareness and involvement in Wisconsin community and culture.
INNOVATION
We have createda new cutting of the script that will become a tight, approximately one hour and fifteen minute show of mayhem, character switches, and hilarity. 
EDUCATION
Our goal is to use theatre as a learning medium and introduce children to a love of language, communicating, and constructive play, while providing adults with an enjoyable theatrical experience. The Summit Players believe strongly in the value of theatre as a tool to improve our community and hope that we can create some overlap between the arts, nature, and outdoor recreation through this "play out of a trunk," Shakespeare in the State Parks adventure.
HELP GET US THERE
We are asking for your support to accomplish a number of financial goals.
1. WE NEED TO PAY OUR DIRECTOR. As current students, we want to deliver the best possible product, so we asked one of our professors, a professional director around Milwaukee to direct for us. We're taking the leap into the professional world, and this is our first proof.
2. WE NEED TO PAY FOR GAS. Help us get to the parks to do our work.
3. WE NEED TO TELL THE STORY. We're doing this play out of the trunk of our car. We're not going to have a lot of props and costumes, but there are some production and publicity costs that we'll need to cover.
WE APPRECIATE YOU
Please click
here
for a list of rewards that come with donating. 
WE'RE COMMITTED
We really believe in this project and the positive change that we can make. It's going to go ahead no matter what. We'll go broke if we have to.
If you'd like to make sure that doesn't happen, please consider donating the price you'd typically pay for a theatre ticket (or more!). But if you can't donate, please still come out and play with us this summer. Remember, tickets are free!
FOLLOW ALONG
Visit us at our 
Facebook Page
Visit our 
Blog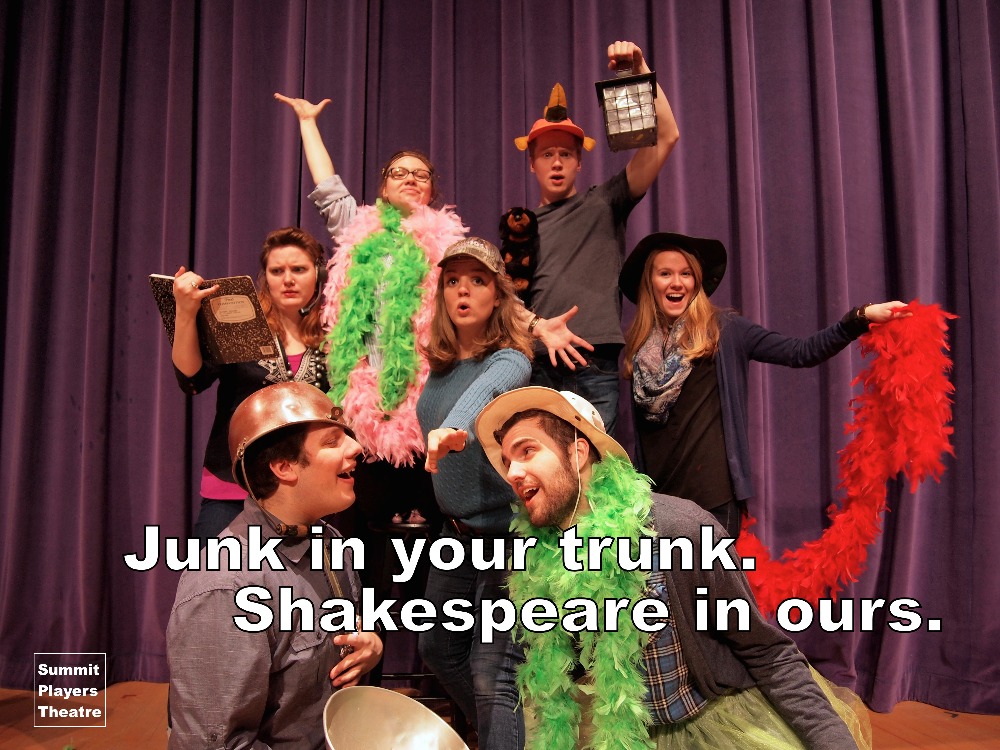 + Read More
Update 2
55 months ago
Share
We can hardly believe we did it so quickly, but we are absolutely thrilled. Thanks to all who contributed, we met our fundraising goal within 26 hours! It was incredible to watch, and our hearts grew warmer every time someone we know and love made the click to help us make our project happen.

Meeting our goal this quickly has made us rethink a couple things, so here's the plan:
We are going to keep our GoFundMe open until the end of our summer run, and here's what we're going to do with it:

1. Of all the money raised past our initial goal, we will donate %50 to a Youth Theatre Arts Organization so that we in turn can support people doing good work, sharing a love of stories, and helping kids grow up.
2. We are expanding our goals and the scope of our project in a couple of ways-- we've gotten a great response from parks interested in hosting us, so we're going to add performances. We're also going to invest in some educational materials to use in the workshops.
3. A true professional production means that the crew and actors get paid. As graduating seniors, that's a gap we're trying to bridge sooner or later. So, with any leftover money, we'll buy lunch and call ourselves professionals.

Thank you again for all of your help and support! We can't wait to make this happen with you guys.
+ Read More
Update 1
55 months ago
Share
GOOD NEWS, TEAM! In a little over 24 hours, we have reached our fundraising goal! Thank you to all of our supporters! We will be in touch with further news and gratitude later this week!
+ Read More
Read a Previous Update
Be the first to leave a comment on this campaign.