Stones Of Uplifting Light - S.O.U.L
$545
of $5,000 goal
Raised by
7
people in 3 days
Joe Baltich
for Into the Brush Inc
ELY, MN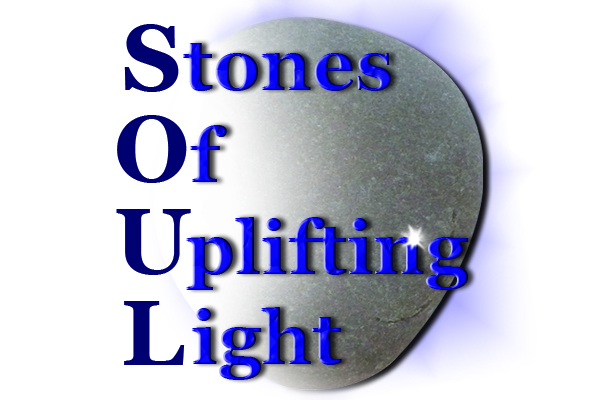 If you could help a stranger have a better day,  would you?

When I paint, my mind is concentrating and wandering at the same time.  That is part of the process that allows me to put my heart into my work.   Most of the time, my painting is emotionally charged except for commissioned works where I need to paint something specific for someone else.  Even then, I try to find something in that photo that engages me and cranks up my inspiration.   When I decide my work is finished, I want to feel inspired by it as well, otherwise, what was the point, eh?

Well, as I was painting a rock to have available for general inventory, it was a canoe scene that was shaping out nicely.  In my other life, I have dealings with lots of people and one man I happened to meet and spend some time with, imparted some details of his family. He was  a proud grandpa with adult children and several grand kids.  I saw pictures of them on his iPhone and thought to myself what a happy-looking bunch were they all.  Then, he showed me a picture of one of his daughters who had some of his grandkids and told me her story.  She was in the middle of her life when she was stricken ill and it was terminal.  Then he told me the heart-wrenching story of the doctor's prognosis, her destined fate and her last wish while she was still strong enough to do it.  While hearing all of this, I was moved and sat in awe of this guy who could tell me this painful story and carry on with his days.  The worst part is that everybody knows what is coming.   I suppose given the situation, this time would also be the best part for saying goodbye.   Nonetheless, I left that meeting wondering how I would feel were I in that situation.   I'm still having a tough time with it all.

The Red Canoe
Well, anyway, I was up in my studio painting a rock with a canoe scene on it.  It is one of my favorite scenes and I constantly try to improve it.  I was painting for inventory and for fun - that is why I chose that particular scene.   As I was laying down layers of color,  planning where my birch tree would go with the  shoreline rocks and how the canoe would be positioned to maximize depth perception, my mind wandered to that guy and his daughter.  Her requested last trip, based upon her prognosis, was to take a Boundary Waters canoe trip with her family.  I dipped my brush into cadmium red and ultramarine blue and ivory black and blended them on my ice cream-cover pallet to fill the shadows of the daylight, I was overcome by the image of this woman who I don't know.   I could see her joyously pulling this very canoe up on a rock-laden shore to unload packs with her family around her.   In my other world as a BWCA outfitter and fishing guide, I've seen countless people do this for 40 years, so I know "the scene" very well.   You can see how happy many people were to be there among those who understand the whole "great outdoors thing" .   My mind wandered to how this woman would let the green-steeped, sunlit morning on the portage guide her thoughts as she said encouraging words to her kids.   They all followed into the brush to the great unknown that some portage through the wilderness unfolded before them.   She'd lean into the weight of her Duluth pack on her back, negotiating the rocks and mud of the portage to climb that hill and ultimately see the shimmering blue and white waiting for her on the other side.   As my brush laid down more color by adding blues and whites into that scene at the end of the portage,  a new idea came to mind.

A Brighter Day
I have a need to fix problems - I've heard it is a "guy thing".   In my constant internal need to fix/enhance/improve using whatever talents and abilities available to me, I felt I needed to do something for this woman or, at very least, for her father or her family to brighten somebody's day.  Anybody's day in that group....!   This whole situation is very disturbing to me!

None of these people know me from Adam.  They know nothing about me;  nor I them.  At best, I know the grandpa somewhat having spent no more than perhaps two total hours with him.  Nonetheless, I came up with this notion of sending this woman a memento of her final trip - something that should have meaning to her and if anything, brighten just a minute of her remaining time on this Earth.  I would get this painted rock into her hands - but only if her dad thought it would help her.  If it wasn't going to work, then I would back down and continue on with my art with nary an ounce of insult.   It was just an idea I had and cost me only some time and paint.  With my predetermined acceptance of the unknown outcome, I emailed the woman's father and included a photo of my painted rock.  Then, I awaited his response hoping sincerely that he would feel neither insulted nor obligated.  I have made many errors in my life and apparently lack that innate ability to recognize potential errors when they are presented to me in a slightly different form.   Plus, after making the error, I 'm usually too late to set a new course.   So, I just hit "enter" and braced for impact.  Iceberg straight ahead - maybe.

The next day, the phone rang and was answered by my employee, Jackie.  She came out to the front of the store and handed me the cordless saying that I needed to take this call.  It was the grandfather whom I emailed not 24 hours ago.  He warmly greeted me and told me he needed to tell me a story.  It was a recap of his BWCA trip with his daughter and grand kids last summer.  As I said earlier.   He then talked about the stone with the canoe scene on it and how much it truly meant to him and what he felt it would mean to his daughter.   He was obviously very moved by my action and the stone itself.  He didn't want me to send it to his daughter, but instead wanted to come see me to pick it up in person and then hand deliver it to her himself.   That way,  he could tell her about me, how he and I met, and how that rock came to be.

Now, it was my turn to be very moved.

An Idea is Born 
From this whole experience, I got a real sense of what a random act of kindness might do for somebody who is facing the end of their time and the unfairness of it all.   I decided then and there, that I would begin researching people somehow to find those who are facing an untimely demise and great suffering in the prime of their life.  I would find out what they did that moved them and try my best to paint it on a stone from Lake Superior.  Stones from that lake always feel timeless to me and seem well suited to this particular use.   Then I would get the painted stone to them either by hand from a family member,  friend, or mail.  This would be a memento of one happy time in their life captured on a rock and for them, it has to be done for free.  

Why?  Because when I put myself in their shoes, I would be completely stunned by this, not only the rock but having someone who is a stranger who connects to me through a little work of art.   I would immensely enjoy the memory and share it with my family or friends.   As an artist, it is my small effort to make the world a brighter place for somebody else with no strings, no requirements, no paperwork.   They don't even have to ask.    It's just a stone with paint on it and time spent applying paint into a reflection of happier times.   I want to believe that the vast majority of recipients would find joy and solace in getting a pretty stone from a complete stranger.
Click the Red Canoe for a Youtube video of me and my idea.  

Where am I going to take this?  Stones Of Uplifting Light (SOUL).   I will seek out people for whom their time is too short, try to find out about their background a bit and paint a stone for them.  
Right now, I need funding to cover initial start-up and  operating costs to get this project off the ground.   I have another life and I need to pay for time spent in contacting sources for whom stones would be painted, as well as actual painting time, workspace, and materials.  My launch time is now as there are people out there who don't have a lot of time left. 
My first contacts will be with clergy and organizations who would have such knowledge.   Again, I'm not seeking a lot of details other than the story of an individual who's time is up prematurely and an event or object in their lives that brought them joy and/or comfort.  Then, I paint the rock and it gets delivered to them while I remain anonymous for the most part.  That is the whole point and that is why I'm seeking crowd-sourcing.  The last thing I want is some big, advertised event.  It is all about the dignity of the recipient to me.     
Ultimately, I hope that SOUL will grow and we can hire a part-time researcher/delivery person and a few young, gifted artists who will help me paint the stones.   My goal is to hire young artists because I always hear about how tough it is to make a living in the art world especially for artists just out of college.  This could be a great way to start for them and I will have solved another problem, hopefully - the proverbial "getting two birds with one stone" will come to be.     They would be paid for their works which would be funded by donations given to Into The Brush specifically for SOUL.

Let's face it.  In order for me to operate successfully, there are many costs associated with this endeavor,  so we are asking for donations to seriously push this endeavor forward.    I want to raise some initial funding to cover some of my time spent researching potential recipients, some travel and paying for time and materials to paint the rocks.   In any case, the stone recipient will never be charged and neither will his/her family.   That is point of our seeking donations and crowd-sourced sponsorship.   I expect some bumps, twists and turns along the road of SOUL's development particularly in gathering information about potential recipients, so please bear with me.  I will try to make this as wonderful as I can for as many people possible.

It is my hope that my big idea grows ultimately into a benevolent foundation to help people in some little way with art combined with the kindness of strangers.   This is my intent and goal and I would appreciate the same help extended to me by strangers to do this.   Your donation is used to brighten someone's day with a little piece of art.   How cool is that?
+ Read More
Update 2
Posted by Joe Baltich
2 days ago
Share
This is a SOUL rock going to a little kid with leukemia. I finished it last night. The boy idolizes these two sports figures. I hope I did them justice in painting them on this rock!
+ Read More
Update 1
Posted by Joe Baltich
2 days ago
Share
To give you an idea as to what SOUL is, I painted this rock last night and it will be sent off to a little kid fighting leukemia. He's 10 years old yesterday and these are his sports heroes. I hope I did them well enough for him to recognize them. I'm a bit lacking in that I'm not very knowledgeable in sports. Oh, well.
+ Read More
Read a Previous Update