STAND WITH US
$5,460
of $35,000 goal
Raised by
102
people in 5 months

Join our Gofundme campaign to bring this extraordinary anti-bullying assembly to schools that can't afford it.
Tenna Whitsel, Student Services Coordinator, Tulsa Public Schools
Kirk is no ordinary speaker.
Students are transfixed on this man who stands behind five empty chairs, each with a picture of a young person who has died from suicide. One chair in particular has a photograph of his only child, Ty Smalley, an 11-year-old boy, who took his own life after being bullied for more than two years.
Through his story of love for his son, Kirk captures the young hearts that sit in front of him.
While he speaks, I see students, gangsters, geeks, jocks, cheerleaders and nerds raise their hands in the universal sign language: "I Love You." They listen and they feel his grief – his passion is to make a difference in their own lives through his story.  
It is this observation that sets him apart from any other school assembly speaker.
The students are forever touched by this simple man and his story of the love between a father and his son. His message has literally changed students' attitudes to care instead of destroy, to ask for help instead of taking their own life.
Mr. Smalley is a hero in many young eyes in Tulsa Oklahoma, and a hero in my own eyes."   
Kirk gets dozens of invitations each week asking him to come to their school – several of those each week desperately want him to come but cannot afford to help cover those costs, even though their kids need our message badly. This GoFundMe campaign is so important to help Kirk find a way to go to as many of these schools that need him.
THESE HEARTBREAKING AND INSPIRATIONAL MESSAGES ARE THE DRIVING FORCE BEHIND KIRK'S PERSONAL EFFORTS:
"Stand for the Silent has changed my life in many ways. It has given me the courage to stand up for myself, my friends, and my family."
Gabe
"I've been bullied. And because of that, I cut myself. This assembly has inspired me to stop."
Madi M.
"You came today it actually saved my life, You, you saved me. You are my true hero, you Kirk Smalley."
Baylie P.
"Your speech to my school really touched my heart and made me realize that there is something to live for, in my life."
Anita K.
"Today, my life was changed. I've been bullied. I once had a suicide planned all out. I forgot about that today. I'm going to take a stand for bullying!"
Shamdra M.
"Your speech touched my heart. I had planned to take my life today but then I heard you and decided that I'll just live through it."
Harmonie W.
"You saved my life."
Kiari I.

We are so thrilled to be working with the guys from The Fold and City Centre Coffee.  As our gift for your generous donations, we collectively created a variety of very special rewards – only offered through our GoFundMe campaign!  We are so appreciative of your support!  

Kirk is on the road more than 300 days a year traveling across the country from small towns to big cities. He has visited 42 states and six countries.  Stand for the Silent has reached 1.4 million kids in 1,300 schools. Kirk needs your help to reach 1 million more! Below are some photos from his travels.  #WordsCanLeaveAMark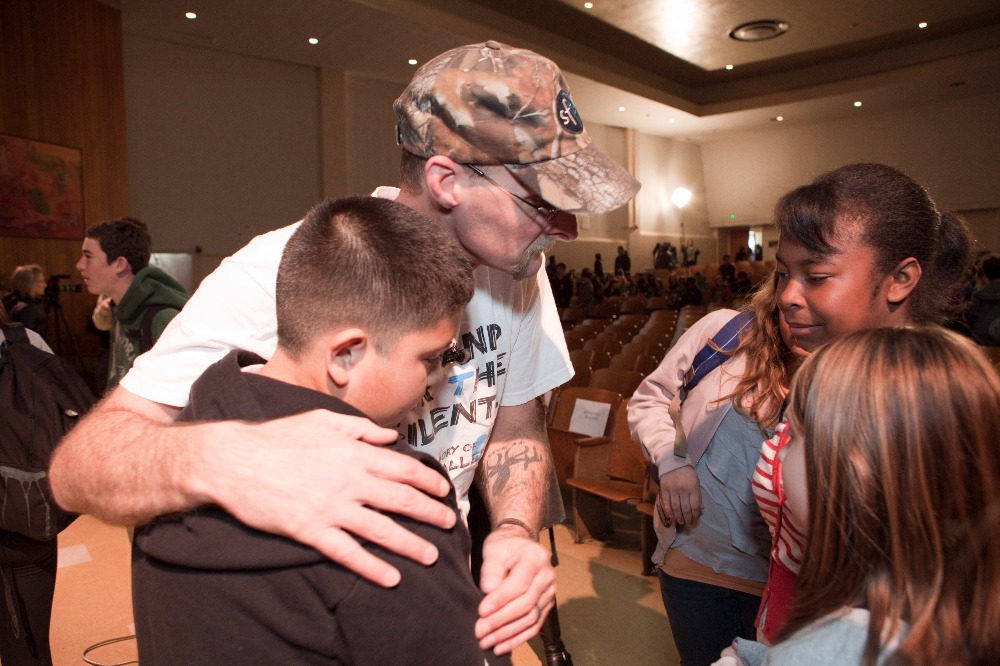 + Read More