Kramer Foundation's New Kennel
$12,170
of $100,000 goal
Raised by
106
people in 28 months
Help to continue one woman's fight saving dogs and changing lives
Juli Lathrop, the Founder of the Kramer Foundation, Inc. ( 501c3 non-profit organization), needs your help to be able to have a facility built that allows a safe way for the feeding, training and cleaning of dogs she rescues from the verge of being euthanized for behavior issues, and trains them to become scent dogs (narcotics, bomb, human remains and crime scene), search and rescue and therapy dogs. These dogs, by being given a second chance, become useful members of society as it is stated in the GoodWorks video created by the Community Foundation of Elmira-Corning and the Finger Lakes -
http://www.communityfund.org/kramer-foundation
.
To date the Kramer Foundation has fostered over 900 dogs and has dogs placed in 19 states and 3 countries. Dogs are with Law Enforcement, Search and Rescue, therapy dog homes and just good old family pets.
The New Kennel ...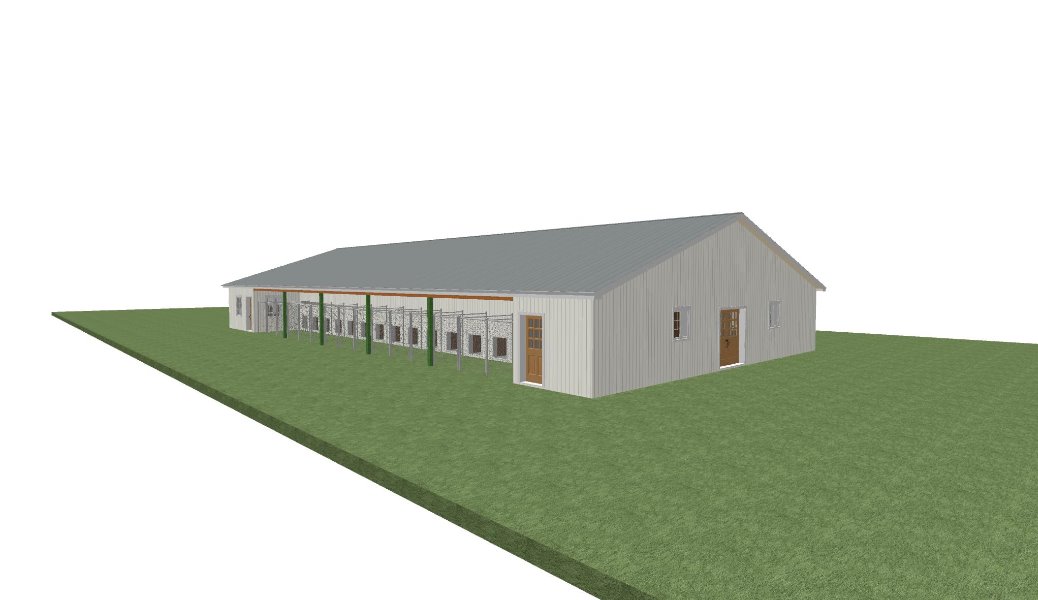 The new facility would provide a safe environment to allow others to help in the daily feeding and cleaning activities. The structure will be a pole-barn design with insulated walls, heated facilities and running water for a wash area (other than Juli's bathtub), a washer and dryer for "dog only" items, storage facility for large amounts of food and equipment, covered outdoor pens for the dogs to enjoy the fresh air without being exposed to adverse weather conditions, attached play area for extended exercise. This will allow all dogs to be in the same building and not utilizing all the living areas of Juli's house and garage.
By being able to utilize volunteer help for the first time in 16 years, the new facility would allow her to have more time to train, and would also allow her to attend more specialized trainings while the dogs are being safely cared for at home. With the addition of "real" kennels, the barn that currently houses 9 dogs would be freed to be used as a training building and would eliminate MANY trips to transport dogs to other off site training facilities
The K.R.A.M.E.R. Program …
The program is named after the original dog, Kramer – a Rottweiler, and was established in 1999 to promote the relationship between youth and law enforcement, and to stimulate social and educational skills that would build a foundation for participants to become successful students/citizens.
The Kramer Foundation, Inc. also retains a group of dogs trained in Search and Rescue that are available free of charge to law enforcement to aid in lost/missing person searches as well as human remains detection and certified crime scene dogs that detect trace evidence at potential or known crime scenes. The Kramer Foundation, Inc. also has a group of certified therapy dogs Juli takes to libraries, senior homes, counseling agencies, schools, fire departments, public events and anywhere a soft body and a warm heart are needed to make a day better or a lesson easier to learn and remember. Over 40 programs were developed around the use of the dogs and law enforcement, and many of these programs were adopted around the nation, such as afterschool program with dogs, reading pawtnership program, behavioral modification program, smoking cessation program, helping survival groups for victims of sexual abuse, free fostering for deployed soldiers, free foster care for the Veterans during in-house treatment, and fostering for domestic violence victims while agencies locate appropriate housing. To learn more about the K.R.A.M.E.R. Program or about Juli, visit the Kramer Foundation's website at 
www.thekramerfoundation.org
or the Kramer Foundation's facebook page.        
Juli is also currently on the list to house dogs for Chemung County should a natural disaster force evacuation or destruction of shelter or homes. The newly opened facility would allow her to increase by 10 times the amount of animals that she could house in such circumstances.
Kramer Foundation, Inc. is a 501c3 non-profit organization, and all donations are tax deductable.
100% of all funds received through this Go Fund Me page will go directly towards the cost of this desperately needed new facility, and to the care and training of current and future rescued dogs. All positions at the Kramer Foundation, Inc. are on a volunteer basis, therefore your donation will not offset any salary costs.
Huge "Thank You" to Dan Williams from Williams Construction and Jamie Gensel from Fagan Engineering for donating their time and expertise to do the architectural drawings free of charge for the new kennel.
+ Read More
Update 1
27 months ago
Share
"Juli and the Kramer Foundation have helped so many people, and dogs in this country and many states. She is an amazing person who has devoted her life to animal and human welfare, whether it's her involvement in search and rescue, or training dogs for search and rescue, therapy dogs, law enforcement and drug enforcement, giving dogs who would stand no chance of being rehabilitated in any other setting, pulling dogs from death row, training others to train their own dogs, helping shelters, and rescues to continue their work, keeping dogs for members of the Armed forces until they can return from active duty, helping children, constantly training , transporting dogs, and the list goes on and on. Please consider giving what you can to help her in her mission to help those who cannot speak for themselves. She can make such a difference if allowed to build this facility. Please, please open your heart and help her save another 900 lives and more."

Nancy Parks-Crowley
+ Read More