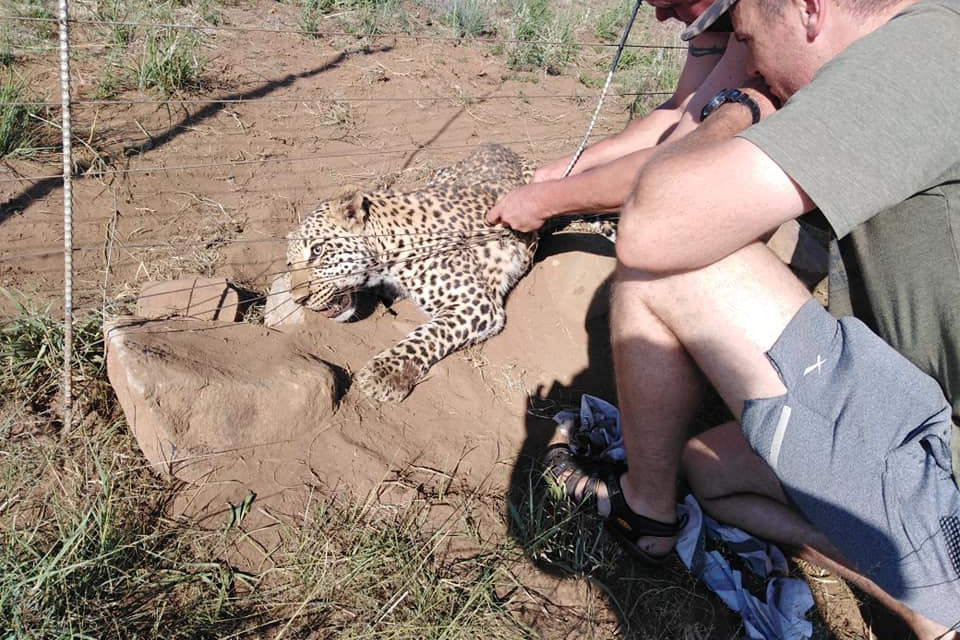 20
6
S.O.S. Leopards
€1,250
of €1,500 goal
Raised by
21
people in 2 months
This male African leopard (approx 4 years old) is the 54th badly injured wild leopard being captured for rescue in the Mpumalanga District/South Africa and brought in for medical treatment, rehabilitation, relocation and release.
So far all being done with funds from the vet and rehabilitation centre. Money is running out and leopards still need to be rescued. This male was rescued and badly injured by snares on a farm, and so far had two operations. On the last year of 2018 the second operation took place, as his injuries and muscles didn't heal as hoped for. The male is eating well though.
We can only hope this  male will heal completely.  Of course our team wants to keep on fighting for this male, like the 53 before him, and the ones that need to be rescued in the coming years.
But funds are badly needed now. Please start the year 2019 by supporting these poor leopards, by supporting our team to keep doing the job: saving the leopard!
Any funds.....everything is welcome.
For more info, in case of doubt whether to donate or not, please don't hesitate to contact Babette de Jonge (Wild Cats World), and we can provide you with all info and photos you need.
Thanks so much!!!
+ Read More
Update 2
10 days ago
Share
Dear all who generously donated to our cause to support medical treatment and care of the wild leopard male who was injured badly in snares on a farm. Not the first and not the last leopard. We made sure the health of the leopard and the progress of keeping him safe and hopefully being released again on the terms promised is being checked on closely. Soon it will be revealing time as for saying loud and clear what is happening to the leopards, not just in the wild but also in captivity as we found out, and other wildlife, in a deadly, killing and poaching country: South Africa.
Just keep watching this space...for up-dates in the future, also to be published on the Wild Cats World public pages, and website. For now silence before the storm, but you can all remain assured that me and Wild Cats World keep doing all we can for the leopards and other wildcats. And every penny will just be spent on them, we make sure of that.
+ Read More
Update 1
2 months ago
Share
Rescued from snares, ready to get medical treatment. Lots of damage has been done by the snares but in good hands now. A rehab program Wild Cats World is backing up with full trust.
+ Read More
Read a Previous Update