Help Sophia Fight Lyme
£22,270
of £30,000 goal
Raised by
527
people in 30 months
Hello everyone,  
I have set up this page hoping to get some  help towards funding my Lyme Disease treatment overseas and ongoing treatment back here in the UK.
Because the NHS doesn't recognise or fully understand the complexities of my chronic illness, I have no option but to travel abroad to get the expert knowledge and treatment I need to hopefully get me well again.   
I have been ill for over 2 ½ years and have suffered with chronic pain for 8. Despite our very best efforts, pursuing every possible medical pathway and already spending £000's on appointments, scans and tests, we have made very little headway here in the UK. And, as each month goes by, the disease continues to progress and I am getting sicker and weaker.   
If I'm going to have any kind of future with a reasonable quality of life I need to act now to tackle this disease head on, with your help. 
The story so far 
I am 27 and have suffered with unexplained and increasing chronic neuropathic pain since my first year at uni (in 2008). Try to imagine burning, stabbing, cramping, and deep intense aching pain in your legs 24 hours a day, with sensitivity so extreme that often even a cotton sheet touching them can't be tolerated. Walking just a few steps is painful, difficult and very restricted. When it flares up (when the pain is even greater and more unbearable) it's the kind of pain that most 'normal' people who don't experience pain every day, would go to A&E for, thinking there was something drastically wrong with them. There is nothing that gives me any relief or respite.   
Suddenly, in December 2014 I began to experience a lot of other debilitating symptoms like chronic fatigue, muscle aches, migraines, dizziness, sound and light sensitivity, a racing heartbeat, and memory and concentration problems. I can't stand or sit up for very long without feeling dizzy or faint and spend most of my day lying down, resting my head. On a good day I look forward to getting out of the house for an hour or so but have to dose myself up with strong painkillers and rely on a wheelchair. 
I really miss my independence.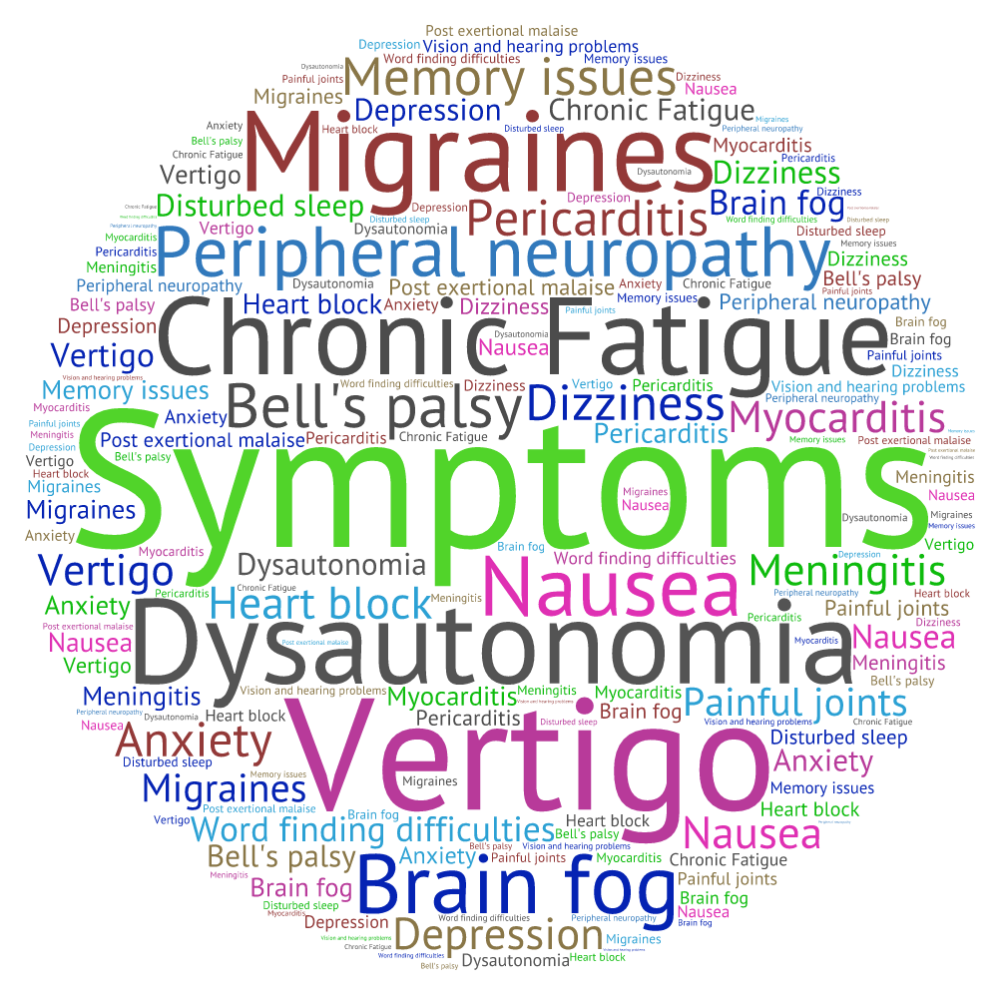 Despite many appointments, investigations and tests, nobody could tell me what was happening to my body. Specialists shook their heads and told me there was nothing they could do - I would just have to accept and live with it.  
Getting tested for Lyme Disease 
Thankfully, my pain consultant thought outside of the box and suggested a test for Lyme Disease. My first test came back positive – which was a shock but at least I knew what I was dealing with. However, a second test was described as 'inconclusive', meaning more doubt and disappointment.   
"PUBLIC HEALTH ENGLAND ADMITS ONLY 10% OF UK LYME DISEASE VICTIMS GET DIAGNOSED BY THE NHS EACH YEAR." Caudwell-lyme.net  
Due to the controversy around the accuracy of Lyme Disease testing here in the UK, we decided to get tested privately through a well known German lab. This confirmed that not only do I have Lyme Disease but also several co-infections and viruses. The test also confirmed that my immune system is very suppressed – no wonder I feel so ill!  
(I have also since been diagnosed with POTS (postural orthostatic tachycardia syndrome) which is often caused by Lyme and is an explanation for why I can't stand for long.)  
At last I could attribute my symptoms to a known condition and get help – or so I thought. Trying to get treatment for a disease that is misunderstood and often not even recognized by the medical profession here has been really tough and exhausting.  We've gone as far as we can go and can't waste any more time.  
How Lyme Disease has affected me 
My health is very poor. Contracting Lyme Disease and multiple chronic infections has left me almost totally debilitated and housebound. My immune system is severely compromised, my central nervous, autonomic and digestive systems have been severely affected and my neuropathic pain levels are very high.  
I haven't been able to work for over 2 years (I had to give up my job as a speech and language therapist), I have very little in the way of a social life and I have lost my independence.   
Compare this to several years ago when I was fit and healthy, running 10K races, swimming 5 times a week and boxing! That's very hard to imagine now.  
The Plan 
My amazing Mum took 6 months off work to research everything there is to know about Lyme Disease and how to treat it. 
After thoroughly weighing up all the options in terms of clinics/specialists abroad, we felt that the Stram Clinic in Albany, USA, would be able to help me (we have also found a clinic in Germany as a second option if necessary) and, thanks to funding received so far, travelled there at the end of last year.
  T
he journey was incredibly difficult as I'm so poorly, but I put myself through it because hopefully the end result will be worth it. With the love and support of my family and boyfriend I am determined to do everything to get well again.  
The treatment and the costs  
We don't yet know for sure exactly what the treatment will be as every Lyme Disease sufferer can carry different co-infections and viruses and will react differently to different protocols. These are some of the options:  
- IV antibiotics 
- Oral antibiotics 
- IV vitamin infusions 
- Antimicrobials 
- Detoxification methods 
- High quality supplements 
- Holistic therapies  
I have a lot of health issues that need to be addressed in the right order and that's going to take time – we are estimating up to 2 years.   
This may mean more than one trip to the USA and some Skype appointments plus a range of tests, scans and prescriptions along the way. All of which are going to be privately funded.  
There will be travel & accommodation costs, consultations, blood testing, healing therapies and supplements and medicines to pay for.  Ongoing treatment in the UK will be slightly different and may involve expensive immune boosting treatments that we are currently investigating. We've been as precise as we can with the fundraising figure - it's hard to be exact and our target amount may change slightly as we go along and learn more – we will keep it updated as best we can.  
Recovery 
Recovery from this awful disease is definitely possible and I am hopeful that I can slowly regain my life back. I know that it's going to be a very long road and a tough process both mentally and physically as the treatment often makes you even sicker (when you start to kill off the bacteria) before you start to feel better. Although I am very weak physically, I have a very strong mind and I'm determined to get through it and come out the other side – smiling! 
My goal 
I just want to be able to take my dog, Copper, for a walk without pain or passing out. I have lived in Cornwall for over 2 years and have hardly seen any of it. To be able to explore some of it with my boyfriend Paddy would make me incredibly happy :)  
I would really appreciate your support in any way you can. Any donation, no matter how small would be amazing!! :) 
If you can't donate you can always share my Gofundme page on your social media. Or, if you would be kind enough to organize or get involved in a fundraising event please get in touch through this page or through my blog and I will help in any way I can. 
I will keep you updated on my healing journey through this page, my blog 
www.spooniesophia.com, 
my instagram & twitter @spooniesophia and my youtube channel - just search for Spoonie Sophia.  
Thank you sooo much! :) 
xx  
*Lyme disease, also known as Lyme borreliosis, is an infectious disease caused by the Borrellia bacteria. It can be transmitted to humans by the bite of an infected tick, flea or biting fly. Symptoms include feeling flu-like, extreme tiredness, muscle pain & weakness, joint pain, upset digestive system, headache, disturbances of the central nervous system and insomnia. Treatment is with antibiotics and is most effective if started as early as possible in the disease. Chronic Lyme Disease is much more difficult to treat and involves longer courses of antibiotics, combinations of antibiotics and additional therapies.  
For more information on lyme disease please visit
ILADS
, 
Lyme Disease UK
 and
caudwell-lyme.net
Lyme Disease Guidelines
 – an evidence based critique by Caudwell-lyme.net explains the flaws in the NHS guidelines on the testing, diagnosis and treatment of Lyme Disease.
+ Read More