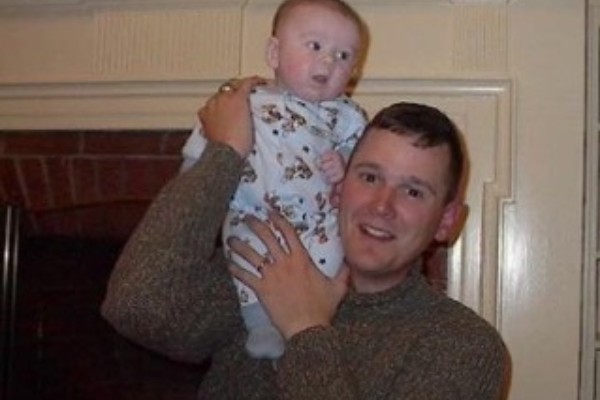 209
3
Fallen soldier's story full-circle
$12,476
of $10,000 goal
Raised by
183
people in 13 months
Help us bring a fallen soldier's story full-circle
#thefullcircleproject
My name is Kyle Fox and I am the co-founder of a group of patriots who call our selfs Follow the Flag.  Since 2014 in Pleasant Grove Utah,  Follow the Flag has hung a giant American flag across a large 1,000 ft canyon above our community.   We strive to bring the patriotic spirit to all.  We fly the flag of USA to show the veterans and first responders that we love, honor and support them.  2017 was the year we made history when we flew the largest free flying American Flag in the world.  Big Betsy as we call her measures just over a quarter acre at 78 x 150 ft.
Our soldier's story:
In early 2003 1Lt Jonathan David Rozier of the US Army kissed his wife Jessica, and sweet baby son Justin goodbye as he left to serve our country in Iraq. His army platoon was stationed at a traffic control point outside a prison in Baghdad, Iraq. One evening a pickup truck rolled up to Jonathan's checkpoint with a dead body covered by blankets in the bed of a truck. The driver asked to be let through to bury the body. As the truck passed, it turns out the "dead body" was the enemy in disguise. The man disguising himself as deceased sat up and fired a RPG Launcher, killing Jonathan Rozier instantly. Jonathan left behind a beautiful 9-month old son and heartbroken wife.
Our mission:
To make ends meet during this devastating time in her life, Jessica sold her late-husband's car, a 1999 Toyota Celica convertible.  Fast-forward all these years later to the part where our story comes full-circle! Baby Justin is now a vibrant young man ready to celebrate his 16th birthday in October! Follow The Flag, along with Justin's warrior of a mother, would like to surprise Justin with a piece of his late father by helping him get into his first set of wheels. Yes, you guessed it! His mom has tracked down his late-father's convertible to a little town called Pleasant Grove, Utah. The current owner has agreed to sell it!
How you can help/ how your donations will be used:
The funds we raise will do the following:
1. Purchase a fallen soldier's car for his son.  
2. Get that baby tuned up, detailed and driveable.
3. Transportation from Utah to Texas.
4. Big red bow.
5. Gas money.
6. A priceless surprise!
7. All donations left over will be given to the Johns family.
 
Imagine the feeling of holding the steering wheel of a car your late father once drove. A father you never knew. A father who died in the line of duty serving his country. What a priceless gift.
Thank you for your support, and for being a part of what Follow The Flag is all about. We love you!
+ Read More
Join us on Wednesday!
See the product of this project.
#thesoldierscar unveiling
Wednesday 5-7 pm Chubby's Cafe in Pleasant Grove City
The car heads to San Antonio immediatly after.

Shout Out to all who made this happen!
All the donors who donated to purchase the car!
AF Collision Repair AlloyWheels Greenwood Automotive Services, Inc Tire Factory Point S Jam Master Car Audio and Window Tinting Crazy Clean Mobile Detailing Karl Malone Toyota Wayne Martin Pat Buchanan AutoZone (Saratoga Springs, UT) KSL 5 TV Alex Cabrero

15 years ago Jonathan and Jessica Rozier were a newly married couple with a 9-month-old son named Justin. Lieutenant Jonathan Rozier deployed to Iraq not knowing he would never see his family again. Jonathan was tragically killed during an ambush leaving his wife to support their 9-month-old son alone. Jessica had to sell Jonathan's car to make ends meet.

Fast forward 15 years, and their baby son, Justin, is almost of driving age. Jessica still had the paperwork from selling Jonathan's car and about a month ago got the hairbrained idea to try and track It down.

This is where the story gets good! Through a vin number search that lead her from Texas to Utah, she made a social media post on a Pleasant Grove, Utah Community Facebook page. We are a local patriotic group of friends who call ourselves: "Follow The Flag" and we picked up the story from there. We found the car within days! Sadly, it was not for sale. The owner of the car learned this was a fallen soldier's car, and his widow was trying to unite it with their son, and had a change of heart. Follow The Flag started a GoFundMe page and raised enough money to buy the car! As you can imagine, this 20-year-old Toyota Celica had seen better days. The community of Pleasant Grove came together, and with local Ma and Pa shops have made this car new again. Everything from the upholstery, to the paint, tires, and stereo system are brand new. All donated by people who are grateful for the sacrifice of Jonathan Rozier. His son Justin never knew him as a father, and he has no idea this car has been found. What a day it will be when we reunite this young boy with a piece of his father!
+ Read More