551
17
Life For Sarah Jackson Brain & Neck Surgery
£19,835
of £250,000 goal
Raised by
644
people in 13 months
Hello everyone, thank you for taking the time to read my daughters page. She's an extremely sick 30 year old and we live in Essex, England. I'm writing this as we desperately need your help.
Sarah had her first surgery on May 21st 2019:
This is for (Anterior Cervical Discectomies C3-C6 fusion and plating), it cost approximately £100,000. It came to over this when you add in flights, accommodation, bone stimulator, hospital fees, scans, surgeon fees, anesthesia fees, medications etc.
Although we are extremely grateful for every donation, all the raffles, events etc that were held, unfortunately we still had to take out a huge extension on our mortgage to cover just this first surgery. Please keep up with the donations, shares, raffles, anything you can think of to help as Sarah really needs these other two surgeries and unfortunately, now we have this very big mortgage hanging over us we are unable to afford any further surgeries. Any help, any donation, hugely appreciated.
Updates on Sarah's progress is in the "updates" section :-)
We chose the USA after many consultations worldwide and although Spain is a fair bit cheaper, Sarah's consultation there didn't go well after the neurosurgeon wanting to fuse most of her spine and completely missing her Chiari on the scans. Although he works out fantastically for many, he wasn't right for Sarah. 
This is only the first of many operations Sarah has to have and because she's not able to have them all done in one go, this is why there is a higher figure in the region of £250,000.
We are trying absolutely everything possible to raise this money, alongside Sarah's Dad working 7 extremely long hard days a week I care for Sarah even being extremely unwell myself.
We have now taken out a big loan to cover just the first operation. We're hoping in the next month or so we have raised enough for the next set of surgeries.
Sarah has been extremely sick for 6 years with Chronic Lyme disease, Postural Orthostatic Tachycardia Syndrome and also having had open heart surgery in 2016. In July 2017 she then suffered a big seizure which caused her a lot of damage, leaving her basically bed bound, needing speech and occupational therapy. Sarah now only really leaves the house for doctors and hospital appointments, even then it's in a wheelchair as she's unable to walk or stand for more than a couple minutes before fainting.
Most days spent: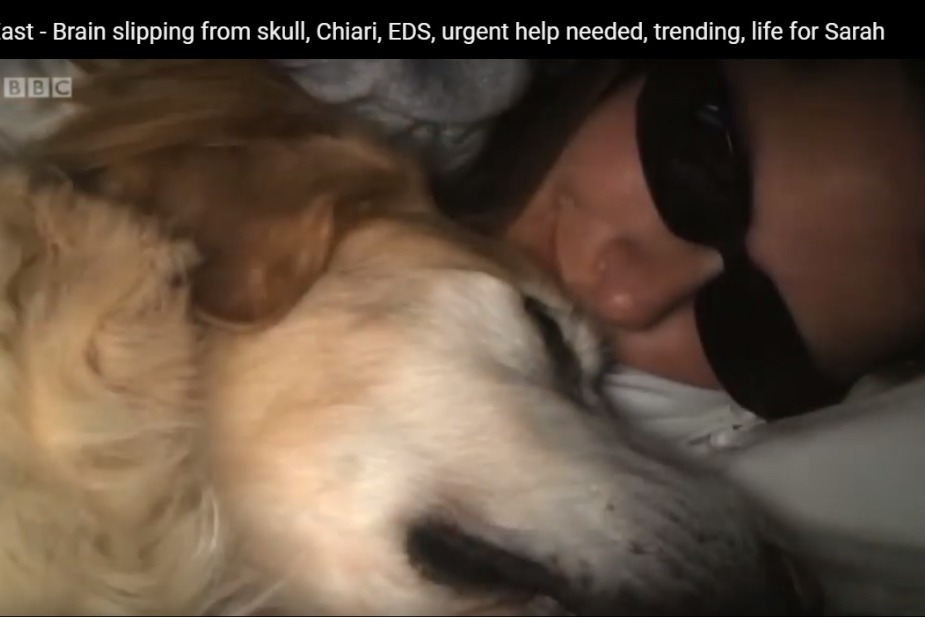 I apologise it's a long story, I've kept it as short as possible but want to explain Sarah's story the best I can for those who don't understand why we need to raise such a huge amount of money.
**In very short: We need to raise this money because Sarah has now also been diagnosed with: Chiari Malformation (10.2mm herniation), Craniocervical Instability (CCI), Atlantoaxial instability (AAI) and needs Anterior Cervical Discectomies C3-C6 fusion and plating. But as she has Ehlers-Danlos syndrome (EDS) it means no surgeon will do it in the UK as it makes these types of surgeries extra dangerous. So she has to go to see one of the top specialists in the world, which is in America**
Us on 'Kay Burley Show' -
SKY News
:
https://youtu.be/Fwt7ezNTlo4
Us on
BBC Look East:
https://youtu.be/t0Edb52s2Ng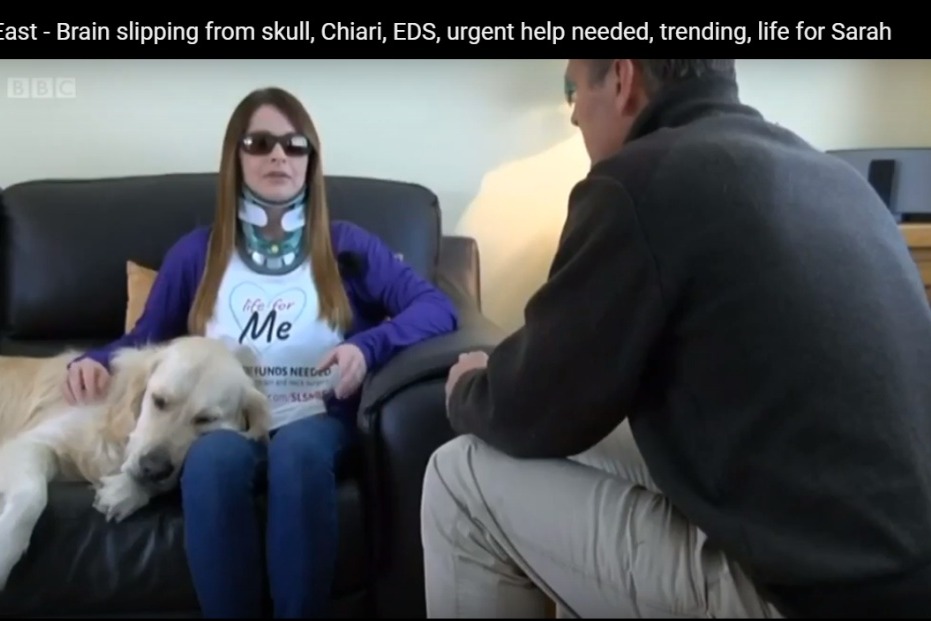 A video from East Anglian Daily Times:
https://www.eadt.co.uk/news/sarah-jackson-from-essex-needs-to-raise-300-000-for-usa-brain-operation-1-5974164?jwsource=cl
EDS -
effects the formation and structure of the connective tissue in the body. This includes skin, muscles, ligaments, blood vessels, organs and heart valves. This is why UK specialist's won't touch Sarah, because it is a dangerous operation anyway and they don't have the skills/knowledge to operate on someone with EDS with these kind of conditions. EDS effects every cell of Sarah's body, but especially her joints. But most worryingly, her spinal cord.
Sarah needs decompression of the brain stem and fusions of the cervical vertebra in order to prevent her conditions from paralysing and ultimately killing her.Without specialist surgery, she will deteriorate and eventually die from these degenerative conditions. *These surgeries are not available in the UK for EDS patients on the NHS or privately*Without treatment, there's no doubt that at any time - organ failure, paralysis and a slow and painful death lay ahead.
Unfortunately these surgeries are extremely difficult and costly at that! So we've set up this campaign as we need your help to spread the word and hopefully raise the money we need. 
Surgeries:Anterior Cervical Discectomies C3-C6 fusion and plating. Chiari Malformation
- is a neurological disorder that affects the brain and spinal cord. What happens is that the lower part of the brain (called the cerebellar tonsils) is pushed down from the skull and rests on top of the spinal cord. Dangers that Chiari poses in individuals (like Sarah) is that by pushing the cerebellum tonsils down, the base of the brain endures more pressure and that can result in neurological problems. The life expectancy of those with Chiari, there are still ongoing studies, so it can be hard to tell how long an individual can live with it. It is important to understand that Chiari affects people differently. For example: someone (like Sarah) who experiences respiratory problems, dizziness, balance issues etc with this will have a short lifespan without the right treatment. Which is why it's so important she gets these surgeries done as soon as possible.
CCI (Craniocervical Instability)
- is a structural instability of the craniocervical junction which leads to deformation of the brain-stem, upper spinal cord and lower brain (cerebellum). It often occurs in patients with EDS and other hereditary disorders of the connective tissue.
+AAI (Atlantoaxial Instability)
- excessive movement between the ligaments of (C1) and (C2). Neurologic symptoms can occur when the spinal cord or adjacent nerve roots are involved. Which Sarah is really suffering with, she has to wear the hard neck collar 23-24 hours a day to prevent further damage. 
All of these have caused a wide range of symptoms, I'll just list only a few (minus all of Sarah's Lyme symptoms):
* Extreme neck pain with severe headaches
* Neurological symptoms- wide range
* Could be the cause of my POTS (see after surgeries!)
* Chronic fatigue 
* Dizziness, balance issues and vertigo
* Vision issues - mainly severe photophobia and nystagmus
All of these issues could be gone with surgery, certainly will be improved! But
most importantly,
if she doesn't get these surgeries done it will crush her spinal cord and be fatal.
Sarah is a wonderful, proud and determined young woman. She will never be able to have children of her own because she will pass these conditions on to them.
I miss my beautiful daughter and best friend. She deserves a life free from these life threatening conditions.
Please give my girl a life again, a desperate mum❤️
Julie (Sarah's mum and carer)
At one of the fundraisers from The Burstead Farm Shop - Billericay, Essex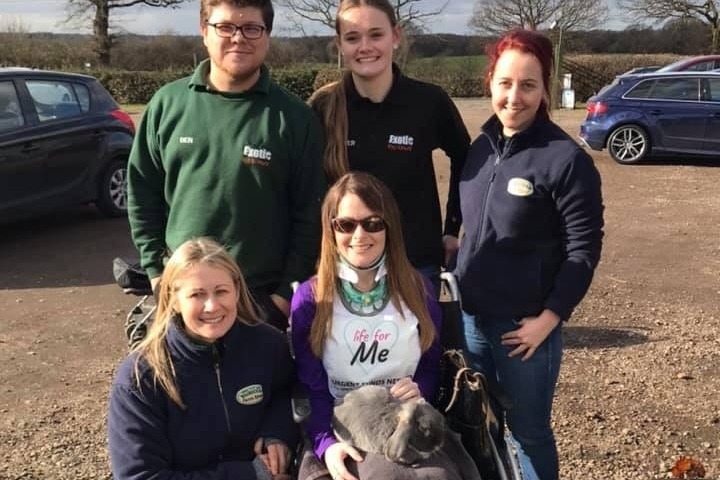 Easter Event from the farm shop again, such amazing people! 

Some news info (can be found online)


Much loved family photo (when Sarah was fairly well)

Family mean everything! (Sarah when well - with her brother)


+ Read More