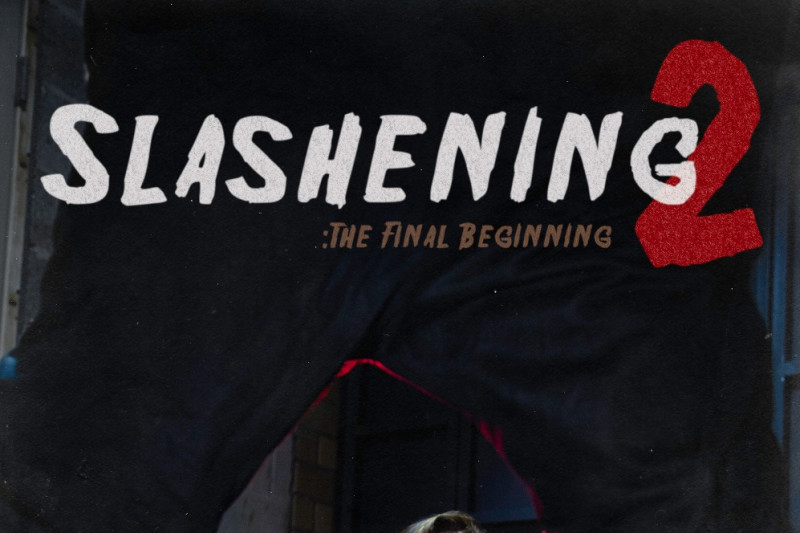 84
5
"Slashening 2: The Final Beginning"
$5,835
of $10,000 goal
Raised by
93
people in 26 months
"The Slashening" was well-received by horror and comedy fans alike and we want to build on that! 
We were limited by a super tight budget and inexperience. Taking what we learned from "The Slashening" and our first film, "Fear Town, USA," coupled with the support from our fans, we want to take it even further! 
Both "The Slashening" and "Fear Town, USA" have just been distributed by legendary independent film company Troma (birthplace of Trey Parker, Matt Stone, and James Gunn). Troma founder and legend himself,
Lloyd Kaufman, has stated that "Fear Town, USA" is better than "Evil Dead." We'll take that, sir!
Check them out here! 
The Slashening
  and 
Fear Town, USA
Blu Ray Double Feature
We've begun production on the 3rd feature in the Annum Films library,
but need your help to keep the cameras rolling!
Every member of our highly talented and devoted cast and crew are lending their skills for free... becuase they LOVE what they do! But, food, coffee (LOTS OF IT) and transportation cost some serious dough! As does camera rentals and lighting equipment! ...and we can't forget blood, guts, and silicone!
This is where we can REALLY use your help!
The Story:
Five years after "The Slashening," 22-year-old Madison Santangeli (played by Addie Weyrich) moves to Brooklyn to start a new life in the wake of her father's suicide. But a series of murders committed by a familiar masked killer starts happening around her. Is it coincidence or is someone sending a message? 
If you've ever wanted to see the residents of Williamsburg getting violently and ludicrously butchered, then this movie is for you! ;-).
Catch the intro to the film
here !
MEET THE CREW:BRANDON BASSHAM [DIRECTOR/WRITER]
wrote and directed the feature films "Fear Town, USA" and "The Slashening" as well as contributing a segment to the exploitation anthology "Grindsploitation" and is the mastermind behind "Slashening 2: The Final Beginning." He has made internet videos such as "BP Spills Coffee," "Eugene Hitler" and more. He teaches sketch writing at the Upright Citizens Brigade Theatre in New York City.
MERRITT EVELYN CHRISTENSEN [SPECIAL FX/PRODUCER]
is a jack-of-all-trades who really gets off covering actors in blood and then ordering them lunch. She's a freelance costume designer/makeup and special FX artist/set designer-turned-producer... who (like pretty much everyone else on the roster) studied at UCB. Check her out at:
MakeupByMerritt
ERIN RYAN [DIRECTOR OF PHOTOGRAPHY]
Erin is beyond thrilled to join another Annum Films feature after contributing to Fear Town, USA and The Slashening. She's worked on titles such as "Across the Tracks" (Best Diaspora Short - African Movie Academy Award), Live from New York!, and Finding Her. But above narrative shorts, documentaries, and dramas- Erin loves working where comedy meets horror. "Brandon exploits the boundaries between highly stylized lighting and comedic framing. It's any cinematographer's dream."
GEOFF GARLOCK [COMPOSER] 
was the former bass player in Orchid, Panthers and The Year Is One. He currently plays in Ritual Mess and LowEstate as well as composing solo synth recordings, featured here. Geoff is also a comedian and sketch teacher. Most importantly, he did the scores for Fear Town, USA and The Slashening.
KHALED SAYED [PRODUCER]
is a comic/sketch writer based out of the UCB theater in New York City. He was an Executive Producer on "The Slashening" and is super pumped to be back for the sequel.
MEET THE CAST:ADDIE WEYRICH
is a Philly raised, New York based actress, writer and comedian. She has studied at UCB, the Magnet, and Reckless Theater where she performs weekly on house teams Deathwish and Action. She's a contributor for Funny or Die and has appeared on Buzzfeed, Lifetime, and other various videos and commercials that make estranged friends from high school reach out to tell her that she's cool. You can keep up with her on Twitter at @spagaddie_sauce or check her out at addieweyrich.com! (She also has a black belt in karate.)
RASHEDA CROCKETT
is a comedy writer, performer and actress based in New York City. Her work has been featured at the Upright Citizens Brigade Theater, The People's Improv Theatre, and all over the comedy scene in New York City. Her interactive video Neggers was spotlighted by Styelite. Her credits include an appearance in the 2015 feature film Seasons of Love, directed by Princess Monique, plus her own series that she co-wrote, stars in and produced.
MADONNA REFUGIA
is a writer and comedian who performs musical comedy as a variety of characters. She can be seen on WFMU's Prove it All Night!, and on The Special Without Brett Davis on MNN. She has written for Elite Daily, Above Average, and for the satirical women's magazine, Reductress.
PATRICK FOY
is a comedy writer and performer living in New York. He has studied comedy writing and improv at Upright Citizens Brigade and Philly Improv Theater. His writing has been featured in McSweeney's Internet Tendency and HumorPress, and he was a headline contributor for StarWipe. As an actor, he has appeared in the independent movies Fear Town, USA and The Slashening and the web series Low Budget Sketch Show. As a founding member of the defunct indie sketch group Camp Woods, he performed in comedy festivals in Chicago, New York, Philadelphia, Boston, and Chapel Hill.
JEAN LOUISE O'SULLIVAN
is an actress, writer, and producer from West Chester, Pennsylvania. She is a graduate of The University of the Arts in Philadelphia and The National Theater Institute at the Eugene O'Neill Theater Center. Dubbed a Scream Queen for appearing in numerous independent horror films, she's become equally well know for sketch comedy. In addition to her work as an actress Jean Louise is a supporter of children's arts organizations, and has taught fine arts through West Chester Recreation Summer Camps, theater arts at The Walnut Street Theater Summer Program, and volunteered for the Young Playwrights Festival at the Eugene O'Neill Theater Center. She lives in New York City.
JAIME LUTZ
is a writer and comedian who improvises on the former Upright Citizens Brigade theater house team Blush. She also co-wrote and starred in "The Bride of Murdery Heights," a spooky Masterpiece Theater parody that ran for six months at UCB and is currently being adapted into a web series. Additionally, she is the cohost of "Dead Meet," a comedy podcast, and is a regular joke contributor to Funny or Die. Her sense of humor has been described as "macabre." You can find more about her at
www.jaimelutz.com
.
MARCUS BISHOP-WRIGHT
is a veteran of the NYC comedy scene. A graduate of Performing Arts High School, he's performed on the stages of Chicago City Limits, the Magnet Theater, the People's Improv Theater, and the Upright Citizen's Brigade Theatre; where he was a member of several house teams. Marcus has also appeared on Chappelle's Show, Late Night With Conan O'Brien, Late Night with Jimmy Fallon, and the feature film Fear Town USA.
+ Read More