The Silver Tour Fights Back
$2,335
of $150,000 goal
Raised by
32
people in 33 months
                Bill Maher Joins The Silver TourLast year we warned that anti-marijuana forces are marshaling funds to stop the progress of cannabis legalization.
 ​I'm referring to a recent
meeting of over 2000 anti-marijuana activists
who have a financial interest in maintaining prohibition.
"The CADCA convention featured a roster of federal officials and members of Congress. The speakers talked with energy about
the coming showdown over marijuana-law reform.
"
                       Now Bill Maher has joined with us.               "Stop treating it like you can never lose it."
Bill Maher, while smoking a doob on national TV, warned cannabis supporters not to rest on their laurels when it comes to ending national cannabis prohibition.               
Like me, Bill Maher is worried that we have become dangerously over confident.

Cannabis legalization is being killed in more and more states. It's time to fight or flee.

         
 Unfortunatly we have been proven right
.                    
                                       The War is On!
"They've completely wiped us out."
Court Decision Snuffs Out Montana's Medical Cannabis Industry
"The Montana Supreme Court passed a ruling on Thursday that will result in one of the most significant rollbacks of a U.S. medical marijuana ."
ARIZONA CHAMBER OF COMMERCE TO OFFER ANTI-MARIJUANA CLASS TO "SOUND THE ALARM" AGAINST LEGALIZATION
"the high-powered group came out against the planned initiative in June and donated
$10,000 to an opposing
group in December."
New Mexico Senate Kills Effort to Send Marijuana Legalization to Voters
SANTA FE, NM — The New Mexico Senate has defeated a proposal that would have allowed voters to decide ...
Jeb Bush defies science, claims marijuana causes serious brain damage
Bush railed into "the devastating nature of marijuana," and the "impacts it has on productivity … and brain damage."
New Hampshire House Kills Two Marijuana Legalization Bills
July 2015 poll that found 60% of Granite State voters in favor of legalization.....
Portsmouth Sen. Lucas fails in effort to legalize marijuana derivatives for treating cancer
Representatives of two drug-abuse prevention groups opposed the legislation, arguing among other things...                                       
Even in Colorado
Denver Organizers Denied High Times Cannabis Cup Permit
"From a safety perspective, I have serious concerns about this event and this venue,"said Adams County Sheriff Michael McIntosh.
                                                  FloridaDon't allow the smoking of medical marijuana in Florida. 
"Smoking marijuana is just as bad or worse for your lungs and other parts of the human body as regular tobacco.
 If this legislation passes in its current form, someday you will see an increase in the current epidemic of the use of heroin."
                     That is only the tip of the iceberg,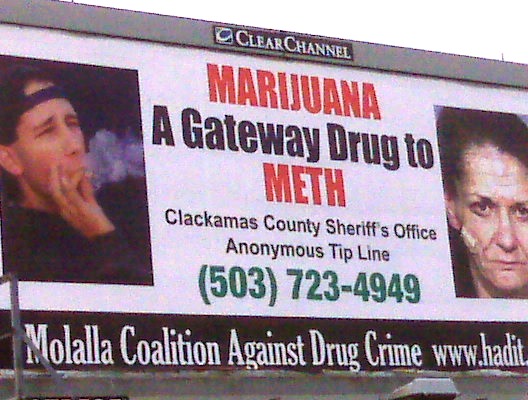 Corporate money is now backing lawsuits against cannabis
 .Several have already have succeded where defendants were unable to afford to fight these expensive court battles.
It's an old corporate tactic.

We Can Stop this "Reefer Madness" Propaganda
                    By educating voters and legislators. 
You would think that would be obvious
, but it isn't.
Every pro-cannabis person I've ever met still laments;
                                  "If people only knew!"
As hard as this is to believe, no other activist organization has ever used mass media for cannabis education
Folks we need to educate will never see Facebook pages, tweets, or Instagrams. They do not listen to internet radio or watch YouTube or internet TV.  

The voters who favor marijuana prohibition. 
get their information from traditional radio, TV, newspapers and billboards. 
The Silver Tour is the only organization that uses these media to educate.
Our award winning half hour TV show aired hundreds of times on top stations in twenty states. Our show is used to educate seniors in a dozen countries in several languages. It brings seniors out of the closet and into the activist ranks demanding
"Safe, Legal Access".
Click to view   
"Should Grandma Smoke Pot?"
We reached millions on
The Daily Show
We brought hundreds of seniors and vets to D,C, to get the Holder Memo. Four hundred and fifty Silver Tour supporters took over the Capitol Bldg in Tallahassee.
The Silver Tour has put these
powerful billboards
on major highways and streets in several states. 
We Have a Plan! 
 "Fight Back!"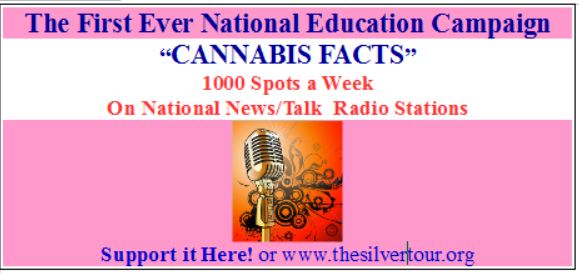 Last September
we aired more than four thousand 60 second "Cannabis Facts" on the best radio stations in seven states. Click
 Here
 to listen to some of the spots.
Anti-marijuana campaigns are only successful when unopposed.
  2016 will be a watershed year.Educating voters, especially seniors is the only way to ensure we do not have a repeat of the defeats in Florida, Montana, New Mexico, New Hampshire and Virginia.
                           Sound Expensive? It's not
THE SILVER TOUR NEGOTIATED AN AMAZING DEAL WITH AMERICA'S STRONGEST RADIO CHAIN
      1000 Sixty second radio spots a week for $5000
 National Broadcast Exposure for $5.00 a Minute is cheap insurance for ending cannabis prohibition.                                             
Why Radio?
Every area has hundreds of TV stations. But most cities only have one or two radio stations that older adults listen to while they drive or at work. This makes it easy to reach a large senior audience.
                 Its not expensive, but it's not FREE!
Even a five dollar donation will reach thousands of voters with an important message. A hundred bucks can pay for a full day (20) of messages on a top station.
 Our new goal $150,000,  if met, of  will take us through to the 2016 elections. With your support, we will air and educate .
Please partner with me to end cannabis prohibition.  All funds collected will be spent on the campaign regardless of whether or not we reach the total goal.

Sponsorship
Sponsors that donate $5,000 for an entire week of 1000 radio spots, will have their name/organization promoted at the start and finish of each message. Like NPR, our donors/sponsors will be promoted twice in every spot..i.e
"This is MARIJUANA FACTS from the Silver Tour brought to you by Magical Butter, balancing nature and technology at Magicalbutter.com"
Smaller and regional sponsorship also available.
More information on our Silver Tour website (click)
Please support this Vital Effort to End Prohibition
It is important to see that The Silver Tour Radio Campaign is fully funded. The Silver Tour is an accredited 501c3. All donations are fully tax deductible. We have no paid employees . All funds go directly to the campaign.
Major Sponsors please send checks directly to:
The Silver Tour          
(They will be posted on GoFundMe)
417 Lake Dora DrWest Palm Beach, FL 33411
Sincerely,
Robert Platshorn, Irvin Rosenfeld, Michael MinardiDirectors
, The Silver Tour
a 501c3 Non-Profit
+ Read More