Service Dog for TBI Survivor
$9,000
of $15,000 goal
Raised by
95
people in 25 months
I am advocating on behalf of my family member, Greg Costa, one of the most generous and passionate souls that you will ever meet. He is an accomplished drummer, a budding writer, and most recently, a traumatic brain injury survivor. He sustained major injuries to his spine and brain from a fall approximately 6 years ago. The immediate next 3 months for Greg were followed by severe neck and back pain that progressed to unresolved post-traumatic syndrome.  X-rays and MRI revealed disc herniations and the presence of a large congenital Arachnoid Cyst in Greg's brain. This post-concussion or post traumatic syndrome for Greg was characterized by vascular and cervicogenic muscular headaches, constant cluster migraines, dizziness, vertigo, memory loss, cognitive impairment and eventually progressed to collapse and seizures.
The recovery process has been challenging, educational, and painful for Greg – he continues to struggle with major and minor physical symptoms. This cyst has become a source of many current medical issues, ranging from insomnia to seizures, as well, as a reduced sense of health and well-being. Dark glasses, for example, have become a necessity to shield from sensory overload.
Greg has sought the help of a number of skilled surgeons regarding the removal or reduction of the cyst, and has been met with disappointment. Through constant effort to regain as much of his former independent lifestyle as he once knew it, he set out to create greater awareness of the challenges faced by those suffering from Traumatic Brain Injury (TBI) through continued writing and community involvement. But the struggle to navigate daily activities that others so easily take for granted continues and hampers his efforts.
As a veterinarian quite familiar with the benefits of service animals to those who are disabled, I truly believe that Gracie will transform Greg's life in so many unbelievable ways. I felt compelled to become more active in this process of making sure that Gracie comes into Greg's life because the expense of a trained service dog is yet another burden to bear for a family already stretched financially just to help Greg through his daily challenges and frequent doctor visits due to his TBI.
Service dogs are not considered pets. A true service dog is protected by the American Disabilities Act and is a highly trained animal that meets certain standards (quite different from an emotional support or therapy dog.) For example, some dogs are trained to pull wheelchairs, others are taught to alert to the sounds of the telephone, oven timers, alarm clocks, smoke alarms, and even a baby's cry. Unlike therapy dogs, service dogs and their human companions must be allowed access to buildings (including restaurants, libraries, supermarkets, and churches), transportation systems, and other public areas and services. Another difference between therapy and service dogs is that the latter are often picked by breed for certain characteristics.
This process is in active motion right now. Greg applied for a service dog at Wilderwood, an amazing nonprofit organization based in Maryville, Tennessee, which trains service dogs for people with neurological diseases ranging from brain disorders such as Alzheimer's dementia, to autism and brain injury. Greg was approved as a candidate for a service dog, and Gracie was identified as a match. She is a black and white Goldendoodle, born April 23, 2016, in Alabama at a place called Smeralia where she was handled with love. Gracie was then transported to Wilderwood in Tennessee where she has been living for the past 3 months as part of her 18-month long training as a service dog. She currently spends her nights at a wonderful foster family home and then spends her days training at Wilderwood with some of the best and most professional trainers for service dogs in the country.
The founder of Wilderwood believes, as I do, that what happens to a person's soul, and then their perception, in the presence of a beloved service animal is far reaching. Service dogs help individuals gain independence, both emotional and physical. Not only do service dogs provide unconditional love and support, they assist in all facets of life; behavioral, emotional and physical. And at the end of Gracie's 18-month training, she will be ready to assist Greg in all his daily activities.
Greg's life mission now is to help other TBI survivors through his own advocacy projects. But he cannot do it alone. With Gracie by his side, Greg will gain in confidence and ability to continue pursuing his dream of helping others suffering from traumatic brain injury. Over $5,000 has already been invested in Gracie, and she is currently protected with Trupanion Pet insurance in case of any unexpected emergencies - but the mission to unite Gracie with Greg Costa cannot be accomplished without Gracie being completely funded. Our Goal is to take the stress of present and future finances off the shoulders of Greg and beautiful Gracie and let them focus all their time on healing and service. A donation in any amount will be deeply appreciated.  Thanks for caring!
UPDATE 11/27/18 - Service Dog in Training NIA has now been identified as a more perfect match for Greg. Please read Update 21 in the campaign notes for further explanation and photo.
Visit
www.wilderwood.org
to learn more about Wilderwood's service dog training program.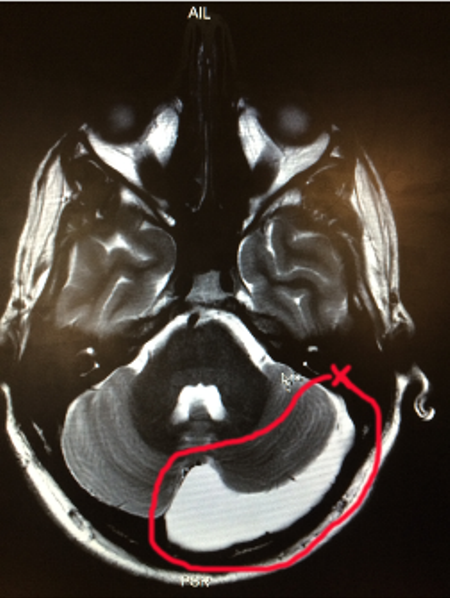 Picture above indicates Greg's Arachnoid Cyst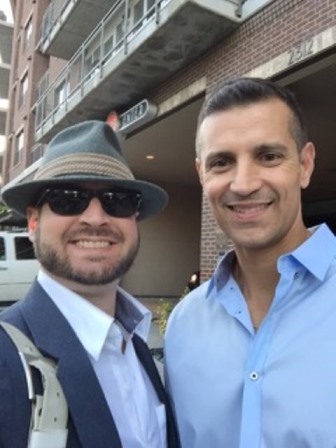 Greg Costa (left) with Joseph Martins, DVM
+ Read More
Be the first to leave a comment on this campaign.