35
4
School Rebuilding Project in Nepal
$4,973
of $7,000 goal
Raised by
31
people in 15 months




We need YOUR help to impact not one, not two, but EIGHTY bright futures! 


Education is an undeniable right, and we here at Team Gyan believe that not even a natural calamity should be able to take that away from us. So we're asking
you
to join us on this road to recovery, to renew the future of 80 young children. We want, we need, your unwavering support and faith to build the
Shree Balmandir
Primary School, and to bring the light of education to those who do not have the ability to grasp it.
Suman Kumar recalls kneeling down to pray at church. He didn't expect the sudden rumbling, and intense shaking. He also did not plan to look out the window and watch houses collapse into the grey ashes that would cover Kathmandu over the next 50 seconds. Those few seconds of unparalleled ruin is what we now know as the infamous Nepal earthquake

WHO ARE WE
Team Gyan

Team
Gyan
was born from a simple idea; to bring education to everyone who deserves it. The word
Gyan
comes from the Sanskrit language, meaning "knowledge". The word gyan represents the core belief of every member of the team, and we embody this in our ethos and work ethic. We will start with one school, in one city, in one country. Then, we will let the tide of education carry us to wherever, and whenever, our talent and expertise are needed, anywhere in the world. 
From left to right: Salah Mahmoudi (Tunisia), Muhammad Hadi (Pakistan), Suman Kumar (Nepal), Apoorva Khadilkar (India), Onur Bagoren (Turkey)
Suman Kumar:
Suman is originally from Nepal. He has been studying engineering at the University of Rochester. He is passionate about using engineering as a tool to solve issues in his community. After the Nepal earthquake, he collaborated with non-profits and worked on disaster response and prevention projects that involved designing and manufacturing machines that built shelters for over 26,000 earthquake victims. Suman was also awarded Resolution fellowship at the Youth Assembly at United Nations with a seed funding to start his school rebuilding project. Last year he successfully, initiated and implemented his first school rebuilding project.
With his leadership experience, he is hoping to continue making an impact in his community.
Apoorva Khadilkar:
An international student from Mumbai, India, Apoorva has lived and studied across India, The Netherlands and the United States. A Mechanical Engineering major with a minor in Economics at the University of Rochester, Apoorva has a deep passion for applying engineering concepts to the real world and make a difference.
Apoorva aspires to utilize his leadership experience attained through his involvement in a number of clubs in high-school and college and collaborate with his dear friend and engineering colleague Suman Kumar to get Team Gyan up and running. 
Muhammad Hadi:
Born in Muscat, Oman, but originally from Pakistan, Hadi always knew engineering was his calling. After joining the Mechanical Engineering department at the University of Rochester, he met Suman Kumar, and this began a great friendship that has now formed into a professional collaboration.
Hadi hopes to use his training as an engineer, and his management experience from several on campus clubs, to help direct the team in the right direction, and to maximize the impact this team can have on the children in Nepal.
On campus, Hadi is involved as the Director of Community for his colony of Beta Theta Pi, and also is a Residential Advisor, roles that he believes are great support systems for this project.
Onur Bagoren:
Born in Norwalk, Connecticut, Onur spent his first 6 years in the United States as a Turkish - U.S. dual citizen. After he and his family moved to Istanbul, Turkey and he attended school there until he moved to Rochester to study engineering at the University of Rochester. Currently majoring in Mechanical Engineering and minoring in Computer Science, Onur has experience in humanitarian projects from local projects he completed in Istanbul, with his schools organization "International Chain of Awareness"
After completing local projects such as funding and building a library for primary school students, Onur hopes to utilize his experience and background with this team to impact not only his local environment, but also at a global scale.
Salah Mahmoudi:
Salah is originally from Tunisia, a beautiful country on the northern coast of Africa. He is a senior Biomedical Engineer, with a concentration in Biosystems and Biosystems. His passion for Engineering and curiosity about health institutions made him strive to find affordable and practical ways to implement novel medical technology in Tunisia. Additionally, he plans to help lead the effort in improving the educational and health infrastructure there. Salah will be attending Columbia University next year, to pursue a PhD in Biomedical Engineering.
Apart from his interest in improving health care institutions, Salah believes in education and the impact it has on societies. He is an international ambassador for the Tunisia NGO "Wallah We Can", which works towards making education more accessible to people from all backgrounds. Through the association's projects, Salah grew ambitious to help with more education projects. He believes in project "Gyan" and wants you to help us make our dream come true.
Jolena Zhou:
Growing up in China, Jolena currently studies chemical engineering at University of Rochester. She is involved in many volunteer and community engagement activities in Rochester and is dedicated to community service for education and health in under-served communities on a global scale. In the summer of 2017, she collaborated with Suman and other colleagues to rebuild an earthquake resistant school in Nuwakot, Nepal. She sees the potential in Team
Gyan
and is determined to continue the efforts from last year and implement more rebuilding projects to help students in Nepal to gain access to education. 
Jolena plans to contribute many great ideas working towards the implementation of rebuilding projects and calls for your help and support. Even a little generosity will amount to a huge impact on the students' future!
Kritin Gupta: 
Kritin Gupta is a sophomore at University of Rochester studying Mechanical Engineering. He aspires to use his technical skills and knowledge in the field of science for the betterment of the society. Being an organizer of a campaign "together with Nepal" in his high school, a collection drive to help families affected due to the Nepal tragedy, "Team
Gyan
" is no more than a dream come true to see Nepal grow back. According to Kritin, education to the children, is a foundation to a well built and strong community.
IMPACT LEVEL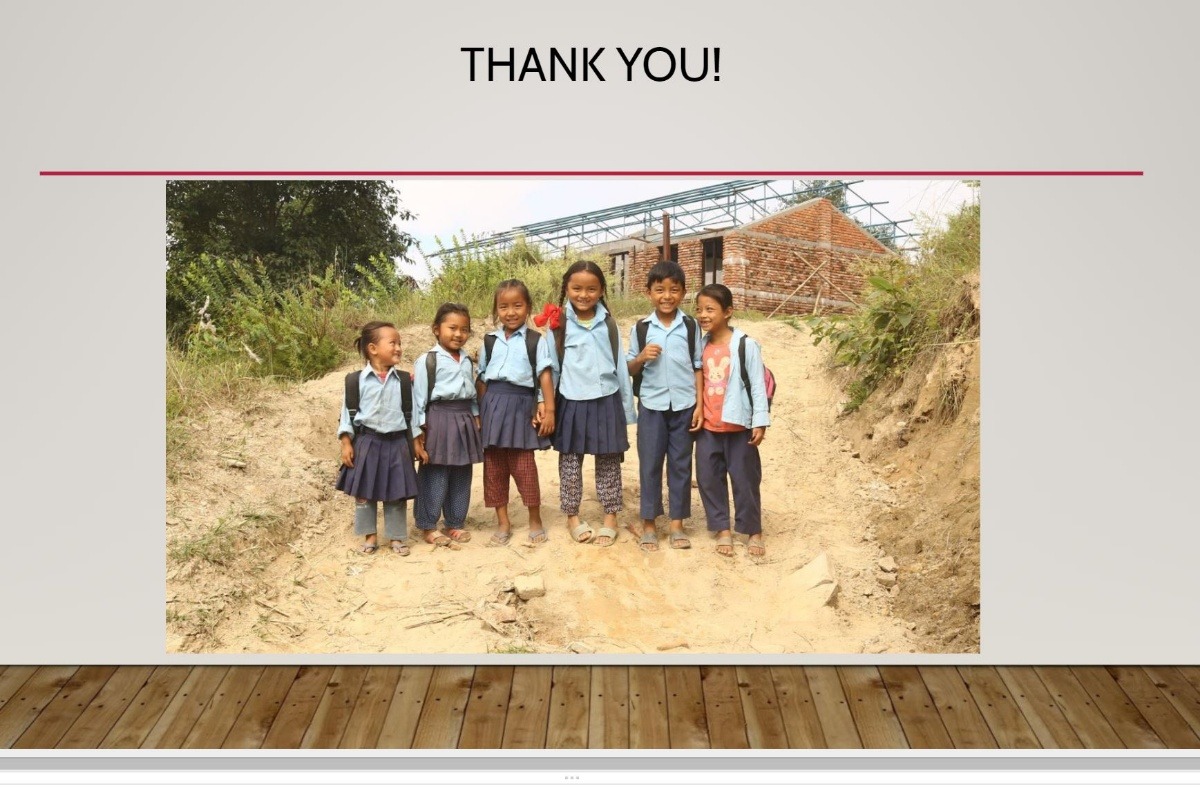 Any questions and concerns can be directed to at: 
infoteamgyan@gmail.com 
+ Read More
Update 2
11 months ago
Share
Our Pre-fab structure is up!
+ Read More
Update 1
13 months ago
Share
We would like to begin this short announcement by sincerely thanking you, on behalf of the entire team, for your trust in Team Gyan. We are ecstatic to inform you that we have, with your unparalleled support, successfully raised the amount that we needed to build our school in Rolpa, Nepal! Our initial goal of $10,000 was in fact exceeded, as we managed to raise exactly $10,098!
+ Read More
Read a Previous Update