Baby Schaefer Adoption Fund
$22,611
of $25,000 goal
Raised by
131
people in 37 months
CURRENT GOAL / STAGE 2

: To raise the last fee which needs to be met before our baby is physically placed with us. 

***WE'VE BEEN MATCHED!***
On 7/19, we received a message that would change our world! Baby Girl is due late September 2016 and we will need to have our funds raised by then. We can't wait to meet little Hazel!

UPDATE  9/17/16:  Only $2,629 to go!
Please help if you can by participating in Our Missing Piece Puzzle Fundraiser by sponsoring a puzzle piece for $20 each (see details below). Thank you from the bottom of our hearts!

"It's not how much we give, but how much love we put into giving." ~Mother Teresa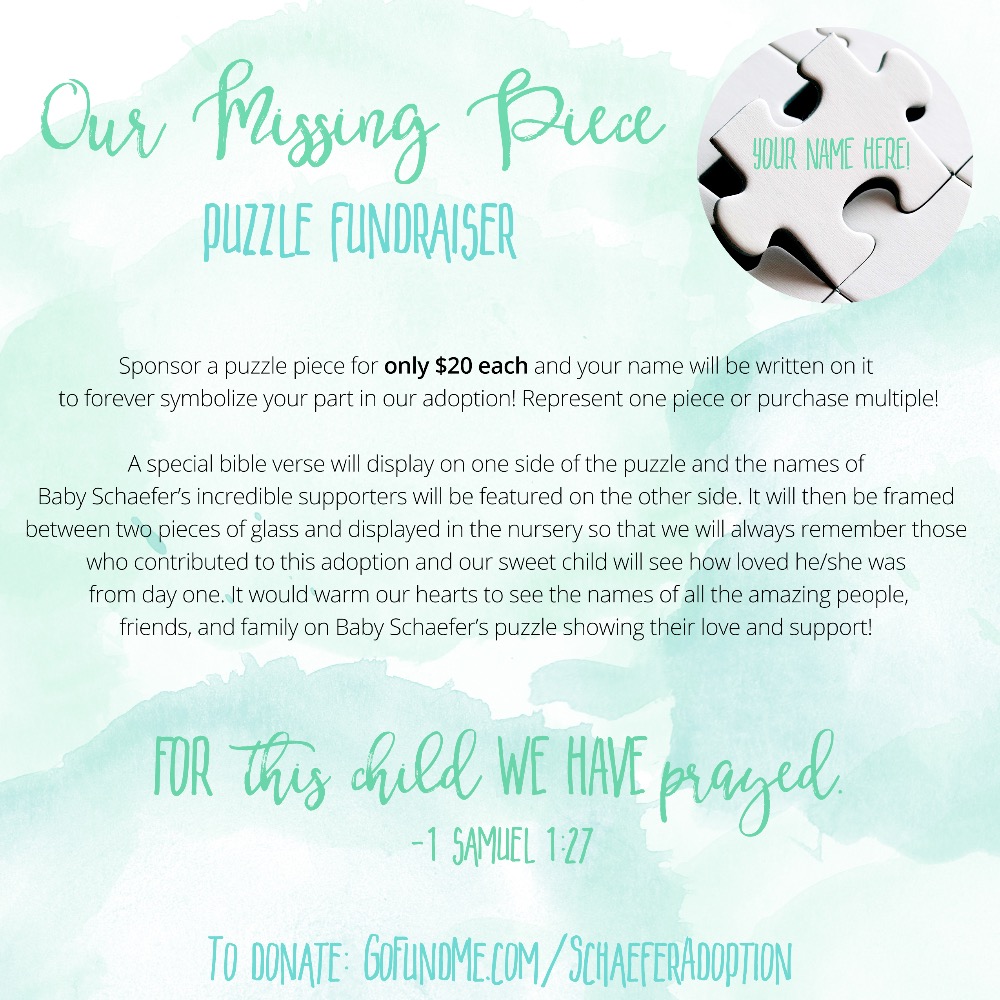 Robbie and I have longed to become parents and to have a family of our own for many years. We prayed for successful pregnancies and hoped to adopt at some point. We never imagined that we would face the heartbreaking journey of infertility. It has been over 4 difficult, emotional years trying to conceive, and we have gone through countless fertility treatments, IUI's, IVF's, medications, and surgeries.If you have experienced infertility or know someone who has, you know how devastating it is to go through. We've been pregnant twice before and we were oh so hopeful... it's such a heartbreaking fall to finally become pregnant but to never meet that child. We've experienced an ectopic pregnancy and also a miscarriage... nothing quite prepares you for the sadness and pain. In the midst of it all, life is going on all around you and you try to muster up more hope and courage and remind yourself, "Not yet. It just wasn't our time yet." If you are struggling, I am so sorry and I wish I could embrace you in the biggest hug right now. I was once told it's a pain that is always ahead of you and never behind you, a recurring cycle of grief and loss. Fertility treatments take a toll... they are draining emotionally, physically, financially, and on the relationship. We've stayed strong, but there were many moments of tears and stress.
We had a plan in mind and we tried everything we could to fulfill it. Well, isn't it amazing when we come to realize it isn't our plan, but His? And all along God has had something greater in store for us. After feeling completely broken after our last fertility treatment, we prayed like we never have before. We surrendered like we never have before. We thought we had been giving it to God, but in that moment, we truly did. And, in that same moment, we decided we no longer wanted to push or pursue treatments. 
In the following days and months, we continued to pray and listen. Sure enough, God guided us and revealed what we should do. He truly was speaking to our hearts! We knew we were being called to adopt and we cannot explain the peace and joy that followed that decision. We have the hearts for adoption and this is part of the beautiful plan for our family! The trials and tribulations were blessings in disguise, chapters in our story leading us here, every step guided by His unfailing grace. All of it has been His grand design, His love in the details, His faithfulness. And once we hold our baby, we know everything we've endured was because of this little child, that God was aligning our souls long before we uttered that first prayer years ago.
We also know that there will be a precious baby who will need a family, the same one who will be the son or daughter we prayed for. The truth is, a child is priceless, but adoption does have a price. And it is a cost that deterred and scared us for a long time… it made it seem impossible. But, that would also mean starting our family is impossible and that just couldn't be true! We have faith! We plan to adopt a newborn in the U.S., focusing locally in the NW. We don't have enough funds to cover the entire adoption amount, but we've gotten ourselves this far in the process. It has been years of expensive fertility treatments and we've drained our savings to get us to this point in our adoption. 
We've taken ourselves as far as we can and we realize we simply can't do this alone…
we need help.
Your donations and and support mean the world to us and we appreciate any contribution to our adoption fund. It's truly helping make our dreams come true and we are so blessed by your kindness!
(If you'd like to donate outside of GoFundMe, please contact us directly: foreverinfaith.com/contact. GoFundMe deducts a % out of our fundraising for operation fees and some have prefered to give to us directly to avoid those fees. A fundraiser site is very helpful and convenient though, and we are prepared to pay those fees out of pocket. So no worries if your only option or preference is to donate online!)***

CURRENT GOAL / STAGE 2

***
To raise the remaining $10,000 which needs to be met before our baby is physically placed with us.
There are two important points in the adoption process with the largest fees:
1) Entering the waiting pool - $15,000 - DONE!
2) Placement with our baby - $10,000 - currently raising
These goals need to be met before we can move forward or proceed with that step. Our timeline is looking like this:
1)
Enter the Waiting Pool / Become 'Active' / Wait to be Matched!
-
$15,000  - DONE! Goal hit on 5/5/16
and became an official waiting family on 5/9/16. This is the stage where we enter the waiting pool with other adoptive families and expectant parents can view our profile and choose us! It's huge! 
2)
Placement with Our Baby (Current & Final Goal)
 -
To raise the remaining $10,000 (Placement Fee) which needs to be met before our baby is physically placed with us.
***WE'VE BEEN MATCHED!***
Baby Hazel is due end of September and we'll need to have our fundraising goal met by then. We can't wait to meet her!
Total Adoption Fundraiser Goal: $25,000
Postive thoughts, prayers, hugs, sharing our story, donating money... we are grateful for all of it. Each little step is one closer to our baby. Thank you from the bottom of our hearts for being a part of this incredible journey!
Love,
Michelle & Robbie
To learn more about our story and to follow our adoption journey, please visit foreverinfaith.com.

***VIEW ADOPTION UPDATES ON OUR BLOG!***
Blog Posts:

Home Study Visits Start
Home Visit #1
Adoption FAQs
The Adoption Process
Home Study Approved & Fundraising!
We're a Waiting Family!

WE'VE BEEN MATCHED!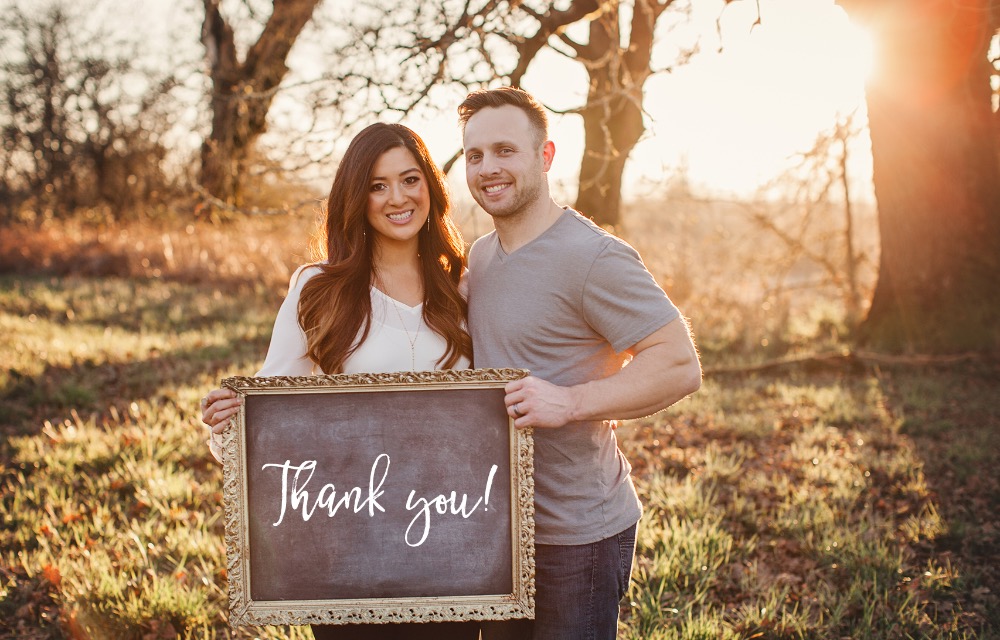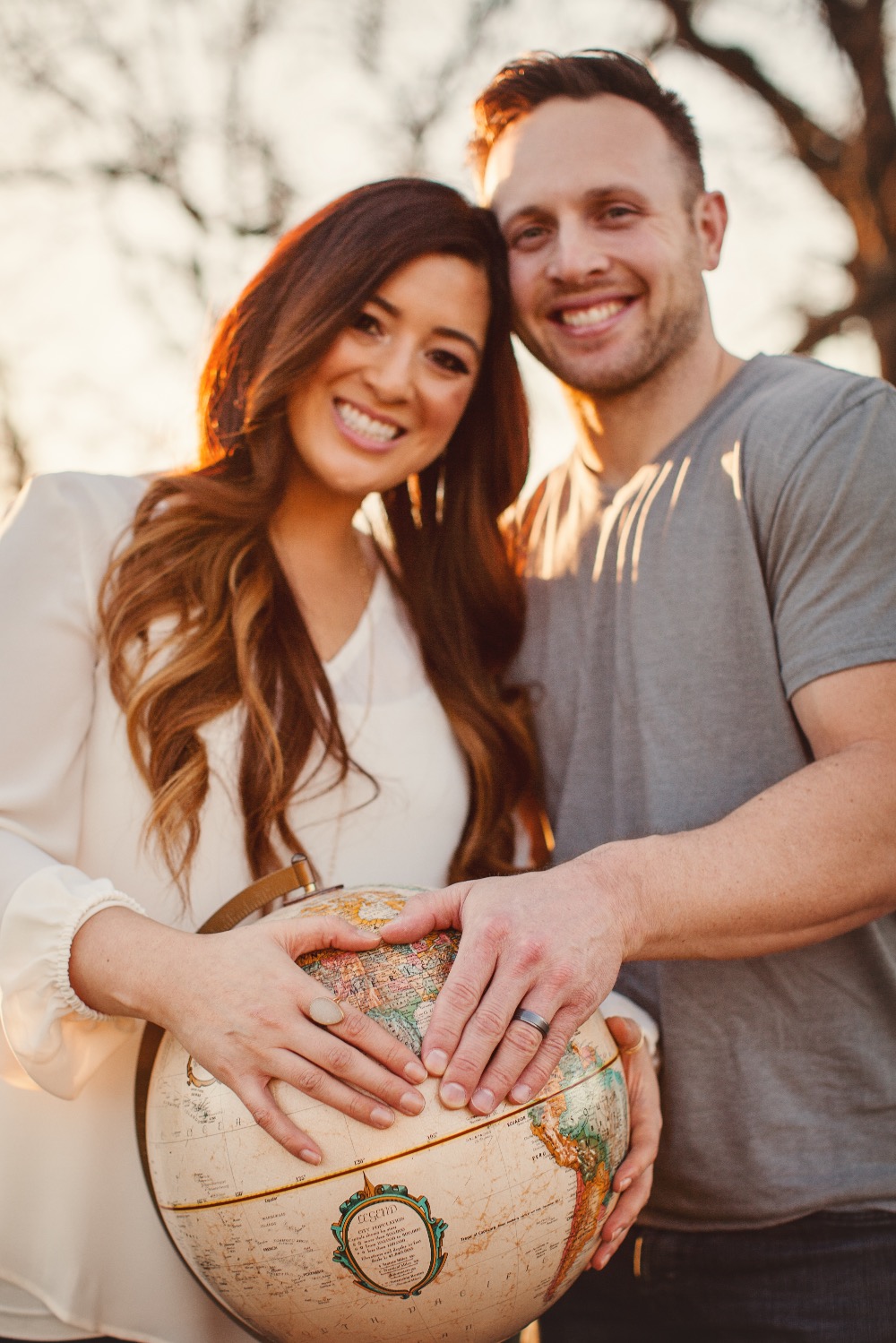 + Read More
Be the first to leave a comment on this campaign.