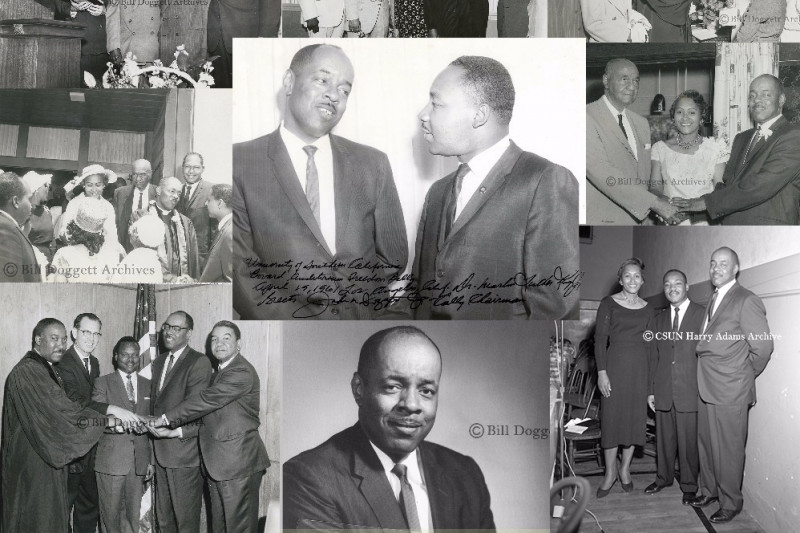 18
93
SAVING A Civil Rights Legacy
$875
of $1,000 goal
Raised by
21
people in 17 months
Celebrating The Centennial of Reverend Dr.John N Doggett Jr, Civil Rights pioneer, Methodist minister, friend of Reverend Martin Luther King and President of The St Louis NAACP  1970-1980.



Born, April 3rd, 1918, Reverend Doggett's Centennial  begins April 3rd, 2018 and ends April 2nd, 2019.

Reverend Doggett was at the forefront of the early
Civil Rights Movement in California Methodist churches as a social progressive in the late 1940s championing for the full integration of rights of African Americans along with his fellow pastors in 1940s-60s California faith communities in The San Francisco Bay Area, Pasadena and Los Angeles.

These pastors, inspired by the inclusive and progressive  theology of Reverend Howard Thurman, who founded The Church For The Fellowship of All Peoples in San Francisco in 1944 included Reverends Hamilton Boswell, Maurice Dawkins,Lawrence Felix, L.L. White, Sylvester Odom, Jerry Ford,  John Bain and Rev. Dr. Alexander Shaw, Southern California Methodist Conference's first African American Bishop.



Touching myriad lives in California from the pulpit, to the communities he served to City Halls  between 1945-1965, Reverend Doggett was called from California to St Louis where he brought his social justice ministry and leadership to a place in greater need for social justice and dialogue in race relations.

Between 1966-2000, Reverend Dr. Doggett played a  critical role in helping St Louis to hold the peace... for 3 decades before.... the events of Ferguson would put the racial and social justice challenges of St Louis on the national radar 2015-16.


District Superintendant of The North District Methodist Churches in The Missouri Conference,  and President of The St Louis NAACP 1970-1980,  Reverend Dr. Doggett was revered across diverse communities for a quality of nuanced leadership that underscored the values of human rights and dignity for all St Louisans.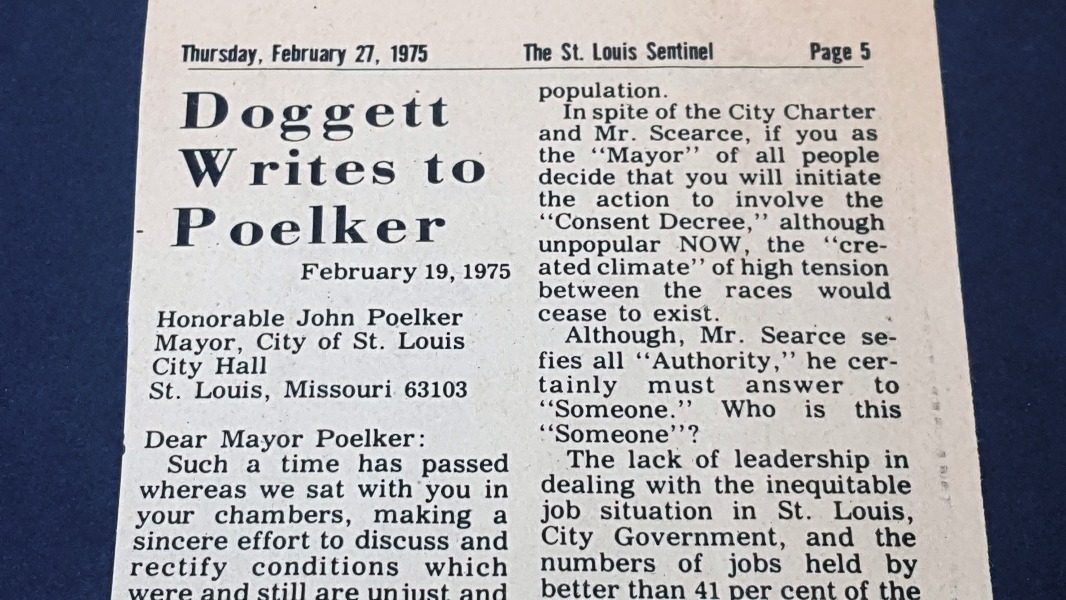 Thank you letter from President Bill Clinton to Dr. Doggett Friends and St Louis civic legends celebrate a birthday with  Dr. Doggett and Juanita Doggett

Photos by Bill Doggett circa 1995

The beloved Juanita and Reverend Dr. John N Doggett Jr.- pillars of St Louis' civic leadership community 1968-2011


This Go Fund me campaign successfully helped to underwrite the  involved project of securing the future of 2 palettes of the complete life and legacy in effects of  1947-49 in Oakland,1950-1965 Los Angeles  and 1966-1996  St Louis Civil Rights Movement leader and minister, Reverend Dr. John N Doggett Jr., my father.

The Archive destination was chosen during February 2018: The African American Museum and Library at Oakland.   An Archive with a national reputation for its Digital Archives and public access,
AAMLAO will be processing Reverend Doggett's materials received and have them on line over the Summer months of 2018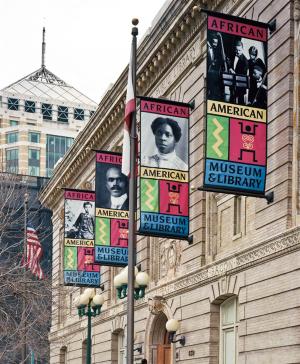 Inquiries about The Reverend Doggett Archive which includes an extraordinary St Louis audio cassette and print journalism collection may be directed to Sean Heyliger
email: SHeyliger@oaklandlibrary.org
____________________________________________________________

Born in North Philadelphia to Winola Ballard Doggett and John Nelson Doggett Sr originally from the Georgetown section of Washington DC and Norfolk, Virginia, the young John Doggett grew up in the musical and faith rich 1920s-30s North Philadelphia attending Haven Methodist Church, where his mother was the church pianist for decades to come. 

Photo from Mother Doggett's photo album with her two sons, Bill and John and husband John Sr. in their North Philadelphia backyard  on North Van Pelt Street circa 1936


The young John Doggett attended Philadelphia proximity's historical Black College, Lincoln University on a Senatorial scholarship
graduating in 1942 as "Mr Lincoln 1942".

Well known as a Jazz saxophonist in the Lincoln University Band, John Doggett was also an active new member of The Alpha Phi Alpha Fraternity, for which he would become their national chaplain for more than 6 decades until his passing in May 2011.


The young pastor John Doggett at New York City's Union Theological Seminary with presiding Seminary dignatories and fellow Graduates,diplomas in hand

Graduating  from New York City's historic Union Theological Seminary, Reverend Doggett took the call of the ministry to come West to The San Francisco Bay Area at the end of World War 2 as an Army Reserves Chaplain ministering at Southgate Community Church in the Bayview District to African American War Effort ship yard builders in Hunter's Point San Francisco 1945-46.  



In 1947, Reverend Doggett was assigned to be the Founding Pastor of Downs Memorial Methodist Church, a new Black Methodist Church in North Oakland near former Kaiser WW2 Shipyards.   

At Downs, he presided over the early days of the young church before taking the call of a new assignment  in early 1949
at the historic Pasadena Black Methodist Church, Scott Methodist.


The young founding pastor of North Oakland's Downs Memorial Methodist Church and choir members.  The children of Downs and members circa 1948


 At Scott Methodist Church Spring 1949-Spring 1954, Reverend Doggett and wife Frances were at the forefront in a spirited  effort to confront integration in segregated Pasadena years before the important 1954 Supreme Court decision of Brown vs Topeka that struck down "separate but equal".


1950 Pasadena California NAACP-Rev Doggett far left[standing behind cofee urns]

1950 Pasadena w/Bishop Alexander Shaw, [ctr]1st African American Bishop of The Southern California Methodist Conference

@1951 Pasadena Scott Methodist Church

April 1, 1951    Rev. John Doggett and The WSCS of Scott Methodist Church presented the legendary singer and social justice advocate, Roland Hayes in Concert.  Anticipating the sold out status, the concert was scheduled at Pasadena's large seating capacity historic  socially progressive First Methodist Church.



*According to my mother, Frances Doggett, a second Concert or in 2017 terms-  " an overflow live feed broadcast" in a second church venue could have been scheduled due to the 2x sold out response to Mr. Hayes concert.   

* This concert of Roland Hayes, singer and activist peer of Paul Robeson which my Philadelphia born parents co presented before I was born was "family legend".  Through my work as an archivist of African American concert singer history , I documented the event by locating the long lost program in the early 1990s and later by locating several photos from this 1951 Concert in Spring 2010 in my father's St Louis library.

 Roland Hayes, Paul Robeson and Marian Anderson formed a grand trilogy of concert singers  whose great Artistry and repertoire also gave voice for human rights and social justice.

It is a profound honor to be the story griot for my parents' early history in the Movement for Civil Rights.

Below are the original Kodak Brownie photos of [r to l] Roland Hayes, Rev Doggett and accompanist at Reception for Recital discovered in my father's many file cabinets in Spring 2010.



.......The pioneering work of Reverend Doggett and other clergy is a California Civil Rights Movement story that spans the critical decades of 1945-1965 and embraces the lives and legacies of untold heroes and heroines.


April 5, 1956   The Los Angeles Herald Dispatch

 Photo taken at Victory Baptist Church "Prayers Against Racial Prejudice Rally"-Rev.John Doggett, Guest of Honor, Rev.Ralph Abernathy, Dr. Claude Hudson,Judge Ralph C Dills, Herald Dispatch Publisher, Mr. Alexander,Henry O Bryant

........It was Reverend Doggett  in collaboration with California's first African American Assemblyman, Augustus Hawkins who brought Eleanor Roosevelt to address a standing room only "Community Groups for Kennedy " event in Fall 1960 held at his Los Angeles church, Hamilton Methodist Church, a flagship for socially progressive events.



 Reverend Doggett was one of the core Los Angeles faith community leaders engaged in supporting the election of John F Kennedy as President in November 1960.

September 1960 Los Angeles Sentinel newspaper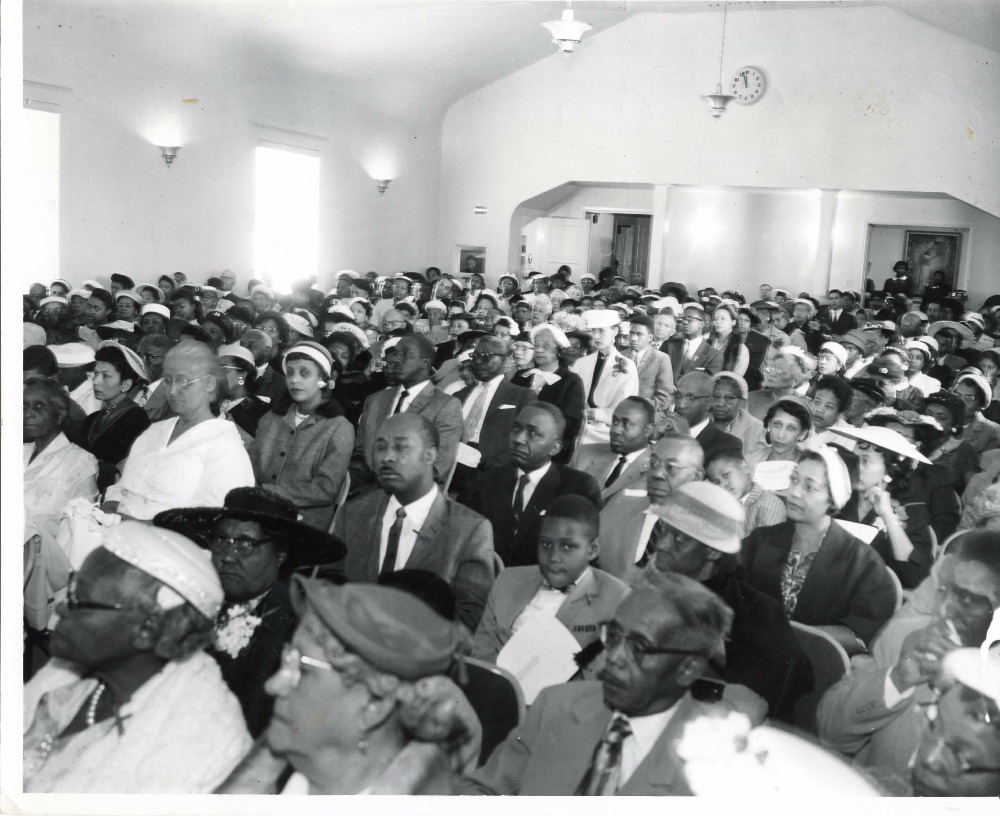 1960  Los Angeles "Community Groups for Kennedy Forum" @ Reverend Doggett's Hamilton Methodist Church



....... When young college students including Congressman John Lewis in 1961 were participating in The Freedom Riders bus campaign, my father, as Treasurer of the Los Angeles based  Western Christian Leadership Conference was right there raising money to support them and SCLC, The Southern Christian Leadership Conference.     

  ......When the young Reverend Martin Luther King Jr came to Los Angeles for the first Los Angeles Freedom Rally of 1961, Reverend Doggett was at the center of this history in 1961, 1962, 1963 and 1964, the critical years of The Movement.        


1961 Los Angeles,USC Bovard Auditorium-Photo:CSUN Harry Adams Photography Archive


1961 Los Angeles Freedom Dinner  Rev John Doggett, wife Frances Doggett and the young Martin Luther King -Photo:CSUN Harry Adams Photography Archive

Photo:CSUN, Harry Adams Photography Archive



The WCLC, the Los Angeles based fundraising and Special Events division of SCLC founded by Rev. Martin Luther King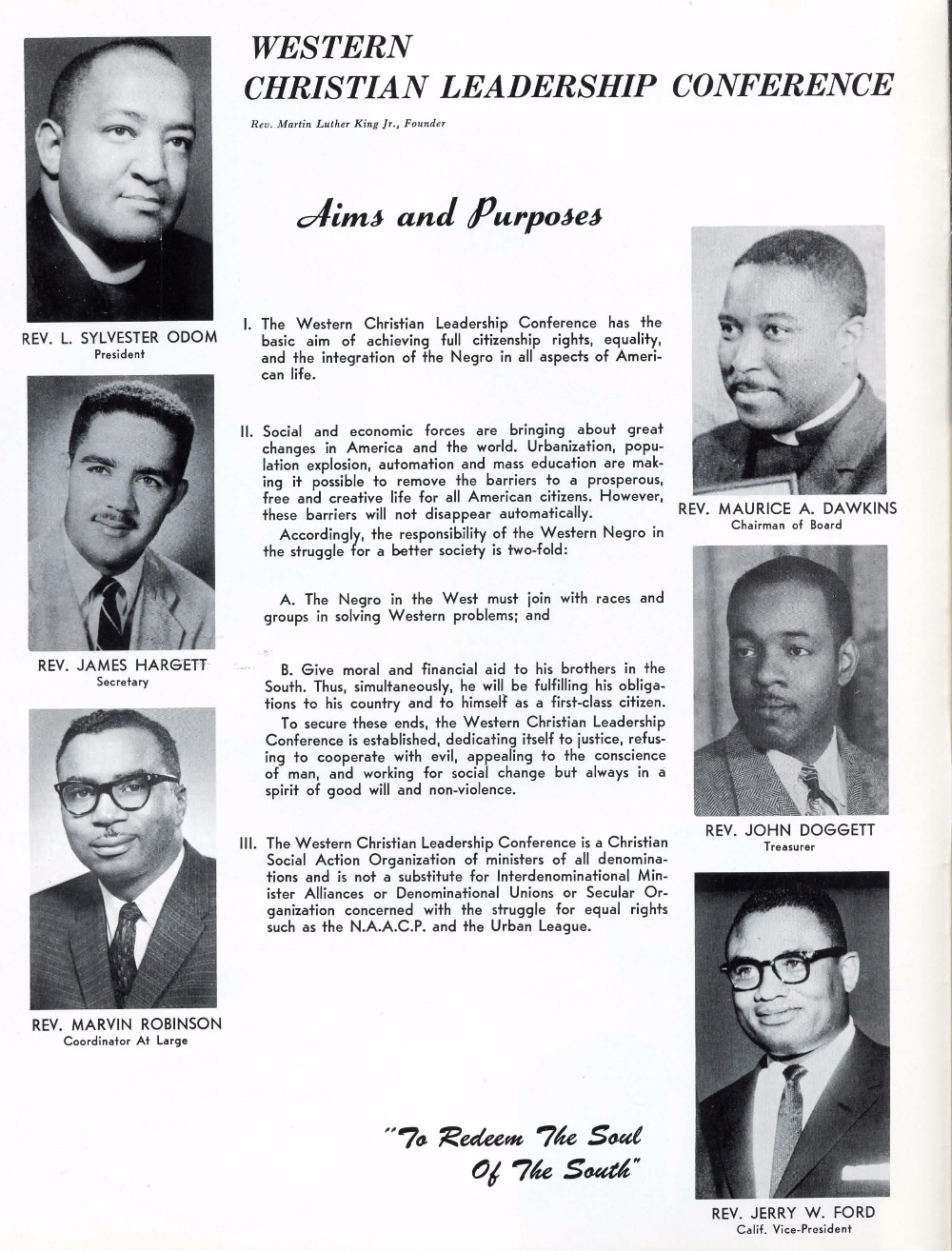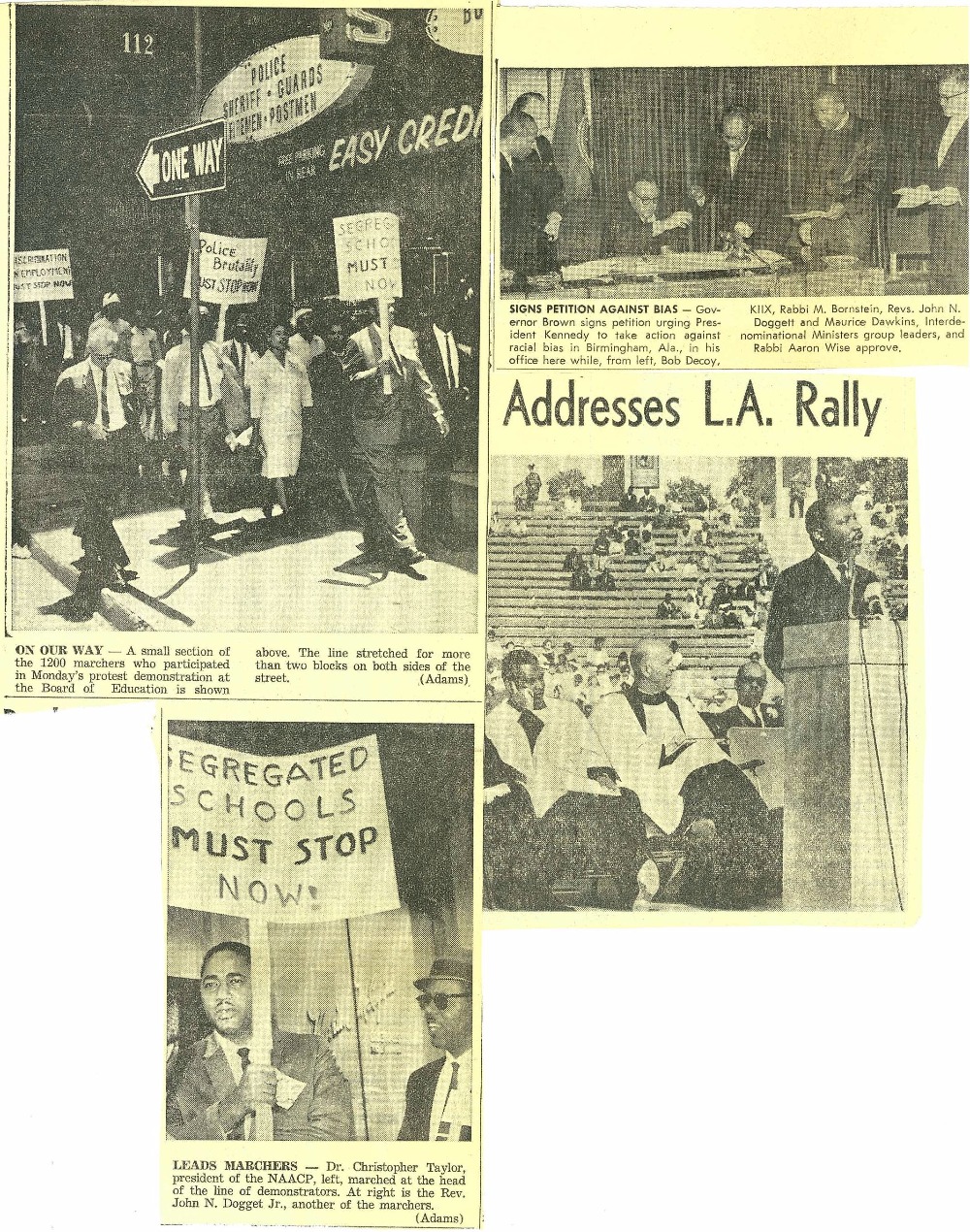 Sample News clippings 1960-1963 from The Los Angeles Times and Los Angeles Sentinel that are part of the Archive of Rev. Dr. John N . Doggett Jr

Los Angeles City Hall 1962  News conference with Supervisor Kenneth Hahn, Reverends John N Doggett Jr, Maurice Dawkins, and unidentified community representative.

Los Angeles City Hall  Press Conference 1962 with Kenyan ambassador Ghobi and Supervisor Kenneth Hahn et al

Reverend John N Doggett Jr and Supervisor Kenneth Hahn in Hahn's Office circa 1962

These photos are typical of those in this archive documenting the Los Angeles Faith Community role to address racial bias and Civil Rights  in pre 1965 Watts Riots Los Angeles.   Reverends Doggett and Dawkins were the epicenter of this important work


Reverend John N Doggett's immediate and extended family, 1961 Los Angeles,California.  
This iconic photograph includes his parents, his first wife, Frances and her mother, his three children and his older brother, the renowned jazz organist, Bill Doggett and his wife 



___________________________________________________________

Reverend Doggett moved from Los Angeles to St Louis in 1965 where he became a St Louis Civil Rights icon compared by some to be "The Medgar Evers of St Louis".  
....... When St Louis African Americans faced employment, housing and health care challenges in the 1966-76 era, Reverend Doggett was right there championing multifaceted needs as President of The St Louis NAACP  1970-1980 and championing health care for underserved African Americans with the opening and sustaining of North St Louis' Central Medical Center.  



Long before FERGUSON erupted in 2014-15, Reverend Doggett was actively engaged in a concerted effort to improve decades old Police-Black St Louis community relations



In so many ways, my father's contributions are also a  St Louis and Missouri Civil Rights Movement history story......

1994 St Louis Urban League- Dr. Martin Luther King Jr, Life&Legacy Award

As Congressman John Lewis has made so poignantly clear, the importance of the gains of The Civil Rights Movement is also a 2018-2020 story as we confront open challenges to the gains made during the era of President Trump.

Inspired by The Movement that brought not only Congressman John Lewis, Reverend Martin Luther King  and many others including Reverend Doggett in Los Angeles and St Louis to the fore front for the cause of social justice and human rights, a new generation of  Black students and youth "Freedom Riders" resisting civil rights oppression are taking the torch forward.



 April 3rd, 2018 marks the Centennial year of Reverend Dr. John N Doggett Jr.

April 4th 2018 marks the 50th anniversary of the loss of Reverend Martin Luther King Jr.


Thank you kindly for your contribution to preserving the life's work and legacy of my father,
Reverend Dr. John N Doggett Jr.

Explore further my father's life and the Doggett family contributions to breaking barriers on my website tribute
  http://www.billdoggettproductions.com/Doggett-Civil-Rights-Mvt-Story.html


+ Read More