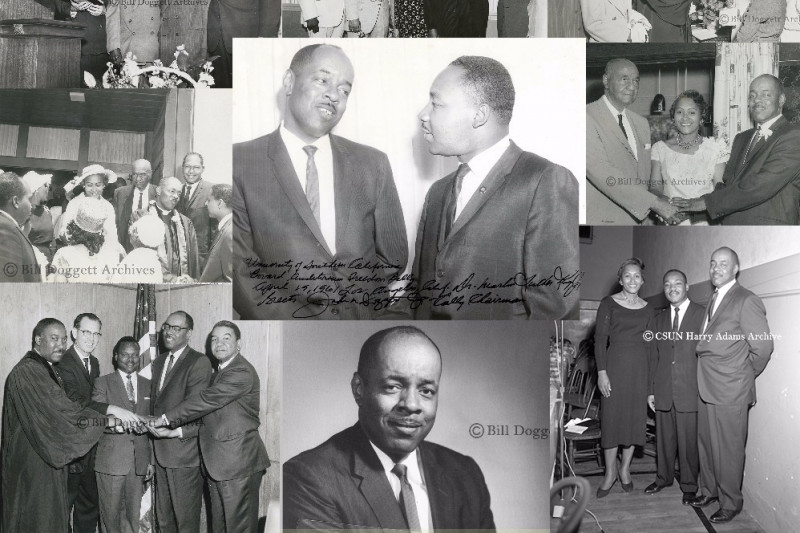 17
26
SAVING A Civil Rights Legacy
$850
of $1,000 goal
Raised by
20
people in 6 months
Celebrating The Centennial of Reverend John N Doggett Jr, Civil Rights pioneer, minister, friend of Reverend Martin Luther King and President of The St Louis NAACP  **April 3, 1918-April 3, 2018**

This is a campaign that has successfully helped to underwrite the  involved project of securing the future of 2 palettes of the complete life and legacy in effects of 1950-1965 Los Angeles  and 1966-1996  St Louis Civil Rights Movement leader and minister, Reverend Dr. John N Doggett Jr., my father.

The Archive destination has been chosen.

Reverend Doggett was at the forefront of the early
Civil Rights Movement in California Methodist churches as a social progressive in the late 1940s championing for the full integration of rights of African Americans along with his fellow pastors in 1940s-60s California faith communities, including Reverends Hamilton Boswell, Maurice Dawkins,Lawrence Felix, L.L. White, Sylvester Odom, Jerry Ford,  John Bain and Rev. Dr. Alexander Shaw, Southern California Methodist Conference's first African American Bishop.

1950 Pasadena California NAACP-Rev Doggett far left[standing behind cofee urns]

1950 Pasadena w/Bishop Alexander Shaw, [ctr]1st African American Bishop of The Southern California Methodist Conference

April 1, 1951    Rev. John Doggett and The WSCS of Scott Methodist Church presented the legendary singer and social justice advocate, Roland Hayes in Concert.  Anticipating the sold out status, the concert was scheduled at Pasadena's large seating capacity historic  socially progressive First Methodist Church.


*According to my mother, Frances Doggett, a second Concert or in 2017 terms-  " an overflow live feed broadcast" in a second church venue could have been scheduled due to the 2x sold out response to Mr. Hayes concert.   

* This concert of Roland Hayes, singer and activist peer of Paul Robeson which my Philadelphia born parents co presented before I was born was "family legend".  Through my work as an archivist of African American concert singer history , I documented the event by locating the long lost program in the early 1990s and later by locating several photos from this 1951 Concert in Spring 2010 in my father's St Louis library.

 Roland Hayes, Paul Robeson and Marian Anderson formed a grand trilogy of concert singers  whose great Artistry and repertoire also gave voice for human rights and social justice.

It is a profound honor to be the story griot for my parents' early history in the Movement for Civil Rights.

Below is a low resolution  copy of original Kodak Brownie photo of [r to l] Roland Hayes, Rev Doggett and accompanist at Reception for Recital discovered in my father's many file cabinets in Spring 2010.

The effort to confront integration in segregated Pasadena circa 1950-54 at Scott Methodist Church, Pasadena,CA.

.......The pioneering work of Reverend Doggett and other clergy is a California Civil Rights Movement story that spans the critical decades of 1945-1965 and embraces the lives and legacies of untold heroes and heroines.


April 5, 1956   The Los Angeles Herald Dispatch

 Photo taken at Victory Baptist Church "Prayers Against Racial Prejudice Rally"-Rev.John Doggett, Guest of Honor, Rev.Ralph Abernathy, Dr. Claude Hudson,Judge Ralph C Dills, Herald Dispatch Publisher, Mr. Alexander,Henry O Bryant

........It was Reverend Doggett  in collaboration with California's first African American Assemblyman, Augustus Hawkins who brought Eleanor Roosevelt to address a standing room only "Community Groups for Kennedy " event in Fall 1960 held at his Los Angeles church, Hamilton Methodist Church, a flagship for socially progressive events.

 Reverend Doggett was one of the core Los Angeles faith community leaders engaged in supporting the election of John F Kennedy as President in November 1960.

September 1960 Los Angeles Sentinel newspaper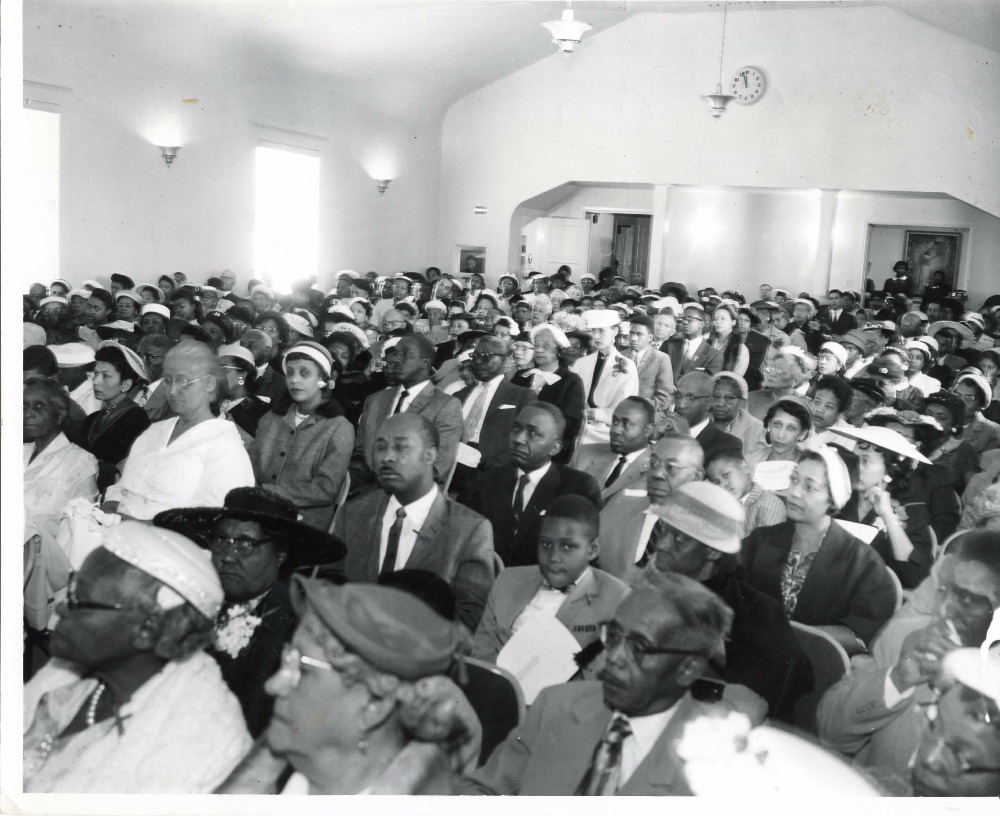 1960  Los Angeles "Community Groups for Kennedy Forum" @ Reverend Doggett's Hamilton Methodist Church



....... When young college students including Congressman John Lewis in 1961 were participating in The Freedom Riders bus campaign, my father, as Treasurer of the Los Angeles based  Western Christian Leadership Conference was right there raising money to support them and SCLC, The Southern Christian Leadership Conference.     

  ......When the young Reverend Martin Luther King Jr came to Los Angeles for the first Los Angeles Freedom Rally of 1961, Reverend Doggett was at the center of this history in 1961, 1962, 1963 and 1964, the critical years of The Movement.        


1961 Los Angeles,USC Bovard Auditorium-Photo:CSUN Harry Adams Photography Archive


1961 Los Angeles Freedom Dinner  Rev John Doggett, wife Frances Doggett and the young Martin Luther King -Photo:CSUN Harry Adams Photography Archive

Photo:CSUN, Harry Adams Photography Archive


The WCLC, the Los Angeles based fundraising and Special Events division of SCLC founded by Rev. Martin Luther King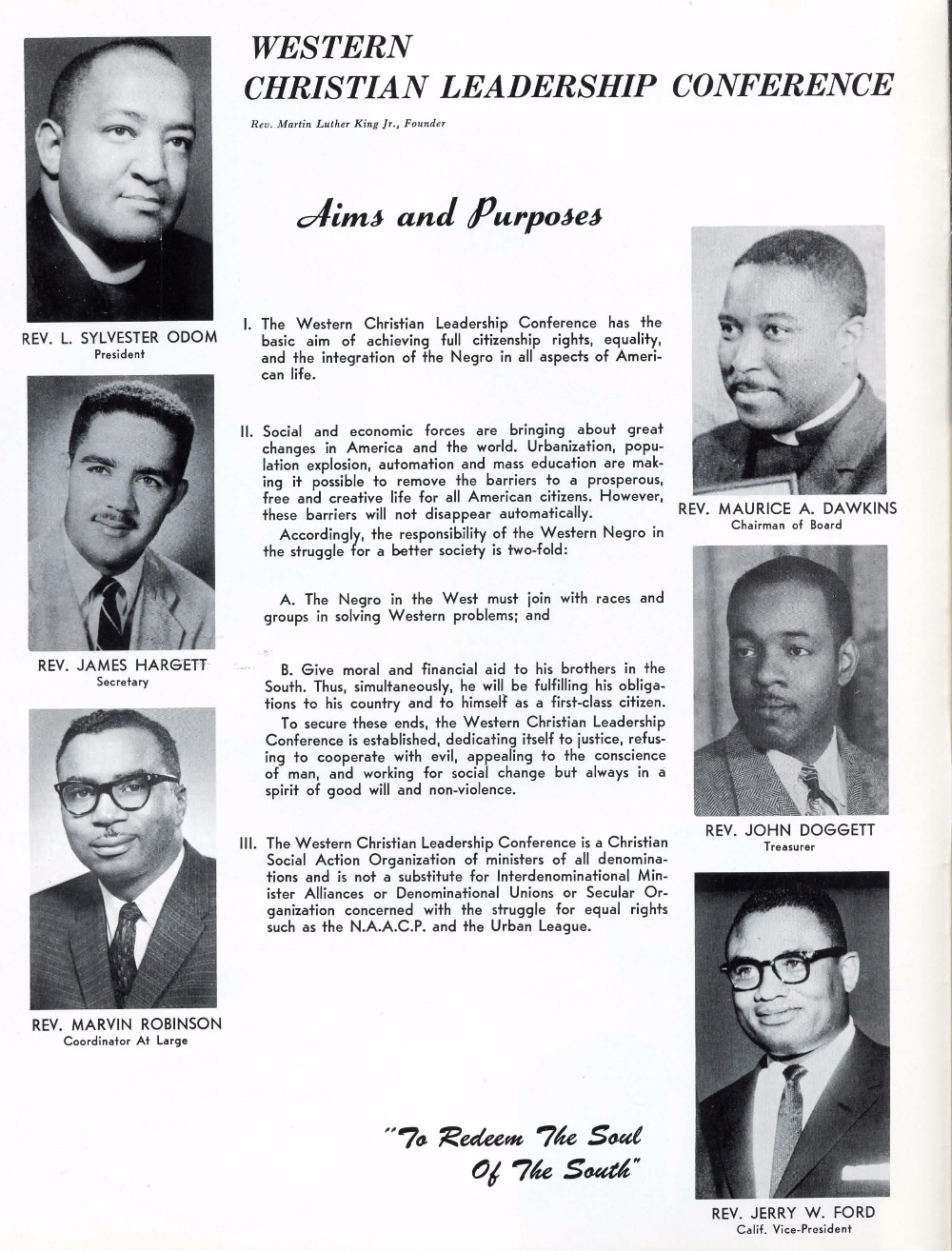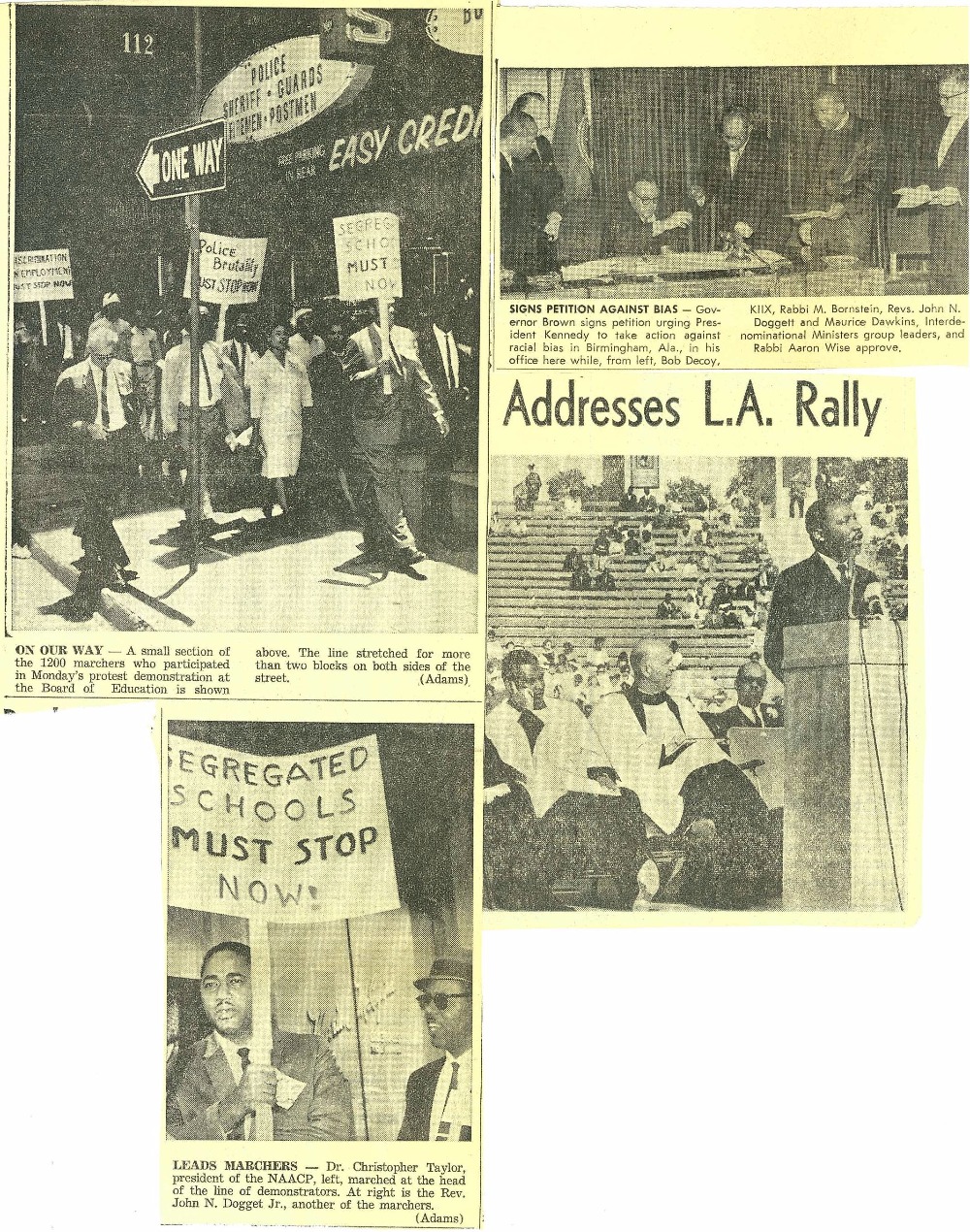 Sample News clippings 1960-1963 from the Los Angeles Black Press that are part of the Archive of Rev. Dr. John N . Doggett Jr

Los Angeles City Hall 1962  News conference with Supervisor Kenneth Hahn, Reverends John N Doggett Jr, Maurice Dawkins, and unidentified community representative.

This photo is one of many in this archive documenting the Los Angeles Faith Community role to address racial bias and Civil Rights  in pre 1965 Watts Riots Los Angeles.   Reverends Doggett and Dawkins were the epicenter of this important work

___________________________________________________________

Reverend Doggett moved from Los Angeles to St Louis in 1965 where he became a St Louis Civil Rights icon compared by some to be "The Medgar Evers of St Louis".  
....... When St Louis African Americans faced employment, housing and health care challenges in the 1966-76 era, Reverend Doggett was right there championing multifaceted needs as President of The St Louis NAACP  1970-1980 and championing health care for underserved African Americans with the opening and sustaining of North St Louis' Central Medical Center.

In so many ways, my father's contributions are also a  St Louis and Missouri Civil Rights Movement history story......


1994 St Louis Urban League- Dr. Martin Luther King Jr, Life&Legacy Award

As Congressman John Lewis has made so poignantly clear, the importance of the gains of The Civil Rights Movement is also a 2017 story as we confront open challenges to those gains made in the era of President Trump.

 2018 marks the Centennial year of Reverend Dr. John N Doggett Jr.

His archive includes irreplacable material which will be brought to fore in Centennial tributes.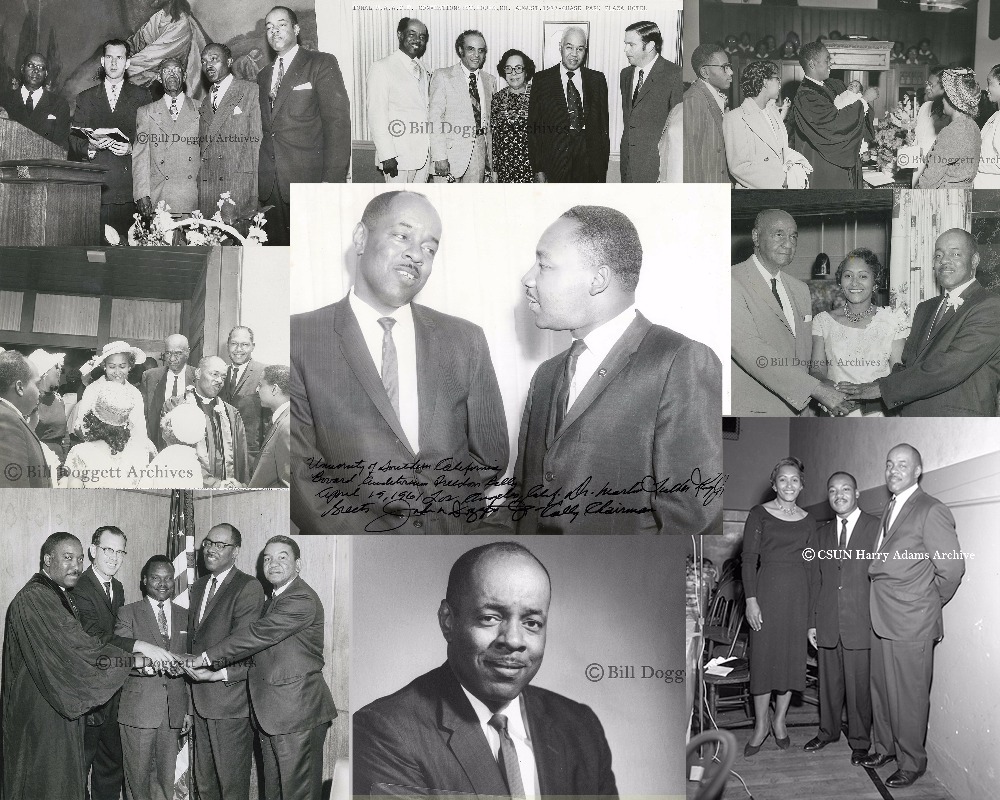 The 3 palettes of his life and legacy were shipped to me from St Louis to Oakland in 2013 as part of the closing of his estate.   These 3 palettes must be moved from Oakland not later than August 18th: hence a clear urgency.

The funds are to pay for all U Haul truck and equipment rentals, the hiring of two workers to load the truck in Oakland, the drive to Southern California and the hiring of two workers to off load the truck into low cost and safer storage.

Thank you kindly for your contribution to moving and preserving the life's work and legacy of my father,
Reverend Dr. John N Doggett Jr.

Explore my father's life and legacy on my website tribute   http://www.billdoggettproductions.com/Doggett-Civil-Rights-Mvt-Story.html


+ Read More