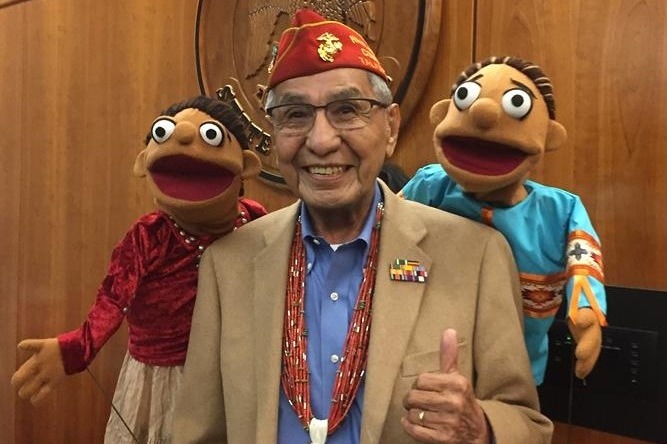 1.5k
38
Help Us Save our Navajo Language
$43,723
of $55,000 goal
Raised by
1,524
people in 19 months

SAVE OUR NAVAJO LANGUAGE

"Like many Navajo tribal members, my parents were part of the boarding school syndrome and were abused and punished if they spoke their traditional Diné or Navajo language. I wasn't raised to speak my  language, so I would be more successful in life, is what my parents were told. Because it was important to me, I took Navajo language classes at the University of New Mexico and even then it was considered a foreign language," said Charmaine Jackson, co-producer of Diné Bí Ná'ákid Time.

Dr. Begay and Charmaine Jackson teamed up to produce the first-ever Navajo puppet TV show called Diné Bí Ná'ákid Time or 'The Navajo Movie Time.'  The show is geared toward pre-school students ages 4 to 6 year old kids to teach them the Navajo language and culture for the purposes of saving, rejuvenating and revitalizing through educational media. 

Statistics from the U.S. Census 2011, states there are 7,600 traditional Diné or Navajo-only speakers and about 169,000 Navajo-English fluent speakers. Currently, there are over 300,000 Navajo enrolled members and that could be interpreted as more than half of our nation doesn't speak the Navajo language and it's declining.

Being Navajo or Diné also comes with a long history of assimilation, discrimination and an annihilation of a race of people. Most natives who have survived today describe it as walking in two worlds.

The production of Diné Bí Ná'ákid Time is a powerful media-learning tool that can be used to teach school aged children and practically anyone interested learning the Navajo language.

In today's digital age we live in and there are multiple opportunities to utilize social media by documenT
ing our history and revitalize the Navajo language in a new teaching format. The direction of the show is to draw attention, using puppets named Nanabah, Gah (Rabbit) and Dlóó (Prairie Dog) and other animal characters to attract a young audience that is specifically interested in the Navajo language.
                                                                                                           ####

"I never learned my Navajo language and I was never inspired to learn it.  As I got older, I realized how valuable our language is to the livelihood of our Navajo Nation. " -Dr. Shawna L. Begay

Our Navajo or Diné language is in danger of becoming extinct.  Help us create and develop the first Navajo-English educational media TV puppet show, "Diné Bí Ná'álkid Time" which means 'The Navajo Movie Time.'  It will inspire and teach our youth basic language skills using media as a technology tool. Parents, grandparents, children and grandkids can learn to speak Navajo  fluently together within their  own homes.
                                                                                                             ####

Long-time friends and educators, Dr. Shawna L. Begay and Charmaine Jackson have teamed up to create this new TV pilot for an all-ages audience or for anyone who wants to learn the Navajo language.   

With your support, it'll be the first educational Navajo and English puppet show that will teach and preserve the Navajo language and culture through digital media.

After several years of extensive research on the Navajo Nation, Dr. Begay recently completed her PhD     from the University of Nevada-Las Vegas with her doctorate thesis, 'Developing A Navajo Media Guide: A Community Perspective.' As project director, she quickly realized she was a pioneer on the topic.

"When I decided what topic to study I realized there existed very little research in Indigenous educational media, especially with our Navajo people," stated Dr. Begay.  "As Navajo people, we have our own learning objectives and Navajo way of knowing is completely different for Euro-Western schooling.  I decided that I had to research and develop our own curriculum guide that is meant to teach Navajo through          media."

We both believe that media is a powerful tool that can be used to teach school-aged children and practically anyone interested learning the Navajo language. In today's digital age there are multiple opportunities to utilize social media to document our history and revitalize the Navajo language.

If you look around, you will see kids on cellphones and tablets, watching television and YouTube. Their constant use of digital media convinced us that it is the easiest way to teach and reach our youth today.

"Media has become the new form of storytelling and through it we can achieve learning objectives,"  Shawna concluded. "Mass media has been seen as detrimental to indigenous ways of life by taking away  precious time from learning from elders. As our different cultures grow and change, adaptations can occur to ensure the survival of indigenous languages."

Through both our modern and cultural experiences over the years, this project has brought us back together and we are determined to help save our Diné language for our elders, families, youth and our future. We hope our story will inspire our Diné tribal members and other indigenous peoples to become involved in saving all our ancestral languages.
                                                                                                                ####

"How can you teach the language?" questioned Dr. Shawna L. Begay when she first thought of developing "Diné Bi Na'alkid Time" (Navajo movie time), a show that will utilize a "Sesame Street" format to teach Diné Bizaad.
Something Begay wished she had growing up saying maybe then she would be able to speak the Navajo language. "I was really inspired by 'Sesame Street' because I grew up watching 'Sesame Street,'" Begay  said. "They do a lot of research in curriculum development and so I kind of use that as a model."

"Sesame Street" is a PBS children's TV show that uses puppets of animals and made-up creatures to teach  children how to count, what different words are and much more. There are also human characters in the show.

This type of programming is often referred to as "edutainment," a word that combines education and entertainment. "Diné Bi Na'alkid Time" will utilize a similar format of puppets and human characters to teach the Navajo language.                                                 
                                                                                                                   ####

Dr. Begay and Jackson, co-writers of the show, developed the first 3-puppet characters and plan for many more. The pilot features Nanabah-a young Navajo girl, Gáh (Rabbit) and Dlǫ̀ǫ̀ (Prairie Dog) who will go on endless adventures learning about language, gardening, the environment and the importance of family values.  She is fluent in Navajo and likes to teach children about life on the reservation with her animal friends and special guests.  Children who want to learn Navajo will also be an important part of the show by interacting with Nanabah, her friends and adventures. 
 
Dr. Begay's research concluded there exists very little research in the area of Indigenous educational media. Currently media is a very powerful tool that can be used to teach. She is cognizant of the digital age we live in and the opportunities to utilize media to revitalize the Navajo language.  
 
"Star Wars and Finding Nemo," dubbed in Navajo, was a great place to start and it has garnered national exposure of our language. However, we need a show based on our own Navajo learning principals our ancestors set out for us to learn and live by. I don't think a non-Navajo, non-Native or non-Indigenous person can do that for us, nor should they.  We, as Navajo, need to produce this show ourselves, if we are to be truly sovereign," added Dr. Begay.
 
Both educators, Dr. Begay and Jackson, of Naalkid Productions have been talking about this educational        language project for about the past four years and still have a long way to go to finance their dream.
 
"With the support of Navajo TV Anchor Colton Shone, our team of Navajo artists, filmmakers, family and friends, this video pilot is a huge step forward," said Jackson.  "Our journey has just begun and the big        next step is finding financial support to create a whole new puppet TV series."

We aim to raise $52,000 with this project which will allow us to continue with pre-production and production aspects of making this digital media project become a reality.  We need your help to save our
language by teaching Navajo to our future generations.

Pre-Production:
-Script writing for the pilot show-COMPLETED
-Puppet Development/Creation-COMPLETED
-Casting for puppeteers and other talent-CASTING NOW
-Hiring of all key cast and crew-COMPLETED

Production: 
-Locations and permits-COMPLETED
-Rental of Studio space-COMPLETED
-Equipment: cameras, sound, lights, etc.-COMPLETED
-Cast and Crew budget-IN DEVELOPMENT

ABOUT: 
Dr. Shawna Begay (Diné)  Project Director, Co-Writer & Producer of Diné Bí Ná'álkid Time and Co-Owner of NAALKID PRODUCTIONS >>>>---------->
She is an award-winning filmmaker from Window Rock, Arizona and currently lives between Phoenix and Las Vegas.  Dr. Begay is a graduate of the prestigious Chapman University, earning a Master of Fine Arts in Film Production.  While working as an intern with VegasPBS she produced "Helping Native Americans Graduate" in 2012, which went on to win various media awards. Her research in the area of Indigenous educational media is the foundation for our current language show.  She is also a recent graduate of the University of Nevada, Las Vegas, earning her philosophical degree in Educational Technology. 

Charmaine Jackson (Diné) Executive Producer/Co-Writer & Media Relations of Diné Bí Ná'álkid Time and  Co-Owner of NAALKID PRODUCTIONS >>>>------->
Ms. Jackson is an educator, film advocate and an award-winning broadcast TV & radio news anchor and        reporter.  She was born in Fort Defiance, Arizona but mostly grew up in Shiprock, New Mexico. Ms. Jackson graduated from the University of New Mexico with a BA in Broadcast Journalism, a minor in film and media studies and completed Navajo linguistics courses.   She has worked in government public relations for           about six years, with two Navajo Nation presidents and NM Governor Bill Richardson.  In the last 15 years, her experience in the media and film and TV industry includes: the New Mexico Film Office, Nat'l Museum of the American Indian Film & Video Office-New York & Native Cinema Showcase; Nat'l Geographic's All   Roads Film Project, KOBF 12, KIMO 13 and Native America Calling.  Ms. Jackson has been awarded by:       the Native American Journalists Association-Golden Circle Award; Society of Environmental Journalists; U.S. Senate Radio & Television News Director's Foundation Fellowship; and the Nat'l Museum of the             American Indian Film & Video Center-NYC.
  
Your support will help us save our Navajo language and teach generations to come. >>--------->












+ Read More