13
6
Save Samantha - Life Saving Surgery
£545
of £250,000 goal
Raised by
13
people in 23 days
"I must now fundraise for my own life and for my babies to have the mummy they so desperately need and deserve. I am in constant pain in my neck, head and spine and week in, week out my neurological damage is becoming harder to ignore."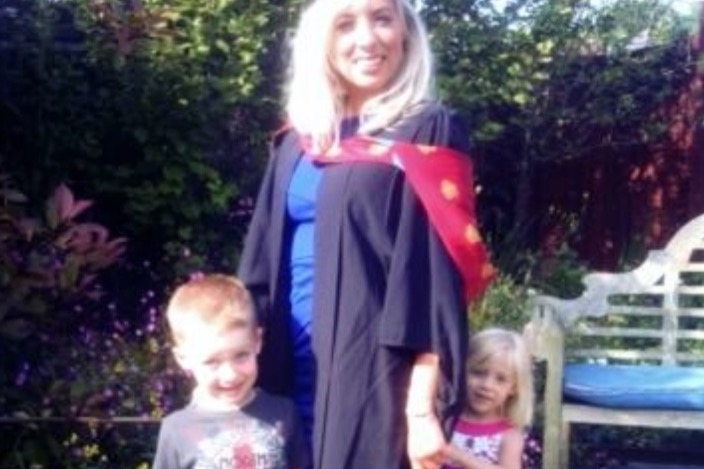 31y/o Samantha is a single mum and Psychotherapist from Gtr.Manchester.
She has a connective tissue disorder called Ehlers Danlos Syndrome (EDS-Type1).
Connective tissues hold the body and its organs together, but faulty connective tissues cause complications, pain and multiple daily dislocations throughout the whole body.
Her spine is collapsing and dislocating, due to the EDS and she requires her FOURTH life saving and life changing Neuro-surgery in America.
Let's get Samantha back to what she does best; Her career helping others and more importantly, back to the fun-loving mummy that her young children so very much miss & deserve.
No Neuro-surgeons are qualified to operate on Samantha in the U.K. and so we must raise in excess of £100,000 to pay for the surgery in America ‼️
This is time critical.
Follow Sam's story on
www.facebook.com/savingsamantha
  and #SaveSamantha
********************************************
'Samantha's 2017/18 story'
In 2017, Samantha became very unwell very fast and Neuro-surgeons discovered that the weight of her skull was causing her spine to collapse due to the tissue weakness. She lost her private psychotherapy clinic that she had worked hard to build and became bed ridden.
Damage to her brain stem and spinal cord caused intermittent paralysis; She became wheelchair dependant & unable to be upright without agonising pain, and memory loss. She was at risk of internal decapitation.
There were 3 surgeons worldwide able to complete the surgery she desperately needed in America. #SaveSamantha fundraising was a great success and Sam underwent 3 lifesaving surgeries in August and September 2017.
She learned to walk again, and researched and rehabilitated herself- due to no NHS assistance available for EDS patients with her condition in the U.K.
Sam regained her independence as a mummy to Jensen and Brooke again and is petitioning for a healthcare pathway for others with EDS. (
https://petition.parliament.uk/petitions/212713
 )
Recently, Samantha's health has declined. She was devastated to learn that her spine is more unstable than surgeons originally believed and the flexible scaffolding used to fuse her spine in 2017 (pic above) was not aggressive enough to keep her safe.
Her body was one of the rare few to reject the bone marrow graft and her spine is still dangerously unstable causing scary symptoms to reappear including damage to her heart, memory, pain and movement disorders and multiple dislocations of the neck and vertebrae each day.
Samantha is no longer independent and will face paralysis, organ failure and eventual death without a more aggressive, time critical neuro-surgery in the US.
This aggressive neuro-surgery will remove all movement in her skull and spine, but will save her life and halt the damage of her
spine and organs.
Her children desperately need their mummy back.
Please help give Samantha the chance she's bravely fought so hard for.
Help #SaveSamantha to raise awareness and funds in excess of £100,000 for life-saving neurosurgeries surgeries.
+ Read More
Update 2
23 days ago
Share
June 5th 2018 - Part 1 ... A whole year since my private health struggle became public, and fundraising for my life began.

This time last year we were in Washington DC for my first (and what I believed to be final) three lifesaving neuro-surgeries

I've been trying to write something to show my gratitude for all of the incredible support myself and my family have received....

Emotions which have stirred beneath the surface have hit me this week like a ton of bricks whilst I've withdrawn to reflect with my eyes on gratitude... flashbacks, vulnerabilities and fear... pure fear have also crept in.
I never shared my health struggles with many people prior to that post on March 31st last year. In fact, I was a master at disguising them. Looking back, I've no idea how I hid the struggle from even my closest family members.
This time last year I collapsed on a client and knew I had to step away from the business I loved and built.
I had juggled clients and work around naps and medication for so long.
Once I had my diagnosis the doctors words would spin round my mind as a reminder of my mortality.
In the evenings, I would pour my energies into the children, intent on making memories. At times, I had no choice but to accept defeat as my body would collapse, shake and spasm or become paralysed.

There were many times I would send the children up to get ready for bed before me, so they wouldn't witness me climbing the stairs in secret agony and crawling from one room to another before dragging myself upright and entering their bedrooms as the 'happy, pain-free and loving mummy' they so deserve.
I'd tuck them into bed whilst shaking in pain and my peripheral vision would blacken as a warning I was about to pass out.
I would hold onto their bed hoping they didn't use too many 'time buying techniques' before moving onto the next room and doing it over again.
I'd then collapse on my bed and cry deep, hot, silent sobs...guilt ridden and hopeful that I hadn't allowed the pain to take away from precious bedtime moments; moments that weren't guaranteed in our uncertain future.

These problems were fixed by surgeries last year, but due to my desperate need for a more aggressive stabilisation of my spine they are now beginning to take hold again.
+ Read More
Update 1
23 days ago
Share
June 5th 2018 Part 2 .... We've been so blessed that everyone pulled together- near and far. That so many of you gave your time, love, money and energies to help us.
I'm blessed that people I hadn't previously 'let in' are now my closest friends...My Army...the ones who showed up and never left.
Twelve months ago, I experienced firsthand what it's like to display your fears and vulnerabilities to the world and have strangers and those you least expect turn up at your door to help- resisting my instinctual attempts to isolate myself and manage alone.

But there was an internal battle...I hadn't hidden my health for the fun of it. I had learned to suck it up. I was ashamed of my 'faults' and worried what people would think.
It had never defined me; and yet, over time, it began to consume me, strip away the very things I did define myself by. To lose yourself whilst in the public eye is a very difficult thing.

There have been so many emotions co-existing and contradicting one another....
To pride yourself on being a financially stable and independent single parent.... and to have that taken away brought shame for me.
It chipped away at my self esteem- but my confidence was reinforced by the supporting love of others.
From the helper to the helpless... I resented the situation I found myself in.

Simultaneously, I was fast learning a brutal lesson in that some of the people I would have given my world to, simply disappeared from our life.... or made little or no effort to show they care.
I craved the supportive arms of specific people, and the universe gave me new ones in the masses. For that, I was both thankful and heartbroken.

My parents had a struggle of their own as they felt guilt at the genetic link and helpless in the face of my diagnosis and need for funds. They faced the day to day brutality of the situation by my side every step of the way.

The heart wrenching conversations I had to have with my children... their questions....the letters I wrote 'just incase'... the practical preparation of will writing and the unwanted discussions my parents had to endure to learn I had given them 'power of attorney'...Decisions on my babies futures and all of the crappy practical elements that a responsible parent in that situation has to address.

It felt like I was giving up.... yet, I intended to fight with all I had. Little did I know how much that would mean.
All I knew was that without the finances to fund the surgeries it would mean the fight wouldn't be a long one for me. Yet, in just FOUR weeks, YOU hit that impossible £40,000... and in EIGHT weeks... YOU had more than doubled the donations!
It blows my mind.
The power of the people, those that pushed the cause whilst I was unable to, witnessing communities together, support from near and far.
The impossible now seemed possible. I absolutely couldn't have done that alone.
Thank YOU.

My parents and brother lost months of wages whilst caring for my children and powerlessly watching me literally lose my mind in America.
Only they truly know the depths of despair that we all hit out there.
Reactions to medication, surgery and immense pain made me delusional, paranoid, suicidal, angry, fearful and desperate.... I became someone else for a while. The medication changed me... and my young children had to witness that.

The fear of facing it again in the future is all too raw for each one of us ... I see the pain my condition has already caused the people that I instinctually want to protect and that is why I held off putting myself and my dear family through that hell again until we felt ready.... but we'll never be ready. So, now it's time to start again.

This was not the plan. It was not the foundation which I built my hope upon last year and I am truly sorry that I have to ask for your support a second time.

MY body didn't respond to the bone marrow graft in the way it should have done. We will need to revise the fusion using my ribs and more metal scaffolding over a larger area. This surgery is more aggressive than last years, but it is my chance to continue rebuilding the life I have experienced since tasting better health and independence again this last few months. I feel it now slipping from my grasp again....

A few weeks ago after day of obvious pain, during a bedtime chat; my son and I reversed roles.
I cried whilst my 9 year old spoke to me....

"if we have to do this every year for the rest of our lives then we will do it and we will learn from mistakes and be stronger every time mummy....of course you don't want to. We've done it before so we know we can do it again... we will make memories mummy and think of it differently '

Unbeknown to me, he had also overheard me wallowing to my mum at some point that no man will ever want this future with me/us.
He told me he'd heard this and he said I'm wrong.
'You're beautiful and clever mummy. He will do, and when he gets scared I will explain that it will make us all stronger and an even better team -and that you are worth it so much'.

I haven't been able to turn off the floodgates since. I told him how proud I am of him and thanked him for sharing his strength with me.

He replied 'you made me... it's your strength too remember'.

So yes, this last 12 months has been a hell of a whirlwind.
BUT, it has taught us all so much; it has given me new eyes to view each day and the incredible people in it and a bond I could have only dreamed of with my nearest and dearest.

Life plans have changed.
People have left and others have appeared.
My connection with family and friends has deepened.
Physical pain is exhausting & frustrating- but if I can feel it, then I'm alive and blessed... and I'll figure ways to manage it just as others do... but I need your support to get through this next round of surgery; To stabilise my life and my health... to continue making a difference for the EDS community and to keep being mummy to my incredie, courageous children.

I'm frequently asked 'are you getting better now?', 'has it worked?' Etc.... and the answer is simple- things are different now.
It's one day at a time.
I know I need more surgeries and have more mountains to climb ... I am fearful and tired, but I am determined that we will climb them with the benefit of hindsight and the most incredible army of people anyone could ever dream of.
So, thank you for showing me who my people are... and I promise to make you proud and always appreciate your support.


+ Read More
Read a Previous Update