6
6
Save Aunt Lillie - Bring Her Home
$384
of $80,000 goal
Raised by
6
people in 8 months
89-Year-Old African-American Woman Abducted by Guardian in Florida and Isolated From Family For Over A YearHelp Needed To Launch Defense in a Higher Court
Imagine you go to the doctor with your mother/ sister/ aunt (anyone you love) and you are called in the other room to fill out papers. When you return, your loved one is gone. She was "taken" and the person who took her refuses to even tell you her location.  How would you feel? What would you do? At the same time, that person is billing large amounts against the estate and allowing others to do the same... AND a Judge is signing off on it all. It sounds like an episode of the TV show "American Greed" but that's what is happening to Aunt Lillie in Florida right now. Our only recourse as a family is to fight this in a Higher Court. We need your help so we can save Aunt Lillie and bring her home before she is medicated to death in whatever institution she is being involuntarily held. She never should have been under guardianship in the first place.
Watch the overview video and
"meet" Aunt Lillie here . 
Does that woman seem incapacitated? Does she deserve to be treated like a modern-day slave?  For more background on this type of elder exploitation, read my Huffington Post article,
"Is Elder Guardianship a New Form of Human Trafficking?"
Aunt Lillie with her Niece and Sister

The Abduction
On August 30, 2016, Aunt Lillie left her home in Palm Coast, Florida with her niece (my sister who was her caregiver and companion) to go to the doctor and then vote in the local election. She did not leave with a suitcase or the intention of never returning again. She loved the house she designed and built with her late husband as their retirement "dream home." Yet, that day, she was prevented from casting her vote and has not stepped foot in her home since.
For all intents and purposes, Aunt Lillie was abducted. The court-appointed Emergency Temporary Guardian and the court-appointed Attorney Ad Litem (both appointed unnecessarily) "seized" her from the doctor's office while her niece was in the other room filling out paperwork. It was done with no notice, no hearing, no danger and no emergency. It was done with deception and not in "good faith." Aunt Lillie's expressed wishes were to be in her home with her family -- a support system that had been successfully in place for five years. Even though there was a complaint made one month before with the Elder Abuse Hotline against the Emergency Temporary Guardian, nothing was done. No Florida agency to date has stepped in to help since there is a Judge signing off on every action of the court-appointed agents.
Litigate, Isolate, Medicate, Steal The Estate
Aunt Lillie's 82-year-old sister (my mom) and 50+ nieces and nephews (including me) have not had any contact with her for over a year.  A stranger - the Guardian - is blocking us from visiting and saying we are "agitating" her. We could not see her on her 88th birthday last year and her 89th birthday this year. How can her entire family whom she loved to spend time with as evidenced in pictures and videos, be suddenly "agitating" her? It goes against her own court testimony in Orange County but the Flagler County Court is ignoring it. They have their own agenda. It seems like their focus is simply to spend down her money. When the Attorney ad Litem was appointed by the Court last year, she immediately pushed to strip away all of Aunt Lillie's rights. This person was supposed to be her advocate.  Now, there are upwards of 10 attorneys trying to get paid out of Aunt Lillie's hard-earned retirement funds and saying it is in her "best interest." It follows the "Litigate, Isolate, Medicate, Steal The Estate" pattern that has been documented across the country. 
No "Security of Justice"
With 10,000 Baby Boomers reaching retirement age every day, this type of elder financial exploitation is a growing epidemic.  It could happen to you. It's open season on seniors -- and you don't have to be super wealthy. If you own a home, these "probate pirates" will happily liquidate it for you while you are still alive.
People in high places know that this type of crime is happening. The
Robert Matava Elder Abuse Prosecution Act (S.178)
 recently became law. However, we need faster action. As my family has experienced, we don't have "security of justice," as Dr. Martin Luther King, Jr.  spoke of in his "I Have A Dream" speech. There is no transparency or accountability. Since this type of "probate profiteering" is endorsed by the local Court, it is made to be "legal" even though it is really a federal crime. 
There are already multiple appeals in the Appellate Court in Florida - but we have to go higher. Besides bringing justice for my aunt and family,
we want it to be clear that this type of "color of law" abuse of power through the judiciary is unacceptable
even if you wear a black robe or have Esquire at the end of your name.
Aunt Lillie with her Sister
How can you help?
Your donations will be used to launch a legal defense in a higher court in what could be a landmark case.
You will help Aunt Lillie, and possibly other seniors in the long run.
The people who are keeping Aunt Lillie sequestered are using her own money to victimize her, whereas the family is spending out-of-pocket for her defense. Their method is to file motion after motion to keep it in the Court. We've already spent six figures responding to their paper warfare. We've discovered that one of the strategies in fraudulent guardianships is to bankrupt the family so they simply go away. In this way, the senior's assets become an open piggy bank. 
We are NOT going away but we need your help to win.
Many believe this could be a landmark case that can free Aunt Lillie AND prompt additional reform to help other seniors. We finally identified an attorney we feel will actually fight the system. By supporting us in having the right legal team, you can help:
* force the Guardian to "produce" Aunt Lillie
* prevent the Guardian from selling Aunt Lillie's house
* free Aunt Lillie so she can come home
* bring justice for all of the wrongdoing 
* shine a spotlight on this type of elder exploitation
On July 28, 2017, my mom and sister were ejected from my aunt's home in Palm Coast. My sister had been there five years after a Judge in Orange County asked her if she would help Aunt Lillie as caregiver during these court proceedings. My mom had been there continuously for the past 18 months and intermittently for five years. Yet, they both had 48 hours to move. The other day a friend sent a picture of a dumpster in my aunt's driveway. Apparently, the Guardian is throwing out Aunt Lillie's things.
Today, I heard sobbing in the other room. It was my mother crying uncontrollably in realizing that the one-year anniversary of Aunt Lillie's abduction is upon us and her home may soon be gone.  Aunt Lillie is her only living sibling and the matriarch of our family. Seeing my mom's hurt, I could feel the anger swelling up inside of me but I knew that wouldn't serve me -- only justice would. That is what prompted this campaign.
Please help us fight this corrupt system and save Aunt Lillie before she "suddenly" dies in the institution where she is being held like too many other seniors trapped in fraudulent guardianships.
Any amount you can donate will help. Time is of the essence. Please spread the word.
Help #FreeAuntLillie.  
Our elders have the right to be protected and respected. Let's create a society where we can all age with dignity.
Thank you.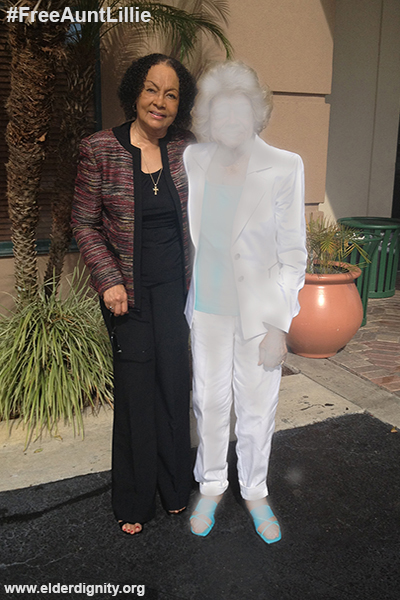 Aunt Lillie with her Sister
NOTE: I have blocked Aunt Lillie's face out in the pictures on this site and not used her last name so that the Guardian et. al won't try to sanction me. All of the people profiting from exploiting Aunt Lillie want to keep it silent through closed hearings, sealed transcripts and unconstitutional "prior restraints" from me speaking out. It appears that our phones have been tapped, our emails have been hacked and we've been followed. They are going to extremes to keep us silent. We need your help to bring this to light so it never happens to another senior in America again. Help us make this case the tipping point. Thank you again!
+ Read More
Update 1
6 months ago
Share
As soon as we launched this campaign, the Elder Dignity website was hacked. That's how vicious this fight has been. That delayed us in promoting the campaign, but now we're back. The site is still down but you can view the attached video for an overview.
+ Read More