San´s Road to Antarctic
£1,240
of £1,200 goal
Raised by
38
people in 20 months
Hello friends!
My name is
Sandra Guzman
, I am mexican and currently I am a PhD student in politics at the University of York. I am also founder and coordinator of the Climate Finance Group for Latin America and the Caribbean
(GFLAC)
which is a regional network of non governmental organizations and academic institutions, working in the promotion of transparency, accountability, effectiveness and multi-stakeholder participation in the design of financial strategies to address effectively the climate change.
Today I am writing  to ask for your support!
Photo: Image of the campaign created by my best friend and one of the most talented designers in Mexico, "
News
".
I have the privilege to be chosen to participate in a project called the
Homeward Bound Project
, which aims to empower women in the field of science and particularly in areas related to environment and climate change. As part of the one-year project the initiative seeks to take a group of
70 women scientists
to the
Antarctic in February 2018
and I am fortunate to be the first Mexican participating in this project!
This expedition will take place every year during 10 years to bring together a group of 1,000 women who can work together for the planet, starting in 2016 when the first trip took place. For me, this experience aims to connect women with what we defend and thus strengthening the work in the important field of science that has been predominantly led by men.
My motivation:
As the mother of a two years old baby, my responsibility is huge and I assume this challenge as an integral part of my career because I am sure that the results will contribute with the efforts of many people at the national, regional and international level to face climate change and to transit towards a low carbon development.
My petition:
The cost of the trip that is
26,000 USD
and the Homeward Bound is covering 60%, but my challenge is to fundraise the other 40%, which is 16,000 USD. Thanks to my family and friends I managed to raise half of the money in the last few months, however I need to raise the rest of the funds (
8,000 USD
) to be able to join to the expedition and to get the necessary equipment. The deadline to have the money is october 2017!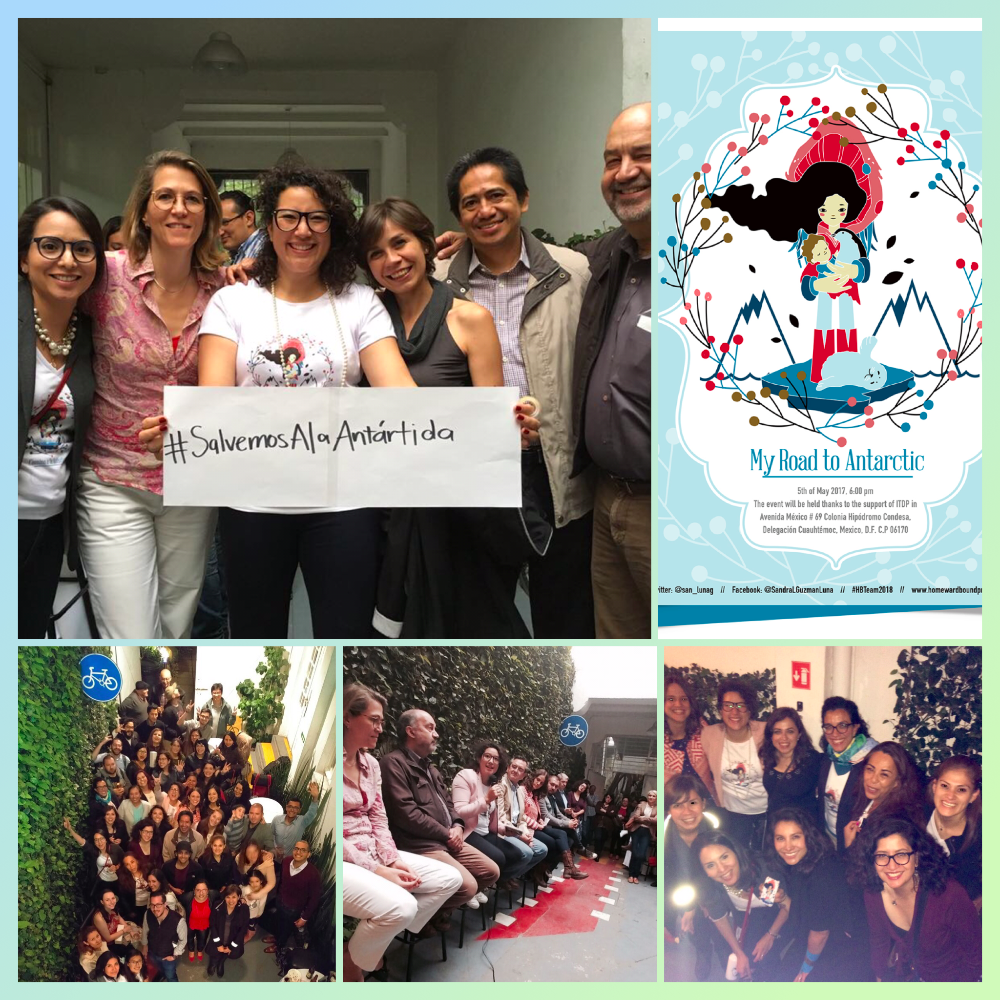 Photo: My Road to Antarctic started officially in May in Mexico city with the support of family, friends and colleagues. I want to thank to the
ITDP
 Mexico organization that allowed me to do this amazing event in their home.
What do I need?
Your donations and support!My commitment:
Your support is not only give me the opportunity to go to the Antarctic, document the impacts of climate change and to strengthen the role of women in science, but your donations will also support all the work that I do in relation to climate change. There are several actions that I will be doing but there are four that will be important during the process:
1. I will be disseminating information in
social media
about the trip and also about important ways to strengthen women in science, as well as to increase awareness about climate change. All organizations and people that want to join to actions will be included in the promotional information to show others your important support.
2. I will be holding
talks and events
about these topics and I can join and participate in different conference to bring this experience to you and others.
3. I will be carrying out to important
campaigns
, one to promote the financial necessities to transit towards a low carbon welfare and the other in favour of the empowerment of women in the protection of the planet, through the campaign
"DEFENSORAS".
4. I am selling incredible
products
that were design by my best friend and one of the most talented designers in Mexico, you can also buy one!
Photo: The products that you can purchase to contribute with the trip (t-shirts, cellphone covers, water bottles, postcards, notebooks and pictures)
Trust me, your donations will be used transparently, efficiently and coherent with the protection of our planet. This trip is for me, but also for you and the humanity.
Thank you so much in advance for your support.
For more information please follow me in:
Twitter: @san_lunagFacebook: SandraLGuzmanLuna


Big hugs

Sandra

+ Read More
Update 2
Posted by San Luna
19 months ago
Share
¡Familia, amigas y amigos, quiero agradecerles profundamente por todo su apoyo! Gracias a sus amables contribuciones mediante "gofundme", contribuciones directas y mediante la adquisición de productos de "Mi Camino a la Antártida", estoy muy cerca de la meta. De los 8,000 USD que faltaban ya solo faltan 3,550 USD!
Alguien me dijo que la generosidad de la gente es infinita y estoy muy contenta de comprobarlo.
¡Les prometo que cada centavo será por una muy buena causa que ya crece exponencialmente!
¡Pronto compartiré más noticias!
¡Infinitas gracias!
+ Read More
Update 1
Posted by San Luna
20 months ago
Share
Muchísimas gracias a quienes han hecho posible el arranque tan positivo de mi campaña en "gofundme". Cuento con 6 importantes donaciones que significan mucho para mí. Gracias Sara, Gaby, Carolina, Santa, Genice y Erika.
Thank you so much!
+ Read More
Read a Previous Update
Be the first to leave a comment on this campaign.