13
8
Muffet's Face is Gonna Heal
$820
of $800 goal
Raised by
11
people in 8 months
My name is Michael Campbell, and this is me and my grandmother's dog Muffet.
She is an 8 year old Pomeranian half-breed, with many more years left in her and her health.
She is an adorable lap dog, and though she is prone to barking, is otherwise a quiet & personable little beast. Her fur being one of the softest around, and has been a comfort to me and my grandmother for the year that we have had her.
However, an issue has propped up regarding her dental health.
One (or more) of her teeth have potentially cracked, and will need an extraction in order to remove them.
This has also resulted in an abscess forming on her right cheek.
This is her face as it should be. A healthy (if sleepy) and happy little bark monster.
As shown, in her healthier days.
However, this is her face now, and her state which caused us to rush her to the Veterinarian within town. She'd been taking to hiding more than usual, and I had spotted and grabbed her.
I had been worried it was a parasite of some form.
But, after an examination, the Vet declared that it was likely one of her teeth had cracked, and the resulting infection has created an abscess in the fragile face bones.
The assessment was made, and she was sent home with some antibiotics and painkillers for the moment. The cost for her dental is presented below.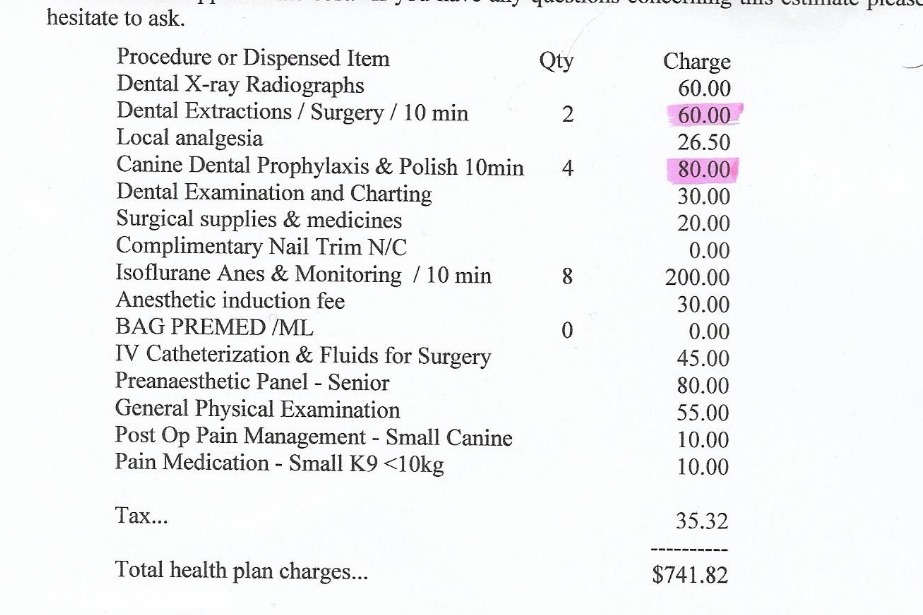 Here is the plan for her health. As I am a working man, eventually, I can put aside enough money to get her back to health.
However, this may take months, and I do not wish to see her suffering in the interim. Other bills, my grandmother's house, rent and food, though, take precedence.
This is where you can help.
Every dollar will be used towards expediting her dental care, and getting her back to being a smiling, happy little beast once more.
If we can raise enough money, I can book her an appointment with a week's notice, and ensure her teeth are taken care of properly.
And from there, get her back to health, and smiling once more.
Now. As for why $800 CAD: There is a potential more of her teeth may be broken.
From what I learned from the previous owner, she was prone to grinding her teeth as a young lady, and may have damaged more than one tooth.
The bare minimum for starting this whole process is approximately $400, to act as a deposit for the Veterinarian's materials and supplies.
If we can get to $400, we should be able to cover the rest within a month.
If we can get to $741, we can get her into surgery within a week.
If we can get to $800, all potential costs for any other teeth that may arise will be covered.
If any further is raised, I will strive to donate it to the clinic if at all possible, since they operate the town's local shelter as well.
As it stands, she has two weeks of antibiotics, and only a few days of painkillers to help her with what she's dealing with right now.
Removing the teeth that are bothering her will go a long way towards ensuring her health to keep our wee Muffet as my, and my grandmother's companion for the rest of her natural life.
She is a wonderful dog, and I would hope to see her live long and well for as long as possible. This will go towards that.
If you've reached this far, I thank you, and am grateful for your support, even if it means just sharing this link somewhere.
If you've donated towards the health and safety of my dog, I am more than grateful. Truly, from the bottom of my heart, I thank you.
Muffet, though she is perhaps not the manliest of companion animals, has been a source of comfort in trying times, to both my and my grandmother.
+ Read More