1.8k
26
Ryder's Journey - US trial
$135,995
of $300,000 goal
Raised by
1,910
people in 19 months

History
Ryder is a happy, easy-going and intelligent boy who loves Lego and is destined for a career in engineering. He loves playing with his idol - his 6 year old brother Caden.
He had just turned 3 when he was diagnosed with stage 4 high risk neuroblastoma, a rare and very aggressive childhood cancer.
We were turned away by GPs eight times in 5 weeks, all telling us he had a virus and to 'wait it out.' By the time he got to hospital, he had a 6cm tumour in his stomach, and 100% of his body was riddled with cancer. 
Ryder was in excruciating pain and went straight from being on Nurofen every 5 hours, to around-the-clock pain relief with nerve pain medication and a morphine drip.
From our initial relief to knowing what was wrong with Ryder, we were quickly plunged into a time of dark days, as we began to learn about neuroblastoma. It is not a good card to be dealt.

About Neuroblastoma
Neuroblastoma is a cancer of newly developing nerve cells, and as such typically hits very young children.
It is the leading cause of death from cancer in children under 5.
This cancer often initially responds well to chemo, but is insidious and very difficult to hold off for good.
Despite a gruelling 18 month treatment to clear kids and try to prevent a relapse, the average time to relapse is only 9-12 months. Once a child relapses, not only do treatment options dwindle, but it is almost always terminal.
Australian children are relapsing often and dying now from neuroblastoma and sadly lives have already been lost in Australia this year.
While many other cancers are experiencing better cure rates in recent times, neuroblastoma survival rates remain at only 40-50%.
The key to increasing these odds is to stop these children relapsing.
Where we are now - April 2018
Ryder has just turned 4 – he spent his birthday on Easter Monday at Peter Mac receiving radiation therapy.
He has endured 7 rounds of chemo, a bone marrow transplant, surgery and radiation therapy since August 2017, spending most of his time in and out of hospital. He has lost weight, lost his hair, spent over 200 days in hospital, has nightmares about his cords coming out of his tummy and him dying. He remembers nothing before his life with cancer.
Ryder is currently in remission and had just commenced a 6 month treatment called immunotherapy. He is already at risk of relapsing - even while still within treatment.
His tumour biopsy report states that his tumour has chromosomal changes I that indicate a 'higher risk of relapse.'
Ryder is unaware of the
1 in 2 chance
of his cancer returning, and unaware that if that happened he would likely spend the rest of what is likely to be a very short life in hospital. He just wants to start kinder and to stop spending nights in hospital, away from his home and his brother.

About the Trial
There are no options in Australia to address the neuroblastoma 1 in 2 relapse rate.
Ryder's best chance of not relapsing, and therefore surviving, is a trial running in the USA which is showing extraordinarily good results in keeping kids clear for years longer than before.
The neuroblastoma world specialists are at Memorial Sloan Kettering, a hospital in New York which sees over 125 new cases of this rare cancer a year. They have 5 Neuroblastoma experts on site and the man recognised as the best neuroblastoma surgeon in the world.
MSK has completed and published a phase 1 trial with children who have already relapsed with Neuroblastoma once and been cleared a second time (these are considered extremely tough cases). These kids would be expected to relapse again within a very short timeframe (months). The study (link below) shows these kids remaining relapse-free almost 3 years later.
This is promising data. Organisations we have spoken to agree that this is a trial any Neuroblastoma child should be involved in, which may very likely save their lives.
Phase 2 of the trial (link below) involves testing this same vaccine on kids who have been cleared for the first time of Neuroblastoma (like Ryder). We have had advice from organisations around the world that Ryder is eligible, will be accepted and SHOULD do this trial, however we can manage it.
The vaccine is given 7 times over 12 months, at weeks 1, 2, 3, 8, 20, 33 & 52. Our plan at this point is to stay in the US for the first 3 weeks then travel back and forth.
The vaccine has zero toxicity and minimal side effects, none of which last more than 24hrs.
The cost as an international patient is US$160,000 – around AU$225,000. This is due in September, paid in full before starting, and is actually negotiated down from a MUCH bigger figure by another Australian family, who are based in Brisbane and are about to finish their 12 month participation in the trial.  Their son remains cancer-free.
Our fundraising target figure of $300k is around US$235k and is the amount we've been quoted from similar cases as the absolute minimum to cover the trial and the travel. But the absolute MUST DO for us, is the US$160k by September, to pay the deposit for the trial.
We do not have a house to sell, or have wealthy family to ask. We are quite literally down to asking for help from strangers.
Please help us. We are desperate to give Ryder a chance at a long life, free from trauma and worries that no child should have to face.
We are seeking people to help by organising a fundraiser in Ryder's name.  Please contact us directly, if we can assist with any information, photographs, etc.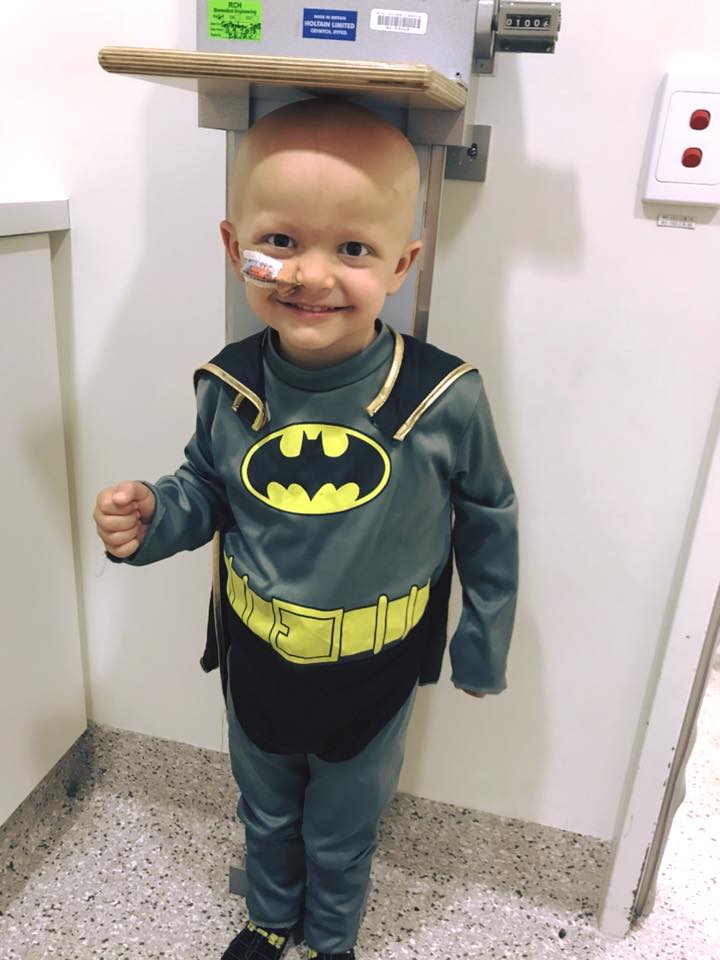 Read More
Please consider donating blood. Click here to find out where:
www.donateblood.com.au
Find out more about Neuroblastoma:
neuroblastoma.org.au
&
ccia.org.au/neuroblastoma-our-battle
Contact
Please send us a message via Go Fund Me if you would like to get in touch.
Or contact Katherine Doe (Ryder's mum) katherinetgrace@icloud.com or Jarrad Grace (Ryder's Dad) jarrad.grace@gmail.com
You can also join our private group on Facebook (all welcome) to follow Ryder's story and/or follow our Facebook Page for updates on fundaising events.
m.facebook.com/groups/123001021660982
https://www.facebook.com/SuperEventsForRyder
References
Phase 1 trial paper -
http://clincancerres.aacrjournals.org/content/20/5/1375.long
Phase 2 trial information -
https://clinicaltrials.gov/ct2/show/NCT00911560
New York hospital information -
https://www.mskcc.org/pediatrics/cancer-care/types/neuroblastoma
+ Read More