Help the Cheng Shi rise again!
$1,950
of $5,000 goal
Raised by
31
people in 36 months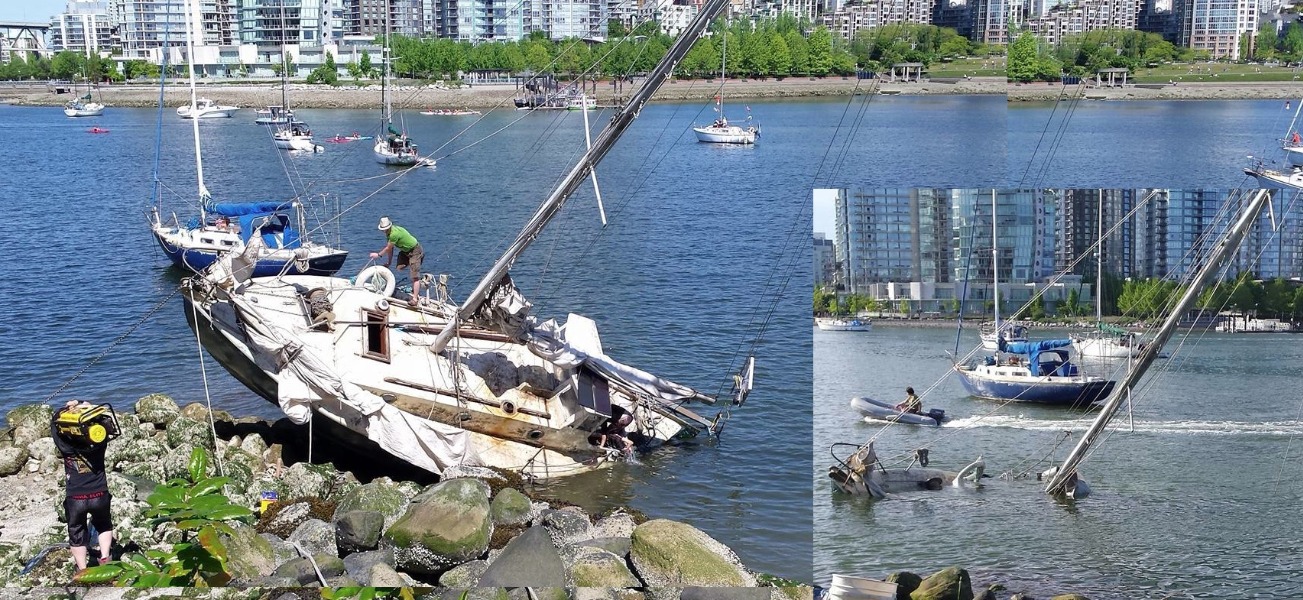 As you can see in the photograph here, the Cheng Shi is in dire need of some very serious assistance. It seems to be an unfortunate misconception in the area (based on the comments of the passers-by) that this was simply a boat, a pleasure craft, and nothing more. This vessel in question, however, is not just a boat, but also served as a home to her captain, Monty. The local liveaboarders in False Creek have been so incredibly supportive in this situation, even if it's simply asking what they can do to help, suggesting we reach out for donations, or just informing those who look at it as a photo opportunity that it's actually somebody's home; for these gestures we are extremely grateful. 

She got to be in her current position on the rocks after the anchor that was properly set in the morning came loose at some point in the day while we were doing several errands, and she dragged anchor while we were gone. Upon returning to False Creek to paddle out to bed at the end of the night, there was the quite unsettling sight of her silhouetted on the shore, heavily keeled over with the tide coming up. She had dragged anchor and the emergency number that was contacted was one that was out of service, as we hadn't known it was written on a borrowed buoy (the current number was on a few signs in the wheelhouse windows, but was unfortunately never contacted).
Monty hopped aboard and quickly assessed the situation from the inside with the water rising out of the bilge and in the cupboards - she was sinking, no doubt about it. We were able to save quite a lot of things before she sank using the kayak, and thankfully no one was hurt and no other boats were hit as she drifted, but this is still quite a large loss as many things were displaced or irreparably damaged. In the final moments as she was submerging, we had to walk away since there was nothing that could be done at high tide in the still-dark hours of the morning  to save her.

When we returned the next morning, Friday the 6th of May,  the Cheng Shi had drifted slightly and was submerged after becoming stuck on a rock. That day consisted of assessing the situation as much as was possible, but really there was nothing that could be done without renting equipment and having a few extra hands on deck for the attempt to get her afloat again. 

The following day (May 7th) was the first of several attempts to regain enough buoyancy to get her back on the surface. Pumps were rented, materials were purchased, and friends were called in to help try to patch the hole the rock had caused using the pump to fight the water at low tide when she was beached and mostly exposed from the water. The attempt was almost successful and the stern gained some buoyancy, but due to her weight, she shifted backwards, taking on all of the water that had been pumped out over the course of the day in seconds, as there is a through hatch to the engine that is not watertight. As we packed up for the day, a woman and her son came up to us with subway sandwiches and water, telling us that she lives aboard too and this is her worst nightmare; she gave us our first donation as we thanked her and her son profusely.

On Sunday, May 8th we arrived several hours before the low tide with a few more helpers in tow to seal up the wheelhouse so no water would pour in, pump the water out again, and patch her up. Unfortunately, since we cannot fight the tides, the patch was unable to be placed. Even with the aid of a local boater with a second larger pump, the water was coming in the hole too quickly to keep her afloat, and she filled up and went under with the tide again. 

May 9th saw us back at it again, but we arrived to some unfortunate news; the anchor and 60 feet of heavy chain had been stolen off of the Cheng Shi in the night. This was going to be used to try to right the boat slightly and hold it in place while the patch was setting, but the repair crew pressed on regardless. Just as they had cleared away all of the interior woodwork and destroyed the benches to get at the inner side of the hole and apply the patch, she lurched over and shifted several feet further onto her damaged hull. The small hole which was still holding back the massive rock with a small layer of wire mesh (part of the ferro cement construction) gave way, and the rock came heaving into the hull, leaving about a 3ft hole. It became very clear that there was no longer the option of patching her up on the beach, so we once again packed up. This time, we removed as many items as we could, including our kayak dinghy, to make sure that there was no further loss to "salvagers" in the middle of the night who might mistake her for abandoned - we won't give up on her yet. 

May 10th was a day full of planning and reformulating our plan of attack on the situation. Many calls and emails were sent, and we received overwhelming amounts of support just from some friends, and from fellow sailors from Heriot Bay.
There's really something wonderfully overwhelming in seeing how many folks will do anything they can to help in this situation, and once again, endless amounts of gratitude go out to those that offer their aid in whatever way they are able. 

That brings us to today, and what the next step in the plan is. Currently, we await a response from Amix - the only service that seems to be able to be able to assist us at this point. Contact has been made to a man about a very large trailer to try to get the Cheng Shi up and out of the water for repairs on dry land. 
All funding received will be going towards the costs of the lift and tow services required, the trailer (and potentially space) to hold her, and the materials to hopefully get her sea-worthy again. A small portion of it may go to putting fuel in the bellies of the Captain and crew as they carry out exhausting amounts of work on-site to heave her out again. 

It would mean the world to get the funding to remove the Cheng Shi from her watery grave by our own methods, as the options provided by the city if we ask for help are far more costly and out of any reasonable range we might hope to afford. As it was previously mentioned, this vessel was also someone's home, and any help towards seeing this dedicated captain in a place he can call his own once more is appreciated endlessly.

Thank you for taking the time to learn more about this cause, and please share with anyone you feel might be able to offer help - even if it's simply advice. 
Gratitude also to those who have already reached out to us in person on-site. Your kindness keeps us going. 

Please keep your eyes on the page for further updates as the situation unfolds. 
+ Read More
Update 1
36 months ago
Share
Hi there everyone,

First of all, many thanks to each and every donor. Your contributions mean the world, and are helping to make this seemingly impossible task a little bit easier with the continued support.
Much gratitude to those who have wished well and shared the campaign as well, as it has helped present alternatives and contacts that might have taken ages to come across otherwise.

Now...
Just a bit of an update after a week full of planning and research on the options that are available in this situation.
As it is, all of the ways to haul her off of the rocks are still very expensive, and all signs point to the DIY option being the least costly by comparison. If Cheng Shi can be floated to a dry dock for proper repairs, that would be the best case scenario.
Tomorrow (May 17th) will mark the beginning of another attempt to get her afloat enough to get a tow and haul her out.
It's uncertain at this point exactly what will be needed aside from the supplies that will already be brought to the site, but if you have offers or suggestions please feel free to offer them as they are very much appreciated, and often very helpful.

For now, please simply share this, especially with those who you feel might have advice that could come in handy in a predicament like this.

Thank you all again for your support and contributions.
+ Read More
Be the first to leave a comment on this campaign.