Cost of Two Undercover Videos
$2,119
of $5,000 goal
Raised by
26
people in 23 months
I have joined GoFundMe to locate individuals willing to invest in undercover journalism as a means to fight for the truth by exposing the lies of the left on hidden camera.

I have 6 years of experience as an undercover journalist. 
Past investigations I have been a part of have:

-Defunded several corrupt national organizations
-Caused shady Senators to lose elections
- Exposed lies and hypocrisy

Undercover videos can be an effective way to get the truth out. They can also get expensive.

My initial goal is  to raise $5,000, which will enable me to complete two more undercover videos.

America is under assault. There has never been a more important time to uncover the truth about individuals and organizations that are chipping away at our freedoms.

A donation of $5, $10, $50, or even $100 will help support ongoing investigations.

I rely on supporters like you to carry out this work and all donations are greatly appreciated.

Thank you,

Ryan Sorba
+ Read More
Help spread the word!
 29 total shares
I recently obtained more footage of gays admitting they were molested and that they wouldn't have become gay had they not been molested. I will be releasing this footage in the Fall of 2016. I would like to attend a national conference in three weeks to get more undercover footage of professionals admitting that homosexuality is a treatable mental disorder and explaining how the disorder is treated. This investigation could blow the lid off of this issue, I'll tell you that. Unfortunately, I can go into much more detail online.

I need to raise at least $1,500 to attend the conference. I would like to raise $3,000 if possible however so that I can attend another conference in June to get more of the same footage before releasing the tapes this fall. If you can donate anything, $10, $50, $100 or more, it would be greatly appreciated and it would be a very effective way to donate to the cause of the natural family and religious liberty. My last investigation got a total of over 150,000 Youtube views. Unfortunately, the first video was removed by Youtube. The video has been reposted to Facebook and I will likely post future videos to Vimeo.

In addition I would like to conduct further research relating to why so many who identify as "gay" admit to being molested. The only catch here has to do with why many who were molested do not become gay. I am researching the Myers/Briggs personality types and temperaments in relation to this interesting portion of the question relating to what causes homosexuality.

Thanks for your time and please do not forget to donate! This research is critical to the completion of my book, The "Born Gay" Hoax!

Ryan Sorba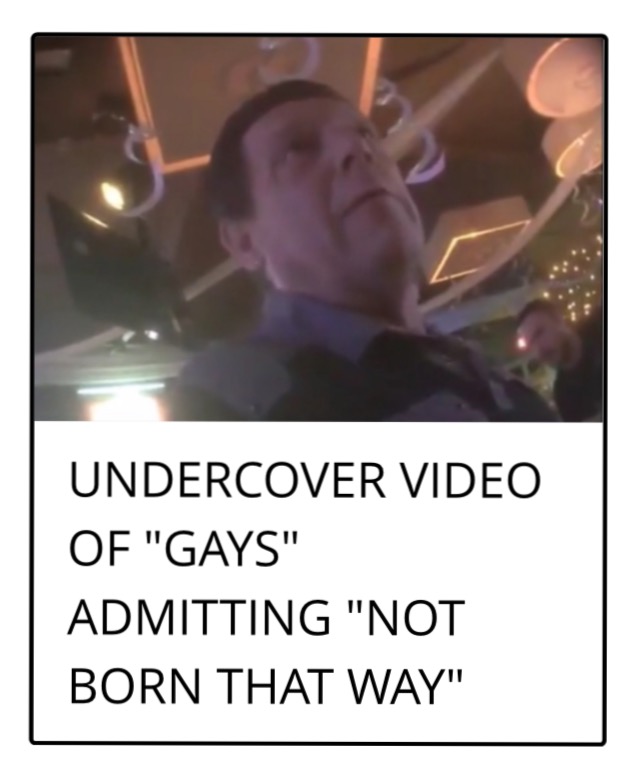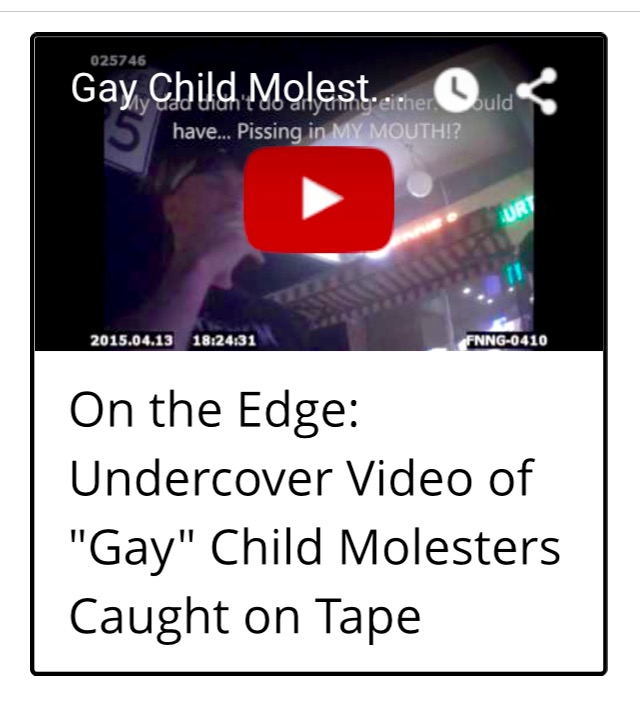 + Read More
Update 1
Posted by Ryan Sorba
22 months ago
Share
I have raised a little cash offline as well! Let's keep the ball rolling I would like raise enough to do undercover journalism full time for a year!
+ Read More
Help spread the word!
 29 total shares
Read a Previous Update