Sails/Rigging for 55' wooden brig Heron
$2,670
of $2,300 goal
Raised by
33
people in 60 months
For the last several years, my partner Chris "Ekk" Collins and I have been building a 55' LOA wooden sailing ship named
Heron
. After thousands of hours of our own time and talent into her construction, we are in the final stretch and plan to launch her this spring. (The model in the picture is a rigging test model and is only to the waterline, by the way - she will draw about 4 feet.) The major hurdle now is the canvas and cordage necessary to rig her up. This is where we are making an appeal to friends, family, and the general public to help us get the final items necessary to put
Heron
on the water for the 2014 season.
EDIT, 3/6/2014: We reached our goal! We're going to leave this fundraiser up for a few more weeks for the folks who haven't gotten the chance to donate yet, since as all wooden boat owners know there's always something else that needs doing. Make sure you get your donation in by the end of the month if you want a ticket to the donors' celebration at the launch party!
It's been an amazing journey of hard work and research. We have been doing maritime reenactment and education at museums all over New England and Canada for nearly a decade now. (You can see more of what we do by visiting
our website
.)
Heron
will allow us to better portray the sailors and traders who played a vital role in the American Revolution and War of 1812.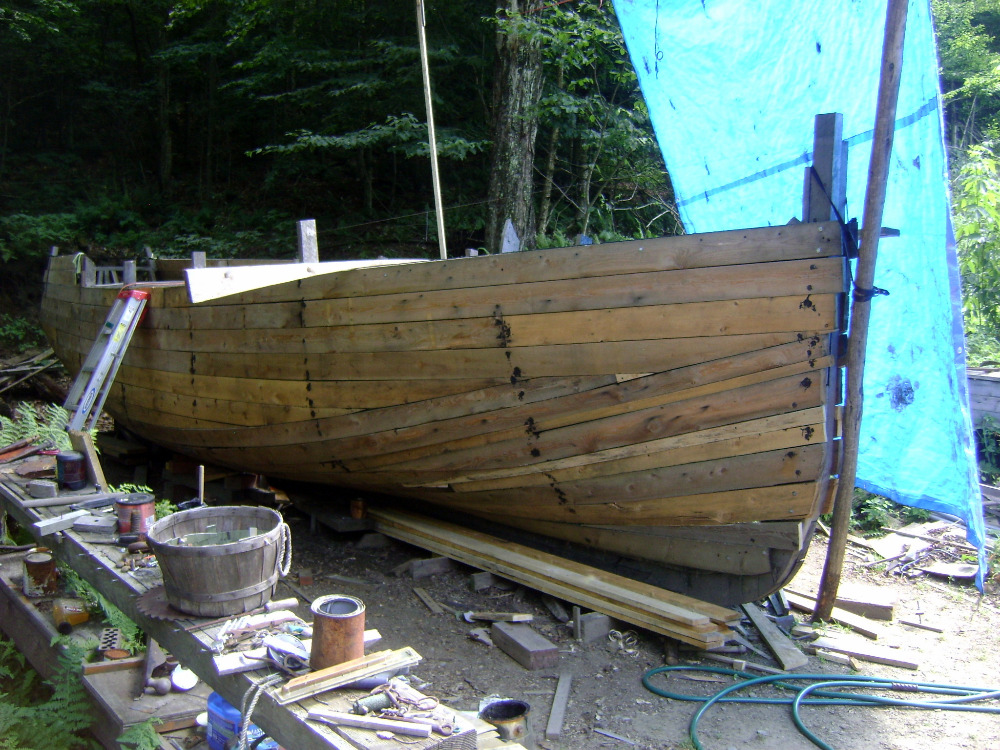 [
Heron
in progress, fall 2012. She's in the very final stages as of Winter 2014.]
Heron
is based on several of the small naval warships serving on the Great Lakes during the War of 1812, but built with modern safety concerns in mind. She's unique in that she is the only historical replica vessel of her size capable of being transported on a standard boat trailer, allowing us to bring our educational programs to a variety of inland lakes and waterways. My background is as a tall ship sailor and museum professional with over a decade of research into the history of New England fishing communities. Ekk is a blacksmith and woodworker with a deep appreciation for traditional technology. We have built several other wooden vessels together, including a 22' open sharpie in which we spent a summer doing commercial fishing with handlines off the New England coast in 2007. Our skill sets complement each other and allow us to present an indepth look at maritime life in the age of fighting sail.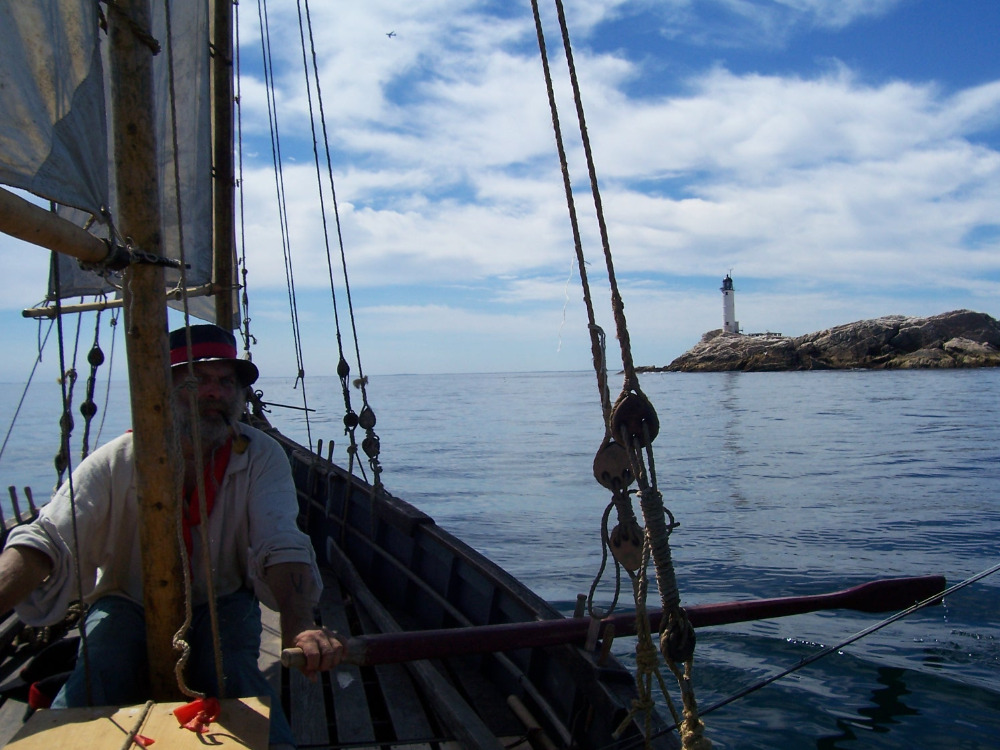 [Commercial fishing with
Merganser
(our previous vessel) off the Isles of Shoals, New Hampshire.]
We began construction on
Heron
back in 2009, and nearly every step of the project has been done by hand by us with a minimum of power tools and a maximum of environmental and historical awareness. Much of 
her timber came from our woodlot
or those of our friends; the caulking for her seams is made of recycled rope donated by a local maritime museum; and even the nails were hand-forged from recycled iron scraps we collected as trash at various sites around New England and Canada. We have been hand-sewing our sails from natural fibers and creating our own larger ropes with a ropewalk. Once
Heron
is complete, we will be able to visit a wider variety of educational venues to do hands-on demonstrations for all ages about the lives of common sailors two hundred years ago.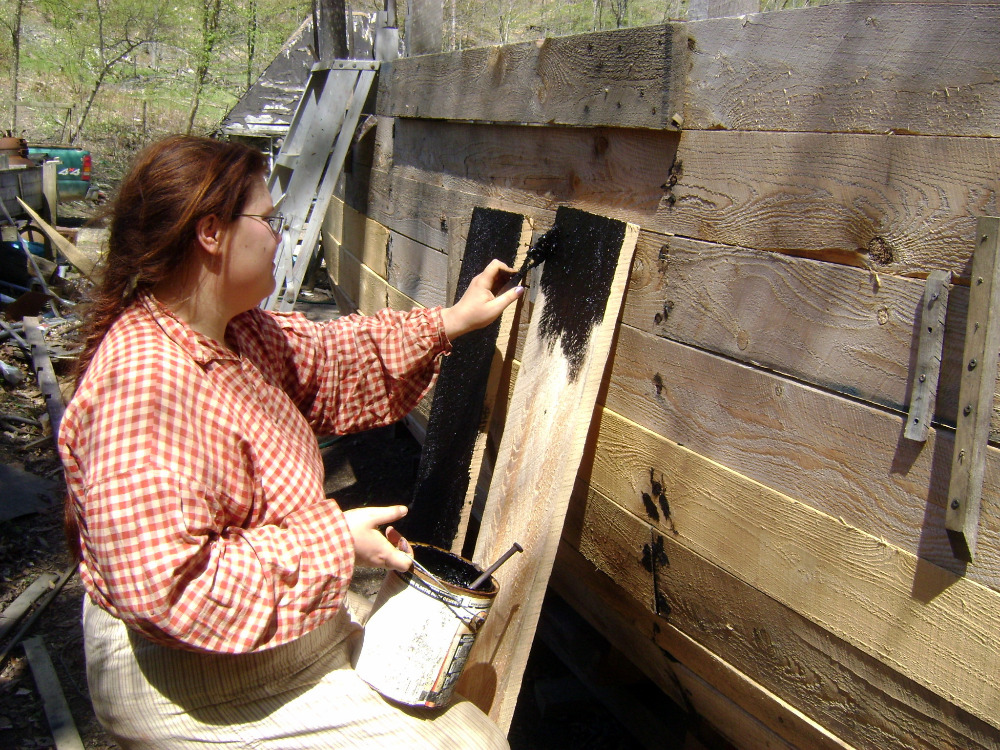 [Tarring some of the planking joints, fall 2012]
What we need now is a little help raising the funds for the raw materials to finish her up, namely canvas, cordage, and pine tar. We are saving a lot of money by doing as much of the work ourselves as possible, but we estimate we will need nearly 2 miles of line to rig her up (that includes running smaller diameter cordage through our ropewalk to lay larger cables) and approximately 200 yards of canvas to become her sails. Close to 18 gallons of the mixture nicknamed "boat soup" (pine tar, linseed oil, and turpentine) will be needed to seal and preserve her hull, deck, and rigging. Even with competitive discounts, the total cost of that material is $2,100.
GoFundMe takes about 7% in transaction fees, so our total goal is $2300. Every cent helps get us closer to getting her in the water. In the event we manage to raise more than our fundraising goal, the surplus will go into the innumerable other small expenses necessary to run a traditional wooden boat. Please support maritime education and help us bring a piece of history to life!
+ Read More
Be the first to leave a comment on this campaign.