126
85
Reviving Fund for the ALP!
€14,628
of €30,000 goal
Raised by
131
people in 22 months
We are Pete and Cynthia Bampton, the co-founders of the
Awakened Life Project
  in Portugal.  We had a vision 10 years ago to create Heaven on Earth and this vision has started to manifest not only with the amazing people that have joined us but the creation of what is now the physical heart of the project – Quinta da Mizarela.  We are located in the mountains of Central Portugal. If you would like to read more about us please click
here
to go to our website.
On Sunday Oct 15th over 200 fires were burning in Portugal.  One of those was a fire surrounding the Quinta.  We had threat of fire just 10 days earlier and that fire was almost out.  As the winds picked up the fire re-lit and the wind spread it very quickly.  Fire was everywhere, roads were closing, there were no planes or firemen as there were so many fires. We escaped with some belongings with members of the community to a small town about 40 minutes away where we again were surrounded by fire. The next morning the wind was mild. By the end of Monday we got message that the Quinta was on fire and very close to the buildings. By Monday night we heard the buildings were spared but there didn't seem to be much hope for anything else. 
IF YOU WOULD LIKE TO READ A FULL UPDATE OF THE FIRE AND WHERE WE ARE AS OF NOVEMBER 1ST PLEASE CLICK
HERE
.
Below is a description Cynthia wrote on our community FB page:
« …These last days in all their intensity has brought so much to all of us. I have no words right now to describe what we have been through, the fear, the love, the togetherness, the pain, the relief, the sadness, the joy.
Today we went to the quinta. Pete and I were prepared for the worse as there is so much devastation everywhere. We knew the buildings were safe but we had no idea if they would be surrounded by blackened land.
We drove up the road, everything burned, the Quinta da Mizarela sign was burned, everything black. The caravans are gone, the bus and home of David and Raquel gone, firewood so neatly stacked just weeks ago gone, cork for our roof - gone, forest burned everywhere BUT then I heard some birds singing. We walked on the upper path by the caravans to prepare ourselves for the worse by looking down at the quinta. But we didn't see only black, we saw green! We saw colors of some of the big chestnut trees, we say sections of the valley floor unburned. I couldn't believe it.
We walked down the rest of the way, everything black on each side but when we got to the bottom so much was still beautiful. As we walked around it was very clear that much of this sacred place had been spared and there was also a lot to take in as so much of the land and structures are devasted.
A year or so ago Esteban and Adam made a big heart out of stone on the opposite side of the valley. We had forgotten about it as we couldn't see it anymore with the grass covering it. The grass burned and the heart re-emerged even though the grass burned and was black all around the heart there is no blackness. I was speechless as it was obvious that we are blessed, deeply blessed by a higher force that wants this project to not only continue but to go to another level, to create an even more beautiful expression of Love, Intimacy, Truth and Commitment…. »
Much was spared and much was burned.  We are thrilled that some of the beauty survived and devastated by how much land was blackened.  Our hearts break as we see the once lush surroundings smoldering and burned.  We feel the pain of the land, the animals, the whole surrounding area.
In the end 3 caravans burned, many out buildings, a big deck, compost toilets, fences, solar hot water system, hydro system, cables for the solar system, hundreds of meters of tubes carrying water to the tank melted.  One of the ruins between complete buildings is at risk of collapsing as wooden beams burned.
At this point there is no power or water.  There are burned tools, broken bricks, burned metal from roofs, burned plastic from tubes, burned barrels.  The smell of burned compost, burned everything, ash is in the air.
It is very intense to experience all of this.   
Some of our residents lost their homes, tools, chain saws, food, wood burners, workshops, wood for construction, cork for roof insulation. The list is quite long.
                                                  *******
We are asking for help to do the following
- Restore infrastructure to repair water and solar power systems
- Buy a new solar hot water system
- Buy a new hydro electric power system
- Build living quarters to replace yurts and caravans
- Replace tools that have been destroyed
- Replace 20 cubic meters of firewood needed for the winter
- Replace building materials lost in the fire
- Replace the burned irrigation system
- Hire the help we need to clear the forest of dead wood and reforest with fire resistant indigenous trees
We who have been through the fire are shocked and dealing with waves of sadness, fear, anger and grief.  This amazing place has been our home and given so much to so many who have visited.  
We as a community are challenged and stretched in ways we have never experienced and we are together in facing the financial and emotional situations that are arising.  
There is a lot to do so we ask for your financial help so we can get started. Any amount will be greatly appreciated and much needed. Sometimes people think 5 or 10 euros is not enough to bother with but it all adds up and any help is a gesture of support that is happily received.
Thank you very much and Love from,
Cynthia, Pete, and all the Awakened Life Project Family
This is a photo of the quinta a few years ago.  I can't find my harddrive with more recent photos but it's nice to see it green and flourishing as it will again. :)
What the quinta looks like now.
The ALP community members
Marco's caravan burned.
What's left of a caravan
The bottom of the valley
The 'Palace" which was the tool shed and also the donkey house.
David and Raquels home - the bus
Smoke as the fires started.
The fire came right up to all the buildings.  It was a miracle they survived.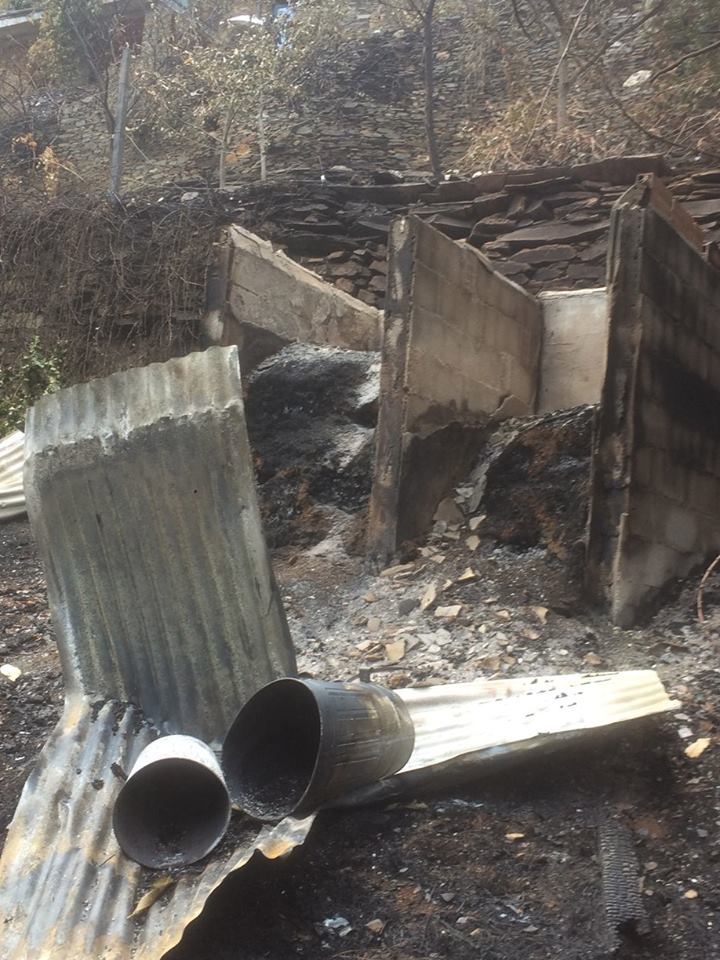 What is left of the Bank of Mizarela - one of our compost toilets.
So strange to have the courtyard in tact even with a blooming rose!
Old donkey shed
The bus
+ Read More