Rebuild and Renew Harpers Ferry
$22,565
of $150,000 goal
Raised by
284
people in 41 months

Photo Credit: Harpers Ferry resident Don Burgess

Historic Harpers Ferry has survived raids, battles, floods, and more. We, residents of Harpers Ferry, are dedicated to rebuilding our town and renewing our history. We now need you to contribute to our rebuilding work through the Harpers Ferry-Bolivar Historic Town Foundation.



The Harpers Ferry-Bolivar Historic Town Foundation is a tax-exempt 501(c)3 non-profit which needs you to contribute to help us rebuild and recover from this fire. The Town Foundation is dedicated to a sustainable future for our historic town and your contribution is tax-deductible.

The Town Foundation has set the aggressive and necessary goal of raising $150,000 to rebuild our town.  The Foundation is fundraising from a diverse group of potential donors, including you. Your donation is key to fund our recovery and you can be a part of rebuilding.

The primary objective of the Town Foundation's fund is to provide relief to residents, merchants, property owners and employees suffering personal hardships caused by the fire and its aftermath. Once their immediate and compelling needs have been addressed, any remaining funds may also be used to provide for business continuity and renewal, to ensure a safe, clean and welcoming business district during reconstruction and to preserve our historic buildings damaged by the fire.

Read more about the Foundation's plans here: http://bit.ly/1DcRhkW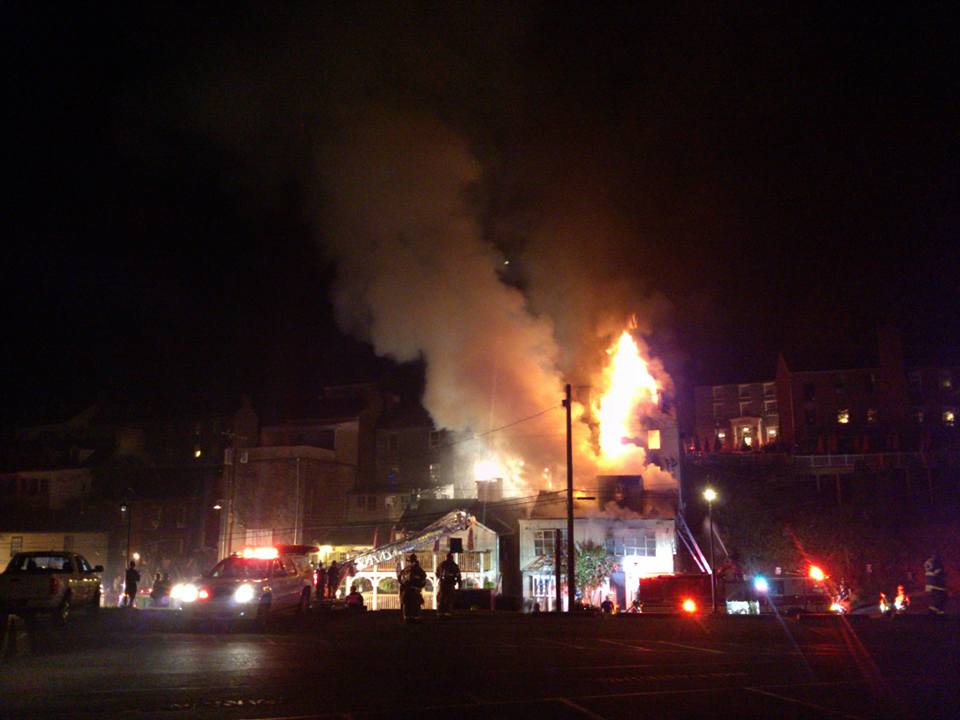 Photo credit: Harpers Ferry resident Robert Brzostowski

In the early morning of July 23rd, 2015, a fire broke out in Lower Town Harpers Ferry. While our fire department and others from surrounding counties dutifully kept the blaze from spreading - four large buildings were heavily damaged from the flames and smoke. Thankfully, no one was injured.

This fire damaged four buildings and nine  businesses. In our town of 300, this is a huge loss.

If you have visited Historic Harpers Ferry, you know that our town depends on our local businesses to be the lifeblood of our town. You may have enjoyed browsing the unique home decor of La Niche Boutique, the fair trade goods in Tenfold Fair Trade, sipping good West Virginia beer in Private Quinn's Pub, or checking out West Virginia crafts in the Vintage Lady. You may have bought your favorite dog a new bed in Sophie & Bailey's or a pepperoni roll in the Upstairs Downstairs Sandwich Shop. These are real businesses run by the real people who have made our town vibrant.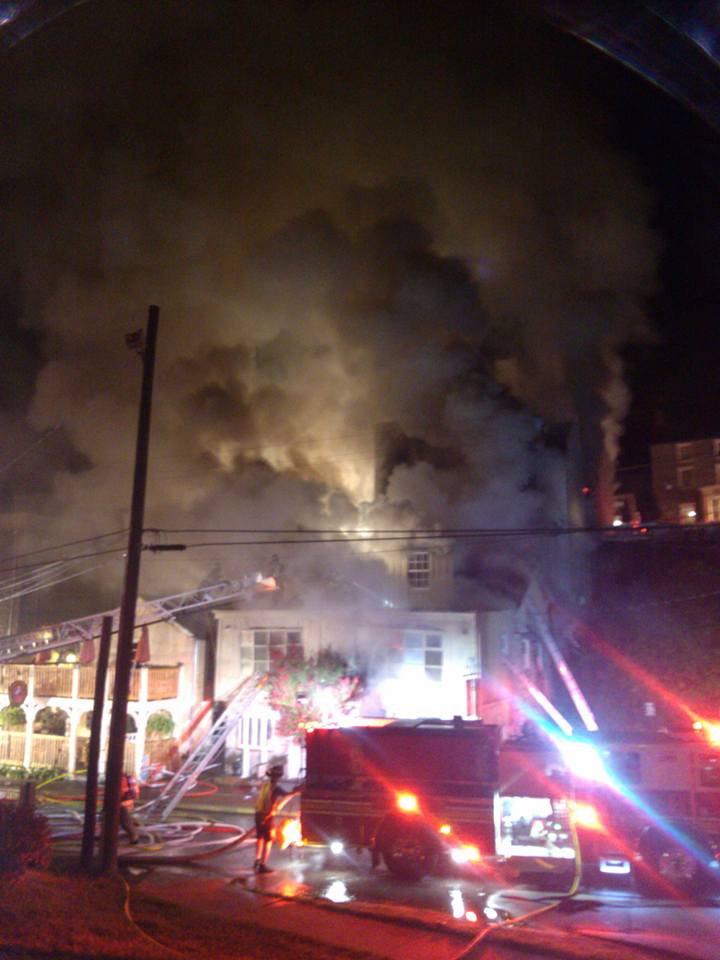 Photo credit: Harpers Ferry resident Robert Brzostowski

Harpers Ferry is a town of rebuilding and we are known for our history. Thousands upon thousands of you flock to our town each year to see the battlefields, take ghost tours, go for a hike, and learn about John Brown's Raid. We are now coming together to rebuild again and ensure Harpers Ferry has a bright future ahead.

Martha Ehlman, owner of Tenfold Fair Trade which saw great loss in the fire, is hopeful for the future of her business and our town.

"The fireman were shooting their water on the building…and there was rainbow there," she said, smiling. "So I can just hope for rebirth for all of us."

Elhman said she speaks for all of Harpers Ferry business owners when she says that the fire won't get the best of them.

"Harpers Ferry has been down many times," she said. "We've been through floods and fires before, so we'll be back."

We place our hope in those of you who know and love Harpers Ferry. It is well worth a long voyage to see and with your help we can rebuild our town and make it vibrant for decades to come.

Washington Post on the initial fire:  http://www.washingtonpost.com/local/fire-youve-got-to-get-out-in-historic-harpers-ferry-a-blaze-destroys-more-than-just-buildings/2015/07/23/89444e50-3180-11e5-97ae-30a30cca95d7_story.html

WHAG-TV on the renewal progress: http://www.your4state.com/news/news/business-owners-set-to-open-this-weekend-six-weeks-after-fire

THANK YOU to the following donors for contributing to our recovery work outside of this website:

$5           Jennifer Caldwell             Falling Waters, WV

$5           Kristi Woodruff                 Winchester, WV

$5           Victoria Montano             Harpers Ferry, WV

$5           Laura Messina                   Martinsburg, WV

$5           Shantel Mauck                  Harpers Ferry, WV

$5           Andrew Kershner            Martinsburg, WV

$5           Jennifer Jones                   Charles Town, WV

$5           Sierra Harley                      Martingsburg, WV

$10         Stephanie Thomas          Martinsburg, WV

$10     Lynn Vaughn               Harpers Ferry, WV

$15       Sarah Madden          Cheverly, MD

$20         Kelly Bennett

$25         Sandra Cookson      Shenandoah Junction, WV

$25        Deborah Stottlemyer           Charles Town, WV

$25         Phyllis Radinsky                           Owings Mill, MD

$25         Hewlen & Francis Campanella    Harpers Ferry, WV

$25 Lyle & Theresa Rush Shenandoah Junction, WV

$25 Karen Eddleman          Harpers Ferry, WV

$30 cash (unknown donor)

$39       Harpers Ferry Women's Club Fundraiser

$40         Deborah Ryan       

$50     Denise Richmond      Greensboro, NC 

$50      Suzanne Koenig       Harpers Ferry, WV

$50     Barbara Alexander     Shepherdstown, WV

$50    Barbara Pusateri     Harpers Ferry, WV

$50       Toni Visconti          Harpers Ferry, WV

$50        Jo Shoesmith           Harpers Ferry, WV

$50 Lawrence & Patricia Franklin Kearneysville, WV

$50         Wendy Pacek                             Shepherdstown, WV

$50         James Addy                                   Harpers Ferry, WV

$50         Michael & Patricia Davis        Ranson, WV

$50         Shawn Amos               Harpers Ferry, WV

$50         Timothy Vaughn        Brunswick, GA

$50        Senator John Unger          Martinsburg, WV

$50          Deborah Ryan

$50         Rock Wheeler          Bolivar, WV

$50           Gary DeBrueler                Winchester, VA

$65          Virginia Richardson       St Mary's City, MD

$70     Sarah Gordon         Harpers Ferry, WV

$75       Toni Visconti          Harpers Ferry, WV

$75          Roger & Judy Wolf                 Knoxville, MD

$87.65 cash (unknown donor)

$100       Jim Addy            Harpers Ferry, WV

$100      Karen Marshal           Johnstown, PA

$100       Dick & Molly Cunningham    Harpers Ferry, WV

$100       Stephen & Leslie Hague                Newark, DE

$100       Jean Hale                                     Harpers Ferry, WV

$100       Susan and George Stocks      Charles Town, WV

$100       Hazel Parsons                                     Ripley, WV

$100       Greg & Lynn Vaughn                Harpers Ferry, WV

$100       Panhandle Hydroculture        Martinsburg, WV

$100       Frances & Ann Trapp             Arlington, VA

$100       Jane Rissler                         Charles Town, WV

$100       Al & Allison Alsdorf            Harpers Ferry, WV

$100     Theresa Harris                   Grantsville, WV

$100       Virginia Graf                      Harpers Ferry, WV

$100       Ron Clark                         Harpers Ferry, WV

$100       Bob Machintosh              Berryville, VA

$100     Egon & June Elsner     Harpers Ferry, WV

$100      Dick & Laurie Potteiger    Harpers Ferry, WV

$100       Rebecca Harriett                Harpers Ferry, WV

$100   Jerry Hutton and Warren McKimmie   Harpers Ferry, WV
$100       George Rutherford             Charles Town, WV

$100       Laura Hill                            Argyle, TX

$100       Jerry & Marianne Bayer          The Villages, FL

$100       John                                         Wheeling, WV

$100       Patricia Coates                   Frederick, MD

$100       Earl Demaris                          Harpers Ferry, WV

$100      Stephanie Rockenbaugh       Harpers Ferry, WV

$100       Billy Ray & Cindi Dunn         Harpers Ferry, WV

$100        Greg & Lynn Vaughn          Harpers Ferry, WV

$100         Joseph Seay                  Harpers Ferry, WV

$100           Frances Morgan (Aylmere Farm)          Summit Point, WV

$100            Kurt & Brenda Christensen         Harpers Ferry, WV

$100          Jude & Linda Hoffman            Shenandoah Junction, WV

$100           David Labine                     Cleveland, TN

$100        Craig Chesley                        Charles Town, WV

$105       R. Ethan Grace                          Harpers Ferry, WV

$120        Lisa Poland                         Martinsburg, WV

$145       Michael & Mary Reck             Harpers Ferry, WV

$150       Tenfold Fair Trade               Harpers Ferry, WV

$150       Jackson Rose B&B           Harpers Ferry, WV

$150      Carol Gallant                    Harpers Ferry, WV

$180       Carrie's 40th Birthday          Harpers Ferry, WV

$200        Mildred Wheeless           Henrico, VA

$250        Verizon Wireless (matching gift)    Tulsa, OK

$200       Vessel International        Smithsburg, MD

$200        Su Schmidt            Harpers Ferry, WV

$200          Barbara Humes          Harpers Ferry, WV

$225     Steve Ramberg & Betsy Bainbridge       Harpers Ferry, WV

$250 Camp Hill Methodist Church Harpers Ferry, WV

$250  Kimberly Gillespie                Kearneysville, WV

$250       ATC Members & Maintainers  Harpers Ferry, WV

$250 Womans Club of Harpers Ferry Harpers Ferry, WV

$250       Karin Dupree                                      Millville, WV

$250       Women's Club           Harpers Ferry, WV

$265    Mary Heise (Mary Adams Jewelry) Hamilton VA

$297       Karen Andersen                                Berryville, VA

$300    Cade & Camden Kennedy    Harpers Ferry, WV

$313      Swiss Miss                            Harpers Ferry, WV

$346       Hassan Rasheed                      Shepherdstown, WV

$417       Desiree Harris                         Harpers Ferry, WV

$435     Deborah Ryan

$480        Bed and Bisket                 Harpers Ferry, WV

$500            BB&T                                Whiteville, NC    

$500         BB&T           Charles Town, WV

$500        Terry Alexander                Harpers Ferry, WV

$540        Country Cafe (PaintNite Event)     Harpers Ferry, WV

$569      American Public University     Charles Town, WV

$628        Laurel Lodge                 Harpers Ferry, WV

$655       James Cummins                                Bakerton, WV

$1,000 Harpers Ferry-Bolivar Historic Town Foundation

$1,000          Appalachian Trail Conservancy             Harpers Ferry, WV

$1,349 Ashbury United Methodist Church Charles Town, WV

$2,500        Fundraising by Eric Bell       Jefferson Co, WV

$3,112      Harpers Ferry Strong t-shirt sales

$3,555      Mena's Pizzaria      Harpers Ferry, WV

$3,897   Joshua Vance (Pristine Homes) Harpers Ferry, WV

$5,000       Schaufeld Family Foundation     Leesburg, VA
+ Read More