1.1k
155
Remembering Henry: A Humane Society Rescue Van
$34,555
of $25,000 goal
Raised by
1,190
people in 6 months
UPDATE #2:  

Natalie and I had hoped that the $15K goal might be reached in five days. Thanks to the outpouring of love and support from all over the world, the goal was achieved in five hours. We were overwhelmed.

With so many others still wanting to give (many in memory of their own lost loved ones), we raised the bar to $25K, and again, that goal was achieved quickly. The extra funds will allow HST to purchase a larger, high-top van with rear air conditioning which will accommodate 50 animals in a single trip.

As the campaign approaches $30,000 (and it would be amazing to double the original goal), know that the Humane Society of Tulsa has no shortage of need, and the funds will be used to alleviate suffering, to give help, and to find forever homes for animals all over the region.

I'll leave the GoFundMe page "active" for the month of January. And from the bottom of our hearts, Natalie and I thank you. We're hugging you. We're humbled by you. We're in awe of you. 

In the heartbreak of Henry's death, you've given us a gift we will never, ever forget.

Seth
___
Henry was rescued from a puppy mill in 2014, and thanks to the tireless efforts of the Humane Society of Tulsa, he not only found a loving home, but his story (via a YouTube video titled "Saving Number 90") inspired people all around the world. You can watch that video here: https://youtu.be/0nhzg5u-vHc

Henry died January 15th, 2019 after complications from dental surgery. We are heartbroken, but we take comfort in knowing that the past five years filled his little life with love, companionship, soft beds, warm hands, peanut butter treats, car rides, gentle care, and an extended family of thousands who cheered at his second chance. 

His death has been a shock, the loss difficult, but Natalie and I want to memorialize Henry by giving literal rescue to thousands of animals via the same organization that rescued him. 

The Humane Society of Tulsa is in desperate need of a replacement transport van; the current one is so old and in disrepair that it often won't even make it out of the lot.  It's a 19-year-old GMC Safari that must be jump-started, has unfixable air conditioning, and is nearing the end of its long life.

In Henry's name, we want to fund the purchase of a vehicle - named after Henry and bearing his photograph - that will give many years and many fresh starts to suffering animals across Oklahoma. Full details are given in this video: https://youtu.be/1yAyqVdv0eU

This will be his legacy, and as we heal from the tragedy, we can take comfort in seeing the many, many rescues accomplished in his name.

If Henry ever touched your life, or if you'd like to touch the lives of needy animals in this way, please make your tax-deductible donation.

Henry may be gone, but his amazing influence will roll  on. 

Thank you.
Seth Andrews
+ Read More
Update 2
2 months ago
Share
The Henry Van was unveiled this evening at a Humane Society of Tulsa fundraiser, and it was a tremendously moving day.

This couldn't have happened without your love, your generosity, and your mind-blowing goodness.

Natalie and I are hugging you, and as we move into this next chapter with little Linus, we take great comfort knowing that Henry & Tootsie's legacy will be that of rescue, of aid, of love, and of second chances.

Thank you so much!

Seth & Natalie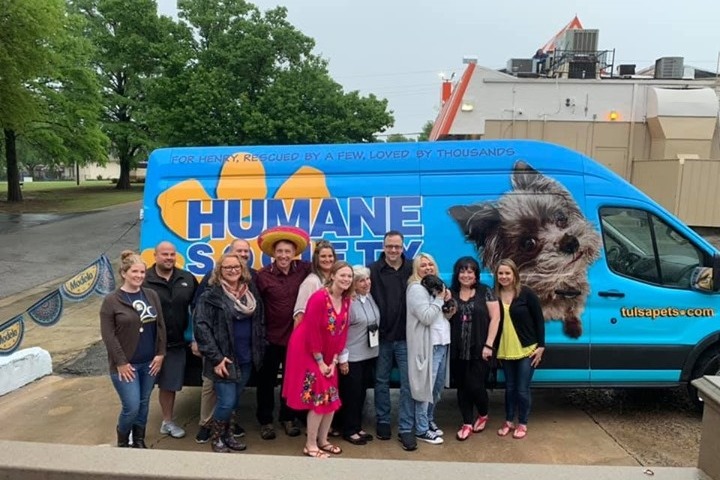 + Read More
Update 1
5 months ago
Share
Forgive my delay in sending an update/recap on the "Henry Van" campaign, but as you can imagine, it's been a rollercoaster.

The campaign (originally set for $15K) has passed $33,000, and Natalie and I are humbled and amazed and so very thankful. You've covered us in love and support, and we'll never forget it.

The funds will be transferred directly to the Humane Society of Tulsa. Thanks to you, they'll be able to get a larger vehicle which can accommodate more animals. HST has the goal of rescuing 3,600 animals this year, and the Henry Van will be a huge part of that.

The Humane Society has said that, when the vehicle is ready (not sure when, but they're moving quickly), they'd like to do an official unveiling ceremony, and of course, Natalie and I will be there taking and sharing photographs for everyone.

From that point, a van bearing Henry's name and photo will be literally transporting suffering animals to safety, and your generosity and goodness made it happen. We want to hug each and every one of you.

We're still pretty broken about the loss of our boy, his death so unexpected and "too soon," but we're also glad that his little life has so positively impacted people from all over the world.

I'll draw the campaign to a close shortly, and once HST has the Henry Van (affectionately dubbed by one of my listeners as "The Hank Tank," I'll share away on social media and my show.

Thank you!

Seth & Natalie
+ Read More
Read a Previous Update