268
2
Relief for Sri Lanka Bombing Victims
$18,366
of $15,000 goal
Raised by
262
people in 1 month
The 21st of April was meant to be a peaceful day. But this peace was shattered when terrorists struck with 8 bombs at churches and at popular five-star hotels on Easter Sunday.  300 people have died with twice as many more being injured.
Sri Lanka already went through a brutal 30-year civil war. Just as the nation was to celebrate 10 years of peace, this heinous act of terror took place. Those that committed this atrocity aimed to divide this nation. They failed and we as a nation will rise up stronger than before.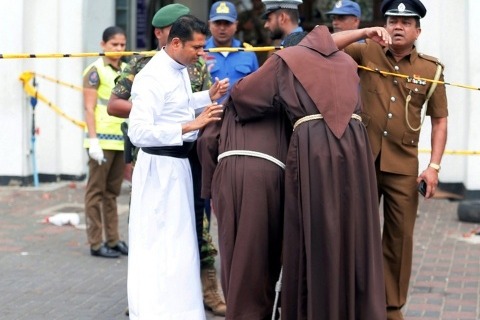 [Image credits: Business Insider]
Sri Lanka United is a collective of startup founders. We want to help Sri Lanka heal and bounce back from the deadly bombings on Easter Sunday. As tech entrepreneurs, we want to use our skills to help seek funding and ensure it gets to where it's needed. By doing so, we aim to help rebuild the lives of the victims of these devastating attacks.
What are our goals?
We're joining hands together to help rebuild the communities and lives that were shattered on this dark day.
To do so, over the coming days we aim to collect $15,000 for this cause. More importantly, this money must get to where it's needed the most to create the greatest impact.
Inside St. Sebastian church in Negombo, which was one of the churches attacked during better times [Image credits:  Martin J Cowling]
There are many initiatives to help rebuild the affected churches and Sri Lanka United will offer these initiatives assistance as required.
As such, these funds will primarily be spent to ensure long-term support for the victims. This long-term support can be categorized as:
Empowerment (40% allocation)
- The deadly bombings have shattered families. In many cases, the families have lost their breadwinners. Sri Lanka United aims to support initiatives that help these families find a livelihood, help children resume their studies, and rebuild a normal life.
This means empowering the victims affected by this tragedy to provide for their families. As such, we will support initiatives that help them develop new skills to do so. Empowerment also requires the distribution of hearing aids, prosthetics, other medical supplies, and psychosocial support to help those affected overcome the trauma of this tragedy.
Resilience (40% allocation)
- Tragedies like this leave both physical and mental scars. It's challenging to deliver long-term care to the victims, especially mental health support. Nonetheless, Sri Lanka United aims to help the victims of this tragedy bounce back from these tough times.
To do so, we will look at helping cover the living expenses of the victims. Alongside this, Sri Lanka United will also support initiatives to distribute dry rations and necessary medical supplies. To help heal mental scars, we will also look at supporting initiatives to offer psychosocial support.
Reconciliation (20% allocation) -
It's imperative as a nation that initiatives are taken to heal any rifts between its diverse communities. We believe this can be achieved in three stages. The first is the elimination of fear between communities. When this fear is eliminated, trust can be built. Once trust is built, empathy can be as well.
This will undoubtedly take time. But Sri Lanka United is determined to support these initiatives to help Sri Lanka heal. These initiatives would involve working closely with religious and community leaders. Sri Lanka United will also look at helping rebuild the affected churches wherever possible.
Forming partnerships to achieve them
As startup founders, we admit that tackling these challenges isn't our specialty. That's why the funds we collect will be used to support organizations working towards these goals. We've already formed a partnership with Red Cross to support its efforts to help the victims.
We will be documenting our progress towards achieving these goals on our public Trello board.
You can view it here
 and monitor our progress in real time.  
How can you support us?
Donate however much you can. Every dollar counts! Share this message across with your friends and family. If you want to help us do more, don't hesitate to reach out to us on
Twitter
and
Instagram
.
+ Read More