165
25
AV POWERED BY PEOPLE DRIVE!
$10,525
of $10,000 goal
Raised by
187
people in 18 months

Help African Voices Raise money to AV Powered By People Drive!

Please do more than donate — join our campaign to find a new home by sharing our GoFundMe drive on your social media networks!

Thanks for supporting African Voices! 
You can back our campaign via our website: 
DONATE to AFRICAN VOICES!
FOLLOW US for FESTIVAL UPDATES!Twitter:
 @africanvoices
You may mail checks to African Voices,
 325 Lafayette Avenue, C.F. Suite, Brooklyn, NY 11238.
2017 Sip & Paint celebration at our current headquarters on 96 Street.
OUR STORY — A NEW BEGINNING & WHY WE MOVED TO BROOKLYN!
We have been blessed to have a wonderful home for 25 years inside the historic building owned by the NAACP Roy Wilkins Center headquarters at 270 West 96 Street. This is one of the few branches to own rather than lease or rent office space. The building was recently sold to a development company and all tenants are expected to move out in Spring 2019.
Our current headquarters is our
second
office. African Voices' first space was located at 305 7 Ave. across the street from FIT and it was another wonderful experience where we made art, hosted literary readings, workshops and published the magazine. We will always have fond memories of both spaces but we know where ever we land, your vision, support and passion are what transforms a building into a home.
A glimpse of AV's new home!
UPDATE!
We have moved into our new space on April 1, 2019! We are now headquartered at 325 Lafayette Avenue in Clinton Hill, Brooklyn but still need your continued support to cover moving expenses, furniture and costs to renovate our new home.
Our new Pop Up Gallery/Office will allow us to continue being a space for trailblazing artists in literature, visual art and film. We keep on publishing stories that matter and reflect our excellence.  African Voices will remain a space for artists to evolve and showcase art that celebrate our history and daily experiences.
Give what you can. Art is under attack by the current administration and we need to build and sustain strong independent arts institutions.
The move is a new beginning to explore opportunities and create new stories.
If you are not familiar with African Voices, visit our websites listed above and read the short overview at the end of our campaign!
Thank you!
Carolyn A. Butts
Founder/Publisher
Gensler, a world renowned interior design firm, donated a design plan for our new Pop Up Gallery/Office! Help us realize our vision of transforming our new home!
WE ARE RAISING FUNDS FOR THE COSTS BELOW:• Moving Costs for Finding A New Home:
If you have ever moved, you can imagine the costs of ensuring you have enough money for a year's worth of rent (security deposit), movers, etc. Budget projection puts our rental costs at ten times what we currently pay.
• Storage & Archives:
  African Voices has 27 years worth of magazines, art, photos, films (VHS), equipment and historical artifacts we plan to store until our new permanent location is secured. We will begin digitalizing our magazine collection from the early years.
• Program Support:
 African Voices is growing and we are planning to hire an administrative assistant, development/membership director and other key staff. The new home we are seeking gives us an opportunity to achieve our goals of sustaining the organization's growth!
ABOUT AFRICAN VOICES COMMUNICATIONS, INC.
AV Get Your Read On! Storytelling & Architecture program 2016 at Urban Assembly Academy for Future Leaders in Harlem.
Vera Sims, retired educator and AV Board member, helping students in our Get Your Read On! Storytelling & Architecture Program in Harlem.  Courtesy: AV Archives, 2018.
WHO WE ARE & WHAT WE DO
Founded in 1992 by a small group of writers and visual African Voices strives for artistic and literary excellence while showcasing the unique and diverse stories within the African Diaspora. The organization publishes a leading literary magazine and presents community arts programs.
AFRICAN VOICES MAGAZINE:
African Voices plays a vital role in helping writers and visual artists establish their careers. African Voices publishes 50 to 75 new writers a year in three issues (2 print issue and 1 digital issue). African Voices' subscription base includes colleges, high schools and libraries across the nation. The magazine is used in the classroom by educators who want to introduce students to contemporary literature by writers of color.
AV READINGS, WORKSHOPS & PERFORMANCE SERIES:
The series includes the African Voices Reading Series, a program featuring book signings for authors, writers forums, literary readings and Write On!, which offers memoir, novel, scriptwriting and poetry writing workshops.
GET YOUR READ ON!:
Get Your Read On! is an arts training program providing young people living in low income communities with opportunities to write their own stories and access to quality literature. In 2017-18, the West Harlem Development Corp. and Ronald McDonald House Charities renewed support for GYRO!'s Storytelling and Architecture Program at Urban Assembly For Future Leaders. The Storytelling and Architecture Program is a partnership with ArchForKids, an organization that specializes in teaching architecture to children in grades K-12. The goals are to strengthen students' math, reading and writing skills.
REEL SISTERS of the DIASPORA FILM FESTIVAL & LECTURE SERIES:
Reel Sisters, the first Academy Qualifying Film Festival devoted to women filmmakers, supports films produced, directed and written by women of color.
INVEST IN CREATING SPACES WHERE WE CAN CELEBRATE OUR STORIES!


Janifer Wilson, the owner of Sisters Uptown Bookstore & Cultural Center in Harlem. Purchase our latest issue from our long time distributor and supporter!
Debbie Officer (top row center), AV's Book Review Editor, representing African Voices at the Lit TAP conference in Buffalo in September 2018.
Reel Sisters Awards Ceremony 2018 at the SVA Theater theater where JT Takagi, executive director and award-winning sound engineer, and filmmaker Terence Nance were presented with the Reel Sisters Trailblazer Award.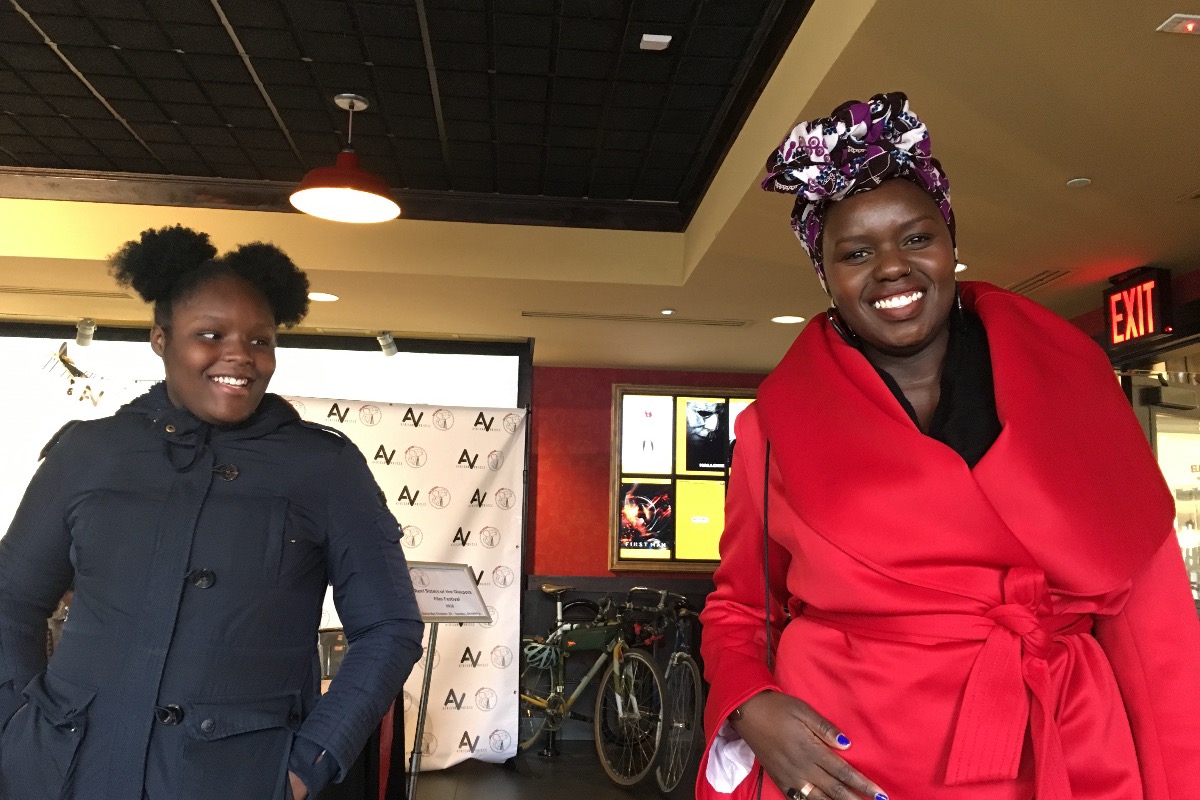 Winnie from Okay African attending Reel Sisters 2018 festival at the Alamo Drafthouse Cinema in Brooklyn.
Reel Sisters Hattie McDaniel Pioneer Award honoree Cathy Hughes (Founder, TV One) at Schomburg Center in 2016.
Reel Sisters awards ceremony at the Schomburg Center.
Reel Sisters Family Day at Alamo Drafthouse Cinema in 2017.
Reel Sisters audience at BRIC screening in 2017.
In appreciation of your support, we are offering a few gifts. All donors will be invited to our new home party!
 REWARDS I Got Your Back - $10
Thank you on our website & African Voices magazine.
AV Cheerleader - $25
Same rewards listed for Reward #1, plus African Voices gift bag delivered to your home! (You will pay for overseas shipping costs).
Visionary Leader - $35
Same rewards listed for #1. Section pass for Reel Sisters Film Festival on 10/19/19 or 9/21/19. We will contact you to confirm.
Pioneer - $50 
Same Rewards #1. One-year subscription to African Voices (2 print issues, 1 Digital edition). 
Altruism Gift Giver - $75
Same rewards for Reward #1. One ticket to Reel Sisters awards ceremony in October.  Date: TBA.
Institution Builder - $150 or more(Limited Edition Posters - 150)
Same rewards for Reward #1. Limited edition of Reel Sisters 20th Anniversary tribute Poster to Women Directors. Shipping costs may apply.  
SIZE:
16" x 20".
Angel (Anonymous Donors Welcomed) - $10,000 +
Thanks for your generous contribution and your name added to an exclusive list of donors in celebration of our new home!
+ Read More