Help Keep Radio Free Nachlaot Alive
$1,652
of $10,000 goal
Raised by
42
people in 36 months
7 YEAR OLD JERUSALEM-BASED "KOSHER HIPPIE" INTERNET RADIO STATION NEEDS A CROWDFUNDING MIRACLE!

RADIO FREE NACHLAOT NEEDS YOUR SUPPORT!
Internet radio station 
Radio Free Nachlaot
  broadcasts the best music, talk & Torah
"24/6"
from Jerusalem to a world-wide audience since November, 2009.
Showcasing live performances and recorded music, original interviews and unique Jewish content in a format described as
"Where Shlomo Meets Jerry",
Radio Free Nachlaot reaches 3,500 unique listeners a week from 92 countries world-wide.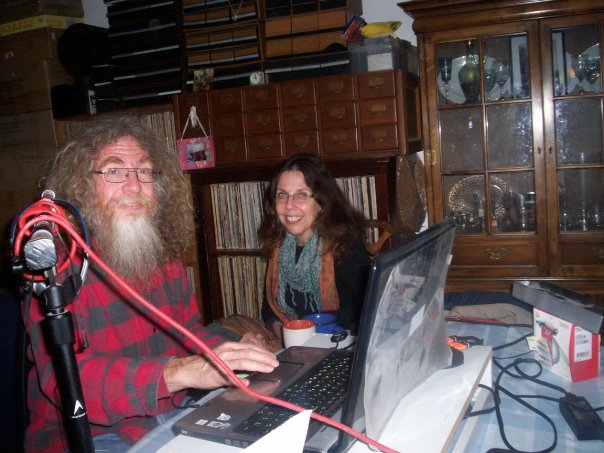 RFN Co-Founders Steve Levine and Lorelai Kude, in Jerusalem's "Undisclosed Studio B".
Our non-commercial format has been self-funded with the help of  listener donations over the years. 
Now we need YOUR HELP AND SUPPORT
to stay on the air, and to grow!
Our need is urgent!
The funds raised from this "Go Fund Me" campaign will be used to
immediately
upgrade our perilously unstable, embarrassingly
ancient and completely unreliable broadcast equipment
in both our Jerusalem and Berkeley, California studios.
Time is of the essence here! Our 24/6 broadcast stream hangs by a literal thread!
Once our immediate technological crisis is dealt with, we must ensure we have a sustainable future. To that end, funds from this campaign will also be used to
create a 501C-3 non-profit so that RFN may seek ongoing funding from foundations and grant-makers
to support the next stage growth of the world's only "Jewish Hippie" Internet radio station with home-based broadcast studios in Jerusalem and (since 2014) now also in Berkeley, California.
WE'RE NOT THE BEST AT WHAT WE DO, WE'RE THE ONLY ONES WHO DO IT.
Radio Free Nachlaot
 is named after Jerusalem's coolest neighborhood: Nachlaot,  the Greenwich Village/Haight Ashbury of Jerusalem
. 
Our "two pillars of programming",
Jerry Garcia and R'Shlomo Carlebach,
inform our musical tastes, which run from the Grateful Dead and all subsequent jam bands to Classic Rock, "The soundtrack of our lives", from Jazz to Blues, Showtunes to Indie music, Israeli, Jewish, and World Music, as well as original tunes sent to us by listeners all over the world, and everything in-between. 
Founded in November 2009 by
Steve Levine
and
Lorelai Kude
, two American expatriates living in
Jerusalem,
with grass-roots support from the Anglo (English-speaking) immigrant community,
RFN's mission is to connect the world-wide Jewish community to the people, land and Torah of the Land of Israel through the universal power of music, arts, and culture.
Steve Levine with Matisyahu, on the set of "Jerusalem Jams".
RFN CONNECTS THE DIASPORA TO ISRAEL VIA MUSIC AND CULTURE

Music has the power to bring people together like no other experience or sensation,
and the need for Jewish life-enhancing musical, arts and cultural programming grows exponentially in relation to the bombardment of negativity by the mass media in the world in general and the Jewish community in particular.
Radio Free Nachlaot  already makes a difference in the world by connecting music lovers to Israel through our programming, music, and special events.
We use music and culture to build bridges of understanding between populations.
Jewish communities of the Diaspora need to be connected with Israel in a positive, affirming way.
Connecting through music, culture and arts bypasses many of the stressful and divisive effects of politics, and allows people of differing backgrounds and opinions and diverse points of view to enjoy the experience of a shared love of music together, creating space for the possibility of dialogue and mutual understanding.
Radio Free Nachlaot's original programming has a proven track record accomplishing these goals!
We KNOW our mission aligns with the values of our supporters and listeners:
Connecting the world-wide Jewish community and our allies and supporters to the People, Land and Torah of Israel through the universal power of music, arts, and culture.  We need your support, We're asking for your help, and we fervently thank you for your contributions!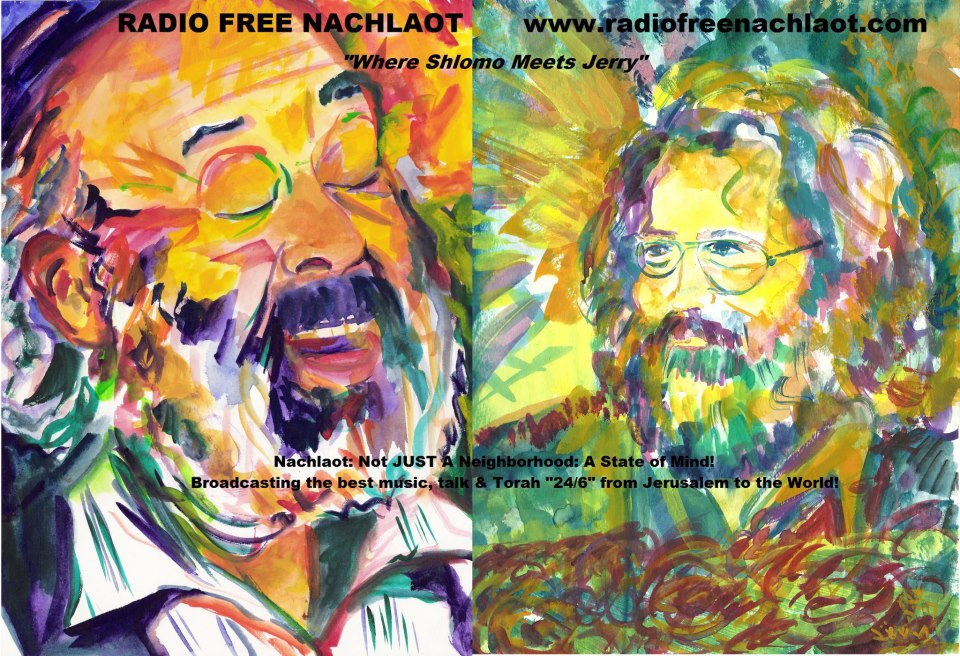 Rabbi Shlomo Carlebach z"l and Jerry Garcia, by Sheva Chaya, Tzfat, Israel
HIGHLIGHTS FROM OUR FIRST 6 YEARSJerry Garcia and Reb Shlomo Carlebach: Our Founding FathersThe 9 Days of Jerry
- Now in its 7th year, RFN's annual 9 Days of Jerry is our most beloved tradition. Every year we play all
Jerry Garcia
and Jerry-related programming from August 1st (Jerry's Birthday) until August 9th (his Yartzeit), excluding Shabbos, of course. On years (such as this one) when Tisha b'Av falls after August 1st, we delay the 9DOJ until after the fast. We experience the highest volume of listeners during this special time of year!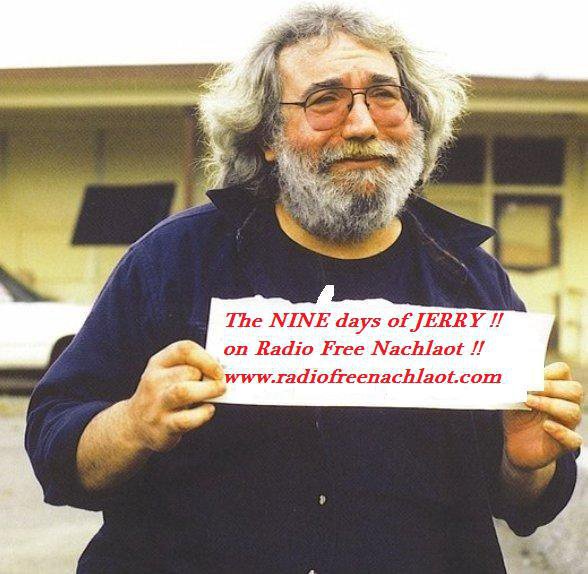 The 9 Weeks of Shlomo
- Special interviews, music and live performances highlight the annual "9 Weeks of Shlomo", during which we celebrate the music, Torah and legacy of
Rabbi Shlomo Carlebach
z"l. Every Sunday during the 9 weeks between R'Shlomo's yartzeit in Cheshvan and his birthday in Tevet.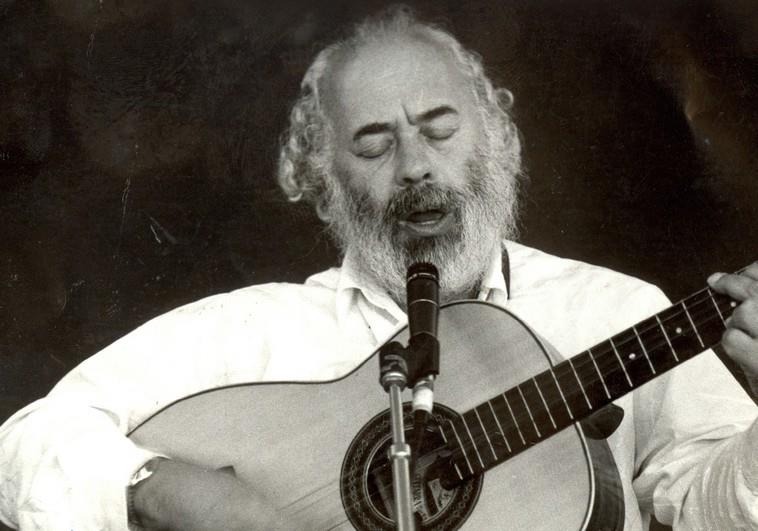 Live Musical Broadcasts
From Jerusalem's "JerryFest" to our bi-annual live broadcast of the Moshav Country Fair's entire day of music, from "Blues for Challah" at the Isabella Freedman Center in Connecticut to Shlomo Katz at Tzfat's Klezmer festival, from Yehuda Katz and Lazer Lloyd at Jerusalem's Yellow Submarine to Stu Allen at "Jerry Day" in San Francisco, from Matisyahu in "Jerusalem Jams" to Raz Hartman at Urban Adamah in Berkeley, we'll go anywhere (and we have!) to broadcast the best live Jewish, Israeli and World music to our worldwide listening audience.
OUR PORTABLE BROADCAST EQUIPMENT IS SHOT AFTER ALMOST A DECADE OF OVER-USE. Funds from this GoFundMe Campaign will be used to replace this equipment so we can resume live musical broadcasts!The Homegrown Show
: Every Tuesday at 7pm Israel time, our longest-running weekly showcase of YOUR music! Listeners from all over the world send us their original music and we play it for you!
On The Road To Shabbos:
RFN's Musical Director, Steve Levine, takes us "On the Road to Shabbos"  every Friday afternoon (Jerusalem time), preparing us to meet the Sabbath Bride with music and Torah.
"Heart to Heart" With Lorelai:
 Eclectic interviews with fascinating personalities, including  musicians Jorma Kaukonen, Mickey Hart, Jack Casady, and Crystal Monee Hall, as well as Roseanne Barr, anti-BDS activists, artists, and creatives.
Phish Phor Phans Phishcast:
 Every Sunday night at 8pm Israel time, Phish super-fan David Jaffe brings the best of Phish to a Phish-thirsty audience world-wide.
Torah Torah Torah!
Over the years we've feature original audio recordings of some of Israel's most insightful spiritual teachers, including Rabbi Chaim Richman, Rabbi Avraham Sutton, R'Ozer Bergman, Rabbi Aaron Leibowitz, teacher Yiscah Smith, Rabbi Moshe Yacov Poupko, R'Sholom Brodt, Raz Hartman, Sarah Yehudit Schneider, and many more.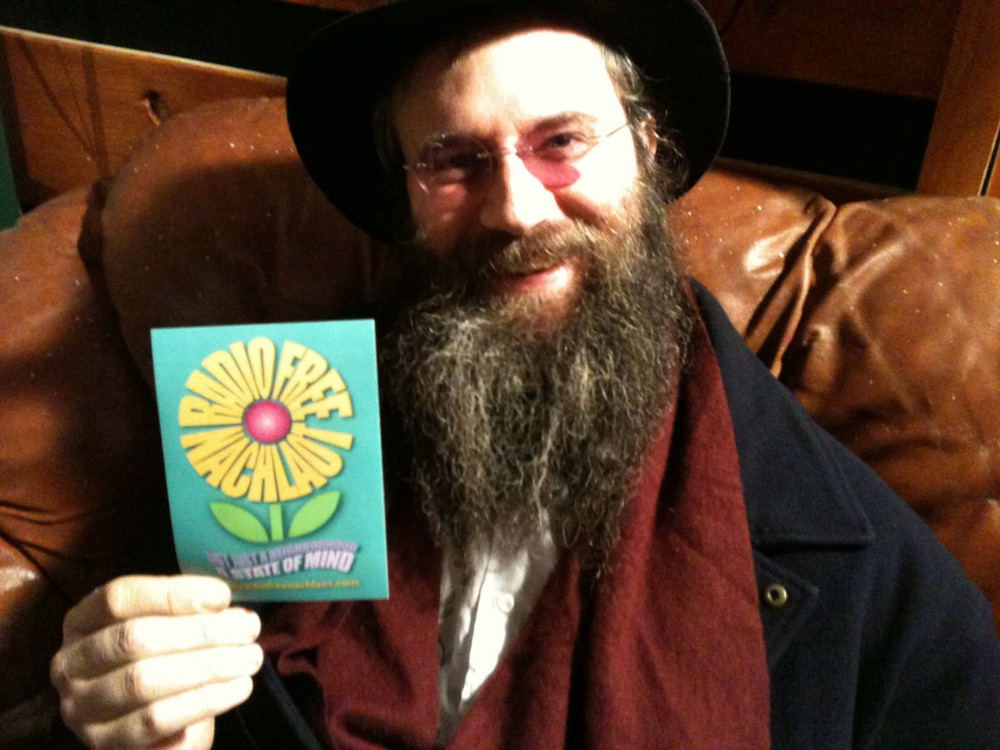 "Israel's Jimi Hendrix", Blues man Lazer Lloyd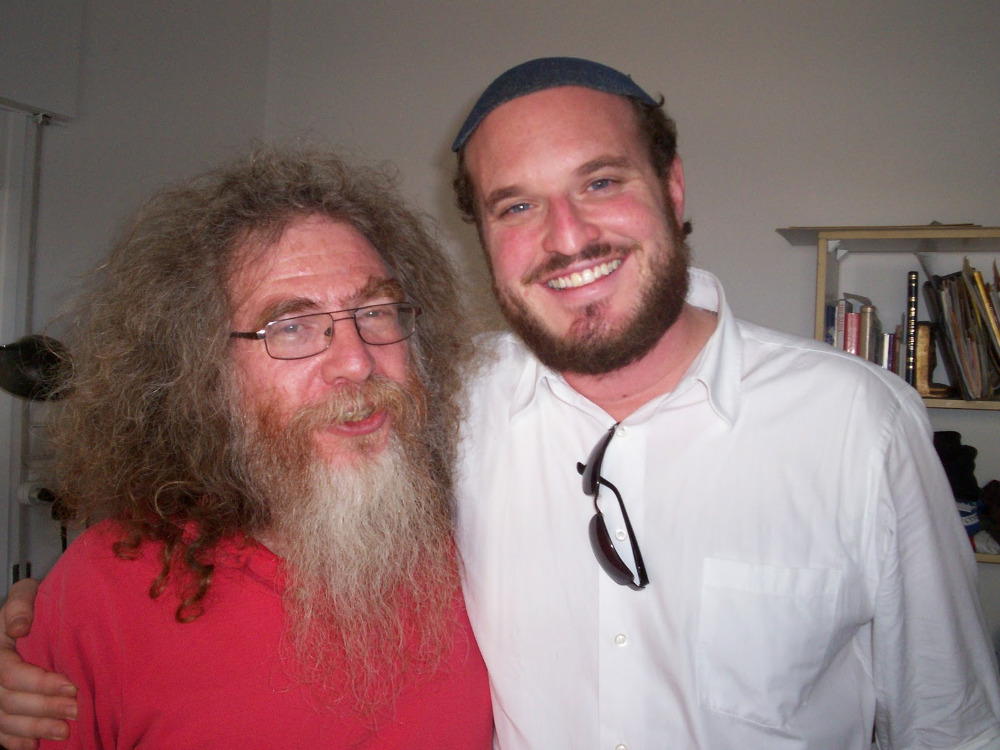 Steve Levine with Shlomo Katz, "The Cohen Gadol of Jewish Music".
THANK YOU IN ADVANCE for your support of our fundraising campaign! We literally CAN'T continue without your help!
With love from us to you,
Steve Levine and Lorelai KudeCo-Founders, Radio Free Nachlaot
www.radiofreenachlaot.com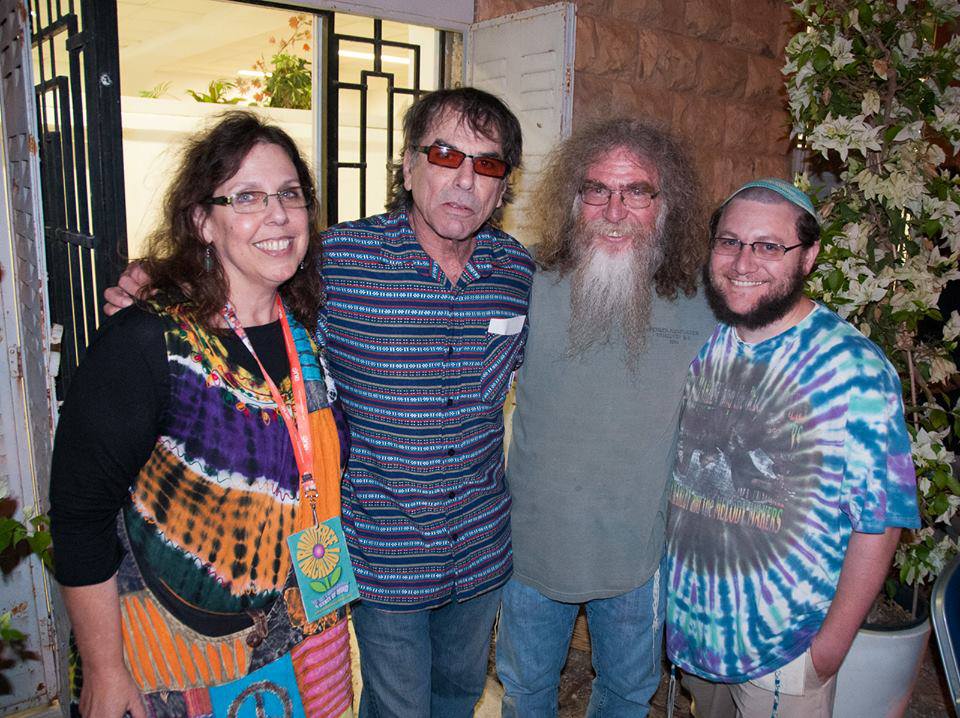 RFN's Lorelai Kude and Steve Levine with Grateful Dead / Percussion Legend Mickey Hart, Jerusalem, 2013, and Yehoshua Coren.
PS. NAME-DROPPING
WE'RE KNOWN BY THE COMPANY WE KEEP!If your name is on this list, you've been on Radio Free Nachlaot. 
As a musical guest, as an interview guest, as a guest DJ, as a teacher or during a special event.  These are the kind of people - artists, musicians, teachers, personalities - we've featured on-air over the years!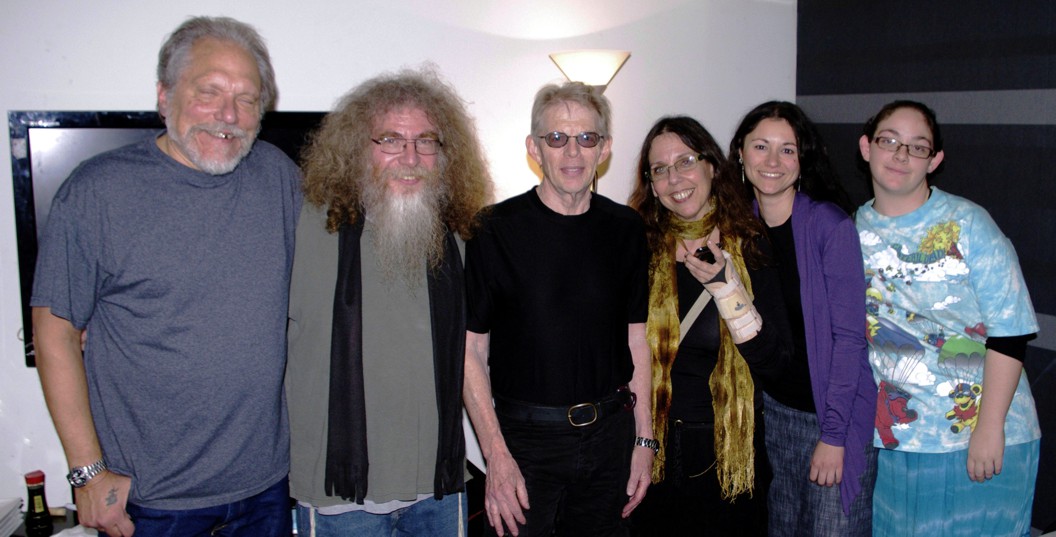 Hot Tuna's Jorma Kaukonin and Jack Casady in Tel Aviv with RFN's Steve Levine and Lorelai Kude, DJ Maya and Sarah Pozner.
"OUR REGULARS":
DJ Maya
- Broadcasting her Musical Journey every Monday night, 8:30pm Israel time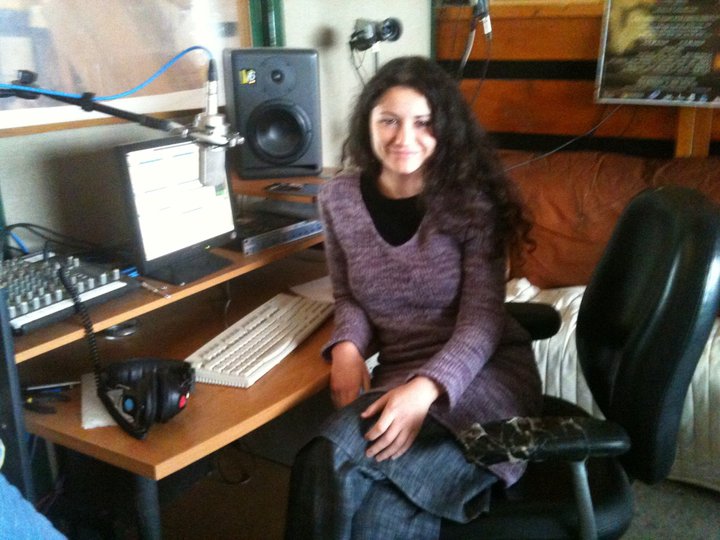 Brian Blum
's "Brainwaves": The best eclectic & indie music every Monday night, 6:30pm Israel time
David Jaffe
's "Phish Phor Phans" - Sundays 8pm Israel time
Rena on the Radio:
Rena Levine holds forth of the music that every sensible, sensitive and socially aware person needs to know about, and plays her "Album of the Week" 9pm Wednesdays, Israel time (Album at 10pm).
EVENT BROADCASTS:
International Temple Mount Awareness Day
(Live 6-hour annual webcast from Jerusalem)
"JerryFest"
(Mike's Place, Jerusalem)
Shalom Bayit - Peace in the Home
(Berkeley, CA)
"Blues for Challah"
at Isabella Freedman, Connecticut
Raz Hartman at Urban Adamah
(Berkeley, CA)
Tu b'Shvat at Reshimu
(Jerusalem)
R'Shlomo Carlebach's Yartzeit / Aliyah l'Kever
(Jerusalem)
Bob Dylan's Birthday Special
Tzfat's Annual Klezmer FestivalIn Performance: Live from the Khan of the White Donkey
(Tzfat, Israel)
FEATURE PROGRAMS:
Jerusalem Stories by Jay and Renee Garfinkle
INTERVIEWS:

Jorma Kaukonin,
Musician

Jack Casady,
Musician

Jerilyn Lee Brandelius -
Author, "Grateful Dead Family Album"
Rosie McGee
- Author and Photographer
Ziggy Marley
, Musician
Wendy Kenin,
Activist and Founder of Imeinu Doulas
Alon Tal
, Israeli Environmental Activist
Ryan Mervin Bellrose,
Indigenous Peoples Advocate
Dumisani Washington
, Pastor and Anti-BDS Advocate
Jay Corwin,
Author and Anti-BDS Advocate
Chloe Valdary
, pro-Israel Advocate
Michael Paul Hill,
Native & Indigenous Peoples Advocate
Joshua Safran
, Attorney and Author
Rabbi Yosef Langer
, Chabad of San Francisco
Jonathan Lipson
, "Incredible Records" Founder
Crystal Monee Hall
, Musician
Mickey Hart
, Musician
Miriam Jaskierowicz Arman,
Maistro and Author
Joan RothThomas Zeringer
, Founder, "Jerusalem Peace Memorial"
Arnie Draiman,
Tzedaka Adventures
Benzion Shamburg,
"Call of the Shofar"
Adam Berkowitz
- Author, "The Dream Merchant"
Shirel Levine
- Founder of "Stephen's Garden" in Tzfat
Yiscah Smith
- Author, Teacher and Transexual Advocate
Shmuel Olflansky
, Environmental Activist
Shaul David Judelman
, Environmental Activist
Chanabracha Siegelbaum
, Midrashet Bat Ayin
Ronnie Vance
, Producer
Laura Liebe Schulman
, Physician
Rabbi Melinda Bernstein
, Author and Teacher
Lisa Alcalay Klug
, Author and Journalist
Ben Bresky
, Musical Maven
Melinda Ribner,
Author and Teacher
Avraham Moscowitz
, Author and Healer
Tzilia Sakarow
, Student of R'Shlomo Carlebach
Marci Rapp,
Organ Donation Advocate
Yocheved Golani
, Author and Health Expert
Yishai Fleisher
, Broadcaster and Activist
Reuven Prager
, "Beged Ivri"
Sharon Millstein
, Psychic
Moshe Feiglin
, Member of Knesset
Chaya Lester,
Poetess, Therapist, Performer and Teacher
Roseanne Barr
, Actress, Activist and Author
Rabbi Tovia Singer,
Author and Teacher
MUSICAL GUESTS:
Yehuda KatzAryeh NaftaliShlomo KatzShtarLazer LloydLibi and the FlashbackSoulFarmJah LeviChaim DovidAllen SobermanJosh FleetYosef Daniel VillarealSharya WittElijah SidikimMikey PaukerAnaelia Ben DavidAriel Elisha Leon RosenItzchak Evan ShaysChanan GantzReb Yankela ShemeshThe Hesh
Izzy KieferYehuda GlanzPurimmNoah LubinPey DalidNaftali AbramsonNoah Monroe LehmanAharit HaYamimOneg ShemeshYerachmael "Rocky" Zigler Gavriel FiskeAkiva GershNadav SerlingTORAH TEACHERS:
R' Avraham SuttonYiscah SmithRabbi Chaim Richman and Yitzchak Reuven,
"Temple Talk"
R'Sholom Brodt
, Yeshivat Simchat Shlomo
Rabbi Aaron Leibowitz
, Sulaam Yacov
Rabbi Yacov Moshe PoupkoRav Ozer Bergman
, The Breslov Institute
R'Betzalel Phillip EdwardsMoshe NewmanRabbi Yom Tov Glazer
, AISH HaTorah
Sarah Yehudit SchneiderRabbi Moshe SchlossRabbi Yitzchak Goldstein
, The Diaspora Yeshiva
R'Chaim ClorfeneR' Moshe SchlassGUEST DJ'S:
Reb Moshe Pesach GellerDrew TickHarvey MillsteinDaniel and Pamela PoznerMarcia DavidowitzBen SchwedAri LouisAmit GolanNettie FeldmanShmuel Eiyahoo NewmanMatthew MausnerJosh HastenOfer GolaniYosef Needleman
Stuart Schnee

PRESS LINKS:

THE JERUSALEM POST -
Friday April 1st 2011 - "In Jerusalem" Section (page 24 of the print edition)

"From Jerry Garcia to Temple Mount Awareness: Radio Free Nachlaot Expands Its Unique Programming Format"
by Gil Zohar
This article appears online in the "Premium Zone" - 
CLICK HERE
TO READ IT IN THE JERUSALEM POST'S "PREMIUM ZONE" ($8 for a 1-month subscription to the "Premium Zone")

CLICK HERE  to read a transcription of the article


San Francisco Examiner
Columnist Robert Garcia's piece on Radio Free Nachlaot's "9 Days of Jerry" Event

Israel National Radio (Arutz Sheva)
Review of Radio Free Nachlaot's "9 Days of Jerry" Event

USA Today
Report on RFN's "9 Days of Jerry" Event

Times of Israel
"It's the Spirituality, Stupid" by Shaul Magid

The Augean Stables
"Deadheads for Israel: What's Your Problem?" by Richard Landes

Robert Hurley's Blog "Bad Blogger"

Israel Beat
Interview with Radio Free Nachlaot co-founders Steve Levine and Lorelai Kude





+ Read More
Be the first to leave a comment on this campaign.