Autism Spectrum Comic Strip Artist
$4,450
of $7,000 goal
Raised by
48
people in 57 months

MESSAGE FOR THE MOMS




QamQomics.com
facebook.com/QamQomics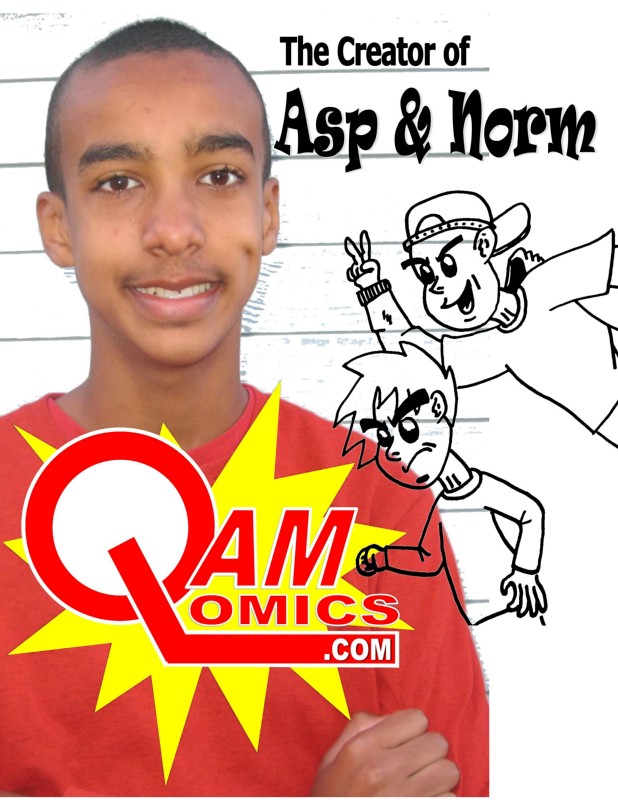 AUTISM KIDS CAN BE ATHLETES, ARTISTS AND MUSICIANS, I am living proof of that!

I have raised over $4000, and self published a book, played trumpet in a marching band that was invited to march in our nations 4th of July Parade, auctioned off my art to benefit acceptance education in our schools, spoke to thousands of students, teachers, administrators and coaches about Autism Spectrum Acceptance and now I am starting a non-profit called 3A.M. to benefit Autistic Artist, Athletes and Musicians, just like me! 
More about me:
I am one of the many faces of the autism spectrum.  I have Asperger's Syndrome and it makes me as unique as the spelling of my name Qamdhyn (pronounced "Camden").  Allow me to introduce myself my name is Qamdhyn Jameraequoi Hale and I am 16 year old student attending Antelope Crossing Middle School, located in Northern California. 
Though I have a vast vocabulary, walk with a noticeably odd gait and don't recognize most social cues; I appear "normal" to most, which has been to my disadvantage in many situations.  You see, recognizing someone as being on the autism spectrum is not as easy as recognizing someone with a physical disability as seated in a wheel chair or noticing someone is from another country, because of their accent:the autism spectrum on the visual surface appears quite transparent.  Some of my mannerisms, such as lack of eye contact come off as disrespectful to adults or "weird" to my peers.
During my time in elementary school, I found that drawing calmed me and helped me focus on what my teachers were teaching; and in the pages of the many spiral note books that assisted me through elementary school was born, characters Asp and Norm.  And with these two characters, I am developing a comic strip series outlining my experience as a person on the autism spectrum, my key characters Asp and Norm through their day to day experiences, show and explain how I view my interaction as someone with "Asperger's", with a "Normal" person/people.  In addition, show how people with any type of autism no matter what part of the spectrum, should be accepted instead of tolerated (you tolerate pain or negative things, acceptance like love has no conditions.)  It is my hope that my comic strip, Asp and Norm will provide some much needed insight and serve as a teaching tool in a light and fun way that everyone can understand the simplicity of a relationship with someone who is part of the autism spectrum. 
PHASE 1 IS COMPLETED: 
PHASE 1:  My first project is to take Asp and Norm's message of Acceptance to schools  grades K-12, as I believe comic strips transcends any age and can deliver a very  heavy message in a way that is light and well received by all. This will entail putting finishing content of book, editing, publishing and initial local book tour.
Thank you all for your support.  All donations of $100 will receive a  copy of my Asp & Norm: Educate
+ Read More
Be the first to leave a comment on this campaign.