Erin's New Legs
$22,953
of $125,000 goal
Raised by
253
people in 43 months
October 24, 2016.
Hi Everyone. In hindsight and upon reflection, I realize that I should have done things differently with this account from the start. I had my hopes set on OI surgery and I thought it was going to solve all of my problems and take away my pain. It was only fairly recently when I was finally able to determine from other OI recipients that OI would not allow me to continue to my quality of life and aerial artist career. I would not be able to run and jump or land with any force on my legs. Thus, for this time in my life I choose to continue to use prosthetic legs without the osseo-integration.
That said, the cost of prosthetics is prohibitive and next to impossible for me to be able to afford. I have no insurance coverage and live month to month on a tight budget.
The truth is, only one pair of prosthetics is covered in Ontario and I got those basic sockets, legs and feet back in late 2014. I mentioned in a recent update that I wanted to look into swimming legs…shower legs are over $7000 EACH. And if I want a foot that points so that I can swim (or have that option in the air), it is thousands of dollars more. A shoe for high heels is another expensive cost. I also want to purchase covers for my legs so that I have something that is at least the same shape as a "meat" lower leg...it will be $1000 or more for both of them.
Running legs are $20,000 each or more. I do have running legs but I need to make some big changes to them in order to be able to progress from my current 45 second maximum.
My wheelchair just broke. I need a replacement that I can perform with…over $3000 USD (I am looking into a grant for this...fingers crossed).
I have been going through a period lately that involves a lot of random pain. It was even suggested that I have surgery to remove more of my leg because it is causing me so much pain. I have not as yet made any decision.
I was going to just close this account since osseo-integration is no longer an option but it was suggested that I leave it open and tell people what is going on.
I realize that at this point there is no medical emergency. It is about reducing pain and creating art for the world to enjoy (and being able to get in the water with my legs on. I can't tell you how long it has been since I have taken a standing shower. Shower prosthetics would help a lot when traveling as well…finding a bathtub to take a bath in is not always easy).
I am leaving this account open to receive further donations and will continue to update with information about acquiring new prosthetics and wheelchair adaptations as I am able to afford them.
Thank you all so much for everything that you have done <3 It really means so much to me. I hope that someday, in someway, I can return the favour.
__________________________________________________________
Hi Everyone. It is with very mixed feelings that I write this. When I started fundraising for new legs, I was told that I had been approved for the surgery. I spoke to the intake person on the phone about what I do and my lifestyle. I guess things have changed because the latest research says that running is not recommended with Osseointegration. It can be okay in some cases but the surgeon is not recommending it, especially for below-the-knee amputees. That in and of itself I could potentially handle but I spoke with the clinic again and they told me that I would not be able to jump or land with OI. That is a dealbreaker for me as it's part of my lifestyle and work. I am sad that I need to choose between pain and my passion but I am choosing what is good for my entire well-being. I am not getting the surgery. At least at this point in my life.
The pain is definitely not what it once was but in my current state and with the legs that I have, I do not think that I will ever be able to walk for more than 20 minutes without needing a break (I push it as hard as I can and that seems to be the limit). For the most part, I am much more comfortable but there are still times that I  can't walk for two minutes and there are times that I can't walk at all. They are much less often now though. I have also been working on running. It's at about 60 seconds at a time right now. Progress! 
I have been completely blown away by the generosity and support of so many people. Thank you so much for all of the shares and the donations. I raised close to $25,000. GoFundMe takes 5% of the money that was donated online (just over $1000 was donated offline) so some of that money is spoken for.
Since I am not getting the surgery, I would like to look into some comfort solutions that are not covered by OHIP, as well as things like swimming legs or attachments (I can swim without my prostheses but not very effectively). I also read something awhile back about a cooling system for legs (summer is unbelievably hot for me as the material that I wear that goes quite high on my upper legs is non-breathable). I dismissed many of these things since I was set on the surgery. There are some other practical and aesthetic modifications that I would like to make to my legs and other sets of legs.
I completely understand if refunds are wanted, please send me a message or respond to the messages that I will be sending out and I will refund everything minus the 5% (unless it was offline).
If instead you would like to continue to support me with your contribution, I would be eternally grateful!  The funds would aid me in finding comfort solutions for my legs that would improve my quality of life. The funds would also help to create some interesting and aesthetic improvements to make motivating and empowering art for everyone to enjoy.  Please let me know if you would like to join me in this new chapter.
Thank you all again. I would not be where I am today without the love and support of so many people <3
I'm Erin: a circus performer, aerial instructor, flexibility coach, partner acro trainer and now a double amputee.
In March 2014, I got lost in the Canadian woods for six days. I was found by a police dog, unconscious, and when I was pulled out of the woods, my body temperature was 19°C (66°F). I was then brought to the hospital by helicopter. Needless to say, I almost died and am more than lucky to be alive.
I suffered from extreme frostbite on both feet. It was so extreme that my feet turned black and there was no chance of them healing. My whole life had revolved around movement, mainly circus, and I was faced with a decision: to amputate or to die. I chose life and had the surgery in June 2014 that changed me forever.
I lost everything: apartment, partner, business, car, sanity and lower legs. I became depressed during the 11 months I spent in the hospital, rarely getting out of bed and refusing to participate in life.
Over time, something shifted and I wanted to engage in the world again, wanted to move, wanted to walk. And most of all, I wanted to return to circus. I've been climbing and hanging upside down, even swimming, but walking is still difficult.
One of my biggest set backs is the socket-style prosthetics that are provided in Canada and the US. The remaining parts of my lower legs are put into sockets, which are incredibly hot and uncomfortable. This system has me walking on the soft tissue of my calf muscles.I'm in constant pain with swelling, bruising and compression.
But there is another way. Osseointegration is a surgery that inserts titanium into the bone (for me, this means into my tibias). Instead of walking on soft flesh, I will be able to walk on my skeletal system, just like you. I will be able to walk comfortably. I'll be able to fully bend my knees. And I'll be able to hang from my feet, just like a regular circus performer.
While effective, the surgery is only available in a few countries and the Ontario Healthcare Insurance Plan doesn't cover it. The most accessible place for for me to receive the treatment is Australia but the surgery, flights and cost of living for 4-6 weeks during recovery adds up to $125,000.
The Osseointegration Group of Australia
 has performed many successful surgeries and more amputees are turning to Osseointegration for a solution. Dr. Al Muderis, the surgeon, is highly praised.
Walking comfortably is something I took for granted before my amputation. Now, it's my biggest dream. Help me take a step in the right direction with a small donation. I'm eternally grateful and will thank of all my supporters with every step I take.
If you would like to find out more about me and my journey, please check out my
blog
.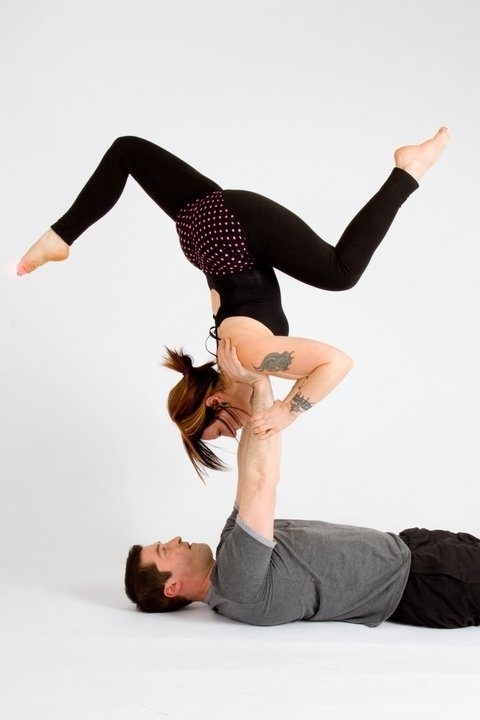 .
+ Read More