88
18
Mom & 5 Kids - Lost ALL to Lava!
$14,845
of $200,000 goal
Raised by
84
people in 7 months
I am Tiffany Cassano and created this campaign on behalf of my friends, 
The Rush family who live in Pahoa, Hawaii. Our families met when our kids were in kindergarten in So Cal. 
We grew to love their big, beautiful family have grown over the years into lifelong friends.
When we heard of what was happening in Pahoa we felt helpless being far away!
We were hopeful they would be able to go back home after the evacuations but sadly, the
family farm was overtaken by Lava in May 2018.
They lost everything
! 
They moved from So Cal to Pahoa with a dream....
it was shattered by the Volcano. 
They are asking for our help
!
They are hard workers and good people with huge hearts. 
This is their story....
Samantha Rush started The Purple Coop Farm with a vision to create a sustainable home and ranch where she could raise her five  children. This was a dream that started with raw land, hard work and bare hands.
Centered in love for family, animals & community her dream grew into a living, breathing, loving home, ranch, farm, business, school, camp & animal sanctuary. 
The farm provided an invaluable education for her children, jobs, environmental sustainability and a strong sense of community support. 
Their farm was full of life as was their lives. The youngest, Ever, (age 6) got up every morning and fed the dogs. They raised Australian Shepherds and sold them only to good homes with a 100% money back agreement.
Ocean (age 10) bottle fed his lambs and made sure the horses had water. The twins, Ian & Aedan (13) had larger responsibilities. Ian cared for the vegetables growing in the greenhouse as well as the chicks that were hand raised.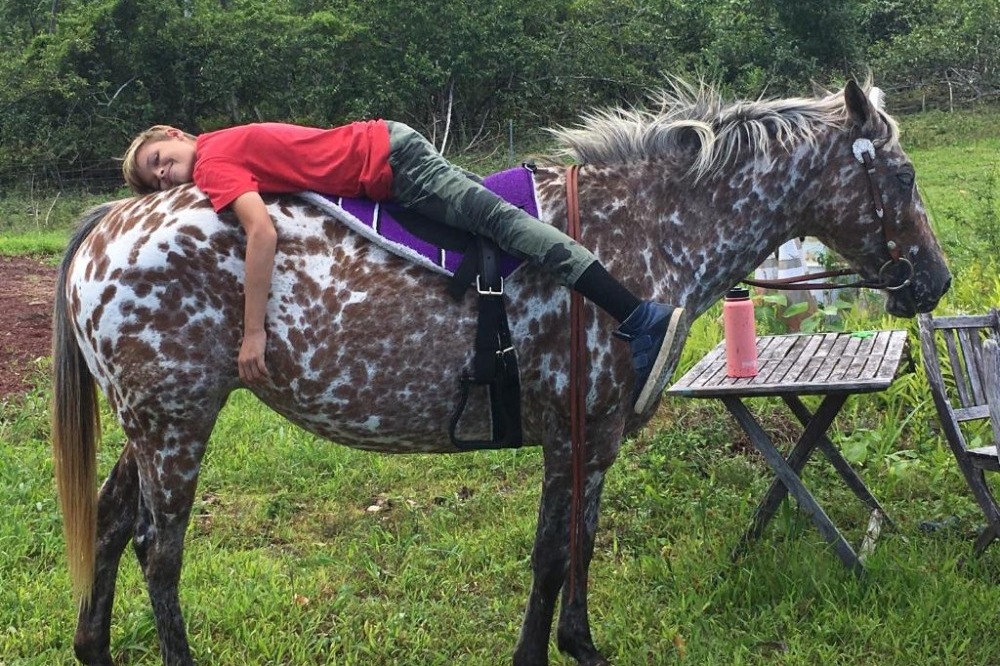 The Purple Coop began as a small chicken hatchery based on the kids' love for all things furry and feathered.
It grew into a sustainable farm with hard work, determination, and a family's shared dream. 
Aedan fed the chickens, ducks, peacocks, turkeys, goats, sheep and cows. Eiligh (15) the oldest of her 4 younger brothers, milked the cows and goats before school and made sure eggs were being collected and sorted properly for sale.
Every morning, Samantha collected 300 lbs of organic food scraps from the local market to feed the pigs.
Their farm was one of the few pig sanctuaries on island.
Her days were also filled with homeschooling. 
Samantha also shared her love of horses with the children of her community, by offering affordable riding lessons.
She was not just a teacher, she became an Aunty to them and life-long friend to their parents
Everything was humming along at the farm until the lava started to flow...
While there was no immediate threat to their neighborhood,
Samantha followed her motherly instincts
and made the early decision to move her 5 children, 8 horses and 6 dogs off the farm. It took 2 days and a trailer that broke to make that evacuation happen
Samantha spent the next week struggling to find housing for her and her children.
Their large family size found this very challenging. After spending nights here and there with friends and strangers, she was able to find a rental. 
On Monday, May 14, Samantha returned to the farm with the Humane Society. For the next 3 days they rehomed their 3 cows, 20 goats & sheep, 8 pigs and many, many fowl. This was no small task! The air was thick and toxic. It was heartbreaking!
She witnessed first hand their beloved community being overtaken...
On friday, May 18, the slow moving a'a lava surprised and devastated her neighborhood as it turned into the fast-moving pahoehoe lava flow, making a sharp, sudden turn that covered their community with lava.
Their dreams were turned to dust
. 
Sadly, the Rush family was  left with nothing more than the clothes on their backs.
In one day they lost 25 acres of pasture land, trucks, tractors, solar systems, water catchments, photographs, books, beloved stuffed animals, appliances and family heirlooms.
Basically...everything!

Today they own what is in their van and are getting by on donations.
The Purple Coop was once a thriving farm and ranch, known in the community as a sanctuary, a place for children and a farm that supported its community
.
This
Family is in need of help to get their basic needs met now and rebuild their lives.

Their home, farm, all personal items and source of income is gone.
Sam made sure their beloved animals were safe & moved to sanctuary until they are able to get them back.
She also helped many others in her community get their animals to safety
. Now it is Sam that needs a helping hand.
They need the $$ to get a place with land and a fenced pasture and arena for her horses so she can start generating an income again. The needs are so large for a family with 5 kids, 8 horses and 6 dogs that I don't even know how to list...
They are starting from scratch!
Samantha is the direct beneficiary on this Go Fundme
!
ALL contributions will be going
directly
to this family to help them survive now and recover from crisis mode and to rebuild. 
THERE IS NO INSURANCE IN THIS AREA !!Please find it in your heart to help them overcome this tragedy and rebuild their dreams! 
+ Read More