Help Dale Pierce Smash Cancer!
$3,520
of $3,000 goal
Raised by
53
people in 43 months
Author. Professional wrestling personality. Actor. Educator. Cultural savant. That's who my husband,
Dale Pierce
, was...until four months ago, when dibilitating hip pain rendered him barely able to walk. Week after week, we trekked from one doctor or hospital emergency room to another in a vain attempt to determine just why this man who could overcome anything suddenly couldn't walk five feet without the assistance of a cane and plenty of medication.
Last month, we finally received our answer. The diagnosis: prostate cancer, which had matastacized in the hips.
It wasn't supposed to happen this way. When Dale and I moved to Washington just a few months earlier, we were filled with the excitement of starting our lives anew. Dale had a slew of ideas waiting to be turned into novels, along with a list of book signings to participate in and lectures to deliver. Now, with just a few words--"You have cancer"--all of those plans had changed. Work, of any sort, is next to impossible. Instead of fretting over how many copies of books to bring to his latest signing, he worries over how he's going to pay the heating bill. It's hard to focus on conquering cancer when you're afraid that your electricity is going to be disconnected or that you can't put food on the table. Fortunately, Dale's insurance covers nearly all of his medical expenses...but the utility companies don't care that you can't pay the bill because you are simply unable to work.
And that, my friends, is why Dale needs your help. This man who has given so much to so many--who has reached out a helping hand to countless aspiring wrestlers and authors; has counseled scores of students and raised funds for friends in need--is in need of his own rescue. Any donation that you can afford to give would be used to defray the costs of Dale's expenses while he is undergoing cancer treatments. And, as a special thank you, donors will receive the following:
For Any Donation
: Updates on Dale's progress.
For Your Donation of $10 and Up
: You will receive a mention in Dale's forthcoming book about his fight against prostate cancer; all proceeds from the book will be donated to the local chapter of the American Cancer Society.
For Your Donation of $50 or More
: You'll receive the above rewards, as well as an e-copy of Dale's upcoming book upon publication.
It's been said that life is a journey. Please help Dale Pierce continue his. Thank you
so
much for being a part of this effort. Dale and I are deeply grateful for your kindness.
+ Read More
Update 2
43 months ago
Share
We did it!

Thanks to generous folks like you, on Thursday, February 4th, Dale reached his GoFundMe goal of $3,000. We were just about speechless (and, for those of you who know Dale, you realize that's no small feat) when, at 5:58 pm PST, the total ticked upwards to the magic number. A huge thank you to Nancy Yarrington for putting the big guy over the top.

I began this campaign with no lofty expectations. I know that, for many, the purse strings cannot possibly be pulled any tighter; it's hard to give a financial gift when your own bank account is empty. Dale and I were so very touched when your selfless contributions reached $500...then $1,000...and beyond. In just a shade over two weeks, you've accomplished what we thought was pretty much impossible. Thank you. From the depths of our hearts, THANK YOU. We have seen the best that humanity has to offer over the course of these last 18 days. Your gifts have varied from $9 to $500 (you guys ROCK!); this campaign has been shared via Facebook and email more than 200 times. Your support and words of encouragement have made all of the difference.

So, we've surpassed Dale's goal. Here's what this means for you:

1. This campaign WILL remain active...for now. Any gift you now give will be used to defray the cost of GoFundMe's fees--the site retains about 8% of any contributions received (in this campaign's case, approximately $280 to $300).

2. Sometime in late-spring--an exact time to be determined based on Dale's health--you will receive an update asking for the email address at which you would like to receive your copy of his forthcoming e-book.

3. Continue to follow this campaign, as you'll receive updates on Dale's progress...which, thanks to all of you, will be made much easier.

Again, THANK YOU for all that you've done for Dale. We simply cannot tell you how much your standing in his corner has meant to both of us.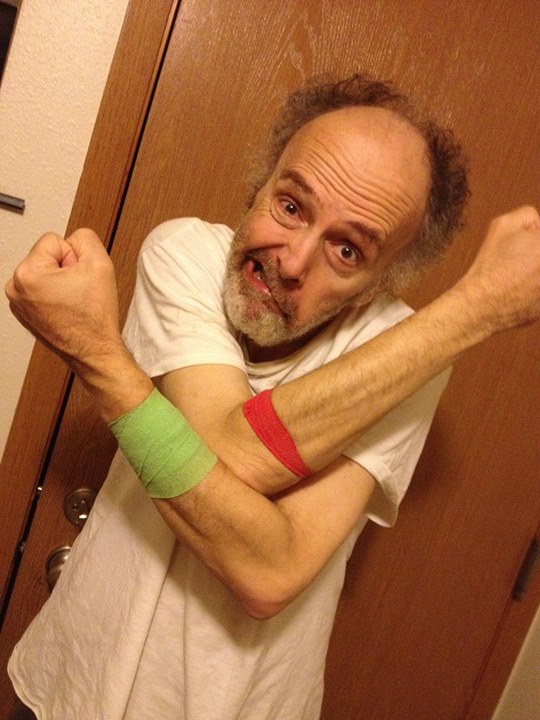 + Read More
Update 1
43 months ago
Share
This isn't something that Dale or I wanted to do.

As Dale shared with many of you on Facebook, "For a long while, I was dead set against a GoFundMe page, though people I know said I needed to do one, as I fight my battles alone and solve my own issues. The very concept of GoFundMe goes against my nature. However, I guess there are some wars one cannot wage alone and win. The beauty of this already is I have seen how wonderful some of my friends are and they have truly touched me. Just in the beginnng day of the drive, I was amazed by the outpouring of love from out there. It still goes against my grain to do this, in a way, but again, I am not able to work, or be able to work, as I usually do for some time yet and this does indeed help with the expenses not covered by insurance. I am truly touched by some of you and truly blessed. "

You're amazing. In just one day, Dale's campaign had received more than $500 in donations; in less than four, you've pushed us beyond the halfway mark. As of this writing, we've reached $1725. Thank you for your tremendous generosity!

Remember: if you can't afford to make a donation--and, believe me, I know that feeling--you can still help out pro wrestling's "Dean of Mean" by sharing this campaign with your friends and family. We've seen contributions from people Dale has never met, simply from others mentioning this project in an email or on Facebook. No act is too small.

Again, thank you--THANK YOU--for your support during this time. You're the best!
+ Read More
Read a Previous Update