Hollies Hand prosthetic
£75
of £10k goal
Raised by
4
people in 21 months
The Story
I'll start this campaign by talking about a girl called Hollie. A year ago Hollie's dad asked me to build her a prosthetic hand. Hollie was born with
Amniotic Band Syndrome (ABS)
 which led to stunted growth on the right arm, hand and fingers.
Until recently there was very little in the way of prosthetics for someone like Hollie, and besides at her current age she would grow out of a prosthetic fast. In recent years though 3D printing has begun to proove itself via the
Robohand project
 and its spin offs such as the
E-nable group
. (Note I and this funding campaign are not affiliated with either group)
I'd previously
contributed
 to the Robohand design, with elements that can still be seen in many designs today. However I felt Hollie lacked a palm large enough to operate one of these hands well.
Hollies dad agreed with me that I should try and develop a new hand that took advantage of the R&D I was currently developing.
These new technologies involved:
- Creating accurate
3D models
 of the complete and the ABS hands.
- Using
SLS printed Nylon
 instead of fused filament printers (reprap, makerbot etc).
- Using the inherant flexibility of the SLS nylon, for hinges etc.
- Using the more flexible design rules of SLS Nylon to create lighter and stronger parts.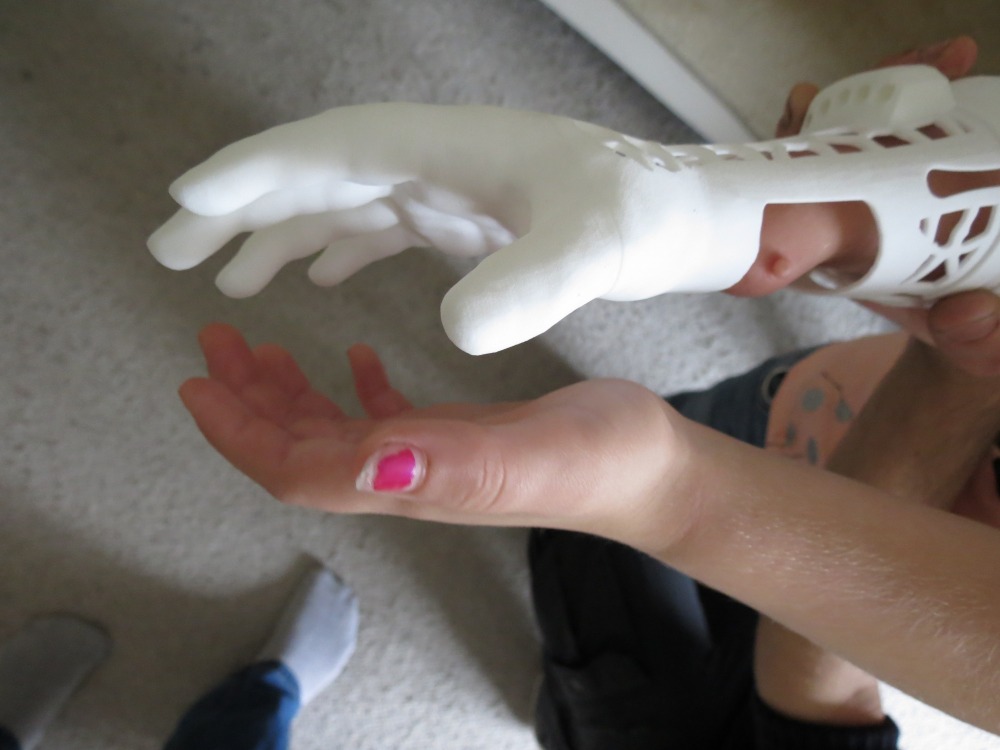 First test fitting to ensure everything is the right size.
So I began building prototypes and things were going well with one problem. Time....
Also Money... But mostly time.
At this point I was working for a 3D printing Studio in Manchester. This covered my living expenses but barely enough to cover the cost of prototypes. The cost of which I was bearing. Time though I lacked most of all.
So I spent months developing each iteration whilst scrapping together the hours to work on it and the money to eventually order the parts to be printed.
In February I started to work as a freelance designer full time. This now meant I was time rich but had even less money to spend on prototypes.
Now this is why I've decided to run a gofundme campaign. I estimate that it costed me between £500-£1000 for each iteration so far. Hollie's grown larger and will need a new scan to continue work. I have new design elements I want to try which will make the design even more functional and realistic, such as 3D printed
elastic skin
.
Unfortunately this raises the cost of the prototypes.
So why should you fund me?
Well apart from helping Hollie out I have released my designs
open source
. [This includes my anthromod series of robotic hands.]
I haven't seen anyone else try to create a prosthetic based on a scan of the users complete arm.
I'm trying out different printing methods which should ultimately make manufacture a lot easier and more reliable for these hands.
I'm trying to make it as simple as possible for anyone to do this. I have
described several
 of the steps I used online and plan to release a full 'how to guide' once it works well.
What will the money allow me to do?
It will let me focus on the design and to generalise the technologies behind it, so that others can use it. It will allow me to spend money on new iterations of the design and to investigate a wider range of materials.
I estimate that it will cost £1000 for each new iteration. £750 to cover my development and design time and £250 for the hand to be printed.
I expect to be able to develop 1-2 iterations per month, with print time taking up most of the time.
The more I raise the longer I can work on it and with more iterations. Ideally I would get enough funding that I can start looking at incoporating myoelectric elements to it such as motors and EMG for nerve control.
Development Photos & Videos


The original plaster casts. Painted to improve scanning.
Slightly adjusted copy of hand  printed on a Lulzbot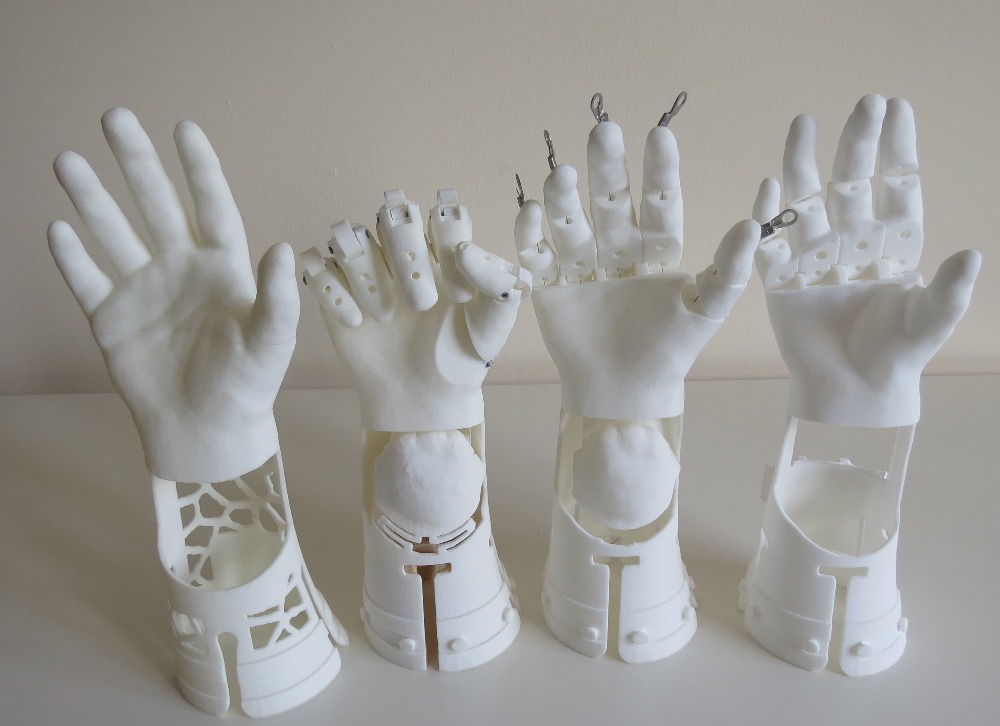 The prototypes so far. Earliest to latest.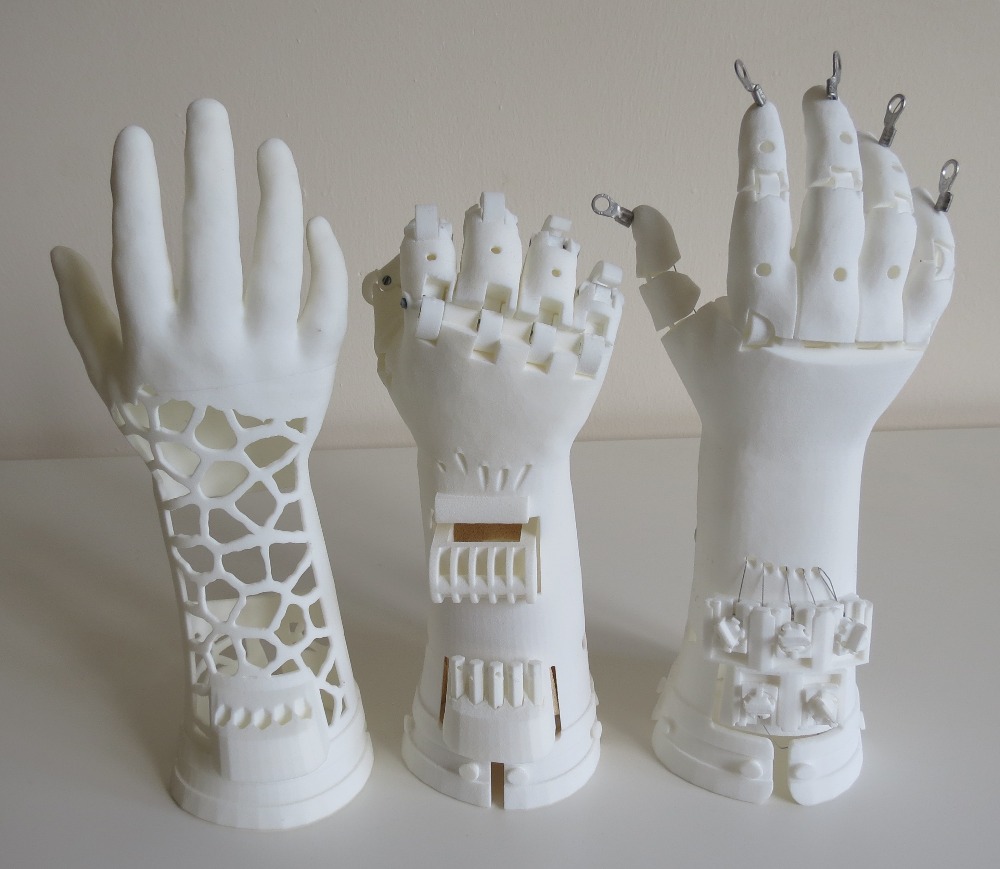 Tension cable block evolution.
A test of the finger movement on Version 4
+ Read More
Help spread the word!
 148 total shares