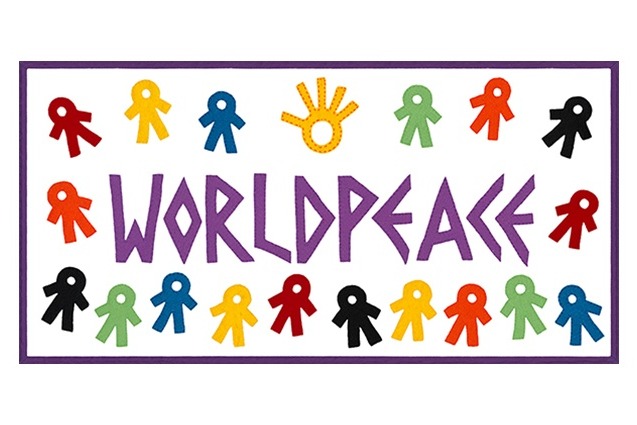 1
2
Promote WorldPeace
$10
of $25,000 goal
Raised by
1
person in 8 months
My name is Dr. John WorldPeace JD.  I am the one and only global peace and WorldPeace advocate dedicated to increasing the level of peace in the world human society. 
I have been on this path all my life. In April 1988, I changed my name to John WorldPeace to match my dedication and focus on peace and WorldPeace.
Initially, virtually all funds will be used to gain a name recognition globally: A brand. I have already been promoting WorldPeace for 30 years through my website
www.johnworldpeace.com
 which has 8000 pages and was set up in 1998.
Everyone will benefit from a non-aligned WorldPeace Advocacy. One that is not focused on elitist exclusionary national, racial, religion or gender orientation. In other words, a WorldPeace Advocacy that answers the question: "How can we manifest peace on earth if we do not include everyone in our vision of peace?
An American peace will never manifest WorldPeace. A Christian peace will never manifest WorldPeace. A White peace will never manifest WorldPeace. A male peace will never manifest WorldPeace. Why do I say this?
Because religion and government and race and gender issues have been around from the dawn of civilization and has undeniably stagnated in continuing to increase the level of peace in the world human society in significant ways.
The whole world will benefit if one person becomes the figurehead  of a WorldPeace Advocacy. And with much effort become the first global citizen. A person who can go to the United Nations with peace projects that are global in nature. For example, ending the second class citizenship of women globally. Promoting renewal energy.  Promoting a global secular democratic world human society.  And most importantly an agenda to TEACH PEACE in all the world universities.  It is insane that we do not teach peace in the world's universities. It is natural if we do not teach peace globally increasing the peace in the world human society will be virtually impossible.
Without a figurehead, little progress will be made with a mob of peace groups all fighting to be THE GLOBAL PEACE ORGANIZATION. Peace organizations are all impotent, as in not stopping the wars in Iraq, because they have no figurehead. George Bush laughed. And rightly so. There was no one person with global support to confront him head to head. His valid question: Who am I supposed to deal with?
I am 70 years old. I have degrees in Political Science, Accounting and Law. I have written 65 books on government, religion and spirituality, the law, WorldPeace. The three major entities globally charged with maintaining and increasing the peace are: governments, religions, the courts of law. I have education and experience in all three. 
I have spent a lifetime looking for answers as to how to increase the level of peace in the world human society.  Now it is time to put that knowledge and experience to use and create a vehicle that will allow those who are determined to decrease the insanity in the world human society to come together and actually make some progress toward a more sane and just world human society. My job will be to set the WorldPeace talking points globally which are almost infinite.
There are 8000 more pages with many details on my Flagship website: John WorldPeace .com
+ Read More
Update 1
7 months ago
Share
THE CHRISTIAN SUBORDINATION OF WOMEN ENDORSED BY THE REPUBLICAN PARTY
I absolutely believe that the women movements must be led by women. But there are some barriers that White Male Christians (And politicians who claim they are Christians even though they never attend church) have made virtually impenetrable to attacks by women. Those barriers must be breached by women with the help of men and in the case of the Republican Party and Donald Trump, I am the only one who can succeed in this task.
In the case of the womens' movements, I see my role as forcing a conversation about the subordination of women in America. My main asset in this endeavor to break the back of White American Male subordination of women to secondary citizenship is that I am a White American Male with significant credentials that allow me to be heard; as I am being heard right now. In simple terms, my peers cannot discount me like they can discount almost any female challenging their power.
Let me begin with the words of Jesus regarding women who have been married to several men. The question is whose wife will she be in heaven.
The Sadducces came to Jesus and questioned him, asking, "Teacher, Moses said, 'If a man dies having no children, his brother as next of kin shall, marry his wife and raise up children for his brother.' Now there were seven brothers with us; and the first married and died, and having no children left his wife to his brother, so also the second, and the third, down to the seventh. Last of all, the woman died. In the resurrection, therefore, whose wife of the seven will she be? For they all had married her."
But Jesus answered and said to them, "You are mistaken, not understanding the scriptures nor the power of God. For in the resurrection souls neither marry nor are given in marriage, but are like angels in heaven." Matt 22: 23-29.
So what does this mean?
It means that in heaven there is no need for sexual gender and the reason is that souls cannot procreate other souls. Only God can make a soul. Sex is necessary on earth in order to propagate the human race. In that case, bodies which are dust, procreate other bodies that are dust. And to these human bodies souls incarnate or attach. Many Christians are confused into thinking that procreating a human body means procreating a soul. This is absolutely false. Humans create bodies and God inserts a soul if he so desires. 10% of all pregnancies terminate in the first 3 months as a matter of course.
So in heaven, all souls are equal with regards to the gender issue because there is no gender.
Gender is necessary on earth to propagate the human race but not in heaven. So when a soul enters a human body it is identified as male or female. But the soul is neither male or female but only resides in a male of female body. Think about this.
As an aside for a moment let me talk about the Catholic Church. It is absolutely true that the molestation of young boys by gay priests is a reality that the Catholic Church has never been able to control. Its solution to this problem is to cover it up and hide it from the public.
Now it takes a very small step to consider the position of professional nuns in the Catholic Church. As all boys are not molested by priests, all nuns are not molested. But many nuns are in essence forced to be the concubines of the priests. It does not take much to visualize what happens to nuns who complain of being raped by a priest.
Here is another aspect of this problem. Nuns and Priests take vows of celibacy. This means they reject their sexual nature. So we have to ask the question why are nuns not allowed to become priests.
There are saints and degenerate souls and those character traits manifest in the human body whether male or female.
The Catholic Church and the Republican Party are committed to the subordination of women. And as a result we have an out of balance world human society.
To women I would say that God has designated you equal with men spiritually and this has been verified by Jesus. And it is time to throw off you accepted yokes of second-class citizenship and take your rightful place in a very screwed up American society that undeniably needs to be balanced with regards to gender.
The bottom line here is that the Republican Party is not the party to achieve a balanced and more sane and just American society. The Democratic Party is where all women with self-respect must place their political commitment in order to abolish the apartheid society that is American Democracy.
A female Democratic vote is a vote for first class citizenship for all women.
SHARE THIS POST
Support my Crowd Funding for my campaign for President:
https://www.crowdpac.com/campaigns/389360/john-worldpeace
Support my WorldPeace Advocacy:
https://www.gofundme.com/promote-worldpeace
Dr. John WorldPeace JD
181025
www.johnworldpeace.com
http://drjohnworldpeacejdforpresidentusa2020.com
+ Read More