18
17
PREK TOAL HOME AND LIFE' PROJECT
$5,350
of $10,700 goal
Raised by
20
people in 5 months
Created September 3, 2017
BACKGROUND
 I am Hoksan AN from Prek Toal village in Cambodia, project manager of the "Greening Prek Toal Project 2017". This project was successfully completed 26 March 2017, thanks to many local and international donors, who supported us to run this project, along with 160 volunteers.   
There was a lot of damage to our precious flooded forests by fires in the dry season of April 2016. Many houses were severely burnt and the environment was badly damaged   Our donors' and supporters' funding and hard work resulted in 3 hectares of fire-damaged land being replanted.
Our villagers now find it very difficult to do their fishing around the lake and also in the rivers, because there are no fish nests and not much water on the lake since that time.
A EXCITING NEW PROJECT FOR PREK TOAL
Our second project is the
Prek Toal Home and Life Project,
designed to improve villagers' housing and living quality and repair the damage to families' homes in the Prek Toal floating village.
For this project will start for two time a year around which is in the month of Feb and Aug, if we could reach as per house budget goal.
The Project is focused on building floating houses for 25 poor families in my community, enhancing living conditions and improving the health of villagers' environments. This will be done through working with donors, community developers and Prek Toal Tours and Travel's guests who wish to make a difference to our community.
Our long-term goal is to create a sustainable economic and natural environment for the current and future community. 
Project goal is 25 houses need
, and
each house
including raising farm of ducks and chickens
, will cost approximately is AUS$5,350
( AUS$5,350 = US$4,173.85)

.
CONSTRUCTION
The Project aims to build simple 'floating houses' (size  
6.5m x 8.5m
), each comprising one bedroom, one bathroom, a kitchen area, a seating area which can be sleeping area as well.  For this we use the following materials:
    -  Bamboos
    - Wooden squares and plates
    - Plastic  tanks
    - Cables to stabilize houses in the wet season and protect them from the high winds.
    - Roofing material......
House Plan
It will take about 4 villagers two weeks to build each house.
The house will be built for the following families:

Family #1:

Mr KONG Samreun,
45 years old, fisherman and sometime a worker in the village and his wife Mrs SOK Neurn (pictured below with four of her 5 children), 38 years old, housewife.  Ms Neurn sometimes works cutting fish in the village with her 3 daughters and 2 sons, who are currently living on a small boat in Prek Toal village.
Family #2:
Mr.
SEURM Set 
 fisherman and sometime work as hire person for a day or monthly in the village and his wife is housewife with 5 Child.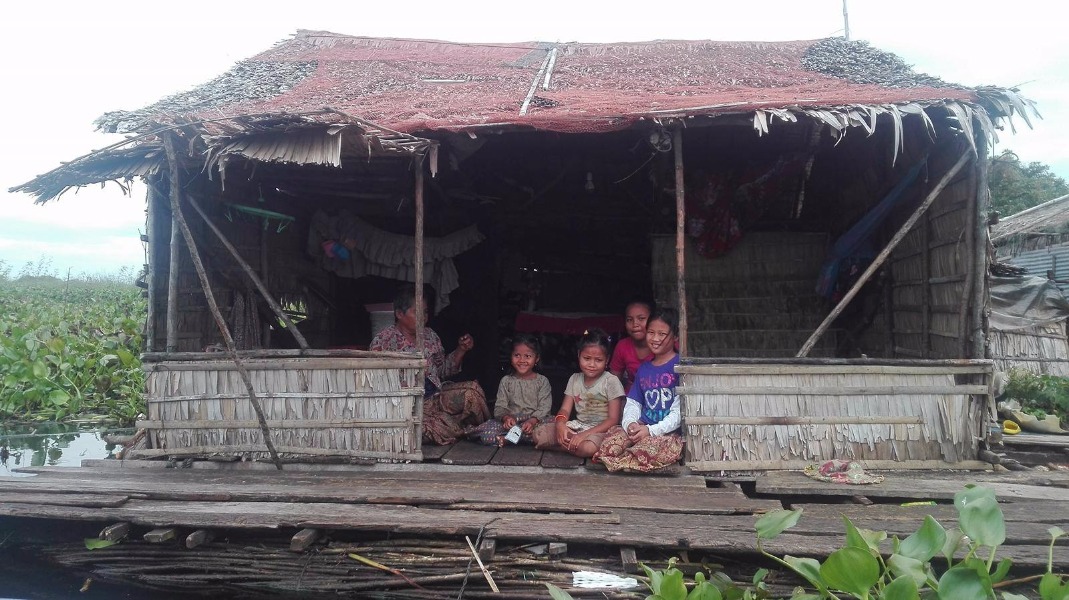 Family #3:
Mr.
PRING Hut
  fisherman and sometime work as hire person for a day or monthly in the village and his wife is housewife with 3 Child.
Family #4:
Mrs. SOK Tub fisherwoman and sometime work as hire person for a day or monthly in the village and his wife is housewife with 3 Child.
They are working very hard, fishing on the Tonle Sap lake, both in the day time and night time, but this is not enough for their survival, as they can only earn just enough for buying food.  
Must support their children who study at the school in village. Most of the time their children must help help by cutting heads off the fish to make the Khmer cheese.  When they do this they cannot attend school and their education suffers a lot.
We provide those families with the starting point of a sustainable income by raising ducks and chickens. 
This 100 in total, including 50kg of chickens' and ducks' food, and also the basics of a small floating farm as well. The animals will be cared for in floating cages (picture below)... This will be an important part of the project as it will help develop some diversity and increase the sustainability of the family's finances.
Sample of the farm
We hope to work our way through the community's neediest families and build houses for them, two at a time, depending on funding.
PROJECT COSTS
Our project goal is 25 houses (and more) to be build for poorest families, and  each house including  raising farm of ducks and chickens,  will cost approximately
AUS$5,350
( AUS$5,350 = US$4,173.85)
. 


Here is my contact detail for  your questions or individual house supporting:
            - My name is: Hoksan AN (Mr.)
            - Phone number: +855(0)77 797 112
            - Email:
anhoksan@gmail.com
 or
hoksan-an@prektoal-tours.com

           - Address: Prek Toal village, Kah Chhiveang commune, Ek Phnom district, Battambang province, Cambodia.
 (I am be able to meet you all in Siem Reap as well.)        
You're donations will go to each family, and you will have a wonderful memory to keep forever between those families and you; by putting your name and photos on a board to hang in the house. 
We are delighted if there is any local community groups or any organization and travel agency who would like to donate into our project to build floating house for our poor families in Prek Toal, please feel free to let me know anytime (email and phone above).
+ Read More