Pray for the Dead-a Musical Tale
$16,032
of $25,000 goal
Raised by
157
people in 38 months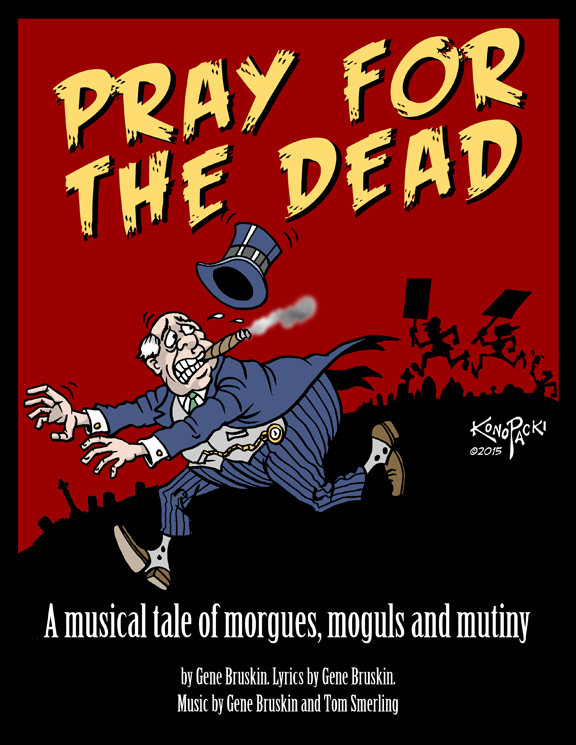 Support theater for the 90% by funding:

Pray for the Dead-A Musical Tale of Morgues, Moguls and Mutiny
                  By Gene Bruskin
                  Music by Gene Bruskin and Tom Smerling
Who is Gene Bruskin?
I grew up in a dysfunctional working class Jewish family in Philadelphia after WWII listening to ever-present recordings of Broadway musicals.  After getting out of college in the turbulent 60s I collaborated on a couple original plays about community issues in Boston in the 70s, one about desegregation bussing, and spent a summer apprenticing with the SF Mime Troupe.  But when I took a job as a Boston school bus driver in 1977, it led to a union drive, strikes, arrests and the beginning of my 37 year career as a union organizer.  My creative work took a back seat.   I retired in 2012 and took another stab at some creative writing. What resulted to my delight, was a two-act dark musical comedy for and about workers: Pray for the Dead.
     "This play can best be described as Norma Rae     meets Sweeney Todd meets Bertolt Brecht,"  
       (A friend of Pray for the Dead.)
Theater for the 90%
Pray for the Dead is written for and about workers and working  class communities at a time when much of mainstream theater is seen as unaffordable, irrelevant or inaccessible to large numbers of bus drivers, janitors, steelworkers and other wage earners.  But US history is filled with inspiring examples of theater of, for and/or by workers, much of which died out after WWII.    Pray for the Dead is a small attempt to remedy this situation. With humor, music, drama and a message of hope Pray speaks to the international crisis of growing inequality that results from corporate and political corruption.
An Allegory of heroes emerging from the morgue
The story is a provocative musical allegory of an unlikely worker uprising narrated by a mysterious and nameless cleaning woman known only as the Old Lady.  It evolves from despairing morgue workers and is set in an unknown country amidst a severe recession. Their employer, the Dug and Philup Graves Funeral Home ("Your Death is Our Life") is threatening to close. Union shop steward Harmon struggles to convince Graves to keep the business open while morgue worker Benita leads an underground effort to do away with corrupt members of the nearby parliament in hopes of generating big funerals for the failing business.  As politicians flee and the One Percent's secret society 'The Vault' seeks to intervene, things get out of hand.
The workers defy all odds, mysterious forces intervene and the true identity of the Old Lady is revealed.
Raising the urgent questions of our time, with a song.
With all the immediacy and intimacy of live theater, Pray for the Dead asks questions that are central to public debate today regarding low wages, disempowerment of workers and an oppressive political system by and for the 1%.  Pray is created for working class audiences at union meetings or in communities. The play literally sets the stage for a thoughtful discussion about social and economic injustice and the role of unions and other forms of workers' self-organizing in challenging the status quo and making life better for the 99%.
Getting the play to the people
Pray for the Dead has received substantial assistance in getting the play ready for production from First Draft , a DC Area theater organization that supports new plays and playwrights and seeks new audiences.  Skilled musicians, with valuable support from Glenn Pearson, pitched in to strengthen the music. 
How your contributions will be used
We will need $25,000 in seed money to:
Pay an artistic director a producer and a musical director, the cast and a company manager (stage manager)
Begin producing costumes/masks and props
Identify venues
Producing outreach materials to publicize and promote the play
Thank you for your support and solidarity
Let's make Pray for the Dead come alive!




+ Read More
Be the first to leave a comment on this campaign.