Please Help Jenna w/ Medical Bills!
$5,566
of $10,000 goal
Raised by
61
people in 23 months
To Jenna's family, friends, and coworkers:

We have created this fundraising page to ask for your help to get Jenna home to Seattle from San Diego, California.

Jenna was in a very bad fall on October 18th in San Diego, where she fractured her back in 5 places and suffered a broken foot. After several surgeries to repair the damage she sustained from the fall, including having two steel rods surgically installed to stabilize her spine, she's now facing a waiting period before being medically cleared to fly home to Washington where we can take better care of her.

We recently found out that Jenna's insurance will not continue to pay for her medical expenses or to be transported to Seattle. The fees may include medical transportation from UC San Diego Medical Center to San Diego Airport, the flight to Seatac Airport in Seattle, and medical transportation to wherever Jenna will need to begin her rehabilitation.

As you can imagine, Jenna is going to face some significant medical bills. While she does have limited insurance coverage, it's looking like she'll still have a massive bill to pay when she's seen this ordeal all the way through. In addition to the bills, it's going to be a long time before Jenna is able to return to work... She'll be confined to a wheelchair and backbrace for the foreseeable future.

Instead of sending gifts or flowers, we ask that you please consider donating here to help our family defray the expenses for her care and transportation home.

We are still in the midst of exploring rehabilitation options for Jenna once she makes it to Seattle, and we will continue to provide updates with her status and any new information.

Thank you all so much for your support... we hope to see you all in Seattle soon!

Love,

The Bloczynski Family
+ Read More
Update 2
22 months ago
Share
Hello, friends! I wanted to give you an update on Jenna's recovery.

She was discharged from the UCSD Medical Center two days ago... Jenna, of course, was chomping at the bit to get out the door, but we sort of wish that they had been able to care for her a little longer.

Right now she is staying with Mom and Dad at the Bannister Family House, a condo that supports long-term guests near the hospital. They'll only be there for a day or two longer before Bannister will need them to vacate in favor of existing reservations, and then it's on to a hotel nearby.

Jenna has had a handful of issues dealing with pain and staying conscious getting up out of the bed, but she's been determined to be as independent as possible (much to Mom's delight or dismay... You can guess which one.)

We have a couple of appointments this week that should shed some light on when and how Jenna will be able to travel home, so we'll share what we can once we know what the deal will be.

We want to thank everyone for their thoughts, prayers, and messages of support. We're all overcome with the kindness you've shown... Thank you so, so, so much!

Jenna asked me to post this picture of her finally enjoying the sunshine after nearly two weeks inside!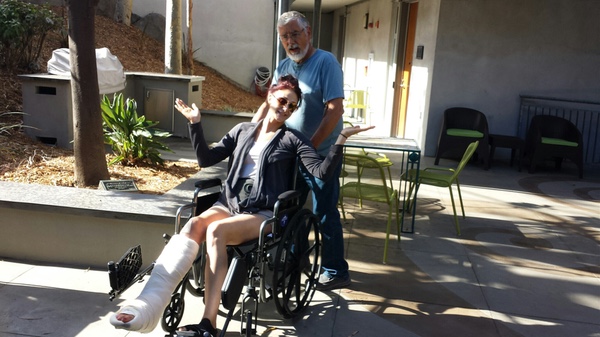 + Read More
Update 1
23 months ago
Share
In just over 24 hours, our family and friends have helped to raise almost $2,600 to help pay for Jenna's medical and transportation expenses! I can tell you that everyone in the family has shed a couple of tears at the love and generosity you all have shown her. I guess she really needs to get better now, huh? ;). But seriously, it means so much to us to have your support!

I've gotten a handful of messages from folks that I haven't been able to answer yet about the extent of Jenna's injuries. We're thankful to report that she doesn't appear to be paralyzed in any way!

Rehab and time will tell how her range of motion will be affected, but the doctors are confident that she'll walk just fine once she's been treated and had time to recover, although she may need movement assistance (wheelchair/walker/cane/etc) for the foreseeable future.

Future plans involve getting Jenna outside for some fresh air! She's been dying to get out of the hospital room to be outside, but so far she's not been able to leave the bed without passing out. She might get her wish, though, because the hospital seems insistent that she should be discharged, even though we aren't sure that she's entirely ready to be moved.

We'll continue to post updates/adventures here, so stay tuned if you wish!
+ Read More
Read a Previous Update
Be the first to leave a comment on this campaign.