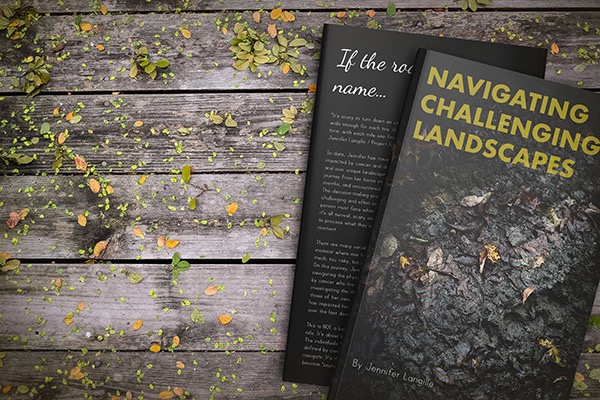 118
22
Personal Stories of Cancer's Impact
$17,315
of $18,000 goal
Raised by
147
people in 12 months
The Road Has a Name
"It's scary to turn down an unfamiliar road, with nothing more than two tracks just wide enough for each tire. However, if you go slow, in low gear and take your time, with each mile one finds inner strength, courage, confidence, and beauty." - Jennifer Langille / Project Founder
To-date, with the support of GoFundMe donations, I have traveled over 20,000 miles collecting stories of those impacted by cancer and documenting the experiences of traveling around, through and over unique landscapes of America as a solo female traveler. I began the journey from my home state of Vermont, have criss-crossed the country over eight months, and encountered quite a few challenges along the way!
The decision-making process and physical experiences associated with navigating challenging and often scary natural terrain is extremely comparable to what a person must face when encountering a cancer diagnosis. When first presented, it's all surreal, scary and the mind can almost shutdown for a moment while trying to process what they've been told, what they see, and how they feel in that moment.
There are many variables to consider. There are emotions to manage. There's a moment where one has to "take stock" of what they can handle and what is too much, too risky, too scary. 
On this journey, I've been recording and documenting my own experiences as they pertain to navigating physical landscapes on my way to meet with those impacted by cancer. I'm collecting their stories, investigating the themes and parallels between their personal experiences to those of my own, and composing a book. The inspiration to produce this book is due to how cancer has influenced my life over the last twenty years.
This is NOT a book about Cancer. Cancer is the "muse" though it is not the staring role. It's about love, passion, determination, and overcoming fears of the unknown. The individuals featured have all been impacted by cancer, however, none are defined by cancer. Cancer has been that "mountain" or "desert" they had to navigate. It's that time they got "stuck in the mud" and figured out a way to become "unstuck."
I hope those reading will
feel encouraged to share their story
  and thereby inspiring me to navigate new landscapes.
BOOK SPECS (Subject to Change)
First Edition as a Hard Cover running at 6 1/2" x 9 1/2" (or close)
Target page count is 275-350 pages
Roughly twenty-four chapters (this could change)
Full color images and or illustrations throughout
Targeted price point at retail is $35 or LESS (this of course is subject to change!)
FOR MORE INFORMATION about the book, please visit:
www.photosthatunite.com
If you share my passion for supporting those impacted by life-altering events like cancer through powerful, inspiring stories, and would like to contribute to it's future, I hope you'll consider becoming a donor.  All individual donors will be listed in the acknowledgments of the first edition. All donations of $40 or more will be eligible for a *signed* copy of the book (eta. late 2019) and all donors will have the opportunity to help VOTE for the final cover artwork in early 2019.
+ Read More