17
8
Peyote Conservation Research Fund
$614
of $13,000 goal
Raised by
15
people in 16 months
Hi Everyone!
This is Robert LeBlanc, a biology graduate student studying peyote (Lophophora williamsii) at Sul Ross State University in Alpine, TX.   The lab that I work at is one of the very few academic labs that research peyote in the world.  Under Dr. Martin Terry's direction, this lab is dedicated to the prospect that future generations will have access to peyote. One of the things that the lab does is that it researches the chemistry of peyote.  Currently, a $13,000 instrument is required to enhance the lab.  With your donation you can help to purchase this instrument. To get a better idea of what the lab has already done, you can see published work at www.cactusconservation.org . This lab has already done great work, and hopefully in the future it will be able to to more impactful work as a result of your donation.


Where is the Money Going?
HPLC Fraction Collector. The instrument that we need is an Agilent model G1364C fraction collector. Our HPLC system's software has been updated so all we need to do is connect this fraction collector to our system, and it will be ready for operation. There are suitable new fraction collectors available for around $13,000.


Issue Background:
Peyote's natural range of distribution is in our university' region in the Chihuahuan Desert. Native people in and around the Chihuahuan Desert region have used peyote for at least 6000 years. This is because of the plant's rich alkaloid content.  Alkaloids are biochemicals in plants that have physiological affect on people and animals.  With as many as fifty-seven alkaloids present in any given specimen, peyote has been a staple used medicinally as a panacea by natives. It is a "free medicine" Native Americans have traditionally used because it grows wild and is a rich source of many beneficial alkaloids.  The market for peyote has expanded drastically in recent years and the "free medicine" has been exploited on an industrial scale.  As a result, peyote has been overharvested and is now on the vulnerable species list with the International Union for the Conservation of Nature (IUCN).

The work we do in our lab is dedicated to  increasing knowledge of how to repopulate the species through education on proper harvesting practices.  This work is further dedicated to decreasing barriers to natural growth in habitat. The ultimate goal is to upgrade the species from "Vulnerable" status to "Least Concern (LC)" status.  One of the ways we do this is by analyzing how alkaloid concentrations vary in plants subjected to different environmental conditions. 

Each individual peyote plant is a goldmine of various alkaloids.  Essentially all of the scientific literature on peyote suggests that the psychoactive effects of peyote are related to the dose of mescaline, which is a phenethylamine found in peyote.  Another alkaloid of peyote known as pellotine, an isoquinoline, has historically been approved by regulatory authorities for use as a sedative-hypnotic.  Eventually the use of inexpensive synthetic barbiturates displaced pellotine from the market.  There are various other physiologically active compounds in peyote.  Some of these biochemicals  have never been studied pharmacologically.

Our laboratory quantifies the concentration of alkaloids in peyote.  To detect and purify these and numerous other alkaloids we use a High Pressure Liquid Chromatography (HPLC) instrument.  Currently our instrument works well but it is missing one major component that would boost our results.  If we had a fraction collector we would be more effective at collecting each individual alkaloid for further research.


The Laboratory Work is Done in Three Phases:
Phase 1 : Sample Selection
The below picture is a small patch of peyote, it was observed in Jim Hogg County, Texas. Samples like these are sometimes analyzed in the lab.



The pictures below are of an adult peyote specimen that has been sliced in half and dried in a plant press.  They serve as a herbarium specimen for scientific study. The left picture is of the outside of the plant, and the right picture is of the inside of the plant. The top section is the crown, the middle section is the subterranean stem, and the bottom section is the root.



The below samples are anti-rheumatic oils (aceites) and ointments (pomadas) with labeling that suggests that they contain peyote.  The market for such products has increased dramatcally in very recent years, and they have become widely available in the urban markets of Mexico and in borderland regions of the United States.  This is a problem because peyote is a vulnerable species.




Phase 2: Preparing the Samples for HPLC Analysis
The below pictures are of silica gel columns, these have been used to prepare samples for HPLC analysis. On the left is a dark green sample loaded onto the silica gel. On the right, after flushing the sample with a solvent, the pigments were separated.  After separation, fragments of the elluent are filtered and stored in vials.



The below 2 mL vials are designated for HPLC. These go into the auto sampler of the instrument, which extracts and injects samples into the instrument for analysis.




Phase 3: HPLC Analysis
Our HPLC analysis is done with the instrument found below to the left.  This is an Agilent Infinity1260 model HPLC.  This instrument provides data on which alkaloids are in each of the samples. Those data state separation times and help determine masses of each compound in any given solution being analyzed.
To the right is the fraction collector; this is what we are seeking as an equipment upgrade. This will allow us to efficiently and consistently collect each separated alkaloid for further analysis. This is an Agilent model G1364C fraction collector.  It will collect each separate alkaloid peak that is emitted from the instrument.  These peaks often contain single alkaloids.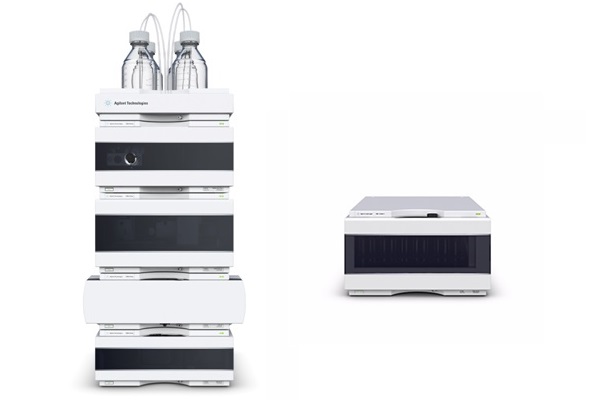 Post HPLC Analysis: 
After the purified alkaloids are collected, samples are analyzed with gas chromatography and mass spectroscopy (GC-MS) analysis to to enhance our knowledge of the structure of each molecule and to confirm its identity and purity.

Benefits of an HPLC Fraction Collector:
1.  Better precision
2.  Better accuracy
3.  Quicker resluts
4.  Reliable consistency


Current Projects:
We are examining alkaloids in topical products purported to contain peyote that are manufactured on a large scale and widely available. 
We are also evaluating the correlation, if any, between individual rib count and alkaloid concentration.


Completed Projects:
In the past, this laboratory research has found higher mescaline concentrations in mature crowns than in immature regrowth crowns ("pups") that grow in response to correct harvesting.
This laboratory also found higher concentrations of mescaline in the crowns versus the other tissues (e.g., subterranean stem and root) of mature unharvested plants.
There are more projects and one thing that these projects have in common is that they all have implications for enhancing peyote conservation by increasing knowledge of the morphology and chemistry of the peyote cactus.
See the links below for some of the academic articles that were published, and feel free to ask for more papers if you are interested.


Scholarly Peyote Links:
A preliminary report of mescaline concentrations in small regrowth crowns vs. mature crowns of Lophophora williamsii (Cactaceae): Cultural, economic, and conservation implications

A tale of two cacti --- the complex relationship between peyote (Lophophora williamsii) and endangered star cactus (Astrophytum asterias)

Mescaline concentrations in three principle tissues of Lophophora williamsii (Cactaceae): Implications for sustainable harvesting practices.

The IUCN Red List of Endangered Species: Lophophora williamsii


Proper Peyote Harvesting Video:
In the video below is Dr. Martin Terry DVM, PhD.  He is the faculty advisor in charge of the laboratory.  In this video he instructs how to properly harvest peyote.  He is introduced by Bia Labate, PhD.



People Involved  With the Laboratory:
Dr. Martin Terry DVM, PhD,  Laboratory Director
Robert LeBlanc, BA, BS, Graduate Student Researcher
Richard Newbold , BS, Graduate Student Researcher
Molly Klein, BS, MS, Researcher/Consultant


Please  feel free to contact us if you want to know anything related to peyote, or anything else we might be working on, we will be glad  to speak with you.
+ Read More