Tropical Permaculture Guidebook
$11,205
of $20,000 goal
Raised by
113
people in 24 months
Welcome to the Tropical Permaculture Guidebook
GoFundMe campaign!
"Twelve chapters of the guidebook are now available to download and we operate through the Fair Share ethic by offering that people pay as they can.

Thankyou! What incredible support!
We have reached our $10 000 target, we are totally amazed and inspired to have made it.

Our team are working hard to finish the English version (only a couple of chapters to go!) 

We will be continuing this crowd-fund - now to raise funds to develop a Tetum language version, to be used by its 'home' country, Timor-Leste.

We are also upgrading our website and will continue to disseminate the guidebook across the tropical world. Without much promotion so far we have had 13000 downloads in 145 countries! "

Extract from Feb/March 2018 update.

Complete: Stage One $10 000  (English Version)
Current: Stage Two $10 000 (Tetum Language)

Permatil (Permaculture Timor Leste), xpand Foundation and Disruptive Media are producing the
Tropical Permaculture Guidebook
.
It is an open-source resource that will improve health and well-being, education and training, food security and sovereignty across the tropical world, and is especially for developing countries. This guidebook takes the broad aim of creating sustainability and provides the how-to links for communities and farmers to actually achieve it.
It turns theory into practical steps that anyone can take and use to affect positive change.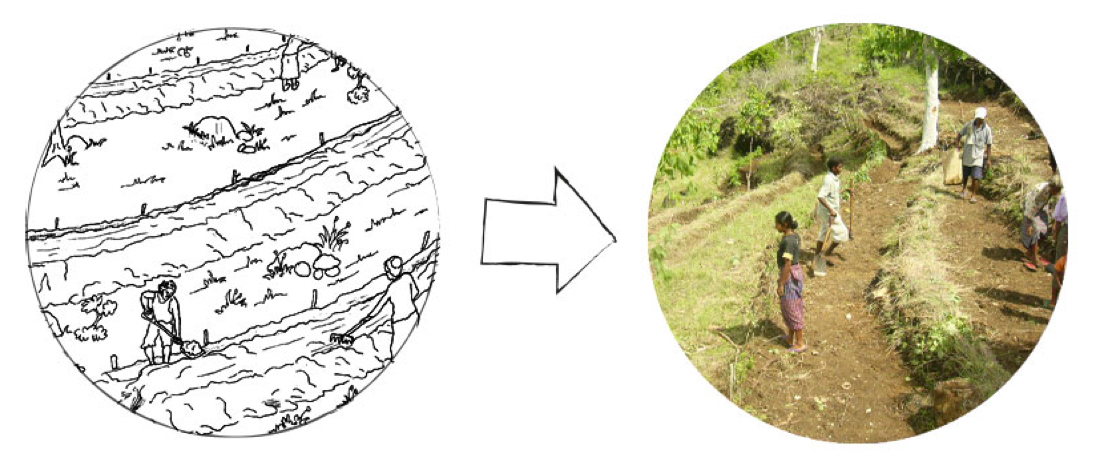 The guidebook covers ALL aspects of food production and living, especially addressing the steps needed to protect the environment, reduce climate change and develop resilience to its impacts.
This includes a focus on agroecological, small-scale, organic food production integrating crops and based on regenerative soil and water management.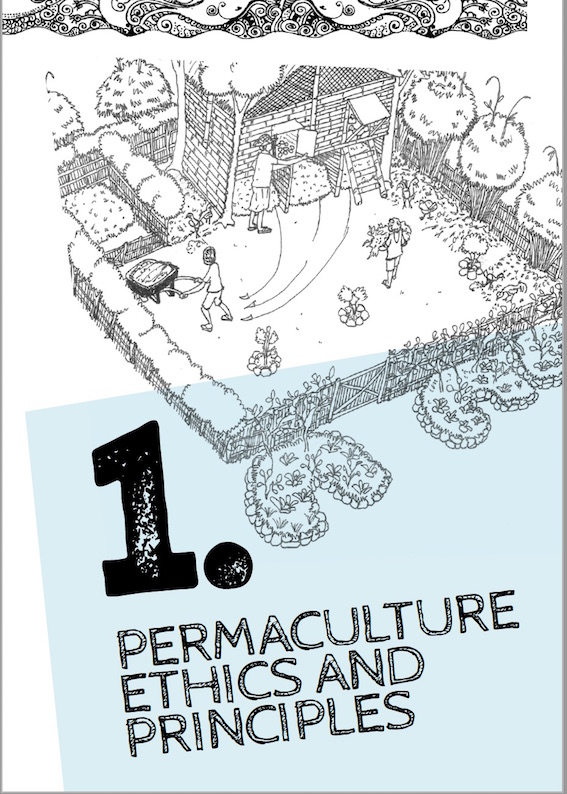 It is being developed from the highly successful Permaculture Guidebook from Timor Leste published by Permatil in 2008; used by farmers, families, community groups, trainers, demonstrators, government departments and staff, schools, universities, agricultural colleges and NGOs in Timor Leste, and re-used and translated in more than 10 countries.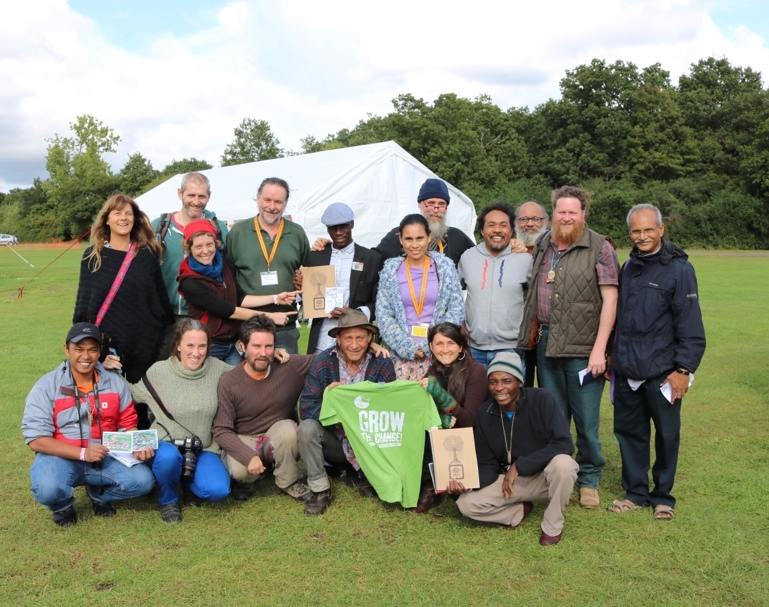 This new edition is a comprehensive update; including hundreds of new illustrations, new chapters and techniques, with the content now generalised for all tropical countries.


The easy to understand information can be used by readers of all economic and social backgrounds, and with over 2000 detailed illustrations, it is especially useful for semi-literate and illiterate people.
It will be free online, downloadable in chapter format, with the chapters averaging 40 - 50 pages each.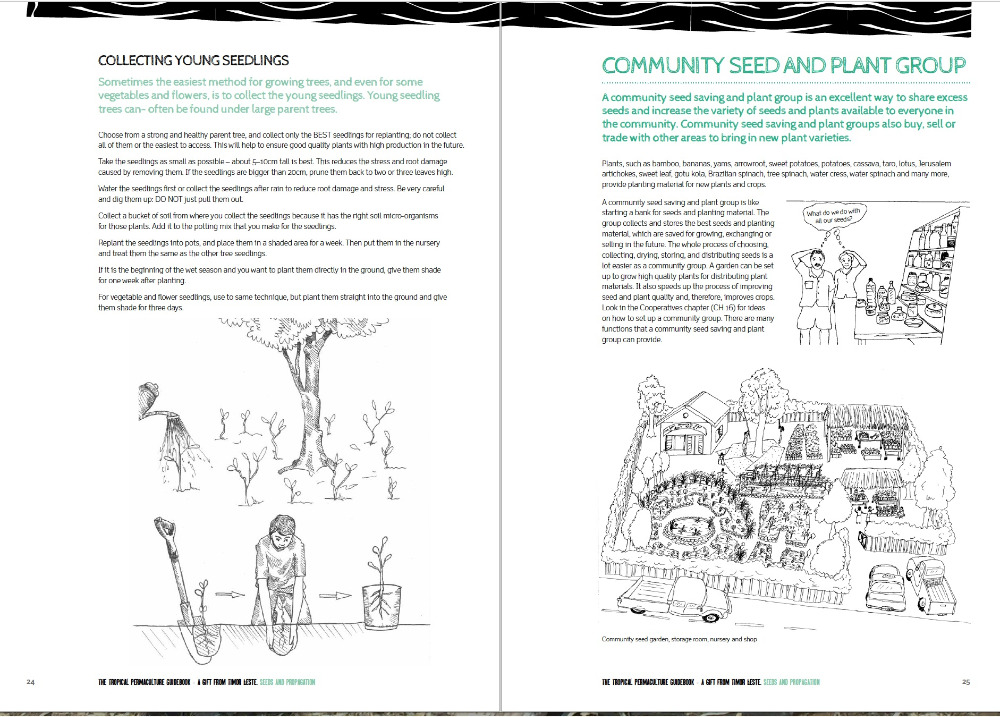 A page spread from Ch 8 Seeds and propagation
To see these chapters completed, then printed and published online - for people in developing contexts across the world to begin using, we're inviting you help us, and by doing so, becoming part of the project.
With your support we can achieve our aim: for this important resource to be accessible and available to all.
We are also approaching larger funders such as NGOs, Foundations, and ethical businesses to help sponsor other chapters.
Small individual contributions are just as important to us as those from large organisations - they helped to get us started with this project and they add up to something big! They also give us heart and encouragement to keep on with our project! Once we reach our target here we will raise the bar higher with the aim of funding another chapter.
Visit our 
website
for more details about the campaign and what it will achieve.
Visit our Facebook page: 
Tropical Permaculture Guidebook
for loads of information about the book, the team and about great permaculture ideas and links for the tropics.
In all the Sponsor a Chapter campaign will enable us to finish the English version of the guidebook as well as translate, format and post an online Timorese language (Tetum) version and lay the ground work for translations into other languages too.
It seems like a lot of money, but this is a BIG project!
When finished the book will be:
- MORE than 800 pages- 17 comprehensive chapters- MORE than 2000 detailed illustrations- Including a reference chapter and trainer's guide- In multiple languages- Available to online, "Pay as you can".
- Download chapter by chapter.
- Available in print.
Our dedicated team have been reviewing, writing, re-structuring chapters, researching, illustrating, editing for technical information, editing for spelling and grammar, compiling finished chapters, formatting, format reviewing, adding illustration captions, final formatting and editing, resizing and uploading to the website! And that doesn't even include project management, website development, language translations, sourcing funding, administration and budgets, media and communications and guidebook promotion to make sure that we get the book across the tropical world and further!!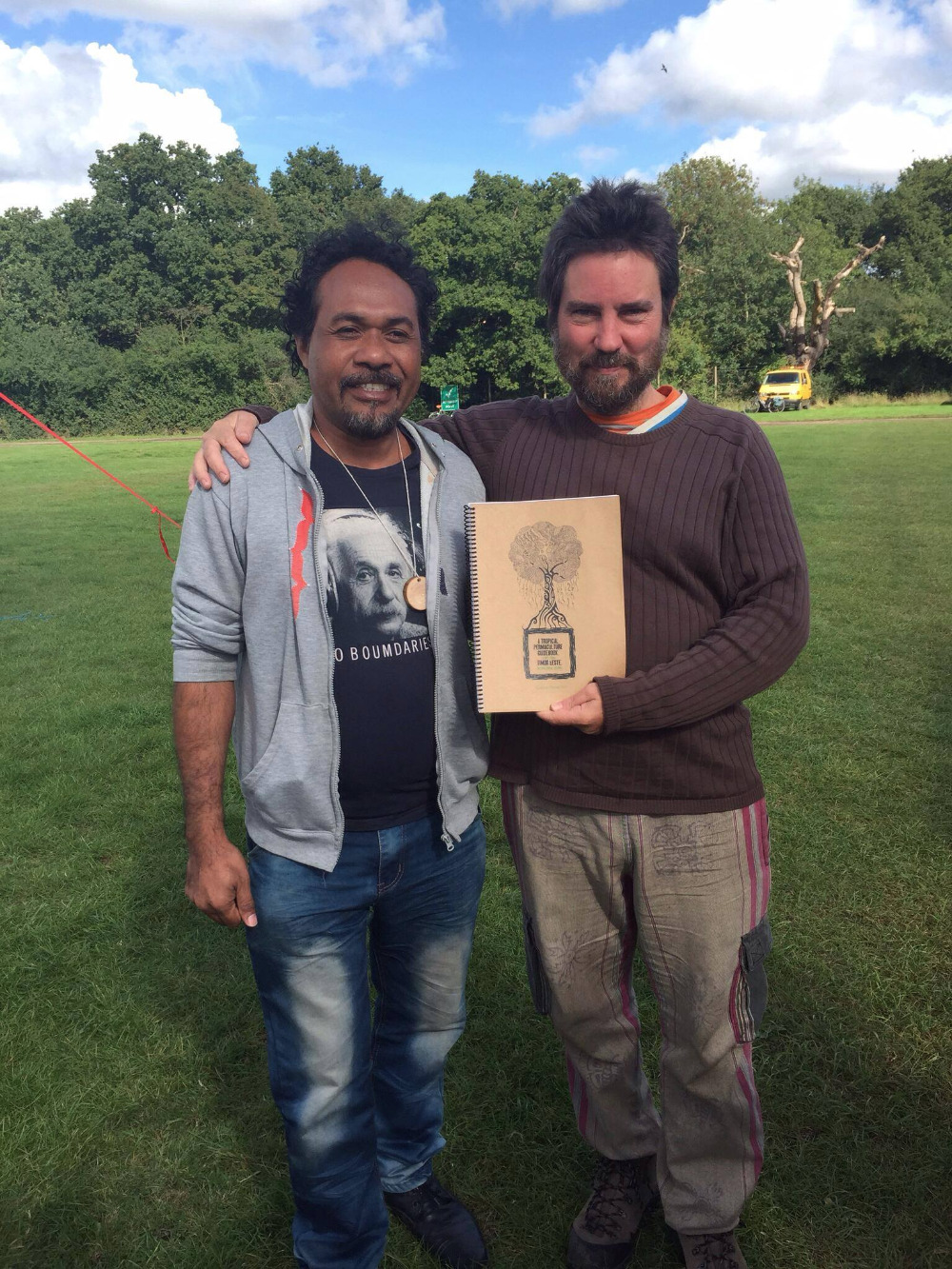 Guidebook authors Eugenio (Ego) Lemos and Lachlan McKenzie - part of a big production team
With many chapters already completed, some very close and all others are at the final stages of editing and layout, the book is on track and completion is in sight; but we need your assistance. We look forward to completing the English edition very soon, and progressing onto other language editions after that. With your support that can happen.
A page spread from Ch 6 Family Gardens
 As a valued supporter of our guidebook project your name will be listed on
permacultureguidebook.org
You will be part of providing this invaluable resource to people who desperately need it and can't afford to pay for it.
From us a HUGE THANKYOU because you are helping us achieve our goal. We have seen how much difference the original book has already made in Timor Leste and we want to replicate and expand that positive change across all tropical countries.

From the people who use this book - they will probably never know that you helped them and their families, but they will be able to have more food, cleaner water, be more resilient, more sustainable, have better livelihoods and live in healthier and more stable communities.  YOU will know that you've contributed to that!!



+ Read More
Sounds amazing. Is this project still active?
+ Read More
The new book looks amazing! If you haven't had a chance to read the chapters yet -do! Jump on the website permaculture guidebook.org
+ Read More