Build an outback star deck
$6,530
of $68,000 goal
Raised by
17
people in 5 months
We need your help to raise funds to design and build an astronomy observatory, education centre and viewing platform in the South Australian Far North opal mining outpost of Andamooka.  Your contribution will bring the locals, tourists and visitors closer to the stars,  increase cultural literacy and kickstart our tourism industry.



Our Aim
We want to educate and create local jobs! Our project will upgrade Andamooka's tourism infrastructure and offerings.

Andamooka is an outback gem
Andamooka is one of Australia's last frontier opal mining settlements located in northern South Australia.

All who make the trek out to visit agree it's a town with heart and adventure. We want to attract more tourists and work with our community to build an amazing tourist attraction with heaps of educational and employment opportunities for our locals. 

What will the space be used for?
+ Education centre: local outback kids will get into science, read books, learn languages and love the night skies.
+ Develop and work in partnership with Aboriginal local bush food and art cottage industries
+ Provide tools and infrastructure for Aboriginal rangers and local tour guides
+ Host the "Astronomers Anonymous" a local group of astro-holics who love to promote the night skies of the SA Outback

Why astronomy in the outback?
There is a massive global interest in the night skies, astrophotography, space, science, Aboriginal astronomy, sky phenomena, cosmic events, wildlife, wildflowers, birding, tiny homes, living off-grid, fossicking for dinosaur bones, fossils, opals and gold.

All of which can be found at the Andamooka Observatory.

Who is Andamooka Observatory?
We've recently bought a bit of land high on a hill in Andamooka and have been hosting star parties and community events from our humble building nestled in the mullock heaps. 



The community interest has been huge with many townspeople and tourists enjoying informal gatherings where we stargaze, learn about aboriginal skies and enjoy local bush tucker. 
https://www.facebook.com/andamookaobservatory/
http://andamookaobservatory.com.au/
https://www.instagram.com/andamookabooks/


One of our "moonie" nights included the use of the towns portable screen. We were able to hook it up to a telescope and show the super blue moon on the big screen. The kids and families loved it!



Here is an extract from a recent interview Conan Fahey did for the  Autumn edition of Fritz Magazine.

"My parents caught opal fever and I learned young that Andamooka is a magical place where you always have a chance. We visited Andamooka from the mid-70s to visit family and I lived in Andamooka in the late 80s and mid-90s. This is the third time I came to visit Andamooka and ended up staying on. I love being in the Tuckabox Front Bar when a local crusty miner or an overseas tourist goes 'have a look what I found'. From worth a few hundred bucks to a few thousand to a few hundred thousand in all shapes and forms (crystal, black, jelly 'blobs', matrix, painted ladies and opalised fossils including dinosaur bones).  I love the isolation, the silence, the strong independent characters in the community, the elements, the resident emu family, handshake deals, the Seven Sisters, meteor showers and opal :) It's one of Australia's last frontier settlements, it's like taking a step back in time…but you also have pressed the wrong button and have ended up on a Mad Max set on Mars. "


Here's the view from our yard. The night skies of Andamooka are incredible with zero light pollution.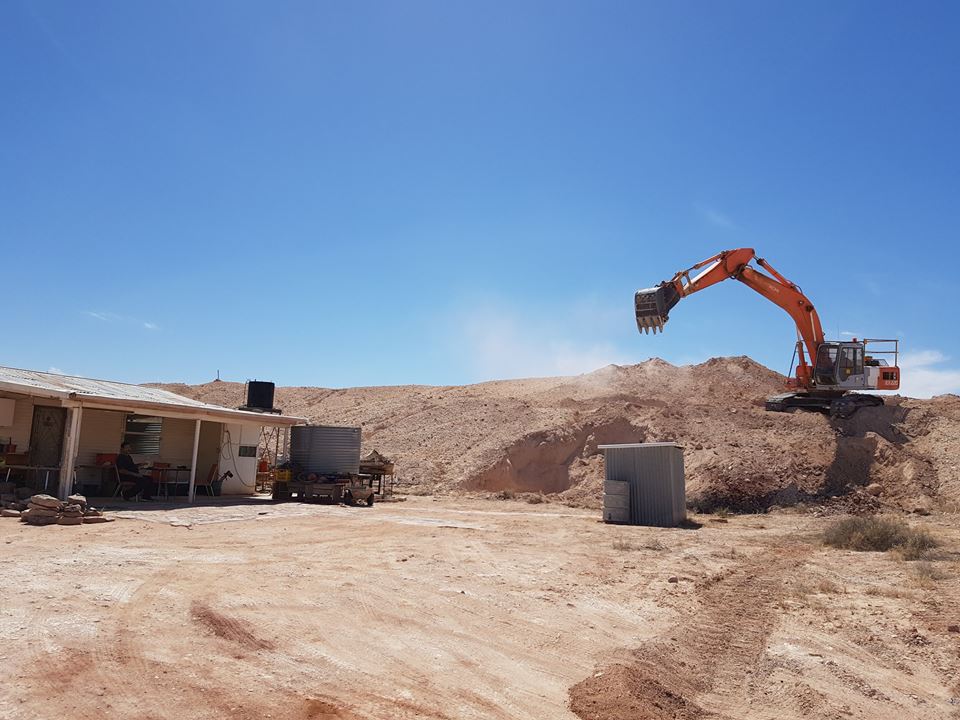 We've made a start and were lucky to have Northern Earth Movers begin landscaping our yard in preparation of the viewing platform.

How will the funds be spent?
Your money will go towards the planning, design and construction of the Andamooka Observatory Star Deck. The deck will be used to attract tourists and host stargazing events. You're not just helping to build a platform - it's a foundation for the future. We'll use it to attract tourists, employ locals, educate youngsters and kick start cottage industries.

We look forward to updating you on our progress. All reward levels of donation are hugely appreciated.
+ Read More
Be the first to leave a comment on this campaign.