Keep Our Homes Detroit
$108,463
of $100,000 goal
Raised by
390
people in 46 months
Keep Our Homes Detroit
25,000 homes in Detroit are up for auction and at least 8,000 of them are occupied.

Our Goal: Raise $100,000 to help keep Detroit families in their homes permanently as part of the Storehouse of Hope Community Land Trust. Take action today! The Wayne County Foreclosure Auction ends October 22nd, 2015

How It Works: The money we raise will be used to keep Detroit families in their homes. Many occupied homes were purchased last year for as little as $1,700—you can see how much impact each dollar you donate will have. All additional funds raised beyond the cost of purchase will go into repairs to the home and paying 2015 taxes.

We have the the opportunity to keep Detroit families in their houses. But we only have 10 days to do it.

Will you donate to keep Detroit families in their homes?

Through frequent updates we'll be meeting some familes participating in Keep Our Homes Detroit and share our the results of our bidding in the auction.

VIDEO - 'Nothing Like It' The Houstons
Video Credits: Kate Levy

Detroit residents are undergoing the largest mass tax foreclosure crisis in US history. In the next 10 days –until October 22—up to 8,000 occupied Detroit homes Detroit will sell for an estimated average bid of $2,400 at the Wayne County Treasurer's Auction of Tax-Foreclosed Properties.

Detroit People's Platform and Storehouse of Hope Community Land Trust are teaming up to purchase occupied homes in the auction and secure them permanently in a Community Land Trust (CLT) so families can stay in their homes and we can ensure that these properties remain permanently the off marketplace and out of the hands of speculators. Families participating in the program have been connected through the United Community Housing Coalition. UCHC provides free housing resources for low and no-income Detroiters. 

We've reached a vital moment where we can beat the auction at its own game and buy land to 1) keep families housed and 2) place more homes in a community land trust that will ensure these homes remain permanently affordable and safe from speculation.

VIDEO - 'I am Detroit' Mr. Gerardo
Video Credits: Kate Levy

A Hurricane Without Water: Detroit's Tax Foreclosure Crisis

In 2015, nearly 37, 000 occupied Detroit homes were foreclosed upon due to incorrect tax bills with exaggerated property assessments, exorbitant interest rates, and disputed water bill liens. Long-time residents are the heart and soul of Detroit. Ongoing displacement of our families from mortgage and tax foreclosures has been devastating. Public services are being cut and privatized, and Detroiters are being pushed out of their generational homes.

This has only been possible because of the erosion of effective governance in Wayne County and Detroit, where our leaders have decided it is better to have vacant, empty structures subject to scrapping than low-income families in homes. This campaign is more than about saving our homes, it's about restoring our democratic power and asserting our dignity.  

Here's how: Each participating family whose home is secured through the land trust will also make a commitment to playing an active role in Detroit's housing rights movement and the #Homes4All Campaign. Homes4all will facilitate weekly workshops on foreclosure danger, how to build power to change some of the rules that created this massive foreclosure crisis in the first place, such as the laws that make income-based property exemptions difficult to obtain and retain; the government's inability or unwillingness to send residents accurate tax bills that reflect the true value of the property, and not inflated, 2007 values.

These weekly meetings will be modeled around the PAH, in Spain, which in three years has seeded 220 independent associations within Spain, stopped thousands of unjust evictions, and resulted in an unprecedented rise in the political power of those most directly impacted by unjust laws, so much so that the PAH's members were elected as mayors of Spain's three largest cities, Barcelona, Madrid, and Valencia just this year.

For us, this is about more than homes: it's about power, about movement, and about proving that we are the ones we have been waiting for—we are here to build the world we know is possible; one built on the interests of people over profit, the good of the community over the good of the individual, democratic self-governance, dignity and high quality of life for all, and sustainability.

We believe that community control of land is necessary and possible. As displacement accelerates in Detroit, we will protect our communities by prioritizing the fight for permanently affordable housing, community control of land, and systems of mutual aid and support that grow our power, our voice, and our dignity.

These next 10 days are critical.  At a low cost, we can ensure that families stay in their homes and enable the community to regain permanently affordable housing under a community land trust. Please donate to keep a family in their home. The bidding opens on October 15th and ends on October 22nd.

LEARN MORE

About Community Land Trusts (CLTs)
CLTs can serve as powerful tools for Detroiters to build assets and support grassroots, community-led development. The CLT is legally bound to keep its housing affordable during turbulent markets and thus provides an equitable buffer against gentrification while still allowing needed development to take place. CLTs focus on community ownership, access to affordable housing, preservation of public space, and fostering sustainable enterprises. They are proven to be an effective model to protect against the loss of housing through foreclosure, to support stabilizing community development, and to build wealth for the communities.

About Storehouse of Hope
Storehouse of Hope is a client-choice food pantry serving approximately 3,000 families in Detroit's North End annually since 2008. The Storehouse of Hope as has been at the forefront of Detroit's CLT movement, installing 10 residential, solar street lights in the North End which property owners placed in a community land trust to democratize energy ownership and production. In fall 2015, Storehouse purchased land to create Detroit's first and only community land trust to ensure permanently affordable housing in the area and is working on securing space to build out a permanent pantry for all North End residents to use. The land underneath the pantry would also be owned by the community land trust.

About Detroit People's Platform
Detroit People's Platform is a membership-based, city-wide, district-organized, issue-focused advocacy group committed to building power and movement with the residents most directly impacted by social injustice. Since 2013, we have grown a network of over 3,000  Detroiters, with 300 members and about 20 active Caucus Leaders. DPP has held community control of land and equitable development without displacement as core values and promotes the development of community land trusts (CLTs) in Detroit and is a member of Right to the City Alliance, Homes for All Campaign, and the National Community Land Trust Network.

About United Community Housing Coalition
The United Community Housing Coalition (UCHC) is a nonprofit comprehensive housing assistance organization which has provided a variety of housing-related services to Detroit's low-income residents since 1973. UCHC is partnering with Detroit People's Platform in this campaign to identify participating families.


About Detroit's Foreclosure Crisis (links)

One-Fifth of Detroit's Population Could Lose Their Homes

Detroit Braces for Foreclosure Crisis  (with additional links at the end of the article) Includes findings such as:

*More than half of all bank-foreclosed homes are blighted in Detroit. The cost to taxpayers: $500 million. Explore a database and map of tax-foreclosed homes in Detroit
*More than 1-in-3 homes have been foreclosed in 10 years in Detroit, the equivalent of every house in Buffalo.
*Subprime lending was rampant in Detroit and areas with the most high-priced lending are the most blighted.
*Dan Gilbert and his company, Quicken Loans, are entwined in Detroit's blight issues raised by the foreclosure meltdown.
*More stories, video, multimedia in this series at foreclosure.detroitnews.com

2-Pager Breaking Down Economics and Social Impacts of WC Tax Foreclosure

Video: Understanding the Wayne County Tax Foreclosure Process and How It is Ruining Our Communities, Socially, Culturally, and Economically.

A People's Story of Detroit

Detroit People's Platform Vigil at Treasurer's House, Demanding Tax Foreclosure Moratorium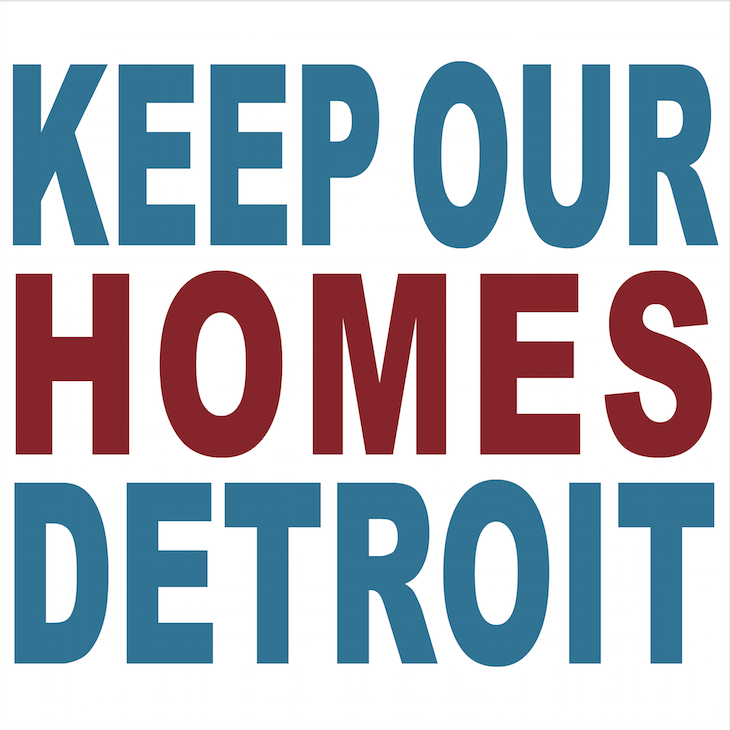 + Read More