92
3
Opening my parents dream restaurant
$4,500
of $10,000 goal
Raised by
84
people in 10 months
Assist me in helping my parents accomplish their dream of opening a restaurant  in our hometown, Northfield. The restaurant will build on to the catering and food truck they have been running in since 2003!

My parents, Maria "Patty" and Rafael Estrada, are incredibly hard working people who have built a catering and food truck business by themselves, despite really difficult obstacles. My parents are too humble to ask for help, so I decided to organize this fundraiser because I want to help my parents and thank them for all  they have sacrificed for my younger sister and I. My parents have called Northfield their home for over 20 years and have fallen in love with the community of people that have been so supportive during their time here. In March of 2011, my mom was diagnosed with Stage III breast cancer and endured 16 weeks of chemotherapy, 6 weeks of radiation treatments, a lumpectomy, partial mastectomy and other complications from surgeries before successfully being placed in remission in June of 2012. These intensive treatments forced my mom to quit her job, which provided benefits, so our family lost our health insurance and racked up over $100,000 in debt. Three months after her diagnosis, my dad was laid off from his 15-year position as a brick layer for a construction company that shut down due to the economic crisis, making us lose our home to foreclosure. In November of the same year, I discovered a tumor on my ovary that required immediate emergency extraction. The claim for my procedure and treatment was declined due to our medical insurance expiring a mere 11 days prior, adding on more to our financial debt. Despite these and many other hardships, my parents have maintained their hope and persevered through everything. They have placed my younger sister and I's goals before their own by doing all they can to accomplish them, such as making it possible for me to attend college as a first-generation student. Because of all this, I would like to raise funds to help them finally accomplish their dream of opening a restaurant in our very own Downtown Northfield.

My parents have been in the food business since 2003, when they bought their first food truck and opened here in Minnesota, travelling to various food festivals and fairs during the summer. In 2005 they upgraded to a larger, more modern food truck that is still in service today, known as Maria's Taco Hut. In addition to the food truck, they have done professional catering for our local Rotary Club meetings, Northfield United Methodist Church's Wednesday night community dinners, weddings, graduation parties and many more events since 2007. In 2016, they were able to obtain a kitchen in Castle Rock reserved for Catering and takeout. As their business has grown over the years, they have dreamed of opening a restaurant. Despite health setbacks, the financial crisis, discrimination, and while conducting their business over the years and being in search of a restaurant location, they have finally been able to secure a great spot in Downtown Northfield for our future restaurant. Although they have the location set, they would like assistance with purchasing equipment that would allow them to reach their full potential and provide their best service as restauranteurs. The $10,000 that are being asked would go towards funding:


- Refrigerated Prep Table ($1,500)

- Electric Convection Oven ($3,500)

- POS system ($1,500)

-Dishwasher ($3,500)


We would like to give a special thanks to Victor and Kiffi Summa for the great support and faith they have had in us throughout this journey.
Donors will be invited to an open house dinner at our restaurant to thank them for their support.
+ Read More
Update 2
4 months ago
Share
Please RSVP if you plan on attending our Thank You open house Saturday, January 26th.

Gracias!
+ Read More
Update 1
4 months ago
Share
It's been almost six months since Kahlo opened and we're going strong! We never could have succeeded without your love and support.

Come celebrate with us Saturday, January 26th from 3:30pm to 5:50pm and enjoy complimentary refreshments, music, and the new murals in progress on the walls of the restaurant.

There's even a kids' corner where kids can add their own art to the walls.

See you then!
Love,
Kahlo and the Estrada Family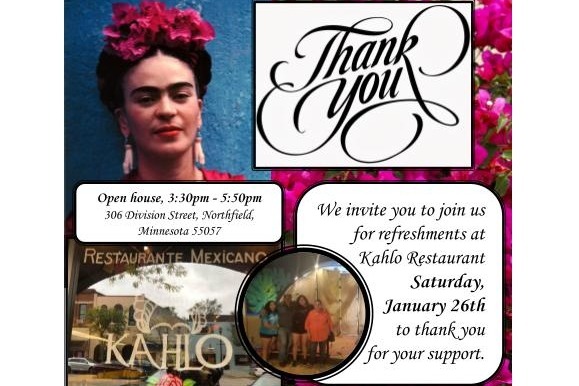 + Read More
Read a Previous Update