Oliver's medical travel expenses
$555
of $1,000 goal
Raised by
20
people in 15 months
So, update on Oliver:
Thursday May 18th he's feeling tired and run down with a slight fever after a full day at school.
Friday morning he is still a little run down, but we'll enough to go to school.
Friday night he starts vomiting, and has bad diharia.
Saturday morning he is beyond sick with what I'm assuming is a gastrointestinal viruse. He was weak, red eyes, (I assumed from the frequent vomiting and lack of fluid intake) high fever, sore muscles, sore stomach and would just sleep. I become worried because he's never been THIS sick before and usually shakes off viruses by now.
Sunday morning he's the same, no energy, just sleeping, has a cough, sore throat, still vomiting and constant diharia. He's not drinking much, he won't eat, he's in pain. I call 811- they tell me to make him a doctor's appointment if his fever lasts more than 5 days.
Monday morning comes along, he's even worse. He's not eating or drinking at all, won't get up, not using the bathroom and now has a slight rash forming on his neck and face. He has swollen lymph nodes and his eyes are completely bloodshot. I panic, get Ollie, Amelia, and myself​ ready and head straight for Annapolis hospital to have him checked out.
The nurse puts us in quarantine in fear that it could be the measles.. The doctor comes in, checks Ollie over, he has no pronounced​ measles like rash, nothing in his mouth, and he's had all his vaccinations including his two measles shots. So the doctor determines that it must be a virus and possibly a cousin to the chicken pox (couldn't be the actual chicken pox because he had that vaccination)
Dispite his high fever, rash, dehydration and being in absolute agony, he is sent home, and I was instructed to give him Tylenol and benadryl, and if he gets worse to bring him back.
Tuesday morning Ollie does not come out of bed. He says his legs hurt too bad and that he thinks he's dieing. He is covered from head to toe in the worst rash I have ever seen, his fever (with Tylenol and benadryl) was past 40° and his lips were so swollen that they were cracked and bleeding.
I immediately pack up Amelia and Ollie and rush him to Kentville hospital.
Again we get quarantined due to suspected measles. He is checked over, and the doctor tells me that it's not measles because he's vaccinated, and it's just something viral and to just keep giving him Tylenol and benadryl, and try to get him to drink. He then says we can go.
At this point, I loose my shit.
I demand that he gets, at the very least, blood work done and get some fluids into his obviously dehydrated body!
The doctor was hesitant, so I demand to see a pediatrician immediately!
After some humming and hawing and getting me calmed down, they finally get Oliver a pediatrician.
At this point the pediatrician is very concerned and completely perplexed over Ollie. His rash was unlike anything he's ever seen. He showed similar signs of measles, but he's been vaccinated, didn't have the mouth sores and didn't have a runny nose, but he decided to have him tested just to be safe.
The nurse comes in, runs an IV on him to get him hydrated and does blood work. She needed a urine sample, but he was just to dehydrated to produce a sample, so we wait a little bit to allow the fluids to go through his body.
At this point, my mom arrives to help me with Amelia while we get Ollie taken care of, and Ollie starts to perk up a little and says he's hungry... I call for the nurse and she comes right in. When she got to the room, Ollie tells her that he's hungry and needs to pee, so we bring him to the bathroom to get a urine sample at the same time. As he's peeing, he starts to panic yelling that he can't see and that he's blind, then gets right stiff, shakes and drops in my arms. At this point the nurse grabs him from me and I grab his IV pole and race to the ICU where he has doctor's and nurses trying to figure out what the hell is going on with him.
They come to the conclusion that it can't be measles, but Kawasaki disease. He had all five of the symptoms, so he gets admitted for treatment.
He goes through blood infusions, and screams in pain all night from his inflamed blood, stomach pain and inflamed joints, and he throws up several times.
The next morning his rash is gone, and he's feeling a lot better! His fever continues to drop and everyone is stunned.
He is put on high doses of asprin so that his heart doesn't form an aneurysm, or any other heart complications. This is something he will be on for a long time, along with regular Echo's due to the treatment and the over all Kawasaki disease.
He spends another night at the hospital, and he's even better the next day, but he has mild anemia, and his blood is all messed up. They were going to release him, but I refused to leave.
That evening I decide to take Ollie for a walk around the wing (like we have been doing many times to save him from cabin fever lol) and nurses rush over and usher us to our room. We find out that his urine results came back positive for the measles!!!
So we're quarantined again! After all the visitors we had come and go, and all the nurses and doctors in and out of his room. NOW everyone comes in with their masks, protective gowns and gloves to come check on him... These are the same medical professionals who have been tending to him all along...
Now there's a huge panic. People from Halifax, infectious disease people, specialists and public health are swarming through the hospital like there's a dangerous alien on the loose that has to be found...
Then they tell us that the hospital has circulated air, and that the entire hospital is being infected... So they have to move us back down to the ER in the low pressure room, so we can be contained and quarantined.
Today is Friday, and after spending the night in the ER, the doctor comes in and tells us that Oliver has both the measles AND Kawasaki disease.
Thankfully he's no longer contagious, and feeling way better!
I refused again to go home today, I want to see his blood work and other tests normal before we go anywhere.
They just moved us back up to our room, and he's still being monitored​ for at least another 24 hours.
Ollie is the ONLY know case of contracting measles while having all his up to date immunizations​, AND Kawasaki disease at the same time.
I have one strong, brave little man! I couldn't be more proud of him !
Trust your gut mom's and dad's. Fight for your kids if something doesn't seem right! We know our kid's, so don't take no for an answer.
If Oliver didn't have his vaccinations, and didn't get help when he did, he would be dead right now. The vaccines lessened the severity of the measles while his body ALSO fought the Kawasaki disease.
Oliver will have to go back and forth to the IWK (2 hours away) frequently to monitor his heart. He is extremely high risk for heart anyurisms, blockages, or a heart attack. He is on a daily dose of asprin to help avoid any heart complications.
We also have to make frequent trips to his pediatrician who is about an hour away from us, to monitor him.
Thank you.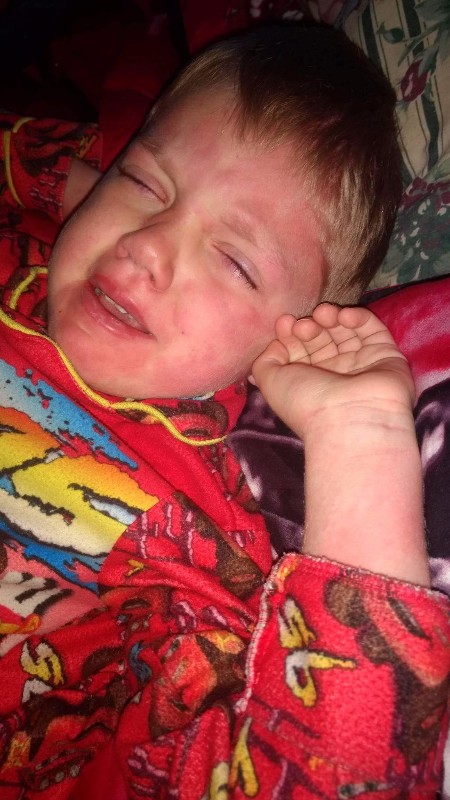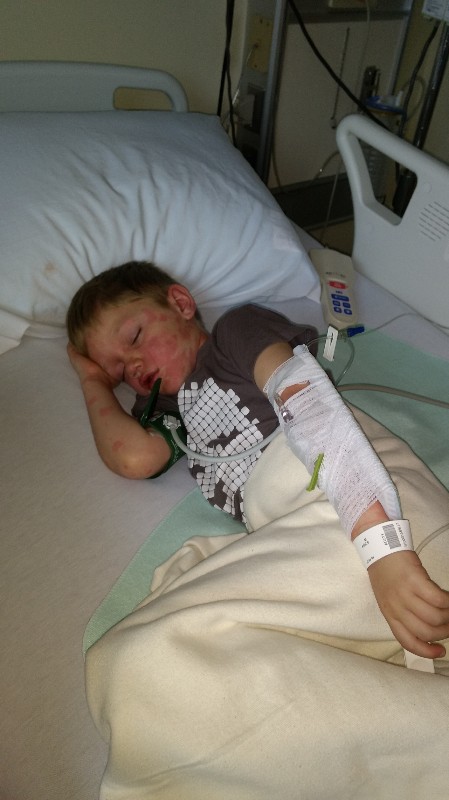 + Read More
Update 1
15 months ago
Share
I just want to thank everyone for their generosity, so far Ollie has had one trip to Halifax at the IWK for his first echocardiogram and EKG, and will continue to have regular follow ups. He has also had an appointment with his pediatrician in Kentville, and will have regular checkups, and weekly blood work.
He is doing good, but still isn't back to himself. He gets tired really easily, and is sluggish.
Thank you for all your love and support!
+ Read More