385
44
Oakland 2 Joburg: Back 2 Africa 2018
$29,280
of $60,000 goal
Raised by
385
people in 21 months
                           Help Oakland Students go to 
                                     SOUTH AFRICA!!!!
My name is Kharyshi Wiginton, the Sr. Community Programs Manager at McClymonds High School and Founder/Project Coordinator of Culture Keepers.  I am writing you on behalf of our students participating in "The South Africa Project," fiscally sponsored by The Mentoring Center, 501c3 organization.

The mission of the project is for the students to expand their awareness through cultural exchange, build on their sense of pride and self-esteem by participating in community service and grow their worldview through traveling and exposure to other languages. This year will be the third round of "The South Africa Project." In July 2015, we took our first journey to South Africa with 11 students and 7 mentors, and in March 2017, we took 27 youth and 9 mentors to participate in this wonderful, highly successful, cultural exchange project. To find out more about our previous trips please visit our website. 

During the two week program taking place March  27, 2018-April 9, 2018, approximately 30 students, 10 adult mentors and 4 junior mentors will tour Johannesburg, learn about South African history and culture, engage in a cultural exchange with young people from QwaQwa, Free state, and participate in excursions that include a safari, a visit to the Naledi High School in Soweto and an African naming ceremony. This years trip has been expanded to include students from McClymonds High School, Castlemont High School, and Skyline High School. We also have a student from Oakland Tech and a student from Deer Valley High School participating with us. 

On this trip we will also utilize digital storytelling by using audio and video podcasts and other forms of media to document the student's experiences and interview the residents of Johannesburg. The students will use Participatory Action Research (PAR) an approach to research in communities that emphasizes participation and action through collaboration and reflection. "The South Africa Project" is a multi-level youth program that seeks to cultivate the following qualities in its participants:

·         Cultural awareness
·         Historical understanding
·         Develop a worldview
·         Greater sense of self
·         Pride/self esteem
·         Understanding of travel
·         Understanding of language(s)
·         Ability to fundraise
·         Ability to present/educate peers
·         Community responsibility
·         Cultural exchange

This trip will be one of "firsts" for these Oakland  students. Many have not been on a plane, traveled outside of Oakland or left the country because they are unable to afford the cost of travel, especially internationally. This should not limit their ability to have this type of educational experience. Your donation is your opportunity to support a student by sponsoring an experience and transforming a community by donating $5, $10, $15, $20 or more. 

      The total cost of the trip per student is $3,500!
This cost includes:

· Round-trip tickets ( SFO – South Africa)
· Charter bus rental
· Housing and food (2-3 meals per day)
· 7-10 Events/Entertainment/Excursions

I am proud to say that our students are powerful, brilliant amazing young people and with your donation, you will be able to help empower their lives by sending them to South Africa. The students are eager to take this journey and they cannot do this without your help.
   
    A donation of any size will make a huge difference!

              Another Reason Why This Is Important: 

My Story:
Traveling to Africa was a life-changing experience for me. It was especially impactful because I was young. That experience gave me confidence, a strong cultural identity, knowledge of self, and a world view. Traveling to Egypt at 12 years old shaped me into the woman I am at 41. Our youth deserve to have the same opportunity, and you can help them get it.

                      Kharyshi's Love for South Africa
I first traveled to South Africa in 2003 as apart of a cultural exchange program with 12 youth and 7 mentors from Los Angeles. However, my relationship and love affair with South Africa started in my early childhood. Born to parents who had strong nationalist and Pan-Africanist values, I was immersed in various forms of African culture. This was especially true for South Africa, being that I was born in 1975; a year before the Soweto Uprising. My heroes were people like Steve Biko, Hugh Masekela, and Miriam Makeba, and I had parakeets named Winnie, Nelson, and Soweto.

This love for South Africa was amplified when I visited for the first time. From the music, smiles, laughter, singing, dancing, language, and people, I felt extremely at home. In fact, I was so much at home that I was given the name "Khaya," a Zulu name meaning home. I found South Africa to be rich with history, tradition, culture, and most of all...UBUNTU (humanity). However, the greatest gift that I received from my first visit to South Africa was the spirit, power, and beauty of the young people there. South African youth were resilient, passionate, brilliant, socially aware, not bound by circumstance, and rooted in something much bigger and greater than themselves.

From the moment I touched down, almost immediately, I knew that I wanted our youth to experience that. I wanted them to know that they are powerful, know who they are, know where they came from, and stand in their truth the way that the South African youth did. Moving forward, I knew that I wanted to facilitate opportunities for youth in the US, specifically Black/African American youth, to be enriched, impacted, and transformed as a result of connecting with young people and adults in South Africa.

                         QwaQwa Here We Come!
During our trip to South Africa, we will travel from Johannesburg, Gauteng to QwaQwa, Free State. Oakland youth and mentors will participate in a cultural exchange with youth who primarily speak Sesotho. The title for this cultural exchange is "Hae-Lapeng," a Sesotho word meaning: HOMECOMING!
(Beautiful landscape in QwaQwa)

                   There is GREAT need in QwaQwa!
The youth live in humble circumstances, but their spirits are MIGHTY! They're talented, artistic, respectful, and fun! Oakland students will have an opportunity to set aside their personal challenges and stories, and allow their hearts, minds, and lives to be touched by the warmth, beauty, and joy of their South African counterparts.

             We're bringing: School & Art Supplies,                                            Clothing, Toiletries, and Shoes!
By merely donating and giving the above gifts, you will help us be a HUGE blessing. Youth in QwaQwa have less privileges and opportunities than their Oakland counterparts. By being of service to others, Oakland students will to see the power and strength in their own stories.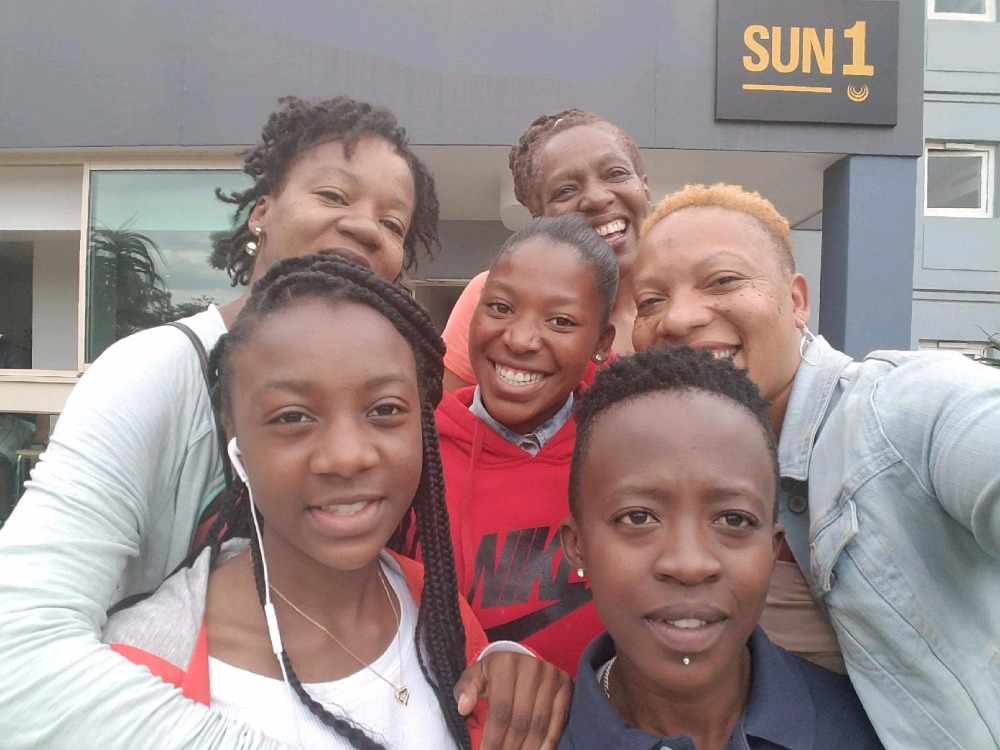 Help us help others!
To help us be a blessing, you can donate money, clothes, shoes, or supplies. If you're interested in donating money, please click the button below. For all other donations, please contact Kharyshi Wiginton at sendmacktoafrica@gmail.com or  www.sendmacktoafrica.com.   

      If you want to change the world, change a young                                                person's life!

   For Black Youth...Travel is a necessity NOT a luxury!
                       Why Black Youth MUST Travel 

+ Read More